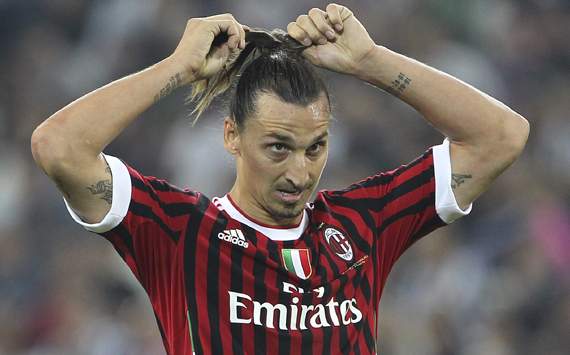 While the likes of John Terry, Ashley Cole, Cristiano Ronaldo, Wayne Rooney, Didier Drogba and Carlos Tévez have had their fair share of detractors over the years, whether it be for their on the pitch mannerisms or their off the field activities, few can doubt their individual ability, consistency and work rate (Ronaldo aside, possibly).
Yet, for Zlatan Ibrahimović, a man who has scored an impressive 201 goals (138 of which were outside of the 'lesser' leagues of Sweden and the Netherlands) in 438 club games, who was described as the best player in the world by José Mourinho in 2008 and who has won an incredible 9 (although the two with Juventus in 2004/2005 and 2005/2006 have since been revoked) league titles in just 10 full seasons of professional football, few have warmed to the stroppy, bad tempered and arrogant Swede. However, what seems to really irate most football fans and pundits alike is Ibrahomivć's near-abuse of his talent: his poor work rate, perceived failure to dig his team out of a rut and underperformance in knockout matches, and his lack of appreciation for his incredible natural talent and being able to earn an astronomical fee to showcase it.
Zlatan Ibrahimović was born in Malmö on 3 October, 1981. His Bosnian father, Šefik, and Croatian mother, Jurka, both met as emigrants to Malmö in 1977 and their marriage symbolised the growing ethnic diversity of Sweden during this period. Settling in a council apartment block in Rosengård, a neighbourhood synonymous for its emigrant communities, Ibrahimović began his career at local side FBK Balkan and such was his prodigious talent by the age of 12 (remarkably came long before his advantageous growth spurt to 6ft 4), that he scored eight goals in an 8-5 win over fierce rivals and the vastly wealthier Vellinge – with Balkan 4-0 down before Ibrahimović came on at half-time. As an unruly child at school, it was clear that Ibrahimović began to feel that he had a career in professional football as a reward, or justification in his eyes, for his incredible natural talent.
Ibrahimović's early attitude and love of football was never in doubt, with the Swede spending hours upon hours every day perfecting his now trademark and astonishing technique. However, with no professional offers by the age of 15, like his hero Henrik Larsson, Ibrahimović, with remarkable maturity, believed it was a mere dream and began pursuing other alternatives such as working at the docklands. However, Malmö FF stepped in and Ibrahimović finished school at 16 in 1996 to focus on a professional career. Within three years, Ibrahimović was promoted to the first-team but like all raw young talents, his tactical nous was not yet in sync with his undoubted natural ability. Regardless, Ibrahimović impressed as he slowly assimilated into the starting XI, scoring a combined 16 goals in 40 games in 1999-2000 and 2000-2001. Having netted an impressive 6 goals in 7 games for Sweden's Under-21's too, Ibrahimović made his debut for the Swedish national team against the Faroe Islands on 31 January, 2001. Ibrahimović's rise had not gone unnoticed and he received tangible overtures from both Arsenal and Ajax in March, 2001. Ajaxwere the first to match Malmö's asking price of £4.5 million, however, and Ibrahimović left for Amsterdam in July.
What became increasing evident as Ibrahimović began life at Ajax and indeed in his future career was, as Swedish writer Jennifer Wegerup has noted, his over enthusiastic desire to prove himself due to his ethnic background. This may seem surprising, given Ibrahimović's perceived laziness, self-belief and proven low levels of metres covered in a match, but having had to deal with ethnic xenophobia from his peers from an early age, it is a trait that has never left Ibrahimović. It was not until Co.Adriaanse, the man who signed the Swede, was replaced by Ronald Koeman on 29 November, 2001 that the 20 year old Ibrahimović's time at Ajax took off and he won himself a starting berth. Scoring a somewhat modest 8 goals in 33 games, but chipping in with some vital winners such as the golden goal against Utrecht in the 3-2 Dutch Cup final victory, Ibrahimović helped Ajax win their first Eredivisie title for three seasons.
Ibrahimović jetted out to Japan and South Korea with Sweden as the youngest member of their squad, and one of the tournament's youngest players at 21 years of age, for the 2002 World Cup. Although he was not a starter, instead behind the proven Marcus Allbäck, the experience would prove vital. Ibrahimović made two appearances at the tournament, both coming as a substitute against Argentina and Senegal, but with Euro 2004 on the horizon, Ibrahimović would soon get the chance to start upfront with his idol, Larsson. Ibrahimović returned to Ajax for the 2002/2003 season as the club's central figure, with Steven Pienaar and Andy van der Meyde supplying the crosses. The Swede had an impressive season, scoring 21 goals in 41 games (including 4 in Ajax's quarter-final finish in the Champions League) and although Ajax failed to retain the Eredivisie, Ibrahimović stock was growing across Europe.
An injury-disrupted 2004/2004 season saw Ibrahimović play 'just' 29 games for Ajax, but he still managed 15 goals as de Godenzonen won back their title from Feyenoord. Ibrahimović's form for Sweden was even more prolific, winning a starting berth after scoring a brilliant 11 goals in 16 internationals in the years of 2003 and 2004. By scoring against both Bulgaria and Italy (a magnificently deft backheeled chip over Gianluigi Buffon in a goalmouth scramble) at Euro 2004, Ibrahimović proved that he could deliver at the highest level but crucially, he was anonymous and missed two penalties (one in the shootout) in the quarter-final defeat to the Netherlands.
The start of the 2004/2005 season perfectly epitomised the paradox of Ibrahimović. The Swede's time at Ajax was prematurely ended after allegedly intentionally injuring teammate Rafael van der Vaart in a friendly for Sweden against the Netherlands on 18 August. Whether it was intentional or not, with rumours of a fall-out between the pair over van der Vaart receiving the club captaincy, Ibrahimović refused to play with van der Vaart again. With an injured van der Vaart looking on from the stands for the Swede's final appearance for Ajax against NAC Breda on 22 August, Ibrahimović scored the goal of this career, in spite of all the controversy, after brilliantly toying and weaving past seven Breda players with trademark arrogance before eventually slotting the ball past goalkeeper Davy Schollen. It was the perfect way to sign off and Juventus won the race for the Swede, signing him for €16 million on 31 August.
With David Trezeguet injured, Ibrahimović was a key figure in a stellar Juventus side and he scored 15 goals in 36 league games to help the Bianconeri reclaim a highly competitive Serie A title from Milan in 2004/2005. In Europe, however, Ibrahimović failed to dazzle and did not score in any of Juventus' ten Champions League games – which would become a recurring theme as his career went on. A reported world-record €70 million bid from Real Madrid proved to be a hoax and publicity stunt by Ibrahimović's agent Mino Raiola, whose aim was to increase the Swede's wages and market value, but ended up tarnishing Ibrahimović's reputation even more. Regardless, with his international career and place in Sweden's first XI cemented, including scoring 4 goals in 5 games in the year of 2005, Ibrahimović was awarded the first of five Guldbollens (Swedish Player of the Year).
With Trezeguet's return from injury for the 2005/2006 season, Ibrahimović was banished to the flanks across from Alessandro Del Piero. He became much more involved in build-up play and his size was used more for knock-downs and assists. However, his underwhelming performances in Europe made it a disappointing personal season for the Swede, with Ibrahimović receiving a lot of criticism from Juventus' fans for his performances in both legs of the quarter-final defeat to Arsenal. Then, of course, the Calciopoli scandal rocked Juventus and their back-to-back title wins of 86 points and 91 points in 2004/2005 and 2005/2006 respectively. The Bianconeri were subsequently relegated to Serie B and unlike names such as Del Piero and Buffon, Ibrahimović and Raiola threatened legal action if Juventus did not allow him to leave. Before that, however, Ibrahimović headed to the 2006 World Cup in Germany. It was a disappointing international tournament for Ibrahimović and he failed to find the net in any of Sweden's games as they went out to hosts Germany in the second round.
Just days after his club teammate Patrick Vieira moved to Internazionale, the 25 year old Ibrahimović followed him on 10 August for €24.6 million and became the then world's highest earning footballer on €190,000 per week. Ibrahimović impressed and outshined the much-fancied Adriano in the league in 2006/2007, scoring 15 goals in 36 games, and was a pivotal figure in an unstoppable (17 consecutive league victories) Inter winning their first, without taking Calciopoli into account,  title for 17 years with a league record 97 points. However, the Swede again failed to leave his mark on Europe, failing to score in seven games, and his frustration and worsening temper was epitomised in a 'personal best' of three red cards in all competitions for the season. This immaturity was also seen in Ibrahimović breaking a curfew for the Euro 2008 qualifier against Liechenstein, along with Olof Mellberg and Christian Wilhelmsson in September, 2006. In protest to being sent home, Ibrahimović refused to take part, unlike Mellberg and Wilhelmsson who did not appeal, in the next three matches against Iceland, Spain and Egypt.
The 2007/2008 season saw Ibrahimović burst into life on the European stage, with his goals in the group game against PSV being the first since December 2005, and he finished the season with 5 goals in 7 Champions League games. However, these all came in the group stages against the 'might'of Fenerbahçe, PSV and CSKA Moscow, and Ibrahimović failed to impress in the 4-0 second round aggregate defeat to Liverpool. Despite suffering a knee injury in the final stretch of the season, Ibrahimović managed a brilliant personal league best of 17 goals in 26 games. Even though he did not score in any of the twelve Euro 2008 qualifying matches, which was partly why Henrik Larsson reversed his international retirement to return for Euro 2008, Ibrahimović was still pivotal to Sweden's hopes. Remarkably, Ibrahimović ended his 24 month international drought in two successive group games against Greece and Spain but Sweden, overall, failed to match his impressive tournament showing and did not progress from Group D.
Ibrahimović returned to the San Siro with José Mourinho at the helm for 2008/2009 and the Special One's acclaimed man management and maximisation of players' potential was clearly evident with the Swede: pacy and unpredictable off the ball movement, less petulance and a revival of the fitness and conditioning that Internazionale had yet to consistently see of Ibrahimović over the course of a season. Ibrahimović finished as the Capocannoniere (Serie A top scorer) with 25 goals, including a magnificent backheeled volley seven yards away and to the left of the Bologna goal on 14 October, for the first time in his career as Inter won a fourth straight Scudetto. Again though, Europe was a source of incredible frustration for Ibrahimović and he scored just 1 goal in 8 Champions League games as Inter went out on a whimper in the quarter final – this time in a 2-0 aggregate defeat to Manchester United.
Even though Ibrahimović had yet to spend more than three seasons at a club, no one could have foreseen the events of July, 2009 – particularly when it was rooted in a deal to take Internazionale's squad player Maxwell to the Camp Nou on 15 July. It all started when Joan Laporta diverted a flight from Ukraine, where a deal had been tied up for Dymtro Chygrynskiy, to Milan instead of Spain (David Villa and Diego Forlán were also on Pep Guardiola's wishlist) to have talks with Massimo Moratti about Ibrahimović. Having announced that a principle was in place for the Swede to join Barça and for Samuel Eto'o to go in the opposite direction after the Maxwell deal, it seemed like a fair NBA-style trade, with nominal supplementary money involved. However, when Ibrahimović signed for Barcelona on 27 July, few could believe the deal: €46 million, Eto'o and the one-year loan of Alexander Hleb. Considering Eto'o's incredible record of 105 goals in 145 games for Barça, with 18 (including two in separate Champions League finals) in 41 in Europe, in comparison to Ibrahimović's 57 in 88, but only 6 in 22 in Europe, the supplementary €46 million was ludicrous.
Yes, Ibrahimović could have given Barcelona a new dimension and a Plan B with his strength, height and hold-up play, but it was always going to be the case that he would end up having to change more to suit his club rather than the other way around. Barcelona, with their unique DNA and years of training ground triangles, patterns, methods and routines, play by instinct, rooted in playing at La Masia or from numerous years at the club, and it was incredibly difficult for the 28 year old Swede, who arrived in the middle of pre-season, to change his game to suit this and he slowed down Barça's overall pace, phases and movement. Despite being a starter for much of the season, it was incredibly rare that the 'Plan B' of crosses or long balls to Ibrahimović were ever used and because he was not the poacher Samuel Eto'o was, goals were harder to come by. Yet, to write him off as a flop at Barcelona would be incredibly harsh.
It all started so well: scoring in the opening four La Liga matches (a club record) and netting a further five goals in all competitions in the next eight games. A thigh injury, however, hindered Ibrahimović's brilliant form and kept him out of action for three weeks. However, it led to a remarkable substitute return, scoring the winning goal in El Clásico on 29 November. It was a staple Ibrahimović goal, with the Swede ghosting in at the far post after brilliantly breaking the offside trap and sidefooting a volley from a high and looping (!) cross from Dani Alves into the top right hand corner. By the beginning of the New Year, Ibrahimović had won the Spanish Super Cup, the European Super Cup and the Club World Cup and had netted 11 goals and 4 assists in 15 league games, but scored just the 1 goal in 5 Champions League group matches. This European form improved against Stuttgart in the second round and Arsenal in the quarter-final, however, when Ibrahimović, crucially, scored Barcelona's only away goals (1-1 away to Stuttgart and 2-2 against Arsenal) in both ties.
With Lionel Messi's incredible consistency, performances and popularity, not least in that season where he scored a magnificent 47 goals in 53 games, it was clear that the typical posterboy and clingy Ibrahimović was feeling overshadowed – particularly given Guardiola's laidback and 'manly' coaching and man management style. So, when Ibrahimović faced a barrage of criticism after a 'trademark' (latter knockout round) poor performance (substituted on the hour mark in each match) against Internazionale in both the Champions League semi-final legs, he had little Mourinho-like backing or praise from his manager. Given that Ibrahimović went on to say that Guardiola had not talked to him for five months when the Swede departed for Milan in July, perhaps this should not be so easily written off as sour grapes from a flop. Before that, however, a crestfallen Ibrahimović netted just one goal in his final six league games for Barcelona as they won the La Liga title with a world record 99 points.
Ibrahimović finished the season with a promising foundation for the following season considering he was not a poacher, 21 goals (4 in 10 in Europe) and 9 assists (career best) in 42 games but with Barcelona's €40 million signing of the natural poacher and goalscorer David Villa, Ibrahimović was frozen out of the starting XI and sent on loan to Milan. Given that he could have undergone a 'from scratch' pre-season, with Sweden not making the 2010 World Cup, it was a case of what might have been at Barcelona for the Swede – regardless of his age and souring relationship with Guardiola. Upon joining Milan on loan on 28 August, with an option of a €24 million signing at the end of the 2010/2011 campaign, it was clear Ibrahimović was Milan's main man with a depreciating Ronaldinho, an inconsistent Robinho and a developing Alexandre Pato.
From this, Ibrahimović thrived in all competitions in 2010/2011: scoring 14 goals (including the derby winner 'away' to Internazionale on 14 November) in 28 league games, 4 in 7 Champions League matches and 4 in 11 Italian Cup games. He also had a career best of 12 assists in all competitions and but for the back to back red cards against Fiorentina (swearing at the linesman) and Bari (punching Marco Rossi in the stomach) on 13 March and 10 April respectively, it was Ibrahimović's best overall season since 2007/2008. 2011/2012 has started in a similar vein, with 2 goals and 2 assists in 4 games, but with age looking like it has finally caught up with Milan's evergreens, this may be the first time in many seasons where the onus will be placed on the 30 year old Ibrahimović 'carrying' his team in certain matches. It is clear that from leading Sweden into Euro 2012 as captain, an embracing of fatherhood with his two sons and a stable relationship with his girlfriend, Ibrahimović has rediscovered the merits of his home of Milan after three brilliant years at Internazionale between 2006 and 2009 – regardless of whether he is adamant that he is sick of playing football.
So, while it is easy to be sceptical of Zlatan Ibrahimović's overall achievements,due to his failure to win the Champions League and a paltry return of 20 European goals in 84 games, to write him off as a small-time player is incredibly harsh – given that he has scored pivotal goals, be it against Feyenoord and Utrecht, Internazionale and Roma, Milan and Fiorentina, Real Madrid and Arsenal, or Internazionale and Napoli. There is also a vulnerable and needy side to the cockiness and arrogance: a man who is so desperate to prove himself as the world's best and who has a clear inferiority complex (Van der Vaart at Ajax, David Trezeguet at Juventus and Lionel Messi at Barcelona).
Whether it is the subject of trophies, goals, mentality or personality, Ibrahimović splits opinions of his respective merits and that is why he is the world's most divisive footballer.