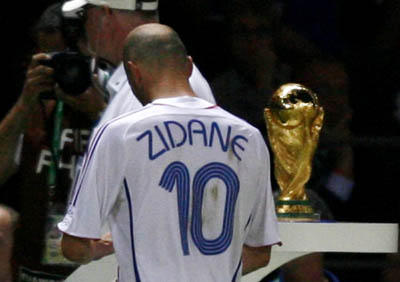 While it may seem preposterous to place a footballer alongside the likes of John Nash (schizophrenia, mathematics), Vincent van Gogh (depression, art), Edgar Allen Poe (bi-polarism, literature) and Sir Issac Newton (mood swings, science), Zinedine Zidane shared two traits alongside these undoubted virtuosos: having a prodigious ability in his field, but also possessing a very vulnerable trait – in the Frenchman's case, his petulence.
Zidane's violent streak, which saw him claim fourteen red cards, a near unimaginable amount in the pantheon he occupies alongside the likes of Michel Platini, Alfredo Di Stefano, George Best, Garrincha, Franz Beckenbauer, Diego Maradona, Johan Cruyff and Pelé, ultimately tarnished his incredible legacy when he retired at 34 years of age in 2006.
However, it was the only blot on a career that saw him become the best ball retainer (even with his unique blend of a 6ft 1inch frame and deft touch, Zidane's skill on the ball was even more remarkable given the era's growth in tactics and pressing, regardless of the common belief that referees 'protected' stars like Zidane) in the history of the game; the greatest big-game individual and 'street footballer' (flawless first touch and 'innovator' of the 360 roulette) of all-time; an embodiment of the Fifth Republic and uniting a tense inter-racial France in 1998; a revolutionary of player power with regard to transfers; and a near self-made figure in becoming one of the few top-class footballers of all-time to win every single continental trophy and international trophy that was on offer.
Zinedine Zidane was born in the impoverished suburb of La Castellane in Marseille on 23 June, 1972. A son of Algerian parents, evident in Zidane being given the middle name Yazid, who emigrated to France in 1953 before the beginning of the Algerian War, Zidane was the youngest of five siblings who grew up in a tiny apartment in La Castellane. Such was the apartment's size, the family had to take turns to sit down to eat in shifts but with Zidane's father, Smail, working as a warehouseman for a department store, this was nothing compared to some of their neighbours who embodied the area's notorious reputation for high crime and unemployment. Coupled with Zidane's love of football, playing at the nearby Place Tartane on a daily basis from the age of five, the Frenchman could never be accused of falling under the common stereotype, at the time, of second-generation Algerians in France as lazy and crooked. From this, it was perhaps no surprise that Zidane fulfilled Malcolm Gladwell's theory in Outliers: The Story of Success, where the figure of 10,000 hours of practice is cited as the amount required for individuals to master their particular profession.
Idolising Blaž Slišković, Enzo Francescoli and Jean-Pierre Papin as a youngster, Zidane, unsurprisingly, started off as a forward in his youth career – playing for the local US Saint-Henri from 1982-1983, before moving to SO SO Septèmes-les-Vallons from 1983-1986. At the age of fourteen, in 1986, Zidane was selected to attend a prestigious three-day training camp at the CREPS (Regional Centre for Sports and Physical Education) in Aix-en-Provence, a footballing institute run by the French Football Federation, and it was here that he was scouted by Jean Varraud of AS Cannes. Invited for what was initially a six-week stay, 178km from home, Zidane was soon snapped up on a youth contract by the legendary and influential technical director Jean-Claude Elineau. During his six-week stay, Zidane had stayed in a dormitory with twenty other young trialists but such was the impression, both as a footballer and a person, that he left on Elineau, Zidane was invited to stay with Elineau and his family for the foreseeable future.
Zidane later spoke of finding equilibrium, not least in the family's 'speciality' Wednesday dinner of bread and chips, while staying with Elineau, whose fatherly influence cannot be understated given Zidane's lack of homesickness, and at just seventeen, Zidane was handed his first-team debut by Jean Fernandez against Nantes on 18 May, 1989. Zidane had become a central midfielder with blessed dribbling ability, yet was still not quite the free roamer that he was soon to evolve into, at Cannes and broke into the first XI in 1990/1991. Playing alongside the veteran Luis Fernandez, Zidane's gangly 1.85m frame was well-shielded and even at just eighteen, his soon to be trademark technique stood out. Scoring his first ever professional goal on 8 February, 1991 in a 2-1 win over Nantes, Zidane was rewarded with a car by chairman Alain Pedretti – who clearly valued the midfielder's emergence and precocious talent, but also his hard work and remarkable maturity. 1990/1991 was a pivotal year for Zidane, in just his first full professional season, and as well as meeting his future wife Veronica, he also helped Cannes finish 4th , their highest league finish to this day, and make a European competition for the first time in their history.
1991/1992 proved even more crucial to Zidane's long-term development, with the nineteen year old deployed as an attacking midfielder by Boro Primorac, and he dazzled as Ligue 1's hottest prospect in scoring 5 goals in 31 league games and proving himself as an adept trequartista who could execute remarkable influence during the course of a match. The club, crucially, also shaped his personality, with the midfielder naturally frustrated with the unsurprisingly cynical tackles he was sustaining as a talented 'upstart', and Zidane's manager, Guy Lacombe, told him:
You'll get knocks from now until the end of your career. That's just how it is for players as gifted as you. If you take the law into your own hands, you'll spend your life on the sidelines watching everyone else play.
From this, Zidane's outlet for his anger was not the predictable kickingboxing, but, bizarrely, cleaning the dressing room after matches.
Sadly, though, Cannes had a dramatic fall and finished 19th in an incredibly competitive relegation battle that saw just three points separate 14th and 18th place. From this, the newly-promoted Bordeaux won the race for Zidane's signature and soon the triangle bordelaise was formed alongside Bixente Lizarazu and Christophe Duggary. The 1992/1993 campaign saw Zidane explode onto the scene in his more illustrious surroundings, scoring 10 goals in 35 games, as Bordeaux announced themselves as serious title contenders in finishing third, after Marseille's l'affaire VA-OM scandal, behind Monaco and PSG. Zidane firmly established himself as one of France's brightest talents in 1993/1994, netting 6 goals in 34 matches as Bordeaux finished 4th and with this form coinciding with Eric Cantona's year-long suspension, Zidane earned himself a call-up to Aimé Jacquet's first France squad for the friendly against the Czech Republic on 17 August, 1994. Fatefully, this came at Cannes' Stade Chaban Delmas and after coming on for Corentin Martins on 63', Zidane scored two goals in as many minutes to already prove his international credentials – at just 22 years of age.
Zidane's stature was continuing to grow, scoring in further cameos for Les Bleus against Azerbaijan and Romania in 1995, and after helping Bordeaux qualify for the 1995/1996 UEFA Cup, after winning the Intertoto Cup, the 23 year old had his first chance to prove himself on the European stage. There was no underestimating Zidane's determination, having been snubbed by Blackburn chairman Jack Walker, who infamously quipped to Blackburn's manager, Ray Harford:
Why do you want Zidane when we have Tim Sherwood?
As trivial as this quote may have seemed outside of England at the time, there was no doubting Zidane's insecurities and he relied heavily on the guidance of technical coach Pierre Labat, who helped Zidane improve 'weaknesses' like his heading. Zidane, though, thrived in Europe: scoring a sensational forty-five yard volley, edging Wayne Rooney's effort against Newcaslte in 2003 due to its further distance and the fact he struck it with his weaker left foot, against Real Betis in the fourth round and netting a further eight goals in fourteen more UEFA Cup appearances as Bordeaux knocked out the likes of Milan (won 0-3 at the San Siro after a 0-2 home defeat) and Slavia Prague en route to the final against favourites Bayern Munich. Bordeaux, though, were outclassed in the two legged final (5-1), badly missing Zidane and Duggary, through yellow card allocations and injury respectively, in the 2-0 first-leg defeat at the Olympiastadion.
In demand, having also been named Ligue 1's Player of the Year for 1995/1996 and France's Player of the Year for 1996, Zidane was headhunted by Marcello Lippi and Juventus, after being recommended by Michel Platini, and signed for £3.2 million in the summer of 1996. However, even though Zidane instantly assimilated at Cannes and Bordeaux from his native Marseille, Juventus proved an understandable culture shock – with a new intensive pre-season regime and completely different tactics and dynamics in Italy. It was perhaps no surprise that Zidane's hair was prematurely falling out at just 24 years of age and constant comparisons with Platini did not help matters. However, it was Platini who kick-started Zidane's career in Turin after giving a newspaper interview in 1996 stating that the slow-starting Zidane would explode into life if he was deployed in the number ten role, compared to the limited deep-lying role Lippi had initially positioned him in.
Influenced, Lippi redeployed Zidane and it led to a solid 1996/1997 campaign for the Frenchman: scoring 7 goals in 41 games. The 1996/1997 season served as vindication for Lippi, who bravely rebuilt the successful 1996 Champions League winning side and they greatly impressed in Europe: having gone into the 1997 Champions League final against Borussia Dortmund unbeaten in Europe, following wins over the likes of Ajax and Manchester United, but ultimately lost the game 3-1 after an uncharacteristic error-strewn performance. The club did manage to retain the Serie A title, though, thanks in no small part to the telepathic partnership that Zidane struck up with Alessandro Del Piero and an incredibly mean defence, and Juventus finished two points clear of Parma. Zidane won the 1997 Serie A Foreign Footballer of the Year for his efforts, to go with the 1996 European Super Cup, the 1996 Intercontinental Cup, the 1997 Serie A and the 1997 Supercoppa Italia medals that he had already amassed in his first twelve months in Turin.
1997/1998, on paper, was equally successful: yet another Scudetto and a Champions League final appearance against Real Madrid. However, Juventus, despite being more free-scoring with the acquisition of Filippo Inzaghi, did not have the same invincibility and the team, in parts, seemed in decline as it lost three European matches along the way to the final against Real Madrid. While Zidane's 11 goals in 48 matches may have seemed average for a free roaming number ten at one of Europe's top clubs, his influence in playmaking and build-up play could not be underestimated. From this, Zidane's now trademark cult status was growing with his increasing stature but such was the undying humbleness of the man, incidents such as his one, with Marcello Lippi, in February, 1998 became commonplace:
I remember leaving a restaurant at around 11pm and I saw Zidane playing football with people from a neighbourhood where he had Algerian friends. I said to him, 'What are you doing at this time of night?' and he answered, 'I like playing with my friends.' I told him, 'You're right, it's wonderful. But make sure you don't get to bed too late.'
Zidane's standing with France, too, was growing: netting a combined 7 goals and 7 assists in 28 internationals in 1996 and 1997. Despite being a starter at Euro '96, Jacquet's 4-4-2 formation did not bring the absolute best out of Zidane or France as a whole, with Vincent Guérin and Zidane getting in eachother's way in midfield and Yuri Djorkaeef out of position up front, despite a semi-final finish. The run-up to the 1998 World Cup saw Zidane cement his place as France's undisputed number ten, however, scoring an incredible goal in the 3-3 draw against Norway – where he controlled a high ball into the box and deftly lobbed it over Henning Berg before chipping Frode Grodås. Post-Euro '96, Jacquet built his 4-2-3-1 formation around Zidane, brilliantly propping up his talisman's limited pace and defensive instinct with Christian Karembeu, Didier Deschamps and Emmanuel Petit. With the unheralded Stéphane Guivarc'h playing up front, it was clear that Zidane would be the ultimate figure in deciding France's fate in their home tournament – regardless of France's impregnable foundations with Marcel Desailly, Laurent Blanc, Bixante Lizarazu and Lillian Thuram.
From this, much hype was placed on the 26 year old, who was soon to enter the absolute peak phase of his career, with it being a rare side note to the French presses' near-incessant lampooning of Jacquet's management style, gaffes and seemingly cautious footballing philosophy. The World Cup revealed not only Zidane's undoubted big game ability, but also a vice that would reoccur throughout his career: petulance. Having failed to dazzle, along with much of the French team, in a stagefright-filled tournament opener against South Africa, where the 3-0 score dramatically flattered the hosts after two late goals from Pierre Issa (o.g, 77') and Thierry Henry (90'), Zidane was clearly feeling the pressure to provide a stunning individual performance  in the following match against Saudi Arabia. With France 2-0 up by 68', through Henry and David Trezeguet, Zidane inexplicably got himself sent off on 71' for a stamp on Fuad Anwar's thigh. From this, Zidane became the first ever French player to get sent off in a World Cup and considering all the knocks he received over the years, it seemed ludicrous that he got himself sent off in retaliation to an incredibly weak tackle by Anwar.
Zidane returned for the quarter-final match against Italy, scoring a penalty in the 5-4 penalty shootout victory, and played a deft flick to set-up Thuram for France's winner against Croatia in the semi-final. Even though he had yet to score a goal in the tournament, it may have suited Zidane as the pre-match emphasis across the world was place on the phenomenon of Brazil's Ronaldo, who, sadly, metaphorically choked due to a fit on the eve of the final – unaware to outsiders in the Brazil camp. In France's first ever World Cup final, it was perhaps no surprise that Zidane, in soon to be trademark fashion, saved his best performance for the occasion, not to mention the rarity of two headers – the ironic weaknesses of Zidane's time at Cannes with Pierre Labat.
Following Zidane's two near-identical headers from corners from Petit and Djorkaaef on 27′ and 45′ respectively, France crucially went into half-time 2-0 up. It was pivotal in France's ultimate 3-0 victory, after a desperate late second-half barrage from Brazil following Desailly's sending off on 68', and it was no surprise that Zidane's image was beamed on the Arc de Triomphe as one million French citizens, regardless of ethnicity, united to celebrate being French. The fact that Zidane was not of 'French blood' did not matter and his undying humbleness in winning football's greatest trophy summed up the national feeling of multi-racial France:
Like all children, in our neighbourhood we played our own World Cups. When I ended up taking part in one for real, I always remembered the times me and my neighbourhood friends, regardless of skin colour, had played in our own little World Cup. In a way, I was representing them.
Zidane won the 1998 Ballon d'Or, incredibly the only time he would win the award in his eighteen-year professional career, ahead of Davor Šuker and Ronaldo and also won the FIFA Player of the Year (later merged with the Ballon d'Or in 2010) award in the same year. However, ignoring the signs of decline of the 1997/1998 campaign, with an ageing Ciro Ferrara, Antonio Conte and Didier Deschamps and a lack of defensive quality, Lippi and Juventus failed to strengthen dramatically and stumbled through the season – which, admittedly, was not helped by a near-career threatening knee injury suffered by Del Piero mid-season and Zidane's burnout (a measly 2 goals in 40 matches) from his most strenuous campaign ever in the previous 1997/1998 season. Del Piero's goals were badly missed, from his injury against Udinese on 8 November, and doping allegations thrown at the team and management, which would eventually lead to the Guarinello Inquiry in 2001, did not help matters. Carlo Ancelotti, an unpopular appointment given his links with Milan, replaced Lippi in February, but despite admirably bowing out to eventual winners Manchester United in the Champions League semi-finals, Juventus finished a dismal 7th  in Serie A and had their worst season for eight years.
The 1999/2000 season was a slight improvement for Zidane and Juventus, but they came unstuck in the Serie A title race: losing just one of their opening 26 matches, but then being defeated in four of their final eight – which included a controversial rain-soaked 1-0 loss to Perugia. However, this choking aspect of the season was made all the more painful after Juventus had shockingly gone out to Celta Vigo in the second round of the UEFA Cup, which was their earliest exit from a European competition since 1987/1988. Zidane netted 5 goals in 41 matches and while he still badly craved the Champions League, the European Championships offered him a chance for mild redemption on the international stage following his, in hindsight and regardless of his majestic final performance, ultimately mixed 1998 tournament. France, while under new management with Roger Lemarre, had a relatively unchanged first XI from the 1998 triumph and only Patrick Vieira and Thierry Henry had broken into the first XI in Lemarre's first two years.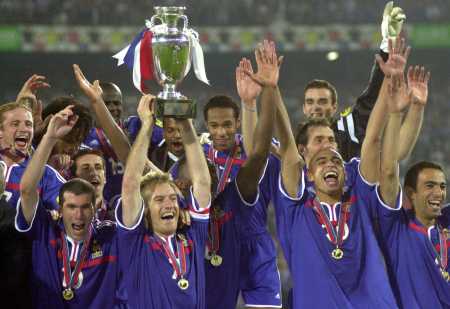 France progressed to the tournament despite failing to dazzle in a qualifying group with the likes of Russia and Ukraine, but this was not a bad omen for their hopes of winning the tournament – particularly given the fact that Spain went into the tournament as one of the leading favourites, following a near-flawless qualification campaign. Nonetheless, France had the opportunity to become the first nation since West Germany in 1974 to hold both the World Cup and European Championships. Zidane starred in the tournament: providing near-endless goalscoring chances with magnificent through balls, with only two of these being converted (against Denmark in their 3-0 opener and the golden goal tournament winner by David Trezeguet on 103' against Italy), and netting pivotal goals against Spain in the quarter-final (magnificent free-kick in the 2-1 win) and the semi-final Portugal (golden goal penalty on 117'). Dino Zoff's failure to man-mark Zidane cost him dearly, with Silvio Berlusconi citing this tactical failure as the reason for Italy's exit, despite Italy dramatically performing above expectations. It was perhaps no surprise that the 28 year old Zidane, clearly at the peak of his powers, won the Player of the Tournament award and the 2000 FIFA Player of the Year Award.
With the foundations laid for a magnificent and career-defining 2000/2001 campaign, with an inevitable Ballon d'Or, the season, instead, eerily mirrored the 1999/2000 campaign for Zidane. Juventus yet again lost out on the league in the final day and went out in Europe somewhat prematurely, after disappointingly finishing bottom in Group E (Deportivo, Panathinaikos and Hamburg) in the Champions League. The Ballon d'Or never arrived either, ultimately affected by Zidane's second defining flawed moment of his career: a vicious headbutt on Hamburg's Jochen Kientz, who was given the duty of man-marking the Frenchman by Kurt Jara, after a niggling tackle by the German defender. With Lippi returning to Juventus in the summer of 2001 and a re-building project about to begin, Zidane, at 29, realised he was running out of time to win the one trophy that had eluded him: the UEFA Champions League.
The link between Zidane and Florentino Pérez originated in an awards dinner in Monaco during the 2000/2001 season. Realising he would be prosecuted if he spoke to Zidane about his future face to face, Pérez wrote on a napkin "Do you want to play for Real Madrid?", to which Zidane replied "yes." With a contract with Juventus until 2005, it was an implausible situation for Zidane but two hallmarks of the Galácticos era are Pérez using the media to leak players' alleged interest in joining his club and the Spaniard always getting what he wants. So, it was perhaps no surprise that the traditional player/club roles were reversed, with Zidane instead being in control, and Juventus were left in an impossible situation – even in commanding a fee that could kickstart some much-needed rebuilding of a stale and ageing squad. Perhaps the Zidane situation was as revolutionary as the Bosman Ruling only six years earlier as it set-up a new precedent in player power. That is without even mentioning Zidane's fee, which was astronomical even in considering that Juventus were left with no other choice, of 150 billion lira (£53 million) that dramatically dwarfed Luís Figo's £37 million move to Madrid.
Zidane was Madrid's 'only' purchase that summer, but the Frenchman was the sole missing link in a well-marshalled side under Vicente del Bosque that featured quality in every deparment with Iker Casillas, Míchel Salgado, Fernando Hierro, Iván Helguera, Roberto Carlos, Steve McManaman, Claude Makélelé, Luís Figo, Raúl and Fernando Morientes. The balance and insync relationship between Zidane and Makélelé proved particularly important in allowing Zidane to free roam, while still being covered by the brilliantly well-disciplined yet thoroughly underrated Makélelé at the time. Madrid, unsurprisingly, though, were a permeable outfit given the free roaming duties also handed to Figo et al. From this, Madrid lost a whooping ten games in La Liga, a title that they were defending, and a wide-open league was won by Deportivo – who clinched La Liga with a two point lead over Madrid, who finished on 66 points. Zidane had a good season, but was under natural scrutiny due to his world-record fee, and his 12 goals in 49 games came in spite of some zealous man-marking, that was seen as the only way of stopping the Frenchman deployed by a variety of teams, such as Rafa Benítez with David Albelda on Zidane's debut against Valencia.
However, the fate of Madrid's season depended on the Champions League final against Bayer Leverkusen at Hampden on 15 May, 2002, with del Bosque's future up in the air following a Copa Del Rey final defeat to Deportivo and the disappointing 3rd place finish in La Liga. In the Champions League, though, Madrid were awesome: losing just two of the fourteen matches up to the final and defeating the likes of Bayern Munich and Barcelona along the way. While his 2 January goal against Deportivo in La Liga was fantastic, Zidane weaving past three defenders with both feet in a trademark roulette before smashing the ball into the central top corner of José Molina, Zidane was to produce something even more special. Like all the greats, whether it was Johan Cruyff's turn, Diego Maradona's incredible dribble against England at the 1986 World Cup or Pelé's 1000th goal on 19 November, 1969, one moment of incredible genius and achievement becomes symbiotic with the man. In Zidane's case, it was the greatest goal, to this day, scored in the Champions League's thirty year history.
Roberto Carlos was naturally marauding down the left flank and was sent a looping through ball ahead of him by Santiago Solari. Carlos marginally outpaced Diego Placente five feet before the byline and sent in what was, at best, an awkward hooked cross to the edge of the penalty area. In fairness, perhaps it was rehearsed but, regardless, the ball fell perfectly for the unmarked and stationery Zidane, who had outpaced the shackles of Michael Ballack in a rare occurence, at the D. It led to a majestic, almost slow-motion and nonchalant, 180 degree swivel before a beautifully-struck standing volley with his weaker left foot. The result was a perfectly placed finish into the top left hand corner past a shellshocked and scrambling Hans-Jörg Butt. Zidane, in trademark fashion, celebrated with his caveman-like yell and run away from his teammates. It was a modest reaction given the incredible nature of the goal, not least because it came on the stroke of half-time to put Madrid 2-1 up in the world's biggest club competition, but also reflected Zidane's trademark and understated self-belief.
The 30 year old Zidane finally captured the trophy that had eluded him for so many years, following back-to-back Champions League final defeats with Juventus in 1996 and 1997. Zidane, who had been met by a lukewarm reception by the astounded Alfredo Di Stefano and Ferenc Puskás when he signed in July, 2001, had proven his worth in just a single moment and evoked the spirit of Madrid's epic 7-3 win over Eintracht Frankfurt at Hampden in 1960. To cement his legacy as one of the all-time greats, it was just a case of replicating his previous achievements with even greater moments of brilliance and individual performances. Zidane had little time to rest, though, and France's hopes of retaining the World Cup unsurprisingly rested largely on Zidane's shoulders. This was partly why France were pre-tournament favourites, without even addressing the ever-improving Thierry Henry, but a thigh injury suffered in a warm-up friendly against South Korea should have ruled Zidane out of the tournament completely. However, France were lost without their captain and talisman: embarrassingly losing 1-0 to Senegal and drawing 0-0 with Uruguay in their first two Group A games.
It led to Zidane being rushed back to fitness, at about 65% condition with a heavily strapped thigh and undergoing a series of painkilling injections, for the final group game against Denmark where a win was needed and Uruguay's result had to be bettered, but if Senegal beat or drew with Uruguay, there was no chance of progress. France were beaten 2-0 by a poor Danish side, as was seen later in their 3-0 defeat to an average English outfit in the second round regardless of the Danes finishing as unbeaten Group A winners, and Les Bleus returned home as officially the worst World Cup title defenders of all-time – embarrassingly, without even scoring a goal. With the arrival of Ronaldo in the summer, though, Zidane's form for Real Madrid did not suffer, perfectly replicating his previous season with 12 goals in 48 matches, and Madrid won the European Super Cup, the Intercontinental Cup and La Liga. Amazingly, the 2002/2003 La Liga title, which Madrid snatched from Real Sociedad at the death with a two point lead on 78 points, would be Zidane's last competitive trophy of his career at just 31 years of age.
A defeat to Juventus in the semi-final of the Champions League signalled the end for del Bosque, though, despite him being Real's most successful coach of all-time and his team providing some of the most memorable European performances of all-time – including the 3-4 'defeat' (6-5 winners on aggregate) to Manchester United at Old Trafford. Del Bosque's departure instigated the decline of the Galácticos policy, with the irreplaceable Makélelé also being forced out of the club after Pérez refused to increase his average salary, adding: 
We will not miss Makélelé: his technique is average, he lacks the speed and skill to take the ball past opponents, and ninety percent of his distribution either goes backwards or sideways. He wasn't a header of the ball and he rarely passed the ball more than three metres. Younger players will arrive who will lead to Makélelé being forgotten.
The needless, given that Madrid's defence was rapidly declining, arrival of David Beckham was seen as a much better and glamorous alternative, with the Beckham brand much more lucrative than Makélelé's, but Zidane, the 2003 FIFA World Player of the Year, was infamously unimpressed: "Why put another gold layer on a Bentley when you're losing the engine?" The stability that del Bosque and Makelele provided gave way to five different managers in Zidane's final three seasons at the Bernabéu and Madrid's performances suffered as a result: Madrid finishing 4th, 2nd and 2nd in 2003/2004, 2004/2005 and 2005/2006 respectively. A European drought and rut was also instigated, whereby Madrid failed to progress past the quarter-finals in Zidane's final three seasons – a trend that would continue until 2011. What made the end of Zidane's career even more regrettable was not just the monopoly Madrid's eternal rivals Barcelona had over La Liga in 2004/2005 and 2005/2006, and the Champions League in 2005/2006, but that the Frenchman continued to play some inspiring football in spite of the ultimate failure of the likes of Beckham.
On the international front, this was evident at both Euro 2004 and in the 2006 World Cup qualifiers. Under Raymond Domenech, France entered the Euro 2004 tournament looking to bounce back after their woeful performance at the 2002 World Cup. The importance of a fit Zidane could not be underestimated and he played a big part in France's improving fortunes: scoring a fantastic twenty yard free-kick and penalty in stoppage time against England. However, Zidane was banished to the left-wing by Domenech for the quarter-final match against Greece, which France disappointingly lost 1-0 to the eventual champions, and failed to exert his trademark influence. At 32, Zidane, along with his 'era' of Bixente Lizarazu, Marcel Desailly, Lillian Thuram and Claude Makélelé, decided that he would retire from international football indefinitely. However, Zidane, Thuram and Makélelé, being the patriotic Frenchmen that they were and given Domenech's desperation in failing to replace them, returned for the final four games of the 2006 World Cup qualifiers, with French languishing in 4th position in a group featuring Switzerland, Israel and Ireland. Zidane was immediately reinstated as captain and the trio's return coincided with France's rise in the group: winning it on twenty points, two ahead of Switzerland.
Before Zidane headed to Germany with France for the 2006 World Cup, he deeply desired to win at least one more trophy with Madrid. Intriguingly, the more piercing Zidane's stare got and the wider his bald patch seemed with his razor cut, the more that the Frenchman showed his class. After all, though, Zidane never shied of telling how much he enjoyed football in Spain, not just because of his incredible wage, and it showed as he neared the end of his career: the 2003 goal against Las Palmas, when he unleashed an incredibly straight thunderbolt with his left foot into the left top hand corner from the left-hand side of the D; the 2005 finish against Espanyol, when he casually flicked the ball up into the air and struck it 25 yards from goal; and his first ever career hattrick in the 4-2 victory over Sevilla on 16 January, 2006.
A trophy finale would have been a fitting, having netted 9 goals and 10 assists in 38 games for Madrid in 2005/2006, ending in his last game at the Bernabéu but his goal in the 3-3 draw La Liga with Villarreal seemed a  perfect way to bow out: a looping header, the insecurity he desperately wanted Pierre Lebat to remedy all those years ago, from a Beckham cross on 67'. A tearful Zidane waved goodbye to the Madrid fans, with Real securing 2nd place, and the first phase of the Galácticos project, and the 'romantic' but ill-fated Zidanes y Pavones, was firmly over – with Fabio Capello announced as Madrid's new manager for the beginning of the 2006/2007 season. With just one last tournament to play before Zidane's retirement, France, despite being placed in a generous group alongside Switzerland, South Korea and Togo,were  not being among the clear favourites due to their average pre-tournament form and narrow qualification. Zidane, though, was clearly in the mood for a fitting swansong and Domenech's 4-2-3-1 suited him greatly.
Often, a bizarre good omen for a potential World Cup finalist is to start the tournament in distinctly average fashion and France certainly did that: finishing unbeaten in Group G, but amassing just five points and finishing behind Switzerland. France's polar opposites, in this instance, were Spain – who had cruised through Group H, allbeit a group featuring the 'might' of Ukraine, Tunisia and Saudi Arabia, and had become one of the tournament's clear favourites. The trio of David Villa, Fernando Torres and Raúl seemed unplayable with the service of Xabi Alonso, Xavi and Cesc Fàbregas, but France produced a spirited performance – particularly given the fact that Spain went ahead through a Villa penalty on 28'. Zidane set-up Patrick Vieira from a free-kick to put France ahead on 83' before a well-placed finish by Zidane, himself, on 92' sealed a 3-1 victory. France were certainly in the tougher part of the draw, though, with a semi-final awaiting them against the seemingly unstoppable Brazil in Frankfurt. In a match where the pre-match focus was placed on the magic of Ronaldinho and Kaká, Zidane gave one of the greatest individual performances seen at the World Cup in recent decades.
Marauding and constantly running at Brazil's shaky foundations, Zidane rolled back every one of his 34 years and his undying passion was seen in constant tracking back and surprisingly well-timed tackles. All in all, Zidane was leading by example and that is without even addressing his key hold-up play and the endless through balls he bombarded Brazil's defensive line with. Zidane's influence was clearly rubbing off on his teammates and it was no surprise that a Zidane free-kick from the byline was met by an unmarked Henry at the far post on 57′. Yes, it was not a vintage and well-built Brazil team, regardless of their 'Magic Square', but to even drum up the belief to attack a side that had not lost in over thirteen months nd had some of the greatest individuals in the world was a major achievement. Zidane gave one of the most influential performances of his career and the well-matched Italy, who also grew as the tournament progressed, awaited France in the final.
With Zidane being awarded the Golden Ball before the match, lifting the World Cup would have been the ultimate Hollywood ending. However, this was Zidane and like nearly all of le cinéma français climaxes, his own ending was not to be so positive. It all started so well, though, with Zidane netting a penalty with a trademark Panenka past Gianluigi Buffon on 7'. Although Marco Materaazi equalised on 19' and it seemed likely that extra-time was going to progress to penalties, France had every chance of nicking a goal or having a flawless shootout with their talisman and specialist penalty taker on the field. However, the minute of 110', Zidane's nadir and the moment that ultimately tainted his legacy, dramatically changed the momentum of the match. It all happened in the blink of an eye: Materaazi tweaked Zidane's nipple at edge of Italian box, a common occurrence in Serie A, and the pair exchanged words. Zidane's have since been revealed to have been: "If you want my shirt, you can have it at the end of the game", which preceded Materaazi's insults about Zidane's wife and sisters.
Then, something clearly snapped in Zidane, forgetting the occasion and his responsibilities, not least because he was captain and it was his final match, and he launched his head with incredible velocity at Materaazi's chest. Zidane departed the pitch, his teammates heads dropped and the French public were left in outrage at his petulance and unprofessionalism in the biggest (given it was not a home tournament) match in France's history. France lost the match 5-3 on penalties, but after the dust had settled, even in spite of Zidane's 'apology' where he claimed he could never have lived with himself had he walked away from Materaazi, the footballing world and France in general realised what an incredible contribution Zizou had made not just to the 2006 World Cup, but to professional football in general in his eighteen-year career.
Zinedine Zidane is now sporting director at Real Madrid and their impressive 2010/2011 campaign has certainly been influenced by Zidane's stable relations with Florentino Pérez and José Mourinho in comparison to the volatile Jorge Valdano. Zidane's eldest son, Enzo, is also on the books at Madrid and at just sixteen years of age, the midfielder, who has already trained with Mourinho's first-team, could well follow in his father's footsteps.
However, to imagine a more gifted yet complete player than Zinedine Zidane in the next century seems incredibly unlikely and even though Zidane lived a flawless personal life and had an incredible talent, his petulance made him human, empathetic and ultimately, the flawed genius.