This is Part 2 of a feature on the rise of Canary Island minnows Las Palmas. Read Part 1 here.
The Setien effect 
Yet, Lady Luck gave some back to Las Palmas, as substitute Willian Jose won it against Betis with a beautiful finish in the 93rd minute.
In fairness, Las Palmas had been dominating the game, with shots 16 to 8 in favour and 65% possession.
The win meant that they had moved up to 19th, where they would remain after a 1-0 loss in Barcelona to Espanyol.
Their last game of the 2015 calendar year was a wacky 4-1 win over Granada despite managing a total of SEVEN shots.
Jonathan Viera scored a penalty and grabbed two assists, as a makeshift center back pairing of Hernan (a CDM) and Garrido (a backup LB) held on.
The new year kicked off with a 2-2 draw at Athletic Bilbao, as Sergio Araujo tried to break out of his slump (no goals since the match vs. Celta) with four shots.
Las Palmas survived a frantic opening few minutes, with Javi Varas coming up big several times to deny Aritz Aduriz, who would slot home 15th minute penalty after David Garcia blocked Susaeta's shot with his forearm.
Vicente Gomez rifled a left footed shot to make it 1-1, but Inaki Williams pounced on a series of poor clearances to give the Basque side the lead in the 66th minute.
Tana's shot deflected into the top corner in the 81st and Las Palmas had salvaged a point from San Mames.
The 1-1 draw with Malaga was the official halfway point for the team in yellow, and it was Tana who once again scored the crucial goal.
Setien had guided Las Palmas to 13 points from eleven matches, and a respectable 14th place finish.
The goal difference was minus one, and the underlying numbers showed improvement not so much in shot volume allowed, but in quality – a -1 shots on target difference is massively better than the -17 under Herrera earlier.
The defence has arguably gotten better, as Las Palmas  allowed 12 shots and 4.63 shots on target per game – both middle of the pack numbers.
The offensive uptick came in the form of quality over quantity – 10 shots as opposed to 12 under Herrera, but 4.5 on target to 3.25 is a massive upgrade.
The continued rise of Viera was abetted by the emergence of Tana as a secondary goal-scorer while Roque Mesa and Vicente Gomez solidified the defense in a 4-2-3-1.
Las Palmas rises in the second half of the season
The return leg of the season started awfully for Las Palmas, with a 3-0 home loss to Atletico (two goals by Antoine Griezmann), despite an even shots battle at eleven apiece.
Things got even worse as Levante defeated them 3:2 in a Monday matchup with Willian Jose and Morales notching braces each.
The key to the home side's success was getting eight of their twelves shots on target, while los Amarillos could not take advantage of their 70% possession, managing just four of their thirteen shots on target.
Some of that great possession was due to 40-year-old club and Spain legend Juan Carlos Valeron starting alongside Roque Mesa, and amassing 132 touches with two key passes and 86% pass completion whilst earning five fouls.
The club would continue to be a nemesis for Celta Vigo with a convincing 2-1 victory, much like Rayo would continue to befuddle UD with a 2-0 win of their own.
Moral victories – but actual losses to Sevilla (2-0) and Barcelona (2-1 again) saw Las Palmas back in the relegation zone at number 18 after 25 matches played.
While the team notably outshot the mighty Catalans 16 to 12 it still averaged twelve shots total with 3.66 on target in that six game spell – certainly nothing to indicate that things were about to explode.
Yet, from Matchday 26 to 33 Las Palmas went supernova – winning six of eight games and losing just once to Real Madrid and earning 19 points, just two fewer than the 21 they collected in the first 25 games of the year!
Fourteen goals scored is tremendous for a team who had 24 in 25, but allowing five in eight matches after letting in 40 in 25 is outrageous. Here are some of the notable moments:
Pedro Bigas' goal beat Eibar, while J. Viera had six key passes in the 1-0 triumph.
Within the span of four days LP won two matches: 1. getting revenge with a 4-0 against Getafe – thanks to a brace by Tana a goal and assist by Viera. 2. winning a close match with a 1-0 against Villarreal, with Viera providing the assist to 34-year-old David Garcia.
The 2-1 loss to Real Madrid was highlighted by the fact that LP outshot Los Blancos 15 to 12 and 6 to 4 on shots on target.
1-0 versus Sociedad included Viera missing a penalty and several great saves by Real keeper Rulli.
Valencia was no match, losing the shots battle 13 to 7 and the game 2-1, thanks to Viera's penalty and a Shkodran Mustafi own goal.
Juan Carlos Valeron was given 20 minutes against his old club Deportivo La Coruna, but it was Sergio Araujo that stole the show with two goals in a rare start! UDLP were now in tenth place!
The 1-1 draw versus Gijon capped off the run.
The final shot tally shows the same 12 shots on average that LP have produced for much of the year, but los Amarillos were averaging 5.1 shots on target in this stretch – also known as Real and Barca territory.
Defensively, they allowed just a hair over 3 shots on target against, a mark that would rank them second on the season behind Atletico Madrid's stifling defense at 2.66 per match. Their season average would wind up at 4.66 per game!
Limping to the finish
Prior to matchday 34, UD were sitting pretty on 40 points and eleven clear of the 18th spot that would mean relegation.
Thus,  perhaps lack of motivation could be the reason behind the final five matches being rather dull.
A 1-0 loss to Betis really should have been a blowout, with Betis taking 20 shots to 3, after Aythami picked up two yellows in nine minutes at the end of the first half.
The club rebounded nicely to thrash Espanyol 4-0, getting 9 of its 14 shots on target as Jonathan Viera – a goal and two assists ran roughshod over the team from Barcelona.
They would reach their highest ranking on the table at ninth. A 3-2 loss to Granada saw Viera add two more goals in the first twelve minutes, but the home team mounted a comeback to down Las Palmas.
The lowest offensive output was just four shots vs Bilbao in a 0-0 draw. On May 15th the 2015/16 season ended with a whimper, a 4-1 loss at Malaga despite 64% possession.
Overall, thanks to that remarkable eight game stretch, where Las Palmas played liked a top three team, the club enjoyed an excellent spring with 26 points in 19 matches.
The key components of success -the players
The offense was helped by the emergence of Jonathan Viera as a force in La Liga with ten goals (four from penalties) and nine (according to Whoscored) or ten (according to Squawka) assists.
Viera ranked third among all players with 71 key passes for the season, and his raw numbers  make him look like a diet Neymar.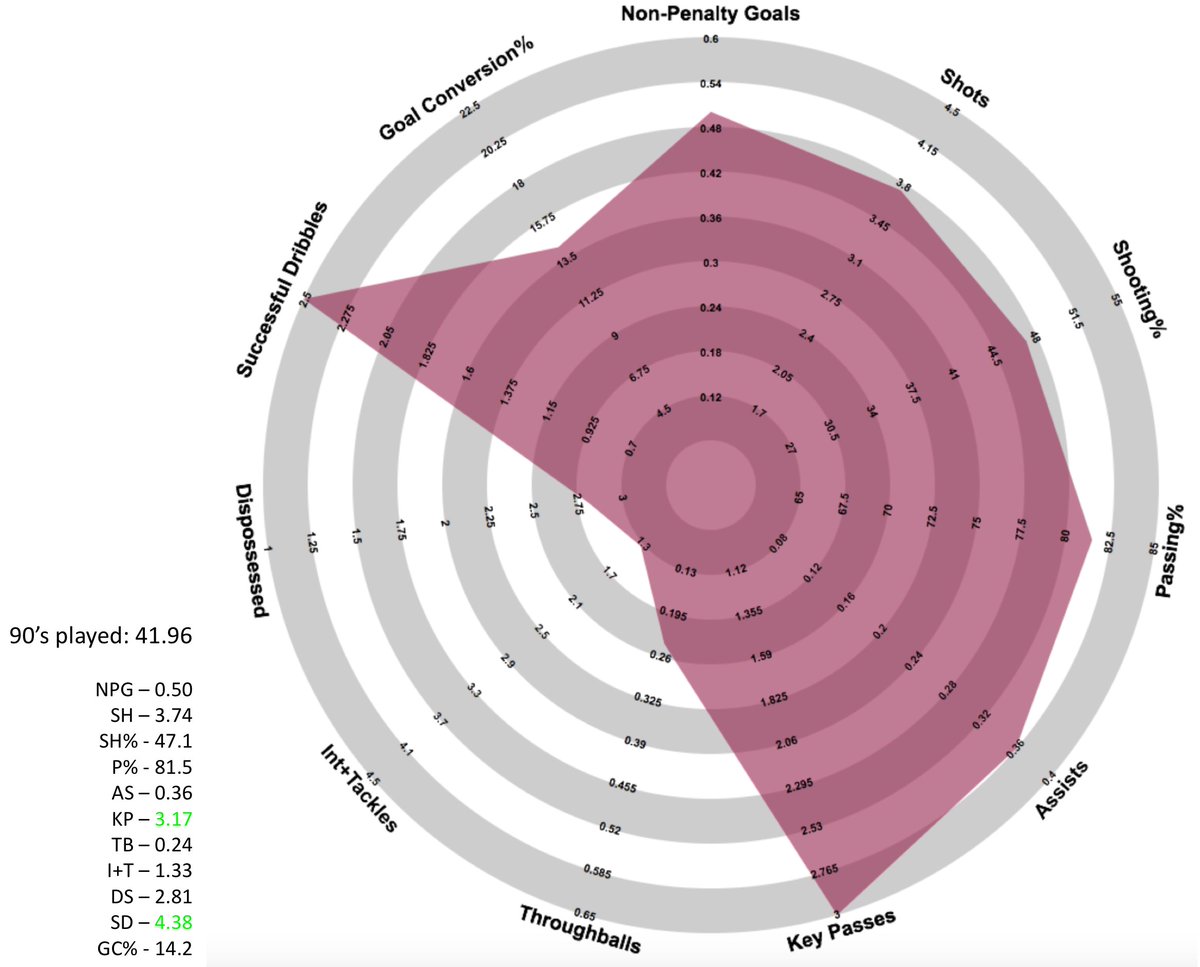 Willian Jose took over the lone striker role and added nine goals in under 2000 minutes on a 22% conversion rate (while only finishing 46% of all games), but Sergio Araujo's five goals (three early in the year, then nothing until a brace against Depor) were also key.
These three were the only players with close to two shots per match and recorded 24 of the team's 45 goals.
Tana's five goals came in some key spots and defenders Pedro Bigas and David Garcia also combined for five more. 
Overall, 45 goals in 38 matches is far from great, but the improvements from Herrera (six goals in eight matches) to Setien (39 in 30 matches) was noticeable.
The advanced stats of Michael Caley are rough on Las Palmas: Through 36 games (the data was left unfinished) they had an actual goal difference of 44 for and 49 against, but with an expected goals of 31 and 52 for a SIXTEEN goal swing.
Sure some of those are the seven "extra" penalties, but that kind of run is significant.
However, it's not uncommon for teams to outperform those models (for one thing 38 game samples are not conclusive), Gladbach and Hertha are examples from the Bundesliga in recent years, with Espanyol running 24 goals under expectation and Real Madrid running 30 goals over!
On the other hand, the defense was massively improved by Setien.
When he took over in October, defensively, the team still had a ways to go as Herrera's five back system was ineffective – conceding 13 goals in eight matches and allowing 14.6 shots per game and 5.3 shots on target against – marks that would've led the league comfortably had he been allowed to finish the season out.
Setien's shift to a four back system with Gomez (the CDM) and Roque Mesa (the box-to-box) in front of them alleviated some of those troubles and then some.
Adding the 40 conceded in 30 matches under Setien to the total, the 53 is right on par with the mid-table teams (Betis gave up 52, Sevilla had 50, Sociedad and Valencia at 48) and comfortably above the teams 13 or worse (60+ conceded, with Espanyol somehow managing 13th place despite leading the league with 74 goals shipped.
Still the defensive metrics improved quite bit : under Setien UD allowed just 3.73 shots on target (or 30% fewer than under Herrera) and 9.8 shots total compared to 14.6.
That's a giant leap forward, as only Barcelona and Atletico Madrid were better at 9.6 and 9.7 respectively.
Pedro Bigas is the defender most worthy of individual accolade: the centerback was ranked as the 15th best performer in the entire league according to Squawka, who also ranked him behind Sergio Ramos and Diego Godin as the third best defender.
Whoscored ranked him 35th among all players (just edging teammate Jonathan Viera at 36) with a 7.2 average rating, but fourth among defenders.
Getting him from Malaga on a free transfer in July of 2015 looks like a huge steal, as his Transfermarkt value has risen to €6 million.
Left back, Dani Castellano, though capable of the occasional defensive lapse was ranked eight among fullbacks with a 7.12 Whoscored rating, edging out Jordi Alba and Juanfran.
His 1.7 dribbles per game number looks quite impressive and he is a solid 82% passer. He also contributed 2.1 tackles and 3.2 interceptions per match – both very good numbers.
Javi Varas was ranked as the eight best goalie in Spain by Squawka.
The 33-year-old who spent most of his career at Sevilla as a backup to Andres Palop, finally breaking through in the 2010/11 season.
His finest hour was arguably the eight save performance against Barcelona in October of 2011, where he even saved an injury time penalty by Lionel Messi.
Sevilla signed Beto in 2013, and Varas moved on to Valladolid, before moving to Gran Canaria in July 2015.
In his inaugural season, Varas made 91 saves, and ranked third among La Liga netminders with three saves per 90 minutes!.He also recorded nine clean sheets.
Random stats
Las Palmas led just nine times at halftime in 38 matches, but Las Palmas won eight of those matches with just one draw.
From that low number, it's only logical that getting behind was a theme for Las Palmas, with los Amarillos allowing their opponent to score first 23 times – tied for the fourth most in the league – earning three wins three draws and 17 losses in those matches.
Only three teams (Getafe leading everyone with 39.8) trailed more than UD who spent an average of 33.4 minutes behind and just 15.4 minutes ahead – the third lowest behind Malaga's 15.3 and Levante's 11.
The 2016/17 season is all about Las Palmas so far, but can it last?
So, while some in the know were onto Las Palmas being a sneaky decent team (Will from the Challengers Podcast mentioned the 446 short passes per game was third behind Barca and Real), the 2015/16 squad was fundamentally different from this season's LP.
Last year they had score just one counterattack goal and averaged just 12 crosses per match and were lowest in the league with both of those.
Only 4% of shots came inside the box – worst in La Liga, as well as 45% of shots outside the box, the  third worst margin, and 22% of time spent in the opposition third is also the lowest figure.
They did manage 12 goals on set pieces, a figure that ranked them sixth. So hardly an offensive juggernaut, even under Setien.
How are they doing it this year? ON FIRE!
Those are some stupid numbers on the chart: getting NINE goals from FOURTEEN shots on goal would make Marcus Rashford jealous.
As the guys on the Challengers Podcast pointed out, Las Palmas are scoring a goal every 2.33 shots – which is THREE times better than Dortmund and Barca who averaged roughly six shots for every goal last season.
10.5 shots per game is nothing to write home about, but last season's Manchester United (11.5) and Hertha BSC (under 10) both achieved Europa League spots with the same numbers.
Last weekend's loss to Sevilla was at once a dose of reality (getting outshot 16 to 7) and harsh: Las Palmas led until the 88th minute red card to Pedro Bigas had them down to ten men, and Jorge Sampaoli's men took advantage with two stoppage time goals to overcome them 2-1.
Still, every fairy tale needs some adversity, and the next two games against Malaga and Real Sociedad would be perfect opportunities to overcome that, with a victory in the home match against Real Madrid the Hollywood ending.
Additional sources used:
http://www.transfermarkt.com/ud-las-palmas/alletransfers/verein/472
http://okdiario.com/deportes/2016/08/29/secreto-ud-palmas-juntos-somos-mejores-340566
http://www.transfermarkt.com/ud-las-palmas/startseite/verein/472
http://www.spox.com/de/sport/fussball/international/spanien/1609/News/ud-las-palmas-erfolg-quique-setien-erklaerung.html
http://www.goal.com/de/news/3642/hintergrund/2016/09/05/27205212/kevin-prince-boateng-kein-tourist-im-urlaubsparadies