He was always going to return.
The night of 4 July, 1990 at the Stadio delle Alpi will serve as Paul Gascoigne's footballing epitaph: the moment that epitomised his flawed, yet intriguing and likable persona. The 23 year old Gascoigne, making just his seventeenth international appearance and playing in his first ever international tournament, was England's most naturally gifted international footballer since Bobby Charlton and his re-focused, following near-release at Newcastle in 1985 after several off-the-pitch controversies, and determined footballing attitude suggested that he could well follow in Charlton's footsteps in inspiring England to a World Cup victory.
Gazza, as wired as he would fatefully be on the night before the 1992 FA Cup final, did not sleep on the eve of the semi-final against West Germany and, upon returning from a 10pm game of tennis, the self-assured Gascoigne told Bobby Robson that the renowned Lothar Matthäus would be playing against the best midfielder in the world. However, unlike the FA Cup final, Gascoigne settled somewhat – following his wide grin and kiss on Peter Beardsley's right cheek as an otherwise nerve-filled England team sang God Save the Queen. After just two minutes, Gascoigne nearly scored a brilliantly-struck twenty yard hooked lob after a half-clearance from Beardsley's corner. Gascoigne then continued to impress: sending in countless dangerous in-swinging set-pieces, effortlessly utilising his trademark double shuffle dribble past the likes of Klaus Augenthaler and playing numerous brilliant lofted chips for the channels or for Gary Lineker to run onto.
However, on 99', his career changed forever. After weaving past Matthäus and Thomas Lund, and taking a slightly heavy touch, that led to an inevitable 60/40 (in favour of Thomas Berthold) challenge, Gascoigne badly mis-timed a full-throttle lunge on Berthold. It was far from a brutal challenge, though, and Berthold's theatrics, and the German bench's card-waving, accentuated José Ramiz Wright's decision to book Gascoigne after he failed to make an instant decision. Gascoigne's anguish (had been booked in the second round against Belgium, too) on his sunburnt face was palpable, as his upper lip quivered, and he captured the hearts of the whole of England, following the darkness of the hooligan-filled 1980s that saw football condemned by politicians and the middle-class alike. The human side of football was again affirmed, just like a week later when the Neopolitan-adopted Diego Maradona's cried following Argentina's 1-0 defeat to Germany in the final, and Gascoigne's conduct following the booking, including shaking Andreas Brehme's hand after receiving a dangerous tackle from behind on 110', laid the foundations for the journey he was about to undergo as football's flawed genius.
Still, it would be Gascoigne's only World Cup of his career, which makes it all the more poignant in hindsight – particularly when Gascoigne's career never fully took off after a stellar tournament. Having signed for Tottenham, rather than Manchester United after Spurs offered Gascoigne's family accommodation and a car in 1988, Gascoigne played a massive role in Terry Venables' improvement of Tottenham's fortunes after the drought of the mid-'80s. Venables would prove the most influential manager in Gascoigne's career, man managing and re-assuring him superbly where others would have lost patience, and gave him the free-role that saw Gascoigne explode into life in 1990/1991. Having failed to get past the third round of the FA Cup in 1988/1989 and 1989/1990, Gascoigne's six goals (included a fantastic thirty yard free-kick against Arsenal in the semi-final on 14 April) proved crucial in Tottenham reaching the final against Nottingham Forest. Before the final, Gascoigne had been headhunted by the notorious new owner of Lazio, Sergio Cragnotti, who admired, from afar, Gascoigne's personality and cult status as much as his footballing brilliance. A fee of £8.5 million was agreed, with Gascoigne's wage rising from £2,000 (which was a high figure for the pre-Murdoch First Division in 1991) to a staggering £22,000.
So, with the move seemingly set in stone, all Gascoigne had to was lead Spurs to their first trophy in nine years and claim the first piece of silverware of his senior career. Unsurprisingly, it would not prove that simple: a restless Gascoigne had to take two Valium tablets the night before the match to try and calm him down. Then, Gascoigne made made a dangerous high tackle on Garry Parker after just a minute of the kick-off (Gascoigne later admitted, and wished, he was sent off for the tackle) and ruptured the cruciate ligaments in his right knee after a naive 70/30 tackle (in Charles' favour) with Gary Charles. Gascoigne was rushed straight to hospital and could not partake in Tottenham's celebrations, following their 1-0 win, but there was a more serious concern afoot: his move to Lazio. It was the first major injury of Gascoigne's career but he was facing nine months out with the injury, which led to Lazio seeking instant re-negotiations and offering 'just' £4.8 million. Tottenham were shell-shocked and Venables, who was already at odds with Alan Sugar when it came to who negotiated transfers, turned to Gino Santini, an Italian restaurateur in Kensington who had negotiated Mark Hateley's move from Portsmouth to Milan in 1984.
For a fee of £200,000, Santini's job was was to re-negotiate on behalf of Venables. However, naturally, Santini was somewhat clueless when it came to Lazio's footballing concerns and instead pleaded that the transfer fee be increased as the "insurance policies will cover Gascoigne's recovery and provide a warranty to Lazio." In the end, sensibly, Lazio's medical team came over to London, examined Gascoigne and gave Cragnotti (whom Gascoigne described as looking like Bud Abbott when he first met him, with a besotted Cragnotti promising Gazza that the Englishman would have a home in Rome forever in reply) the all-clear to make an agreeable £5.5 million offer – which was still, by a distance, a British record. 1,000 turned out for Gascoigne's unveiling in Rome, but his debut was seriously delayed when he landed on his injured right knee after he was punched (many Newcastle fans had still seen him as a traitor for his move to Tottenham in 1988, even despite Gazza's 1991 smash-hit, Geordie Boys) off a bar stool in a lockout in a pub on the Tyne:
All I wanted to be was one of the local lads and they're not giving me the chance. They're jealous. Now I've come to realise that I can't be one of the lads.
So, while Gascoigne would not play in 1991/1992, his impact on the spread of Italian football westward was tangible. The television production company, Chrysalis (Channel 4), and Gascoigne were doing Gascoigne: The Fightback together and the producer, Neil Duncanson, led Chrysalis' bid for Italian football's television rights in England. Sky, who had held the rights from 1990-1992, were gazumped and lost the contract. From this, and such was the hype that Gascoigne's move abroad created in England, a whooping 3 million tuned into Lazio's first game of the season against Sampdoria on Football Italia on Channel 4 on 6 September, 1992. Gazza was making a splash in Rome, too: playing a practical joke on his consultant, Jane Nottage, by leaving his shoes beside an open window while hiding in a cupboard; paying £275 for garish hair extensions to channel Roberto Baggio's Divine Ponytail, having already secured the prestigious number ten shirt; slipping a dead snake in Roberto Di Matteo's jacket pocket; and nearly running over an over-zealous fan after his unveiling at the Stadio Olympico. As he returned to fitness by pre-season of 1992/1993, though, the overweight Gascoigne took time to get used to Dino Zoff's, and Italian football's, trademark running sessions:
We had Steve Coppell and Brian Kidd come over to watch us train to take ideas back to Crystal Palace and Man U. Kiddie turned round and said 'there's no way Sir Alex would bother with this!' I turned round and said, 'divvint worry, that's just the warm-up!'
Gascoigne made his debut in a high-profile midweek friendly, aka the Capital Cup, against Tottenham on 19 September at the Stadio Olympico. An impressive, given the torrential rain, 30,000 Lazio fans turned out for the Tottenham match and Lazio's average gate would increase by 5,000 in 1992/1993. Gascoigne then made his debut in the 1-1 draw against Genoa on 27 September but frustratingly, the Englishman had to go off at half-time after a typically tough challenge from Mario Bortolazzi. However, it was not a serious injury and Gascoigne's retaliation won him much national Italian support: getting up and shaking nearly every Genoa players' hand before going off for Claudio Sclosa. Gascoigne, even if he was overweight and had been the effective source of his own injuries, was also popular with the Lazio fans. From this, Gazza was serenaded with 'Paul Gascoigne la-la-la-la-la', to the tune of 'Brown Girl in the Ring', by the Lazio fans and saw English flags and banners reading 'Boys, We Are Here. Shake Your Women And Drink Your Beer' (this banner had been displayed at Rome airport upon his arrival, too) in the Curva Nord.
Gascoigne, though, took time to adjust to Italian football and regain match fitness but his performance against Milan on 18 October in a 5-3 defeat won him many plaudits. Milan were 2-0 up and on game 39 of their soon to be incredible 58 game unbeaten run, and Fabio Capello was quick to pay – in trademark style – modest tribute:
Next season, Gascoigne can be one of the Italian league's great players but it's important he works on his conditioning. He is strong and quick, gets away from players beautifully and has the talent to reach that mark. However, he must work hard every day on his fitness. At the moment he is OK, but he should do better.
Also, Gascoigne's equaliser against Roma on 22 November went a long way to justifying his club-record fee in the fans' eyes. Having been taunted by the Roma fans for the whole match, with inflatable wheelchairs, a banner reading 'Paul Gazza, You Are Fat Poofta' and avalanches of Mars bars (one of which Gascoigne chomped down), Gascoigne equalised in the dying minutes with a brilliant, yet uncharacteristic, looping header. Amid the tears of joy, it was a career highlight:
One of my best memories was scoring the equaliser in the big Rome derby. Every club I've been at I've scored in derbies: the Old Firm, the Rome derby and the North London derby with a free-kick against Arsenal at Wembley. But I managed a goal in a memorable Roman derby and I have to say I was petrified going into the game. I've played in some derbies, up in Glasgow as well, but that one just wasn't normal. The players from both sides were nearly crying because there was nowhere to run or hide for the losers.
Gascoigne immediately followed this up in the following match against Pescara with a brilliant dribbled goal on 6 December: dancing past Stefano Ferretti, Dunga, Giacomo Di Cara and Ubaldo Righetti before slipping the ball past Nello Cusin. Clearly, Gascoigne was beginning to thrive in Rome, aided by frequent visits from his father and childhood friend, Jimmy 'Five Bellies' Gardner (who would go on to get barwork in Rome and eat cat faeces-filled mince pies in a cruel practical joke by Gascoigne). Unsurprisingly, Gazza bonded with his teammates, too, and this was particularly the  case with Aron Winter, which was ironically evident in Gascoigne deflating his Porsche tyres. Gascoigne would later send Winter, along with Patrick Kluivert, Peter Hoekstra, Danny Blind, Gaston Taument, Richard Witschage and Ronald De Boer, a stretch limo and personalised leather jacket to go to Planet Hollywood in the run-up to when England played the Netherlands on 18 June at Euro '96.
However, Gascoigne's behaviour did not impress Zoff, particularly when he was only allowed to pick three of Gascoigne, Winter, Thomas Doll and Karl-Heinz Riedle due to Serie A's foreign quota. From this, Gascoigne was dropped for the match against Juventus on 24 January, 1993 due to "poor physical condition." Asked by an Italian reporter afterwards about Zoff's decision, Gascoigne, dressed in a Lazio club blazer, responded by burping into the microphone and was fined £9,000. Without even addressing the absurdity of the fine, in just one single bodily action, Gascoigne had reminded the world that not all footballers were robotic. Gascoigne recovered his form, though, helping Lazio claim an admirable 5th and the Biancocelesti finished just twelve points off the champions, Milan.
On the international front, though, things were not as memorable for Gascoigne. He made a controversial "f**k off Norway" comment to a Norwegian reporter in the run-up to an eventual 1-1 draw against a fired-up Norway on 14 October, 1992. Then, Gazza suffered a broken cheekbone, that led to his infamous Phantom of the Opera mask (would later be stolen from Lazio's training ground by a fanatic supporter), after a stray elbow from Jan Wouters on 28 April, 1993. Gascoigne also had a tense relationship with Graham Taylor, who criticised Gascoigne and Paul Merson for "refuelling", alcohol-wise, before the Norway return on 2 June, 1993. Finally, Gascoigne earned an automatic suspension for the crucial match against the Netherlands on 13 October, 1993 after picking up his third yellow card of the campaign against Poland on 8 September, 1993 (Gascoigne epitomising the chaotic regime even before the match,with his wearing of a pre-match waistcoat – unlike the other players in blazers and ties).
Gascoigne returned to pre-season with Lazio in August, following a camper holiday in Durham, and was a stone and a half overweight. It was another paradoxical season for Gascoigne: orchestrating a brilliant 3-1 victory over Juventus on 13 December, 1993 and wooing the fans with an Emperor Nero-like statuesque celebration after a fantastic 25 yard free-kick from the byline against Cagliari on 14 February, 1994; but breaking his rib against Sampdoria on 3 January, 1994 and suffering a career-threatening leg break in training on 7 April. The leg break was a poignant moment for Gascoigne, with his wife, Sheryl, and father watching training and again, it was caused by an over-zealous Gascoigne in a 60/40 tackle. A tearful youth player, one Alessandro Nesta, was the other tackler and still blames himself for the challenge despite Gascoigne's eventual self-condemnation. Gascoigne's time at Lazio was finished and Alen Bokšić had already replaced him as the Curva Nord's new idol after some brilliant performances in his debut 1993/1994 season.
The stress the move had taken on Gascoigne was telling: he suffered from bulimia by 1995 and was a stone underweight, as opposed to being a stone and a half overweight when he arrived in Rome, upon leaving for Rangers in July, 1995. While Rangers were partaking in the Champions League, were going for their eighth title in a row and made Gascoigne their record signing at £4.3 million, the 28 year old had hoped that Manchester United and Blackburn would have come in for him. Clubs, though, were wary and the likes of Chelsea and QPR made bids that were centered on Gascoigne's transfer fee being paid based on him making a certain amount of appearances. Gascoigne, though, made the best of it and Sir Alex Ferguson would later call his refusal to sign Gascoigne for the second time, in 1995, as his "biggest regret."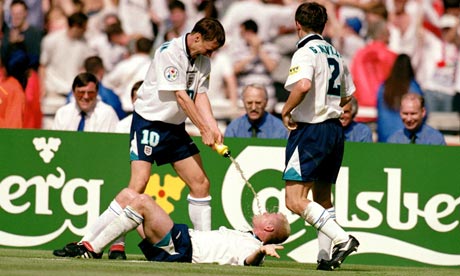 Gazza continued to enthral in the twilight of his career: securing the first league titles of his career in 1995/1996 and 1996/1997; starring for England at Euro '96, including a glorious volley against Scotland on 15 June; and playing brilliantly for England in the 1998 World Cup qualifiers against Moldova on 10 September, 1997 and Italy on 11 October, 1997. However, controversy and disappointment, unsurprisingly, were not far off either: assaulting Sheryl in October, 1997; mimicking a flute player against Celtic in January, 1997; and badly struggling with injuries (had 26 operations in his nineteen-year career) and alcoholism, after a devastating falling-out with Glenn Hoddle upon being left out of the England squad for the 1998 World Cup. Since retiring from professional football in 2004, Gascoigne's life has been just as chaotic, not least for a bizarre 39 day managerial stint at Kettering Town in 2005, and he was sectioned under the Mental Health Act in 2008. This occurred after Gascoigne threatened a hotel porter but he is currently sober – following a desperate suicidal attempt on 5 May, 2008, near-bankruptcy in 2009 and a bizarre appearance at Raoul Moat's hideaway in July, 2010 – after an incredibly difficult twelve step (first time he did not use rehab) detox from cocaine and alcohol.
Now based in Bournemouth, tied in with their Providence Project centre, Paul Gascoigne has used his self-proclaimed addictive personality for training and gymwork purposes only. It has been a remarkable and self-driven recovery on the South Coast, epitomised in the fact that he could not be further away from the distractions and hangers on in Newcastle, and one hopes that he can break the crucial twelve-month barrier. There is no doubting that Gascoigne's drinking worsened once he retired, but one cannot help but wonder how his career and post-footballing life would have panned out had he not been so unlucky with injuries.
After all, Gascoigne made just 39 appearances in two seasons at the Stadio Olympico, with Ferguson citing his injuries as much as his demons as why he did not sign him, and these three seasons should have been, in hindsight, the defining and peak-aged period of his career.