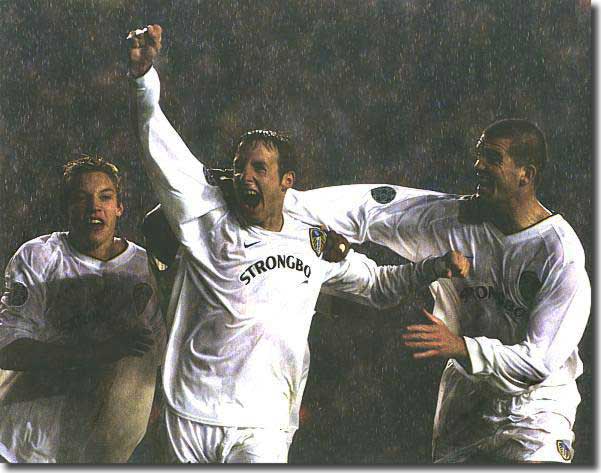 They were halcyon days for Leeds United A.F.C., a stunning 3-0 victory over Deportivo la Coruna in the first leg of a UEFA Champions League semi-final was an incredible pinnacle for fans of the club who had watched in delight as David O'Leary sculpted a team once again able to mix it with the league and the continent's finest. A 2-0 defeat in the second leg at the Riazor stadium was still good enough for Leeds to progress to the semi-finals and continue their remarkable run through the tournament.
Soon after their elimination at the hands of Valencia in the last four however, things began to rapidly turn sour. O'Leary had indeed assembled a fine team but his actions in doing so were far from being financially prudent, average players were signed for above average fees and  then paid some of the highest wages in the league. Chairman Peter Ridsdale funded the spree by securing large loans, set against the "guarantee" of increased TV and sponsorship revenues to be earned since the club's success would undoubtedly continue – wouldn't it?
Unfortunately for all at Elland Road, the answer for a firm no. The masterplan never came to fruition  and their dream turned into a nightmare. Leeds failed to qualify for the Champions League the next season and financial disaster loomed. The heroes of 2001 were tossed aboard in exchange for desperately needed funds and replaced with free transfer signings, dodgy loan deals and footballing journeymen. In May 2004, just three seasons after one of the finest nights in their history, Leeds United were relegated from the top division of English football. Three years after that, they were relegated from the second. The team that had brought Leeds as near to the summit of European football as they had ever come before was all but a memory, below we take a look at the careers they moulded afterwards.
Leeds team vs Deportivo la Coruna, Champions League Quarter Final, First Leg, April 4th 2001
GK: Nigel Martyn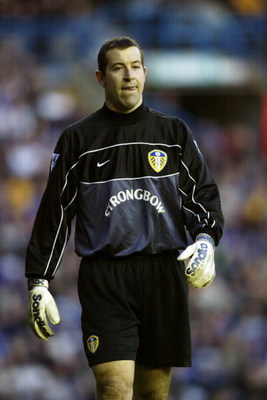 Martyn was inspirational for Leeds during his six seasons there, no more so than in 2001 when his form during their march through the Champions League was so impressive that it led to him being voted as the best Leeds Goalkeeper of all time. Following the sacking of O'Leary, Martyn fell out with replacement boss Terry Venables and became second choice behind up and coming star Paul Robinson.
Everton swooped for the Cornwall stopper as a backup to Richard Wright in 2003 but when Wright was injured early in the campaign, Martyn took over with such aplomb that he remained number one for the season and indeed for the rest of his time there until injury forced him to retire in 2006. His effect at the Blues was such that David Moyes hailed him as his best ever signing. Martyn now works as a goalkeeping coach at Bradford.
RB: Danny Mills
Signed by Leeds in 1999, Mills was just 24 when part of the Leeds side facing Deportivo and at that stage a bright career seemed to beckon. Mills made 101 appearances for Leeds and was  duly noticed by national managers. He went on to pick up 19 England caps, and played in all five games of the team's 2002 World Cup campaign.
In 2003 his form dropped however and he was loaned to Middlesbrough and then sold to Manchester City in 2004 where he made only 51 appearances in 5 years in a spell interspersed with loan deals to Hull City, Charlton Athletic and Derby County. In August 2009, Mills announced his retirement from football aged just 32.
LB: Ian Harte
Like Mills, Harte was ju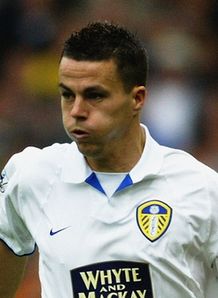 st 24 in 2001 however he had been at Leeds since he was 18 after signing from Home Farm in 1995. Again like Mills, Harte also seemed destined for a bright future only for it to ultimately fail to materialize. A hero during his time at Leeds, Harte was widely revered as one of the best dead ball kickers in the League and even managed to get his name on the scoresheet in the famous win over Deportivo to bag his third Champions league goal that season.
He became yet another victim of Leeds financial crisis and left to join relatively unknown Spanish club Levante who had just been promoted to the top flight. Harte scored their first goal in La Liga for 41 years but was ultimately powerless in watching his new side be relegated as he sat the season out with a groin injury. In his second season with the club he was once again first choice left-back and helped them back to the top divison by bagging nine goals along the way. Harte once again struggled with an injury in the following season and was later told he did not feature in the clubs plans. In the summer of 2007 he was signed by Roy Keane at Sunderland, but was transfer listed by January 2008. After a series of failed trials, Harte signed with Blackpool in December 2008. In March 2009 he signed for Carlisle where he remains to this day, bagging 13 goals in just 36 appearances.
CB: Rio Ferdinand
I doubt many of you need much information regarding Rio's career path since his Leeds' days given the profile he's created since his time at Manchester United. Rio is as near to a one-man symbol of Leeds' transfer dealings back then as could be. Signed for a British transfer record of £18m in November of 2000 (becoming the world's most expensive defender in the process), his arrival from West Ham sent out a strong message of Leeds' intent across the footballing world.
Interestingly his subsequent departure in 2002 sent out another clear message  – Leeds were very much in trouble and would listen to offers for almost any player. When Manchester United came knocking, Leeds could not refuse the massive money they were offering and simply had to let go of one of their brightest stars.
The fee of just under £30m United paid meant that Rio once again became the worlds most defensive defender, snatching his title back from Lilian Thuram following the Frenchman's big money move to Juve in 2001. Ferdinand's time at Leeds was certainly successful for him, despite his young age he became a fundamental part of the team of 2000/2001, even captaining the side for the first time and getting his name on the scoresheet against Deportivo in the first leg.
CB: Dominic Matteo
Matteo was one of the later members of the squad to eventually fly the nest, hanging around until 2004 when he then made the move across Lancashire to Blackburn Rovers. Signed from Liverpool in 2000, the defender became a big hit with the fans at Elland Road who respected his permanently commited performances. Matteo was integral to Leeds success in Europe in 2000/2001, even scoring against AC Milan in the San Siro for one of his two goals for Leeds in 115 appearances. The other also came in the competition when he netted gainst Besiktas in the same season.
Upon Ferdinand's departure, Matteo became club captain a position he held until moving to Blackburn. His time at Blackburn was an unhoppy one, making  only 34 appearances in three years. In 2007, Matteo moved to Stoke City, then in the Championship. He was made captain but his gametime was far from consistent and he appeared just 24 times before his retirement in 2009. Matteo is currently studying toward his UEFA coaching badges.
RMF: Lee Bowyer
Bowyer is another player that has never been far from the limelight in his career. The midfielder joined Leeds from Charlton in 1996 for a then record fee for a teenager. Bowyer became a first team regular in 2000 and was another player to step up to the plate in 2000/2001 season, scoring crucial goals against A.C. Milan, Barcelona and Anderlecht in Europe. His performances were even more impressive when it was considered that he and teammate Jonathan Woodgate were undergoing a high profile trial at the time following the assault of an Asian student at a city nightclub. Bowyer was eventaully acquitted but was fined by the club for breach of discipline.
Despite the club otherwise standng beside him throughout the trial, Bowyer took offence to the fine and following a dispute with club management was transfer listed. He was later removed but then put back on at the end of the season after refusing a five year contract offer. A move to Liverpool fell through and Bowyer eventually made his way to West Ham for the first time in 2003. His time there was blighted by injury and he made only 11 appearances before moving to Newcastle. More controversy followed him there when he was involved in an on-field scrap with teammate Kieron Dyer. Bowyer was adjudged to be the aggressor in the fight and was heavily punished by the club, the FA and the police. After making almost 80 appearances for Newcastle, he made his way back to West Ham scoring 4 goals in 41 showings. Bowyer moved to Birmingham on loan in 2009 and was signed permanently in the same year. He is widely accredited to be playing the best football of his career since his time at Leeds and there have even been murmerings of a second England call up, which have so far proven massively unsubstantiated.
CM: Olivier Dacourt
Dacourt carved a fine career out for himself after leaving Leeds in 2003, first joining AS Roma and then moving to Inter Milan. before injury hampered his progress. Dacourt was another of Leeds' relatively big-money purchases, joining from Lens (who he had joined from Everton) for £7m in 2000. The Frenchman certainly did enough to justify his fee however and he became a regular at Leeds with performances of a high enough standard to also see him become first choice for his country. Like many others of the squad of 2001, things began to go downhill for Dacourt following the departure of O'Leary.
The Frenchman soon fell out with replacement Terry Venables who even once claimed that he would "drive him from the club personally". He was eventually loaned out to Roma and then signed permanently (on a Bosman transfer). Having impressed there, he caught the eye of Inter Milan who signed him as a back up to Patrick Viera in 2006, such were the extent of Viera's injuries that season though Dacourt played a massive part in them winning the title and even earned the nickname "The General" from the fans. Unfortunately for Dacourt during his second season at the club he tore a cruciate ligament and despite coming back to fitness never became first choice again. In 2009 he signed on loan with Fulham but was limited to substitute appearances and was not offered a full-time contract. In September 2009 he signed on loan for Standard Liege, however he was once again denied a full time contract and is currently without a club.
CM: David Batty
Having first kicked a ball for the Whites in 1987 Batty returned to Leeds for his second spell at the club in 1998 following time spent at both Newcastle and Blackburn. Having been a member of the 1995 Blackburn side that won the League (only playing five games due to an ankle injury) Batty was the only member of the side in 2001 that had previously sampled Champions League football when Blackburn had a disappointing run in the tournament in the 95/96 season.
Perhaps the inspiration for Lee Bowyer many years later, Batty once fought with Blackburn teammate Graeme Le Saux on the pitch during a game against Spartak Moscow. At the end of the '96 season he requested a transfer and was signed by Newcastle United playing there for two years before returning to Leeds in 1998 and eventually finishing his career there in 2004. Batty is remembered fondly by Leeds fans who not only respected his tireless efforts in midfield, but especially since he as a key member to their promotion from Divison Two in 1990, their First Division winning side in 1992 and their famous run through Europe in 2001.
LMF: Harry Kewell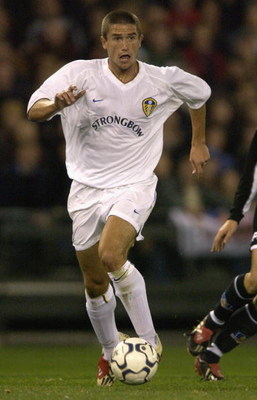 Having been at Leeds since 2005, Kewell was the longest serving club member (aside from Batty's two stints at the club) by the time 2001 came around. The Australian made a fine name for himself during his time and when eventually forced to leave the club in 2003 due to its financial problems the winger had no shortage of potential suitors. It is widely specualted that Kewell ignored offers from footballing powerhouses such as AC Milan, Manchester United, Arsenal and Barecelona before finally deciding to head to Liverpool where he was given the iconic No. 7 shirt.
In 2005 Kewell became the only ever Australian born player to win a Champions League however despite the dramatic circumstances in which Liverpool untimately won, kewell may well want to forget the game seeing as he was substituted due to an injury in the first half with many fans booing him believing he was faking it. Kewell was later diagnosed with a hernia. Kewell added an FA cup medal to his locker in 2006 but was once again forced off with an injury in the final after tearing a groin muscle.
After 96 appearances and 16 goals Kewell eventually left Liverpool to join Galatasaray in 2008 after injuries and difficulties in regaining form became an issue for manager Rafael Benitez. His move to Galatasaray was massively controversial with many Leeds fan criticizing him because of the rivalry between the clubs since two of their fans were killed before a game in Istanbul in 2000. Kewell chose the No. 19 shirt (his number when he first became a regular at Leeds) stating it was a sign of respect for where his career all started for him. He remains with the Turkish club to this day and has scored 17 goals in 42 appearances.
ST: Alan Smith
The youngest member of the team to step out in the Champions League semi-final, Smith began his career with Leeds in 1997 as a youth player and rapidly progressed through the ranks,  famously scoring against Liverpool with his first ever touch of the ball at senior level. He quickly became first choice for the club and was one of the goalscorers against Deportivo in one of the clubs finest ever performances. Smith had built a strong reputation and was viewed as hot property by all in football. He remained at the club until 2004 and was twice selected as fans player of the year due to his tireless efforts in their bid to avoid relegation.
On the fateful day that Leeds were relegated in 2004, Smith was famously photographed kissing the club badge as tears rolled down his face. This image would come back to haunt him as he went on to move to bitter rivals Manchester United in a £7m move just months later. Many of his former fans turned on the player and accused him of betrayal. It has since emerged that the club could no longer afford to pay his wages and that only United were interested in the player. Smith even refused the personal fee owed to him by Leeds as a sign of respect for all they had done for him, despite this fans would still continue to call him "Judas" for years to come. Smith won a Premier League and a League Cup at Old Trafford but ultimately his time there was unsuccessful as Ferguson's efforts to groom him into a defensive midfielder did not achieve the results he would have wanted. Smith moved to Newcastle for £6m pounds where he has played in a midfield role. In 2009 he was relegated for the second time in his career. He is currently club vice captain, but is preferred in almost every game to skipper Nicky Butt and so leads the team out most weeks. Smith has been in relatively good form as the Magpies have dominated the Championship.
CF: Mark Viduka
Signed from Celtic for £6m just prior to the 00/01 season Viduka's first season in a Leeds shirt was also his happiest as he scored 22 goals and sampled the joys of high-stakes European football. Viduka continued his scoring into his second season again bagging 22 goals before Leeds imploded and the exodus began.
Barcelona were rumoured to be interested in the Australian however Viduka stuck around until 2004 when he eventually signed for the not so prestigious Middlesbrough. Injuries aside, Viduka's fine form in English football continued at the Northeast club and he helped fire them to the 2006 UEFA Cup final where they were eventually defeated by Sevilla.
Despite Middlesbrough's keen efforts to hold on to the player, Viduka refused a new contract with the club and moved to rivals Newcastle United on a free transfer in 2007 where he became Sam Allardyce's first signing. His time with the Magpies was mixed as series' of injuries continually affected him. Viduka was famously part of what is probably the best ever strike-force to be relegated as he intermittently partnered Michael Owen and Obafemi Martins in Newcastle's ill-fated 08/09 season. Following their relegation, Viduka was released by Newcastle but had said at the time that he would re-sign if Alan Shearer was made full time manager. He has since moved back to Australia but despite claims suggesting otherwise he has not been tempted to join an A-League club and is currently a free agent.