Since the re-branding of the English First Division in 2004, when it became the Championship, seven different teams have won the play-offs and served as evidence of the immense unpredictability, lottery and 'beauty' of the format's lay-out.
Now, in 2012, West Ham have become the first side to achieve the feat twice (2005, too) in the Championship era and the first since Watford in 2006 (1999, too) to win club-successive play-off finals in English football's first division. Sure, everyone expected the Hammers to have gone one step further and achieve automatic promotion – assembling, arguably, the Championship's strongest squad – but the job Sam Allardyce had on his hands went a lot deeper than simply selling or releasing high earners like Kieron Dyer, Danny Gabbidon, Matthew Upson, Thomas Hitzlsperger and Luís Boa Morte.
Hailing from Dudley in the West Midlands, it seemed somewhat ironic that Allardyce joined the Worsthorne native, Ron Greenwood – who managed West Ham between 1961 and 1974 – as West Ham's only ever northern English manager. After all, Greenwood was the man that, effectively, gave the Irons its near-everlasting hallmarks of the 'Academy of Football' and playing the 'West Ham way' with ball-playing, crowd pleasing footballers. Allardyce, in contrast – ironically, for the most part (the 3-0 win over Cardiff on 7 May was a rare exception, yet was something of a dead rubber and was instigated by a scrappy Kevin Nolan header from a set-piece on 3'), at home amid the boisterous Upton Park roar – has sent his teams out as Greenwood's antithesis:
There has never been a 'West Ham way' shown to me, not by anyone who has worked at the club. I've spoken to a lot of people at the club and no one can tell me what it is, so it is a bit of a delusion.

It sounds like not winning.
Rather than fluidity, technique, intricate inter-play and a local identity, crude efficiency, set-piece exploitation, aerial phased play and an import-filled squad (in West Ham's current first-team squad, only James Tomkins, Jack Collison and Mark Noble are club Academy graduates) have become West Ham's hallmarks under Allardyce. This has led to a tense relationship between Allardyce and the traditional Upton Park faithful, which has been accentuated by the fact that he is set to claim a whooping £1 million bonus for the 'stress' he has experienced in achieving play-off promotion. So, while David Gold, David Sullivan and Karren Brady have not provided the distractions and interference that Allardyce may have expected – or which he may have requested be stopped as a perquisite to taking the job – it has been the fans who he has struggled to win over, with a large majority of them chanting 'we are West Ham, we play on the floor' at numerous home games throughout this season.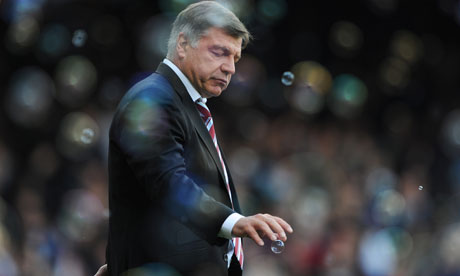 Allardyce has ridden the wave, though, which reached a crescendo in the scrappy 0-2 away win over Peterborough on 27 March – where Allardyce called West Ham's fans "deluded" for not being happy with the result, in moving within two points of second-placed Reading – and to be fair to him, West Ham became more dynamic and intricate, and had a better cutting-edge, as the season progressed. After all, there is no doubting the brilliant job Allardyce has done in moving on from the stubborn and placebo-like Avram Grant and his 'attractive football'-focused era, where West Ham regularly threw away leads and developed an unstoppable epidemic of conceding late goals. From this, perhaps, the revival of the careers of Robert Green, Winston Reid, Guy Demel, George McCartney and, even, the newly-matured Tomkins has been key to West Ham's late blossoming.
With a solid defensive foundation to build on, Allardyce has shifted from a 4-3-3 to a 4-4-2 diamond of late. In theory, the 4-3-3 should be a more effective and thrilling formation compared to the typically narrow diamond. However, there have been three key reasons behind the diamond's success. Firstly, there has been the 'rabbit out of the hat' ability of Ricardo Vaz Te, who has improved immensely – following his woeful display against Crystal Palace on 25 February – to become Allardyce's "best ever signing". Then, there has been the utilisation of Demel and Matthew Taylor (admittedly, not a natural defender, as was evident in the play-off final against Blackpool on 19 May) as in-sync, and in flux, full/wing backs, who can adapt to a given situation and provide a brilliant hybrid of acceleration and strength (Demel), and technique and natural overlap (Taylor). And, finally, there has been the return of Collison, who solidifies the ingenuity of the midfield four with Mark Noble and brings out the deftness of Nolan and Gary O'Neill, rather than depending on Nolan so regularly for Carlton Cole's knock-ons and employing a somewhat limited destroyer, like Papa Bouba Diop, to 'compliment' Nolan.
From this, Allardyce struck a delicate balance but the real test is ahead of him. Firstly, the Hammers' notorious owners may have kept a lower profile this year – while West Ham were favourites for promotion – but when they are back among the top teams in the country, instigating the associated media coverage and inevitable ego-boost, will Sullivan be able to resist bringing up West Ham becoming London's top team or his deluded seven-year plan again? Secondly, will the fans back Allardyce when – it is, fairly, inevitable for a promoted outfit – the club hit a rough patch in 2012/2013? And, finally, and, perhaps, most importantly, what Championship play-off blueprint should Allardyce follow, with the Irons (2006), along with Swansea last season, being the only Championship era play-off winners to stay in the Premier League following promotion the previous season.
Interestingly, in their £7.5 million net spend last summer, Swansea expended the most of the promoted sides – obviously, Queens Park Rangers took this mantle in January, 2012 – to compliment their cast-iron attractive footballing philosophy under Brendan Rodgers. Basically, Swansea did not rest on their laurels of achieving a seemingly unlikely promotion – a la Burnley in 2009 and Blackpool in 2010 –  and greatly strengthened their squad with Michael Vorm, Wayne Routledge and Danny Graham. Their achievement, and transfer market success, was all the more remarkable given the Swans' inability to land Fabio Borini on a long-term contract and their failure to re-sign Danny de Vries and Darren Pratley, but Rodgers utilised the loan market to great effect with the likes of Stephen Caulker and Gylfi Þór Sigurðsson. With West Ham's budget (a £7 million bid for Heerenveen's prolific 6ft 4in striker, Bas Dost, has been seriously mooted), raucous support, even better raw materials and Allardyce's nous, transfer expertise (from Jay-Jay Okocha, Yuri Djorkaaef and Iván Campo to José Enrique, Michel Salgado and Steven N'Zonzi) and unwavering philosophy, there is nothing to suggest that West Ham will not put up a valiant fight.
Obviously, Allardyce's West Ham will not be the same philosophical trailblazers as Swansea but it is no coincidence that Allardyce's previous clubs, Bolton and Blackburn, have suffered with consistency and direction respectively since he left. Equally, looking at West Ham's last return to the Premier League, in 2005/2006, there are stark parallels between Alan Pardew and Allardyce. As a Wimbledon native, Pardew endured criticism from West Ham's supporters before winning the play-offs; he also kept experienced players like Shaka Hislop and Teddy Sherringham at the club to prevent "overconfidence"; and, in the words of Matthew Etherington at the time, we  "play with a bit more freedom" now that the "weight [promotion] of expectancy has been lifted." So, although West Ham went on to suffer severe second season syndrome in 2006/2007 – having reached the FA Cup final against Liverpool in 2006 – which was much-owed to the instability of the club's ownership and the destabilising, unnecessary (Yossi Benayoun and Marlon Harewood were dropped) loan signings of Javier Mascherano and Carlos Tévez, similar regression and panic under Allardyce seems unlikely.
West Ham fans, even with their immense pride and near-unrivalled loyalty to the club's heritage and tradition, know that they are in for one of the toughest relegation battles in their history but with Sam Allardyce's pragmatic foundations, the club may be about to embark on their most stable period for over a decade. The signs are good, with the Irons' similarities with Swansea (2010) and the Hammers (2005), themselves, but stability and financial backing are a must or otherwise, the West Ham rollercoaster – that has seen six managers in eleven years, compared to just eight in the previous hundred years – could prove fatal to West Ham's long-term financial health and their eventual hopes of winning their first top-level trophy for over three decades.