The series returns as Neil Sherwin looks at one of the great Premiership opening day performances.
#2 – Fabrizio Ravanelli v Liverpool, 1996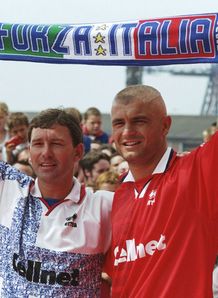 When a player who has just won the Champions League shows up at the Riverside Stadium in a Middlesbrough shirt it's bound to leave people scratching their heads.
That's exactly what happened in the summer of 1996 as Italian superstar Fabrizio Ravanelli left the glitz and glamour of Juventus for Teeside.

Inevitably expectations were high on the opening day of the 1996/97 season as Boro hosted Liverpool, with Ravanelli joining Brazilians Juninho, Emerson and Branco in a star studded line up.
The White Feather, wearing the number 11 shirt, didn't take long to make an impact as three times he found the back of the net to wipe out a Liverpool lead.
Each goal was followed by the striker pulling his shirt over his head, a celebration that was to be copied on junior pitches all over England, and eventually resulted in a rule change that saw an automatic yellow card handed out for those emulating it.
Ravanelli went on to score 31 goals in all competitions that season but couldn't prevent Boro from making a swift return to Division One, though they would have survived had they not been slapped with a three point deduction by the FA for failing to fulfill a fixture with Blackburn Rovers in December.
They also lost both the FA and League Cup finals to Chelsea and Leicester City respectively to sum up a miserable season that had started with such promise.
After leaving Boro, Ravanelli had spells with Marseille, Lazio, Derby County, Dundee and Perugia before retiring in 2005.