Belgium has emerged as a hotbed of football talent in recent years, and Robbie Deighan looks at three prospects set to follow the likes of Vincent Kompany and Marouane Fellaini to the big time.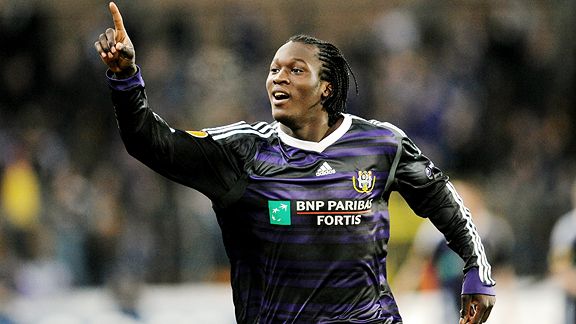 Romelu Lukaku
Who? Romelu Lukaku is a 17 year old Belgian striker playing for current Belgian Pro League champions Anderlecht. The 2009-10 season was his breakthrough year and remarkably at the tender age of 16 he was the league's top scorer, with 15 goals coming in 33 games. This year he has notched 10 goals in 18 games. Lukaku has everything in  his locker to become the complete striker. He's quick, strong, tall and he can finish. Comparisions with Didier Drogba are not unfounded. He's already made his mark on the international scene with two goals in eight caps.
Is he available? For the right price. Anderlecht's general manager, Herman van Holsbeeck, claims the club rejected a £20 million offer from an English club last Summer. He went on to say, "Our price will be around €30m (£25.3m). If you ask for between €20m and €30m for a footballer in Europe there are a maximum of 15 teams who can pay this amount. These 15 teams are all interested in Romelu Lukaku".
Who wants him? Herman van Holsbeeck claims the 15 richest clubs in the world want Lukaku, and one would expect all of the world's greatest clubs would be keeping  their eye on such an exciting prospect. The player was once pictured wearing a Chelsea jersey and the Londoners were known to be monitoring Lukaku since he was 15 years old. Liverpool have been heavily linked with Lukaka recently (and every other player to appear in Transfer Targets so far!) but would have to beat off competition from Champions League clubs to capture his signature. Real Madrid, Barcelona, Inter Milan, Manchester United and pretty much every other top European club have been said to interested. And so they should be, because Lukaku is a serious talent.
How much would he go for? As good old Herman already informed us, €30 million should be an acceptable offer, although expect interested clubs to test the water with slightly lower bids to test Herman's resolve.
—————————————————————————————————————————————————–
Steven Defour
Who? Standard Liege central midfielder Steven Defour. While just 19 years old, in the 2007-08 season, Defour was made club captain and in the very same season won the Golden Shoe award, given to the league's most valuable player. Now 22, Defour has helped Liege to two successive league titles, ending a 25 year drought, and has amassed 24 caps for the Belgian national side. As well as dictating play from the centre with his excellent passing range Defour can also play further up the field as a playmaker.
Is he available? Standard Liege can't expect to retain Defour forever. With almost 100 league appearance for the club over a five year spell, as well as landing them two league, titles Defour has already paid his club a great service. The time will certainly come when Defour's ambition take him elsewhere or Liege receive a bid too good to turn down.
Who wants him? As with Lukaku, most of the giants of football have had Defour extensively scouted. The most open admirers of Defour have been Manchester United. So much so that when the player broken his foot in 2009. it was revealed that Sir Alex Ferguson sent him a letter wishing him well in his recovery. United's central midfield is arguably the weakest part of their team, with Michael Carrick and Anderson not living up to the big fees paid for them, Owen Hargreaves constant injury problems and Darren Flecther's mixed form this season. Liverpool were known to be interested in Defour in 2009 as a replacement for Xabi Alonso but opted instead for Alberto Aquilani.
How much would he go for? Various media reports value the player from £10-15 million. In the current financial climate that represents good value for such a highly rated 22 year old.
——————————————————————————————————————————————————-
Eden Hazard
Who? Eden Hazard is a 20 year old winger playing for French club Lille. Often compared to the likes of Lionel Messi and Cristiano Ronaldo, Hazard is a two time winner of the Young Player of the Year award in France, becoming the first non-French player to pick up the award as well as being the first player to win it twice. He can play on the wing or as an attacking central midfielder. He's fast and his technical ability with the ball is impressive. Zinedine Zidane is a fan, saying "He will be a major star in the future. I would take him to Real Madrid with my eyes closed."
Is he available? Lille can expect to make a fortune selling Hazard to the highest bidder. What they can't expect is to hold on to Hazard for much longer. In their three full seasons with Hazard in the team, Lille have only qualified for European competition once and have not won a single trophy. A player of Hazard's undoubted ability will look for a move to a club that match his ambitions, sooner rather than later.
Who wants him? Zidane wants him with Madrid, but with Ronaldo, Di Maria, Ozil and Kaka in the squad it's hard to see where Hazard could fit in. Arsene Wenger has expressed an interest in taking the youngster to Arsenal and would be the ideal manager for a young prospect like Hazard. At the risk of sounding repetitive, as with Lukaku and Defour, the majority of top European clubs have scouted Hazard.
How much would he go for? Honestly, no one seems to have a clue. I read one report that quoted an £11 million price tag for the player, which is ludicrous considering Hazard's potential, and another which claimed Lille would only accept a bid close to £30 million. Personally I couldn't see Hazard going for less than £20 million, although more glowing praise from the likes of Zidane will only see his valuation rise.