This week's trip down memory lane sees a record breaking match in Africa, the birth of the FA, revolt in Scotland, the debut of one of the games best young players and the retirement of El Diego.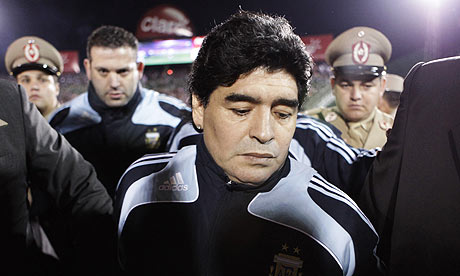 If Manchester United fans thought yesterday's loss to Liverpool was bad then they've obviously don't remember what happened today in 1996, when the Red Devils were smashed 6-3 by a rampant Matthew Le Tissier-inspired Southampton side at the Dell. Saints fans ultimately have Victorian gentleman Ebenezer Cobb Morley to thank for their day, as today in 1863 it was him that founded the FA the Freemason's Tavern in Great Queen Street, London.
October 27
Chaos reigned at Hearts today in 2006 when captain Steven Pressley led a player rebellion against the club's bonkers chairman Vladimir Romanov. The former Soviet submarine captain wasn't happy with his side's start to the season, despite the Edinburgh club lying in second place, and said if they failed to win their next match against Dunfermline he would sack them all. The game ended 1-1, and Pressley was soon sold to Celtic. Hopefully having a slightly better today will be Glenn Hoddle, as the former England boss celebrates his 52nd birthday.
October 28
Who's the greatest Brazilian to ever play the beautiful game? Nope, not Pele, but a chap who was born with bent legs, lived his whole life in a Rio slum and (allegedly) lost his virginity to a goat. It's happy birthday today to Garrincha, the greatest ever dribbler who was born today in 1933. A 1-1 draw in the League Cup between Arsenal and Rotherham today in 2003 doesn't sound like the most exciting of occasions, but it marked the debut of a certain Cesc Fabregas. For the record, 16-year-old Cesc and his fellow youngsters eeked out a 9-8 penalty shoot-out win after the sides finished 1-1.
October 29
It was today in 2004 that Adrian Mutu's career took one hell of a dive, as he was sacked by Chelsea following his failed drugs test. As if this and the subsequent ban wasn't enough, Chelsea really didn't let it go, as they issued him with a £14m fine, which they're still trying to reclaim. Also in a spot of bother today was Rio 'concentration lapse' Ferdinand, who was charged with failing to provide a drugs test by the FA today in 2003. Rio was out shopping when he should have been peeing in a cup and eventually received an eight-month ban and £50,000 fine.
October 30
Perhaps the greatest player to ever cross the white line retired today in 1997 as Diego Maradona hung up his boots on his 37th birthday. He's not exactly been quiet since, getting in various legal scrapes, doing a rather bad impression of a football manager as Argentina boss and eating plenty. Liverpool's expensive new acquisition Djibril Cisse suffered an horrendous leg-break today in 2004, when the Reds took on Blackburn. Cisse's leg snapped and bent the wrong way after Jay McEverly's challenge and the break was so bad he nearly lost it, but the Frenchman made a superb recovery, turning out for Liverpool in the Champions League final that season.
October 31
Whatever seasonal misfortunes befall you tonight, we're sure it won't be as scary as what fans of Madagascan side Stade Olympique de L'Emyrne (SOE) had to endure, as today in 2002 they saw side fall to a record-breaking 149-0 loss to AS Adema. The record score came about due to a protest from SOE, who weren't happy with recent refereeing decisions so planted the ball in their own net time and time again. Meanwhile, in 1990 Colin Harvey was proving that success on the pitch didn't always transfer to the dugout, as the Everton legend was sacked as manager.
November 1
Leicester City fans have been put through the mixer a fair bit the last few seasons, having to endure administration, relegation and even a strike force led by Adi Akinbiyi and today in 2006 another dodgy character came onto the scene as Milan Mandaric bid to take over the Foxes. Just like Mandaric, Tottenham are renowned for sacking managers and today in 1994 it was the turn of former player Ossie Ardiles to be handed his P45 after a slow start to the season. Gerry Francis was then given the nod.
For more on these stories and hundreds of others, check out the On This Football Day website by clicking here or click here to buy the OTFD books.