With yet another magnificent European season cascading into its final frontier, though the major leagues have already been wrapped up by perennial giants, the football community eagerly awaits the summer season.  Even though football fanatics have the 15-day FIFA Confederations Cup to look forward to in the latter weeks of June, the summer transfers will make up the bulk of the headlines in the football columns, even more so, when you have intriguing and assorted stocks in business at the football wall street.
This summer promises to be a mouth-watering prospect. With the bigwigs looking to strengthen their position among Europe's elite and the second-fiddles aiming to topple them, the imminent transfer window, which cracks opens on July the first, will witness some of the most high profile transfers in recent times. But with Financial Fair Play (FFP) looming large over their heads, the financially affluent ones would have to establish a novel modus operandi, that of mutual give-and-take, with the wage restructuring and a cap on club losses coming into effect under the FFP umbrella.
Recent developments in the media have given sufficient inclination towards a busy summer season, with the European centre-forwards taking centre-stage yet again. Strikers in the league of Radamel Falcao, Robert Lewandowski, Fernando Torres, Edinson Cavani seem destined to move on to finer pastures come the sprightly summer. But with the arrival of such hotshots, comes inflated wage bills and trimmed transfer purses. So, for probably the first time ever courtesy of the breakthrough FFP regulations, clubs would be forced to sell one their 'Expendables' to balance their weighing machine.
If things go according to plan, football fans should brace for a transfer avalanche of sorts triggered by the sale of the most-wanted property in Europe right now, Radamel Falcao. With one signing leading to another, this is how the saga might unfold:
Radamel Falcao
The avalanche in all probability will be triggered by Atletico Madrid's goal-churning Colombian, Radamel Falcao. Ever since his arrival at the Vicente Calderon, Falcao has been in magical form, guiding his club to glory in the Europa League in his debut season and then mesmerising European champions Chelsea with a sublime hattrick in the European Super Cup. Atletico have been successful in their attempts to stave off clubs like Chelsea and Juventus so far, but the Madrid club have been resigned to the fact that Falcao's departure this summer is an inevitable proposition.
Most likely destination: Chelsea
The West-London giants have been adamant and unrelenting in their pursuit of the Colombian. Abramovich is poised to make a double Madrid raid this summer with the signing of Jose Mourinho, one of Falcao's biggest admirers.
Fernando Torres
El-Nino has been football's most-talked about tragic story in recent years. His transfer from Liverpool turned out to be a disaster with Torres failing to find his goal-scoring boots after repeated chances at redemption. If the arrival of Demba Ba signaled the end of Torres' tenure at Stamford Bridge, the signing of Falcao would be the finishing move. Moreover, Falcao's release clause, estimated to be in the region of £60million will represent a major chunk of Chelsea's transfer budget and the wage bill would require a credit statement, in the name of Fernando Torres.
Most likely destination: Juventus
The Old Lady of Turin, most likely to be crowned Serie A champions in the coming weeks, have been found lacking in the goal-scoring department on the European front this season. Although they possess the quality of Fabio Quagliarella, Mirko Vucinic and Sebastian Giovonco, neither of these players have been able to deliver a sustained supply of goals over the course of the season. Torres would be the perfect addition to the squad if he can rediscover the phenomenon that he once was in the Merseyside.
Javier Hernandez
The Mexican, despite his famed goal-scoring touch and a prolific return of goals, has found opportunities hard to come by at Old Trafford and has fallen further down in the pecking order behind Robin Van Persie, Wayne Rooney and Danny Welbeck. Although Sir Alex Ferguson has played down rumours of Chicharito's exit, but a wholesome bid will surely tempt the Scot and provide the moolah to finance other deals.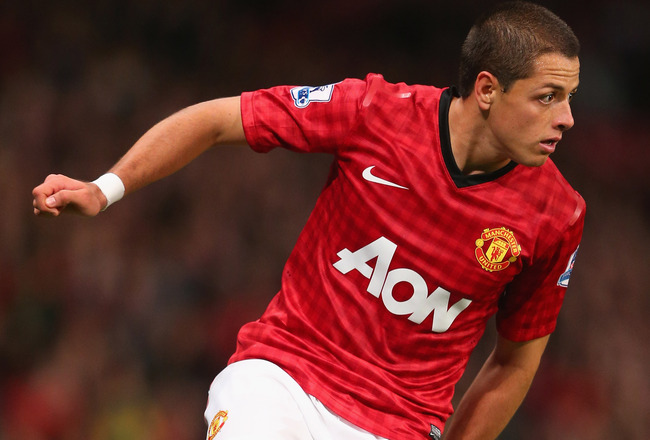 Most likely destination: Atletico Madrid
With Falcao's departure and possible suitors for Adrien Lopez, Atletico Madrid are contemplating targets of their own to bolster their buckling squad, and Chicharito seems to be the perfect bet. With United themselves scouting another striker for next season, Hernandez would be foolish not to accept a decent offer from Atletico, who will lure him with the prospect of a first-team place and Champions League football.
Robert Lewnadowski
The Polish stalwart, who grabbed all major headlines after his breathtaking performance against Real Madrid, will be another sought-after property this summer. Although reports surfaced recently of his agent accepting terms with Bayern Munich, it's hard to imagine Dortmund pushing the self-destruct button and letting another indispensable player, after Mario Gotze, sign for their biggest domestic rivals. One thing is for certain, Lewandowski will be seen in different colors next season, after the Polish international clearly stated his desire to leave Westfalenstadion in the summer.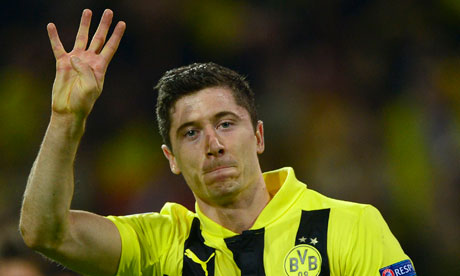 Most like destination: Manchester United
Grappling with uncertainties in the futures of Chicharito and Wayne Rooney at Old Trafford, Sir Alex Ferguson has expedited his pursuit of Lewandowski over the last few months. The Red Devils gaffer has been a long-term admirer and Lewandowski too has dropped hints of his desire to strut his stuff at the Theatre of Dreams. Moreover, the revenue generated from the potential departures of Chicharito, Nani and Anderson will make it easier to strike for United to negotiate terms with Dortmund.
Edin Dzeko
Despite a fruitful season, Dzeko has been frustrated by lack of playing time and has been reduced to cameo appearances at the Eithad Stadium. City boss Roberto Mancini still considers Sergio Aguero and Carlos Tevez his first-choice strikers and the Italian has been pushing to secure a deal for Napoli hotshot Edinson Cavani. All these conditions have forced the Bosnian to consider a move away from Manchester this summer.
Most likely destination: Borussia Dortmund
With Lewandowski more than certain to leave, Jurgen Klopp has been weighing up potential replacements and Edin Dzeko featured prominently in those lists. The Bosnian has ample Bundesliga experience up his sleeves, having played for Wolfsburg before moving to Manchester. He guided Wolfsburg to the Bundesliga title in a highly successful 08/09 season, bagging the top goalscorer award on the way. He has been likened to Lewandowski in his style of play and Klopp believes that he would fit seamlessly into the Dortmund setup.
Edinson Cavani
Probably regarded as one of the top strikers in the world right now, if not the best, the Uruguayan has been constantly linked to various European giants like PSG, Manchester City and Chelsea.  Cavani himself has made his intentions clear on playing for a bigger club on a bigger stage. His sumptuous asking price has been the only stumbling block. But with clubs rethinking their transfer strategy to make way for the Uruguayan, an incoming acceptable bid for him is only a matter of time.
Most likely destination: Manchester City
After having failed to defend their Premier League crown and with their misadventures in Europe, City are determined to prove their detractors, who have claim them to be a one-season wonder, wrong. Their quest for further glory starts with more luxurious forays into the transfer market, Cavani being on the top of the to-buy list. With FFP in place, they can hope to balance their checkbooks by offloading players like Edin Dzeko and Scott Sinclair.
Wayne Rooney
This one seems the most ambiguous of the lot. His exclusion from the squad for the Champions League round-of-sixteen clash against Real Madrid at Old Trafford raised some eyebrows, but isn't fuel enough to set fire to any robust transfer speculation. But with Sir Alex hot on the heels of Lewandowski, Paris St Germain looking for a potent strike partner for Zlatan Ibrahimovic and Rooney's own rickety relationship history with his manager, who knows what might become of the English international next season.
Most likely destination: Paris Saint Germain
Carlo Ancelloti has voiced his desire to bring Rooney to Parc de Princes in the summer with Ibra and Thiago Silva also urging the United star to join the super-rich French giants. With Danny Welbeck working his way up to challenge for a first-team spot and Van Persie still in the peak of his career, United won't be too reluctant to let Rooney go if there is considerable capital at stake.