Trying to compile a team of the year or a team of a decade carries its own intense debates and difficulties so, naturally, putting together a national side amalgamating eighty-seven years, sixty-two in competitive terms, was always going to be incredibly tough.
Remarkably, that is without even considering the controversy-laden history of the Republic of Ireland's football team: the never-ending rivalry between the Football Association of Ireland (FAI) and the Irish Football Association (IFA) over player eligibility, which intensified with the cases of Tom Aherne, Reg Ryan, Davy Walsh and Con Martin in the 1950s, and Darron Gibson, James McClean, Daniel Kearns and Shane Duffy in the 2000s; the FAI's cynical money-making schemes, from moving the 1966 play-off against Spain to Paris to accommodate the larger Spanish Diaspora, instead of the originally planned Wembley, to the Aviva Stadium ticket scheme from 2009; the Grannygate scheme that was exploited to such a level that the likes of Tony Cascarino, who had no blood relations from Ireland and whose actual ineligibility was only publicised through self-admission in his auto-biography, Full-Time, played for Ireland; and Roy Keane's walkout in Saipan on 23 May, 2002, following his inspirational performances at the 1994 World Cup and Ireland's 2002 World Cup qualification group. Instead, three factors will be looked at in deciding the eleven footballers from thirty-three candidates in Ireland's 'trademark' 4-4-2: their international achievements, records and caps; whether they inspired in qualifying and played/will play at a major tournament; and slightly less influential in selection, their achievements at club level.
Goalkeeper
The Candidates: Shay Given (1996 -, 120 caps), Packie Bonner (1981-1996, 80 caps) and Alan Kelly Sr (1956-1973, 47 caps).
Easily the most difficult decision. Kelly was an inspirational figure, who kept a clean sheet on his debut against Germany in 1956, but then conceded five goals against England in a 1958 World Cup qualifier which saw him left out of the squad for five seasons. However, after some stellar performances with Preston, Kelly returned to the Irish set-up in 1963 and remained first-choice goalkeeper right up to his retirement at the age of 37 in 1973. Bonner, with his symbiotic relationship with that infamous yellow jersey, is one of Irish sport's all-time great icons and kept hold of the number one shirt for thirteen years. Bonner had a welcomed habit of playing at his magnificent best in Ireland's most crucial games, often earning them huge results: the Euro '88 second-half performance against England; his 'fly keeper' role in assisting Kevin Sheedy and Niall Quinn's goals against England and the Netherlands respectively; and his penalty save from Daniel Timofte in the quarter-final against Romania at Italia '90. However, in Bonner's later years, and this is being incredibly harsh, the Donegalman's performances dipped from his impregnable best and the 1994 World Cup (Wim Jonk's soft goal in the 2-0 win for the Netherlands) and the usurpation by Alan Kelly Jr of the 34 year old at the beginning of Euro '96 qualification meant that he failed he reach a deserved century of Irish caps.
Therefore, Shay Given narrowly edged Bonner for the number one shirt. Ireland's record cap holder at 120 caps, Given has been consistently brilliant in his fifteen-year long career as an Irish international. Constantly ranked among the Premier League's, and some may say Europe's, best, Given may not have rivalled Bonner for the titles that the latter won at Celtic but has constantly shown great mental strength, loyalty and perseverance: including jumping ahead of Shakha Hislop, Pavel Srníček and Steve Harper in winning Newcastle's number one shirt in 1997 at just 21 years of age; sticking with underachievement and chaos with Newcastle right up to the January transfer window in 2009; and displaying  a trademark professional attitude in vowing to fight for his place with Joe Hart at Manchester City in 2009/2010 and 2010/2011. Given played in all of Ireland's four 2002 World Cup games and has been an ever-present, regardless of Ireland's contrasting fortunes in qualifying, since then. Epic performances, such as the 2-0 play-off win over Iran in Dublin, when he brilliantly kept out Ali Karimi, right up to the 2011 qualifier against Russia, where he made numerous saves in earning Ireland a pivotal point in Moscow, have been endless and with qualification for Euro 2012 secured, it seems a perfect stage for the then 36 year old Given to bow out at his near-best.
Right Back
The Candidates: John O'Shea (2001-, 70 caps), Denis Irwin (1990-1999, 56 caps) and Paddy Mulligan (1969-1980, 51 caps).
Given that the likes of Joe Kinnear, Steve Langan, Gary Kelly, Stephen Carr and Steve Finnan missed out, the quality of Irish right backs produced over the years cannot be understated. Paddy Mulligan stood out as a classy marauder, who epitomised the shift in professionalism and style of Irish football in the mid-1970s, and was also one of the first Irish footballers to win a European trophy: the Cup Winners' Cup with Chelsea in 1971. John O'Shea represented Ireland at every underage level and was a member of Brian Kerr's infamous Under-16 European Championship winners in 1994. O'Shea has been used in a variety of positions in his career, from left back and centre back to central midfielder, but, of late, has been at his consistent best at right back and will start in that position for Giovanni Trapattoni at Euro 2012. O'Shea also amassed 389 appearances for Manchester United over ten successful seasons, where he won five Premier League titles, one Champions League, one Club World Cup, three League Cups and one FA Cup.
However, one man dwarfs the above-mentioned and ironically, he made his name at club level for playing on the opposite flank: Denis Irwin. Deployed at left back by Alex Ferguson to accommodate Gary Neville, the naturally right-footed Irwin was one of the most underrated full-backs in Europe in the '90s. Constantly reliable and regarded by Sir Alex Ferguson as his "best pound for pound signing" of all-time, from Oldham Athletic in 1990, Irwin made 56 appearances for Ireland and played at the 1994 World Cup. A deliver and converter of vital set-pieces throughout his twenty-year career, Irwin was highly influential in United's seven title wins between 1993 and 2001 and his absence, following a brilliant goalscoring display in the 1-0 first-leg win at Landsdowne Road, in the second-leg of the 1998 World Cup 2-1 play-off defeat against Belgium proved crucial.
Left Back
Steve Staunton (1988-2002, 102 caps), Noel Cantwell (1953-1967, 36 caps) and Johnny Carey (1937-1953, 27 caps).
Left back is another position that Ireland have consistently produced talented footballers in, including Tony Dunne, Chris Hughton and Ian Harte, but Johnny Carey was one of the greatest left backs of his generation. Voted the Football Writers' Player of the Year in 1947, Carey was captain of Manchester United under Matt Busby when they won the FA Cup in 1948 and the First Division in 1952. Carey was also a remarkable man, who served for the British Army in Italy and the Middle East during World War II and from this, Carey's official caps were limited by the War but he did captain Ireland to a momentous 2-0 victory over England in 1949. Carey went on to become Ireland's first official manager in 1955, following the days of an official selection committee, and served in the position for thirteen years. Noel Cantwell also made a name for himself at Manchester United, making 123 appearances between 1960 and 1967, after joining for a record fee, £29,500, for a full-back from West Ham. Cantwell emulated and bettered his predecessor, Carey, in captaining United to the 1965 and 1967 league titles and the 1963 FA Cup. Interestingly, Cantwell often appeared as a makeshift striker mid-match for Ireland, leading to him netting an impressive 14 goals in 36 appearances, and also played a huge role in Ireland's progression to the 1963 European Nations' Cup quarter-final.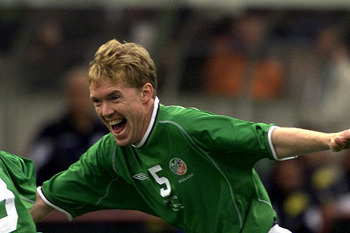 One man stood above these stellar names, though, regardless of the disaster of his managerial reign between 2006 and 2007, and that was Steve Staunton. Staunton was the first Irish footballer to reach 100 caps, which fatefully occurred as captain at the 2002 World Cup in Staunton's fourth international competitive tournament in his fourteen-year international career, and never let his country down – whether it was as an inexperienced yet assured 19 year old in Euro '88, or as a veteran 33 year old centre back in South Korea in 2002. Staunton was a cult hero who provided countless moments of the stereotypical Irishman in high temperatures, from his baseball cap during the anthems in US Mexico '94 to the removal of his shorts after the 3-0 win over Saudi Arabia in the 2002 World Cup. Staunton also had a stellar club career: winning the title and FA Cup with Liverpool in 1989 and 1990 respectively and winning two league cups with Aston Villa in 1994 and 1996.
Centre Back
The Candidates: Paul McGrath (1985-1997, 82 caps), Richard Dunne (2000-, 71 caps), Kevin Moran (1981-1994, 71 caps), David O'Leary (1976-1993, 68 caps), Mick McCarthy (1984-1992, 57 caps, ) and Charlie Hurley (1957-1969, 40 caps)
To leave Mark Lawrenson and Con Martin out of selection, due to Lawrenson's ill-fortune in missing out on Euro '88 through injury and Martin's incredible versatility for Ireland that limited his appearances at centre back, of the six candidates for centre back shows how many towering and fearless centre backs Ireland have produced. Charlie Hurley was voted Sunderland's player of the century in 1979, no mean feat given that the Black Cats' fans could have selected from the plethora of Jimmy Montgomery, Len Ashurst, Stan Anderson, Bobby Kerr, Charlie Buchan, Bobby Gurney and David Halliday, and was beaten only by the legendary Bobby Moore for the 1964 Football Writers' Player of the Year award. Powerful in the air and a leader in the dressing room, Hurley went on to captain Ireland and was one of the 1960s' great central defenders. Mick McCarthy was one of the first Irish footballers to qualify through the Grannygate (his father, in this case) rule, against Poland on 23 May, 1984, but it did not take long for the Irish fans to embrace the Barnsley man as one of their own. Putting in vocal and passionate displays, it was inevitable that McCarthy would go on to become Captain Fantastic from 1989-1992 and his no-nonsense style embodied the Jack Charlton era.
One of the classiest defenders Ireland have ever produced, David O'Leary is Arsenal's record appearance holder (722 between 1976 and 1992) and one of Ireland's most decorated footballers. Blessed with remarkable vision and deftness, O'Leary was an anachronism in the Charlton era and while his decisive penalty conversion against Romania in Italia '90 was one of Irish sport's greatest moments, O'Leary regrettably missed out on Euro '88 and the period of 1986-1988 because he decided on taking a holiday rather than attending a friendly tournament in Iceland. Commitment was never an issue, on and off the pitch, for Kevin Moran. One of Ireland's all-time great sportsmen, who won two All-Ireland football titles with Dublin as a nineteen and twenty-one year old in 1975 and 1977 respectively, Moran went on to win two FA Cups for Manchester United in 1983 and 1985. The Dubliner was infamously sent off in the latter against Everton, the first player to ever be red carded in a FA Cup final, but TV replays later showed that he was not the last man. Moran was pivotal to Ireland's near-impregnable foundations at Euro '88 and Italia '90, where they conceded just five goals in eight tournament matches, and later went on to play for Sporting Gijón, where he roomed with one Luis Enrique, and Blackburn.
Paul McGrath, though, was a class apart from the above-mentioned. Incredibly, McGrath never let his country down despite chronic knee problems and a desperate battle with alcoholism. Providing one of the greatest ever individual and influential performances seen on the competitive international stage, there really is no sentiment or hyperbole in describing the 35 year old McGrath's performance against Italy at the Giant's Stadium on 18 June 1994 in such a way. Remarkably, McGrath also had an inhibiting shoulder virus to deal with for the whole of the tournament, yet the Irishman was the first to every ball flung at him with his brilliant and trademark reading of the game. McGrath made astonishing blocks (Roberto Baggio's goalbound shot with his face) and showed remarkable fitness for a central defender in the +40°C heat – let alone a man so privately troubled by injuries and his demons.
McGrath was easily in the league of the great Franco Baresi but his club career reflected how his injury and personal problems disrupted his long-term rhythm, rather than the month-long international tournament where he could get by. From this, Alex Ferguson offered McGrath a premature redundancy and testimonial, amid interest from Napoli, at just 30 in 1989, a moment Ferguson would later recall as his "worst mistake in management", but McGrath proved Ferguson wrong and later inspired Aston Villa (2nd in 1990, 2nd in 1992 and the 1994 and 1996 League Cups), Derby (12th in their first Premier League season) and Sheffield United (1998 FA Cup semi-final) to overachievement.
At 6ft 2in and 95kg, Richard Dunne was McGrath's readymade and eventual replacement as Ireland's colossus. Constantly voted as Ireland's man of the match since his Irish career really took off under Giovanni Trapattoni from 2009, following frustrating spells on the fringes under Mick McCarthy and Brian Kerr and being made a scapegoat for Ireland's failings under Steve Staunton, Dunne has continually put in magnificent defensive displays. The evening of 6 September, 2011 was when Dunne really announced himself as one of Ireland's greatest ever central defenders. In a performance that McGrath called "the greatest individual Irish performance of all-time", Dunne almost single-handedly, along with Shay Given, dealt with wave upon wave of intricate and well-woven Russian attacks – including a magnificent goalline block from Igor Semshov. His commitment to the Irish set-up can never be questioned, as was seen in the fact that he has never missed a competitive match under Trapattoni, and this was also embodied in Dunne's face crashing into the racetrack around the Luzhniki Stadium, leading to a nasty wound on his face, but the Irishman dusting himself off, having also lost his shirt number which was replaced in 'typical' Irish fashion with a permanent marker, and inspiring his team.
Right Winger
The Candidates: Ray Houghton (1986-1997, 73 caps), Jason McAteer (1994-2004, 52 caps) and Gerry Daly (1973-1986, 48 caps)
Ireland, historically, have had better options on the left wing but have amassed a handful of memorable players on the right hand side too. Two of the main reasons why qualified for the 2002 World Cup were because Jason McAteer netted in the 2-2 draw away to the Netherlands and infamously scored a cracking volley past Edwin van der Sar in the 1-0 win over the Netherlands at Landsdowne Road on 1 September, 2001. Gerry Daly was an astute nominal fee signing by Tommy Docherty and Manchester United from Bohemians in 1973. At club level, Daly made a name for himself as an industrious central midfielder who aided United's endless relegation battles but for Ireland, under John Giles in particular, Daly was a marauding right winger who scored an impressive 13 goals in 48 games.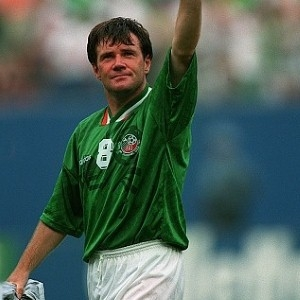 Ray Houghton is responsible for two of Ireland's most iconic tournament goals: a brilliant header against England, Ireland's first ever goal at a competitive tournament, at Euro '88 and a magnificent twenty yard looping shot, complete with iconic tumble celebration, past Gianluigi Pagiluca at the 1994 World Cup. As well as these priceless goals in Ireland's tournament history, Houghton's honesty, work-rate, unselfishness and 'big man for a small man (5ft 7in)' personality made him an instant fans' favourite with every team he represented. Club wise, he won the 1988 and 1990 league titles and 1989 and 1992 FA Cups with Liverpool, and the 1994 League Cup with Aston Villa.
Left Winger
The Candidates: Damien Duff (1998-, 94 caps), Liam Brady (1974-1990, 72 caps) and Kevin Sheedy (1984-1993, 46 caps)
Steve Heighway was an incredibly talented left winger, who won every honour possible at club level with Liverpool, but the other candidates' performances for Ireland slightly edged him. Kevin Sheedy played a massive role, not least in his flawless trademark free-kicks, in Everton's success, which included two league titles, an FA Cup (1984) and a Cup Winners' Cup (1985), in the 1980s. Sheedy also played with distinction for Ireland: scoring against England in the 1990 World Cup and was specifically, with Italy and Arrigo Saachi earmarking him pre-match, man-marked by Giuseppe Bergomi in the 1994 World Cup. One of the most popular Irish footballers of all-time, Damien Duff would surely have hit consistent top-class form had it not been for a series of niggling injuries that curtailed some devastating displays for Chelsea from 2005/2006 onwards. Duff never shied from showing his emotion, whether it was his tears in the play-off defeat to France or his near-constant public disappointment if he missed out on an international match through injury, and the winger has always risen to the top when it has mattered: the 2002 World Cup (his memorable oriental bow after scoring against Saudi Arabia reflecting the performances that merited him being name Ireland's Player of the Tournament) and his brilliant display in the 4-0 first-leg play-off victory over Estonia on 11 November, 2011.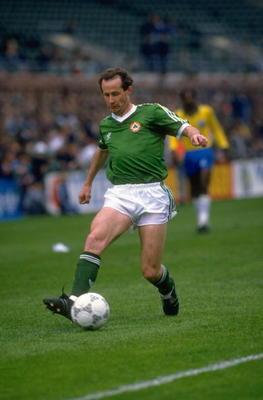 Liam Brady was one of Ireland's all-time greats, who was unlucky to miss out on Euro '88, partly due to injury and suspension, and who was yet another anachronism in the Jack Charlton era who could have been a viable option for Italia '90. Brady's greatest moment in an Irish shirt came in his magnificent goal in Ireland's momentous 1-0 win over Brazil at Landsdowne Road on 23 May, 1987. At club level, though, Brady's competitive career was a lot more successful: debuting for Arsenal at just seventeen and going on to play 235 games for the Gunners in just seven seasons, which reflected what would become Brady's often underrated fitness to go with his acclaimed trickery, creativity and brilliant passing range; and inspiring Juventus' upturn in fortunes in 1981 (an increase of team goals scored to 46, the league's best) in their 1981 Serie A victory and converting a pivotal penalty in the 1-0 win over Cantanzaro on the final day of the 1982 season to retain Juventus' title. Brady was one of the few Irishmen to thrive outside of the British Isles and played in Italy, with Juventus, Sampdoria, Internazionale and Ascoli, for seven of the seventeen years of his career.
Central Midfielders
The Candidates: Andy Townsend (1989-1997, 70 caps), Roy Keane (1991-2002 and 2003-2005, 67 caps), John Giles (1959-1979, 59 caps), Ronnie Whelan (1981-1995, 53 caps), Mick Martin (1971-1983, 51 caps) and John Sheridan (1988-1995, 34 caps)
Such is the quality of Ireland's central midfielders in the modern era, Liam Whelan (amassed only four caps due to his tragic death at 22 in the Munich air disaster on 6 February, 1958, but would have gone on to become one of the British Isles' all-time great attacking midfielders) and Matt Holland (the pint-sized midfielder stepped up remarkably well after the Roy Keane fiasco at the 2002 World Cup and memorably netted a stunning equaliser in the group stage against Cameroon) both missed out on candidacy. John Sheridan played a pivotal, yet quiet and understated, role in Ireland's progress at the 1994 World Cup: starting all four games and scoring the vital goal in the 3-1 defeat to Spain that ensured Ireland's qualification for the second round. Sheridan also scored the 100th goal at Landsdowne Road, in the 1-0 victory over Bolivia in a friendly in 1994, and played a huge role in Sheffield Wednesday's rise in the 1990s – including scoring a memorable long-range thunderbolt against Manchester United in the 1-0 1991 League Cup final victory.
The industrious Mick Martin, son of the great Con Martin, was yet another smart signing by Manchester United from the League of Ireland but really left his mark on English football with Newcastle between 1978 and 1984, when he captained the side. For Ireland, he embodied John Giles' revolutionary regime from 1973 to 1980, with his professionalism and work-rate, and was inspirational in the brilliant 3-0 win over the Soviet Union on 30 October, 1974. Andy Townsend was a cornerstone of the Jack Charlton regime, with the tenacious midfielder playing in all nine of Ireland's World Cup matches in the 1990s and captaining Ireland at the 1994 World Cup and beyond. He won the League Cup with Aston Villa in 1994 and captained Villa to the memorable League Cup 3-0 final victory over Leeds in 1996. With the arrival of John Barnes at Liverpool from Watford in the summer of 1988, the then 27 year old Ronnie Whelan matured into a classy playmaker in central midfield. Having been a left midfielder up until that point, Whelan went on to captain Liverpool to the 1990 title and for Ireland, he was one of the few prodigious talents to thrive in the Charlton era. An example of this was at Euro '88, when Whelan hit a magnificent overhead kick at the far post into the top corner from a long throw-in by Mick McCarthy.
Voted Ireland's greatest player of all-time in 2004, a greatest XI without John Giles would be near-blasphemous. Giles was one of the few fantastic players in Ireland's modern history that was the envy of the English, who have held the popular yet misconceived belief in recent years that the Irish national team has merely been a hotbed for failed English internationals, and Alf Ramsey commented in 1964 that his one regret was that "John Giles wasn't born an Englishman." Giles began his career at Manchester United at the age of seventeen, one of the few Irishmen of that era not to have started their career in the League of Ireland, and was part of the latter era of the Busby Babes alongside Bobby Charlton and Dennis Law – who helped the team win the 1963 FA Cup.
However, Giles soon fell out of favour with Busby, due to the emergence of Nobby Stiles, and moved to Leeds where he went on to win every domestic honour possible and was one of the few players under Don Revie whose creativity eclipsed his cynicism. For Ireland, Giles debuted at just eighteen years of age in 1958 and went on to win an impressive, given the lack of friendlies back then, 57 caps. As manager of Ireland between 1973 and 1980, Giles improved Ireland's fortunes dramatically: bringing through the likes of Liam Brady, utilising professional training methods that were expected when he was in England, but were absent in Ireland, and nearly leading Ireland to the 1978 World Cup.
If one only considers Saipan, Roy Keane's inclusion is, at best, unmerited. However, it was the only, albeit massive, blot on a stellar career for Ireland where Keane's trademark high standard ultimately got the better of him in what would have been his crowning tournament at 31 years of age. Keane was the greatest midfield destroyer of his generation and is Ireland's most decorated and influential footballer of all-time, having played a massive role in Manchester United's seven Premier League titles, one Champions League, four FA Cups and one Intercontinental Cup from 1994-2003. For Ireland, Keane was even more influential: voted as their best player of the 1994 World Cup tournament at just 23 years of age and providing constant man of the match displays in Euro 2000 qualification, following recovery from a crippling knee injury, where Ireland narrowly missed out on qualifying after a play-off defeat to Turkey. The 2002 World Cup qualification campaign was when Keane really left his mark on Irish football, though, and his three goals and never-ending tenacious displays (unforgettable tackle on Mark Overmars within the first seconds in the group decider against the Netherlands on 1 September, 2001) were crucial to Ireland's qualification.
Strikers
The Candidates: Robbie Keane (1998-, 114 caps), Niall Quinn (1986-2002, 96 caps), Tony Cascarino (1985-1999, 88 caps), Frank Stapleton (1976-1990, 72 caps), Don Givens (1969-1981, 56 caps) and Jimmy Dunne (1930-1939, 15 caps)
Given John Aldridge's exploits for Liverpool, 50 goals in 83 matches between 1987 and 1989, and his legendary tirade against the 4th official against Mexico at the 1994 World Cup, it may seem surprising to leave him out of consideration. However, regardless of the fact that Aldridge scored the crucial goal in that 2-1 defeat to Mexico that saw Ireland advance to the second round at the 1994 World Cup , his return of 19 goals in 69 games, particularly given that he went twenty games before scoring for Ireland from 1986 and rarely scored in competitive matches, meant that he was not considered. Jimmy Dunne was Ireland's greatest pre-war footballer and scored a whooping 167 goals in 190 appearances for Sheffield United between 1926 and 1934, before moving to Arsenal (whom he aided to the title in 1934 with 10 goals in 26 games), Southampton and Shamrock Rovers. Dunne was one of the rare Irish international strikers to replicate his club statistics in international matches and he even bettered them: scoring thirteen goals in fifteen matches between 1930 and 1939 (had played for the IFA from 1928 before this).
Don Givens international record of 19 goals in 56 matches seems a lot more modest, but Givens scored a host of memorable goals against top quality opposition. Two examples of this trademark trait were against the Soviet Union in a World Cup qualifier in 1974, when Givens hit the greatest hat-trick in Ireland's competitive history, and his four goals against Turkey in the same qualification campaign in 1975. Givens played a big part in helping QPR get promoted to the First Division in 1973 and his 44 goals in four seasons were pivotal in QPR retaining their place in England's top division. Tony Cascarino was Ireland's most successful continental exploit, scoring a magnificent and somewhat unexpected 61 goals in 84 matches for Marseille between 1994 and 1997, and while his return of 19 goals in 88 games for Ireland was a disappointment in comparison, Cascarino's game was more than just scoring goals for Ireland. At 6ft 2in, Cascarino's natural aerial prowess was valuable when it came to Jack Charlton's long ball style, regardless of him starting or coming on as a substitute. Ireland's greatest ever big man, though, was Niall Quinn at 6ft 4in. A scorer of 21 goals in 92 games for Ireland and a magnificent team player, whether it was setting up Robbie Keane for his memorable equaliser against Germany in 2002 or winning a penalty against Spain in the second round of the same tournament, Quinn was one of Ireland's great centre forwards. Also, Quinn chipped in with his fair share of goals, including the equaliser against the Netherlands at the 1990 World Cup, and ranks as Ireland's second-highest goalscorer of all-time.
Frank Stapleton had the perfect combination of quality, commitment and big-game brilliance. A scorer of 20 goals in 71 matches for Ireland, Stapleton was one of the most patriotic footballers of his generation. In an era that was veering towards players earning more money and bonuses at club level, Stapleton instead had an international release clause inserted into all of his club contracts from when he made his goalscoring debut for Ireland against Turkey in 1976. Stapleton almost single-handedly steered Ireland to qualification for the 1982 World Cup, following pivotal goals against Cyprus, France and the Netherlands, and also went on to captain Ireland in the 1988 European Championships after scoring three goals in qualification. Stapleton also had a successful club career, playing for both Arsenal and Manchester United in his peak years from 1974 to 1987, and won three FA Cups.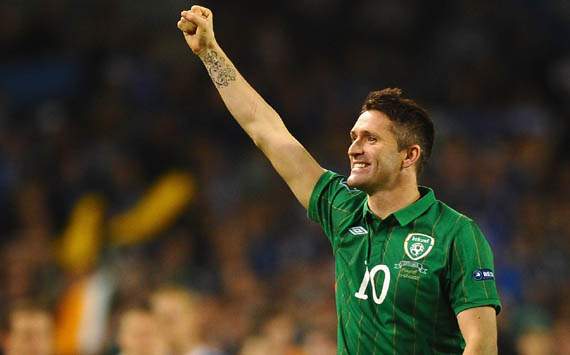 Ireland's all-time record goalscorer by a distance (in an elite pantheon alongside Ferenc Puskás (84), Gerd Müller (68) and Jan Koller (55) as one of Europe's all-time international goalscorers) with 53 goals in 114 matches, Robbie Keane has been a mainstay in the Irish first XI for nearly fourteen years. Making his debut at just eighteen, against the Czech Republic in March, 1998, Keane has gone on to score some of Ireland's most important goals of the '00s: the initial equaliser against the Netherlands in the 2-2 draw in Amsterdam on 2 September, 2000 in the 2002 World Cup qualifiers; a goal in the 2-0 play-off win over Iran on 10 November, 2001; the equaliser against Germany at the 2002 World Cup on 5 June, 2002; the opener against Spain in the 1-1 second round match at the 2002 World Cup; the equaliser against Italy in Bari on 1 April, 2009 in the 2010 World Cup qualifiers; the World Cup play-off equaliser against France in Paris on 18 November, 2009; and two goals in the 4-0 first-leg Euro 2012 play-off win over Estonia on 11 November, 2011. Regardless of his perceived mercenary traits, which was apparent in Keane recently moving to LA Galaxy at the premature age of 31 and was also evident in him playing for ten different clubs, amassing £75 million in transfer fees in the process, there is no doubting the importance of Keane's goalscoring exploits for Ireland.
The Manager
The Candidates: Jack Charlton (1986-1996, 94 ((27 wins in 57 competitive)) matches), Mick McCarthy (1996-2002, 48 ((18 wins in 39 competitive)) matches) and Giovanni Trapattoni (2008-, 42 ((11 wins in 24)) matches)
Given the fact that each of the above-mentioned managers have performed admirably in their own right, with all three guiding Ireland to at least one tournament, deciding on a manager was difficult. However, the decision was broken down based simply on the following: tournaments qualified for and the mangers' records in competitive matches. It is perhaps too early to rate Giovanni Trapattoni's reign as Ireland manager as ultimately, the 2014 World Cup qualifying group with Germany, Sweden and Austria will be the greatest test as Ireland's squad will be in clear transition in what will be the Italian's fifth and sixth seasons in charge of the national side. How he performs in Euro 2012 will also be decisive, with a seemingly 'poor' group of players, as his qualifying predecessors have admirable records in group stage progress and good performances against higher-ranked teams in competitive tournaments. Prematurity, not unpopular tactics, is the only reason why Trapattoni cannot yet be rated as Ireland's greatest ever manager as his club achievements speak for themselves, with the Italian winning every continental honour in the game and being Italian football's most successful manager of all-time.
In hindsight of the Saipan debacle, over nine years later, few could blame Mick McCarthy for his ultimate actions in an incident that overshadowed his reign and effectively led to his damning by the media and resignation in September, 2002. McCarthy's performance at the 2002 World Cup, amid all the strain, unjustified vilification and public criticism, was remarkable and Ireland finished the tournament unbeaten after bravely going out to Spain on penalties in the second round. What let McCarthy down in the Euro 2004 qualification campaign, amid incessant calls for him to reconcile with Roy Keane, was his continued loyalty with the likes of the ageing Jason McAteer and Kenny Cunnigham, and his misuse of star player Damien Duff up front. The 1-2 home loss to Switzerland, Ireland's first competitive home defeat under McCarthy, showed that the writing was on the wall but McCarthy departed with his head held high. After all, he has constantly bounced back: initially achieving with Sunderland, but then going horribly off the boil, and then re-returning to management, this time with Wolves, and managing them admirably since 2006.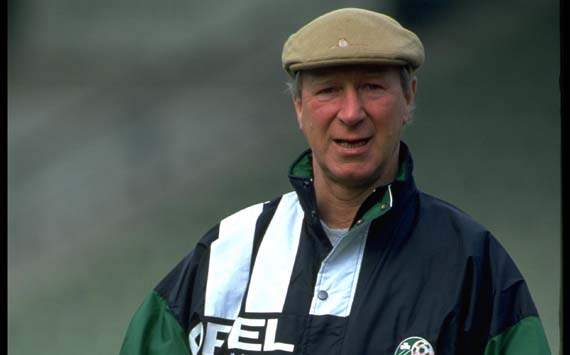 It seems shocking not only to think of the poor state of Irish football when Jack Charlton bravely took over from Eoin Hand in 1986, but also how skeptically his appointment was greeted when he became the first non-Irishman to manage the Irish national team. His reign speaks for itself: a 47.36% competitive win percentage, qualification for three out of the first four competitive tournaments he attempted, masterminding Ireland's entry to their first ever World Cup, managing Ireland to a peak position of 6th in the FIFA rankings and Charlton's brilliant, yet somewhat cynical, use of the Grannygate rule. Some may say, though, given the plethora of talents Charlton had at his disposal, from Packie Bonner and Paul McGrath to Roy Keane and particularly Liam Brady, he could have possibly achieved even more. However, this claim is probably only true of the near-disastrous Euro '96 qualification campaign, where Ireland faltered badly after losing to Austria home and away and drawing with Liechtenstein. Without even considering Charlton's player relations (Brady) and overuse of the long ball tactic, he performed admirably in his ten-year reign.