Zlatan Ibrahimovic cost Barcelona a small fortune when he joined them last summer, and David Dickson looks closely at a man constantly dividing the opinions of football fan.

With the ever-presence of Opta in all its glory in 2010, anecdotal statistics seem to have become commonplace in football journalism. Numerous Twitter feeds regularly spew out information on what a player does or doesn't do, when and how often they do it, and whereabouts. However, even @optajoe would agree, every unusual statistic should be treated with some degree of cynicism and not used as a yardstick to make a decision about a player one way or another. Especially when that player divides opinion as much as one Zlatan Ibrahimovic.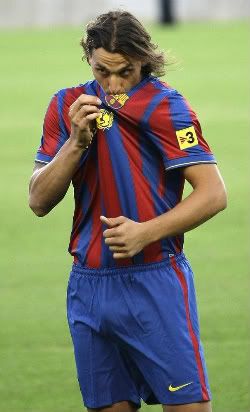 The astonishing fact revealed by @sidlowe that Ibrahimovic ran only forty metres more than his own goalkeeper, Victor Valdes, during Barcelona's 3-1 to Inter Milan at the San Siro on Tuesday just adds fuel to the fire that's nurtured by those who believe the Swedish striker is lazy, over-rated and doesn't perform in important games.
Questions must obviously be raised at the revelation; Zlatan only played 62 minutes for one, and it must be asked why Valdes did so much running himself (amidst speculation they may have counted him picking the ball out of his own net). But the fact stays strong even without analysis, and when combined with the obvious poor performance of 'Ibra' throughout the game, his doubters in the English media have enough fodder to last them until his inevitable hat trick against his former club in two weeks time.
But is all this criticism justified? Andy Gray stated that Ibrahomovic had 'struggled' in his first season at Barcelona during his commentary of the game. However twenty goals in thirty-six games, including fifteen in La Liga, would seem to disagree. Considering the man he changed places with, Samuel Eto'o, has scored only sixteen in thirty-eight games in Italy, Zlatan's return grows in stature. On a similar stage, the Swede finished top scorer with twenty-five goals in Serie A in 2008-09, with four more goals arriving in other competitions. His manager at the time, Jose Mourinho, described him as such:
"I think there are four outstanding players in the world – Ibrahimovic, Cristiano Ronaldo, Lionel Messi and Kaká. At the moment, I think I have the best in the four – the best player in the world"
Such praise, from a man widely regarded as one of the greatest managers there has ever been, hints that the adulation thrown at the 28-year-old from all corners of the world may be fairly justified. As shown above, goals are something not missing from his overall game, and his pace and finishing ability combined with flamboyant exhibitions of individual skill (read: his 'back' pass earlier this season for Barca) display many qualities required to be named as one of the best players in the world. So where does the doubt come in?
Well, it turns out there is quite a lot of evidence for the opposition too. Zlatan's two-goal haul against Arsenal in March produced his first ever goals in the knockout stages of the Champions League, after anonymous appearances in games against Manchester United for Inter Milan last season, and indeed against Inter themselves on Tuesday.
His four games for Sweden in the 2006 World Cup were entirely fruitless, and five of his sixteen goals for Sweden in forty appearances came in two games against lowly Malta (with two more coming against San Marino, if we're being overly cynical). Ibrahimovic has consistently underperformed on a multitude of big occasions in the football calendar, and with Sweden missing out on South Africa in 2010, he has a maximum of two enormous games in which to prove the international doubters wrong, for this season at least.
The enigma of Zlatan Ibrahimovic is likely to play on for a few years yet. Firstly, in England at least, we must ignore the tabloid idiocy that seems to describe him as a lazy, no-hoper purely because he has never produced the goods in a game screened on British terrestrial television. If his exceptional goals-per-game record happened to occur in the Premier League as opposed to Italy and Spain, this blinkered viewpoint would be shifted completely. However, to become a player that goes down in history as a great as opposed to an exceptional goal-poaching show pony, Ibrahimovic must continue to work out the lethargy and anonymity seen on Tuesday, and produce the kind of performance that the likes of Lionel Messi have done time and time again at five years his junior.
Only then, will all doubt of his talent be removed, and 'Ibra' can live up to Jose's billing.