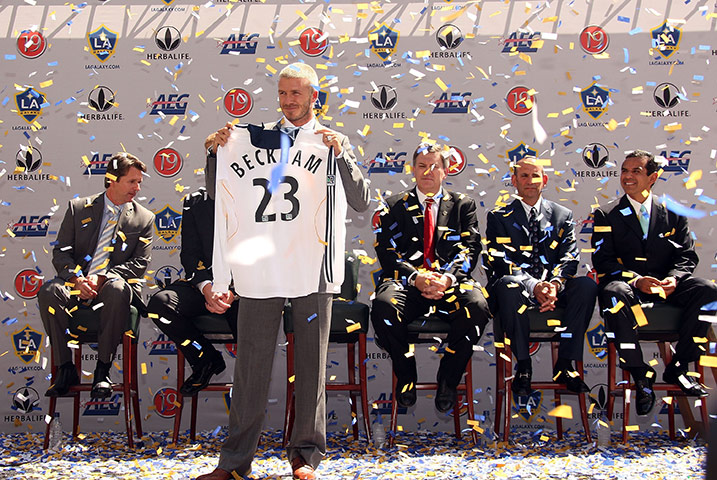 When David Beckham was presented to the sparsely attended (5,700) Home Depot Centre on 13 July, 2007, his decadence from one of England's great modern footballers into a figure of celebrity was firmly established.
With a crowd dominated by the world's glossy media and 'day-tripping fans', it was a presentation centered on the notion of the Beckham brand which reflected Beckham, wearing a Ralph Lauren suit, not being unveiled for his footballing skills like he was at Ciudad Real Madrid in 2003 (admittedly, Florentino Pérez still recognised Beckham's marketing potential but not in the overly-cynical way that Galaxy did).
Nonetheless, regardless of the $6.5 million per year Beckham was to make from his salary alone and over $40m per year he was to earn from endorsements, Beckham had a semi-empathetic goal aside from him and Victoria fulfilling a 'shared' lifelong dream of living in Beverly Hills: to help increase 'soccer's' popularity in a country dominated by the 'Top Four' of American football, basketball, baseball and ice hockey. In a rollercoaster four and half years, involving overwhelming cynicism, multiple loan deals, clashes with fans and a desperate paradox of playing for England yet fulfilling his American Dream, Beckham's promotion of the MLS has seen its merits grow with better players, bigger stadiums and an increase in franchises' value (have tripled in value, despite the worldwide economic recession, since Beckham's arrival). However, despite Beckham boosting the profile of the league, a failure remains for the mainstream public to fall for the MLS and football in general. Even if one is looking at football as a whole in an optimistic way in the U.S, it still does not reflect well on the MLS: the Premier League is the number one followed football league in America and the cost of its television rights dramatically dwarf the $10-12m that NBC pay to show the MLS.
With all the propaganda, be it billboard posters or countdown timers, associated with Beckham's move to Galaxy, which was prematurely announced in January 2007, and the proclamation from Timothy Leiweke, the president of Anschwutz Entertainment (AEG) who own Galaxy, that "David will have a greater impact on soccer in America than any athlete has ever had on a sport globally", Beckham was always going to face an uphill task in justifying his astronomical earnings. Still, though, his marketing impact for Galaxy was immediate: a new $20m five-year shirt sponsorship deal with Herbalife, an unprecedented figure in MLS terms; 250,000 'Beckham 23' club shirts being snapped up worldwide even before Beckham's presentation on 13 July; 11,000 season tickets being sold and all 42 of the Home Depot's luxury suites selling out for Galaxy's home matches; and a sudden and unexpected increase in AEG's standing in Asia. In spite of all the skepticism, Beckham's potential long-term commitment to the MLS was evident before his arrival in June, with the Englishman given the unique option of purchasing a MLS franchise at a fixed price upon retirement.
Two weeks after Beckham's unveiling, the most eagerly-awaited debut in MLS' fourteen-year history arrived on 28 July against Chelsea in a pre-season friendly. With the Beckham brand marketing drive reaching fever pitch in the fortnight up to the friendly, with media reports on the Beckhams' glamorous housewarming for their $18.3 mansion on San Ysidro Drive in Beverly Hills and incessant coverage from ESPN America on Beckham's light training sessions as he recovered from an ankle injury, it came as no surprise to see some of football's biggest names like José Mourinho, John Terry, Michael Ballack, Frank Lampard, Andriy Shevchenko and Didier Drogba being overshadowed by Beckham's 78' introduction. With the use of 19 cameras, including a static close-up camera that tracked Beckham's 'movements' as he was on the bench, never had so much been made of the non-competitive debut of a 32 year old in footballing history. Ultimately, though, despite the 27,000 sold out Home Depot Arena and the attendance of a range of celebrities from Tom Cruise to Eva Longoria, the five-hour show attracted a disappointing average of just 947,000 households in the U.S.
The scale of Beckham's mission, even against an equally well-marketed Chelsea team, was reflected in the fact that the then 14 year old Freddy Adu's debut for D.C United in 2004, the 2007 British Open golf tournament and the 2007 Indy Racing League's Honda's 200 Race had more viewers than this seemingly hotly-anticipated friendly match. Recovering from a recurrence of the ankle injury sustained in the friendly from a committed challenge by Steve Sidwell, Beckham's competitive debut was delayed and it was not until 5 August that he could travel with the squad. This came against Toronto at the BMO Field and even though he was not playing, Beckham left a lasting legacy and impact on not only the daily life of the LA Galaxy, but on the whole status quo of the MLS. Up until Beckham's arrival, Galaxy, like all MLS clubs, used to fly on commercial flights but with safety concerns over their prized asset, the squad flew chartered for the first time. Also, having usually stayed in the MLS-approved list of modest hotels, Toronto paid for Galaxy and Beckham to stay at the five-star Le Méridien King Edward and held a red carpet soirée at the Ultra Supper Club with Beckham listed as the star attraction.
Beckham's competitive debut for the Galaxy finally came on 9 August against D.C United at the sold out (46,686 was three times United's average capacity) RFK Stadium, when he came on for Quavas Kirk on 71'. In just twenty minutes and after only being 70% fit, the seemingly depreciating Beckham outclassed his less illustrious opponents: thriving in being allowed to hit trademark cross field passes and through balls without being incessantly pressed by the opposition and almost setting-up both Carlos Pavón and Landon Donovan. Donovan, who had been Galaxy's and the league's posterboy and star before Beckham's arrival, felt the Englishman's arrival the most and Beckham was controversially named as team captain, mid season, by Ruud Gullit from his first start in the 16 August North American Superliga semi-final against D.C United. Beckham starred, scoring a trademark freekick and assisting a goal for Donovan in a 2-0 victory to take the Galaxy into the final against Mexican side Pachuca.
Before all that, however, Beckham jetted 8,871km to Wembley to play in England's friendly against Germany on 22 August. Showing no ill-effects of the journey, Beckham put in a solid showing in England's 1-2 defeat and became England's first ever player to win a cap whilst playing for a non-European club. In his return to the US for the Superliga final, Galaxy's first ever, Beckham sprained knee medial collateral ligaments in his right knee, which ruled him out for the final six weeks of the season. Making a triumphant and rushed substitute return in the final league match of the season against Chicago Fire, where a win would have sent Galaxy into the play-offs, Beckham could not prevent a 1-0 defeat and his first four months in the U.S were ultimately frustrating: just eight games played, with one goal and three assists. England wise, it was also a disappointing campaign for Beckham and despite coming on and setting-up Peter Crouch for a 2-2 equaliser against Croatia at Wembley on 23 November, England went on to lose the match 2-3 and failed to qualify for Euro 2008. Realisticially, it seemed the end of the era for the 32 year old Beckham's international career but he refused to retire – having proved himself to an initially unwilling, bizarrely while Beckham was still playing for Real Madrid, but ultimately weak Steve McClaren.
In a seemingly innocent, but a haunting precedent for Galaxy, way of keeping fit during the off-season, Beckham trained with Arsenal for the month of January, 2008. The idea, while not popular with Galaxy's fans who felt Beckham was not fully committed to the MLS' schedule, was sanctioned by new manager Bruce Arena. The aim was for Beckham to maintain his fitness in Europe to help prove his commitment to England with Fabio Capello, who had Aaron Lennon, Theo Walcott, David Bentley and Shaun Wright-Phillips to call upon, seemingly uninterested in picking Beckham as long as he was based in California. That is without even addressing the complex relationship between Capello and Beckham, with Capello so initially infuriated by Beckham's pre-contract move to the U.S that he left him in Real Madrid's reserves for two months before Beckham brilliantly proved his commitment and fitness in Madrid's successful capture of the 2007/2008 La Liga title. Capello did not call-up Beckham, for what would have been his 100th cap, in the manager's opening friendly against Switzerland at Wembley and cited Beckham's lack of competitive action for three months as the reason why.
Unperturbed and confident that playing in the MLS could still showcase his ability and fitness, Beckham refuted rumours of a permanent move back to Europe and returned to Galaxy for the beginning of the 2008 season in February. Beckham's consistency and '12th man-like' abilities as a useful second-half substitute, as well as the failure of the likes of Lennon, Walcott, Bentley and Wright-Phillips to impose themselves on the right midfield position, saw Beckham called-up for the 26 March friendly against France at the Stade de France. Clearly, with the 2010 World Cup qualifiers on the horizon, this was Beckham's chance to prove he could still play at the highest level. Despite England losing 1-0, their first defeat under Capello, the signs were promising for Beckham as he started the match ahead of Bentley and played 63 minutes. For Beckham to prove that he could still play at the highest level and against some of Europe's finest footballers was enough to impress Capello, regardless of a fairly anonymous performance.
Beckham's performances and influence grew for the Galaxy: scoring his first league goal against the San Jose Earthquakes on 9 April and netting a magnificent 70-yard chip, reminiscent of the brilliant 1995/1996 goal against Wimbledon at Selhurst Park, against Kansas City Wizards on 24 May. Galaxy, though, could not maintain the consistency needed to make the play-offs. The 33 year old Beckham's form saw an inclusion in Capello's squad for the friendlies against the U.S and Trinidad and Tobago on 28 May and 1 June respectively. Again starting for Capello, Beckham set-up John Terry for England's opener against the U.S and after it was announced that he had been substituted for Bentley during the half-time interval, many of the crowd booed the decision by Capello. Clearly influenced by Beckham's impressive form, fitness and popularity, Capello surprisingly handed Beckham the captaincy ahead of Rio Ferdinand, Steven Gerrard and Gareth Barry in the 0-3 win against Trinidad and Tobago after John Terry had been rested.
Beckham continued to be valued by Capello as England began their 2010 World Cup qualification, winning his 107th cap against Belarus on 15 October for example. Now third behind Bobby Moore (108) and Peter Shilton (128), Beckham had a decent chance of becoming England's most capped footballer of all-time if he could continually prove his form and fitness. However, Capello began a controversial trend of bringing Beckham on for the last five minutes and instead favoured starting the inconsistent Walcott. Clearly taking the hint, Beckham, desperately wanting to atone for the disappointments of the 1998 (sending-off), 2002 (not fully fit and the controversial pulling out of a tackle with Roque Júnior in the phase of play that originated in Rivaldo's goal in the quarter-final against Brazil) and 2006 (captained a flaccid England side and tearfully resigned as captain after the tournament) World Cups, sought to secure an interim European loan move before the beginning of the 2009 MLS season in March. On 30 October, 2008, Milan announced that Beckham would be joining them on a three-month loan from 7 January that would see Beckham return to California at the beginning of March.
Whether it was a publicity stunt or a marketing ploy sanctioned by Silvio Berlusconi and Adriano Galliani, with Beckham given the 'unique' 32 shirt number in an homage to Michael Jordan, Beckham was given a public vote of confidence by the Milan Lab in being told that he could play until he was 38! Motivated, Beckham again proved his doubters wrong: becoming a starter for Carlo Ancelotti and scoring two goals and assisting two in his opening four matches. Flanking Alexandre Pato across from Ronaldinho, Beckham's delivery and link-up play with Andrea Pirlo and Clarence Seedorf, as well as his eligibility for the latter stages of the Champions League, made him a very attractive permanent proposition for Milan in a team and league where veterans continued to thrive. Assimilating into Milan society, too, Beckham publicly confirmed his interest in joining the club on 4 February. However, under the then uncharacteristically frugal Berlusconi and with Milan unable to justify paying the $10-15m valuation that the MLS placed on the 33 year old, this did not come to fruition. Instead, Beckham himself financed a three-month extension until the end of the Italian season in May.
Impressed, Capello rewarded Beckham with another appearance, this time in the friendly against Spain on 11 February where he equaled Bobby Moore's record of 108 caps. Beckham then broke it a month later in the 28 March friendly against Slovakia, coming on for the second-half, when he assisted both of Wayne Rooney's goals in a 4-0 win. To keep his 2010 World Cup dream alive and with a failure to agree a permanent deal with Milan, a time-share agreement was reached between the MLS and Milan on 2 March, 2009 where Beckham would immediately return to the Galaxy for the 2009 MLS season in July, but would move to Milan for another five-month loan spell from January 2010. Beckham's actions did not impress Landon Donovan, who complained :
My sense is that David is clearly frustrated, that he's unhappy and, honestly, that he thinks it's a joke. I also kind of feel that he's taking the team for granted. I don't see dedication or commitment to this team and that's troubling.
Facing an unsurprisingly hostile Galaxy crowd upon his return in July after the five-month loan spell, with chants and placards of "Part-Time Player", "Go Home Fraud", "23: Repent", "Hey Becks, Here Before You, Here after You, Here Despite You" and "Is Evil Something You Are or Something You Do?", Beckham got into an altercation with a front-row fan at half-time of an ironic 2-2 friendly against Milan.
Beckham, who had been jeered throughout the match, heard explicit remarks about his family from the front-row of one section of the stadium and gestured "come on" to the section as he left for half-time. One fan stepped out and ran at Beckham, before being tackled by security – who also escorted Beckham off the pitch. However, Beckham's commitment and resilience did not suffer and, after scoring two goals and assisting three others in 15 appearances, Beckham captained the Galaxy to the Western Conference play-off final against Real Salt Lake. Galaxy had moved from third, before Beckham's return, to first in the Conference, when he returned, but the final proved a bridge too far: a 5-4 penalty shootout defeat, with Beckham netting his penalty, on 22 November, 2009. Beckham returned to Milan at the beginning of January, 2010 and the 34 year old was still valued by Massimiliano Allegri to a similar extent to how he was under Carlo Ancelotti. Playing in the 'quarter-back' role and knowing that there was the Champions League second round matches against Manchester United to come, Beckham continued to impress.
The two matches were bittersweet occasions for Beckham, failing to impose himself in the San Siro tie which had seen United lead 0-3 as Beckham was substituted for Clarence Seedorf on 76', but being a constant threat with his undying delivery in his thirty minute second-leg cameo as Milan lost 4-0 at Old Trafford. Already a popular figure with United's fans, Beckham produced the peak moment of the Green and Gold campaign against the Glazers, by the Manchester United Supporters' Trust, after draping one of the campaign's infamous scarfs around his neck as he gave the fans a lap of honour at the end of the match. Still proving his worth at the highest level and appearing in sixteen of the twenty matches Capello had managed England for, Beckham looked a certainty for the 2010 World Cup. However, Beckham tore his Achilles tendon, which ruled him out of action for five months, against Chievo on 14 March. At 35, it would have been his fourth World Cup and with 115 caps already to his name, Beckham had a realistic chance of adding to his haul with the tournament and series of friendlies between March and June.
With his now trademark resilience, Beckham refused to wallow and instead accompanied England as a team mediator between the players and management for the World Cup. Signalling the end of his international career, while never confirming his retirement, Beckham decided that he would give his full focus to his final season in the MLS. Making an unexpected recovery in time for the end of the 2010 season, Beckham again captained the Galaxy to the Western Conference title. Scoring two goals and assisting three others in ten matches, Beckham lifted both the Conference title and the MLS Supporters' Shield, Galaxy's first Shield since 2002. However, the national title, achieved through the play-offs, continued to elude Beckham. Seeking to maintain his fitness, the 35 year old headed to Tottenham during the MLS off-season, just like he had with Arsenal in 2008, and any rumours of a loan move to his boyhood club were quashed when insurance costs inhibited a move.
Beckham, who had played just fifty matches for the Galaxy in his first three seasons, has had a brilliant 2011 campaign: winning the fans over with his commitment and netting 2 goals and 16 assists in 34 games. Clearly hungry to prove his wages, having been named Forbes' richest footballer of 2011 on £24 million per year, rather than retiring into obscurity, Beckham has been the driving force behind Galaxy reaching the MLS Cup Final against Houston Dynamo on 20 November. The only distraction, aside from his appearances at the Royal Wedding and close friend Gary Neville's testimonial on 29 April and 24 May respectively, that Beckham faced in 2011 was the noble wish to bring the 2018 World Cup to England and the Englishman delivered an impassioned and personal, yet remarkably articulate, plea to the selection committee on 3 December, 2010. Since then, Beckham has given tireless commitment to the Galaxy cause, refusing to let recent links with PSG and Leonardo affect his focus, and it looks likely that Beckham will have the triumphant Hollywood ending that he so badly wanted when he began his American journey in the summer of 2007.
With a January move to PSG, who are likely to give Beckham a two-year contract that will see the 36 year old fulfil Milan Lab's prophecy that he would play at the highest level until 38 years of age, Beckham is the most likely and willing candidate to lead Great Britain's football team at the 2012 Olympics in London. So, to fully understand the legacy of the Beckham Experiment – which has seen the likes of Milton Caraglio (22), Diego Chará (25), Álvaro Fernández (25), Mustapaha Jarju (25), Jéferson Rodrigues Gonçalves (27), Julien de Guzman (28), Omar Bravo (30), Branko Bošković (30), Robbie Keane (31), Rafael Marquez (31), Danny Koevermans (32), David Ferreira (32), Thierry Henry (33), Torsten Frings (34) and Frank Rost (38, goalkeeper) coincidentally arrive, the establishment of franchises like the Seattle Sounders, Phildelphia Union, Vancouver Whitecaps and Portland Timbers and the growth in average attendences by 7.2% (average of 17,852 is the 10th highest in the world) – one will have to see how the professionalistation of the league continues in the coming years.
The key, regardless of the arrival of foreigners, is the continued success of the U.S.A's national team and as Dan Courtemanche, the MLS' Vice-President, has noted, the continual production of talented homegrown players:
Ten years from now, we need to have at least 50 Landon Donovan-calibre American players in the league and we also need to have multiple players better than Landon competing in MLS. With a country of 300 million-plus people, you'd hope that could happen.
Without this progression, David Beckham's four-year stint with the Galaxy, which has clearly coincided with a certain level of increase in the popularity of soccer in the U.S, will fall in line with the likes of Pelé (35 in 1975), George Best (30 in 1976), Johan Cruyff (32 in 1977) and Franz Beckenbauer (32 in 1977): a short-term bubble that enhanced their celebrity, with no tangible and long-term pluses, cares and effects for American soccer in the years after their respective departures.