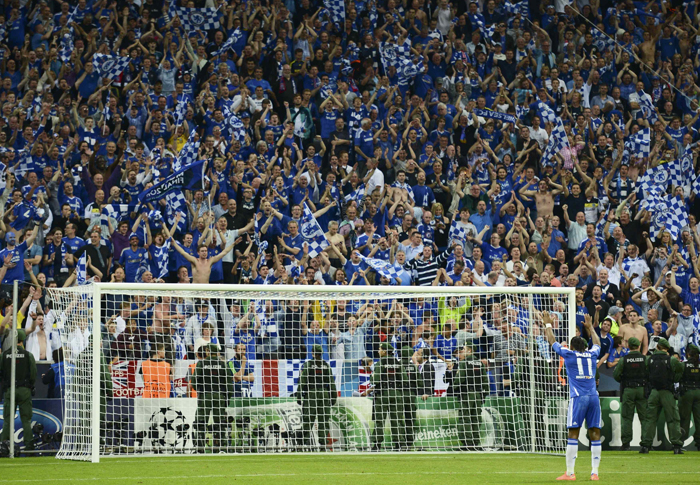 The heart raced: it was a false sense of security and near-unwelcomed, ironic restbite for Chelsea for, arguably, the only time in an epic two-hour siege at the Allianz Arena.
For Didier Drogba it was simple: score, and Chelsea won their first ever Champions League title and he cemented his legacy as the club's greatest ever big-game player; miss, and the buck passed to Gary Cahill, a man who has never taken a professional penalty or partaken in a penalty shootout in his eight-year professional career.
As multiple, submerged flashbacks of African shootout heartache flickered, Didier Drogba muttered, "come on Didier" to himself as he trotted over in the direction of the branching Manuel Neuer, with his eyes momentarily peering at the daunting, raucous and Bavarian-swarmed Southern Stand. Was it to prove a selfish moment, in having the fairytale European footballing swansong, or was it an immensely brave act?
Was Drogba going to follow in the footsteps of another Chelsea icon, John Terry, who believed it was his destiny and have yet another agonising miss? After all, this was a man who may have scored an impressive eight goals in just eight English cup finals for the Blues, but was sent-off, for a petulant slap on Nemanja Vidić on 116′, against Manchester United – therefore, obviously, being unable to take part in the eventual shootout – in Moscow in 2008 and missed penalties in shootouts for the Côte d'Ivoire against Egypt and Zambia in 2007 and 2012 respectively.
From this, the final encapsulated the paradox of the Ivorian in his eight years at Chelsea: the undeniable desire, athleticism, rabbit out of the hat ability and big game brilliance in an unforeseen and momentum-swinging 88' equaliser; but a petulant, lazy and brain-lapsing clip of Franck Ribéry's right heel on 93' – even if it was an act of somewhat admirable, but ultimately unnecessary, defensive aid for the assured Cahill. Still, "he believed", had a signature, short, vertical run-up and slotted an incredibly calm sidefoot into the left-centre, sending Neuer the wrong way and leading to a tearful, dazed and now near-immortal Drogba to quickly bless himself and dash for a shell-shocked hug with the nearby Petr Čech.
This time, it really was destiny. Chelsea's pivotal tournament moments, whether it was Ashley Cole's last-ditch block against Napoli on 21 February or the usually infallible Lionel Messi's penalty miss for Barcelona on 24 April, were, of course, fortunate but after eight years of misery and misfortune in narrow European matches  – from Luis Garcia's ghost goal (Čech would have been sent-off, regardless) on 3 May, 2005 to Tom Henning Øvrebø's shocking refereeing, against Barcelona on 6 May, 2009 – true heart, grit and a staunch defence paid dividends for Chelsea. The tinkering of Claudio Ranieri, the cynical antics and ill-belief that penalties were a lottery of José Mourinho, the lack of a decisive knockout round gameplan with Carlo Ancelotti and the naive gung-ho tactics of André Villas-Boas had all been remedied in that one moment.
The somewhat unglamorous, and Drogba-like, staples of pluck and a staunch last line of defence have served as the hallmarks of Roberto Di Matteo's interim reign, yet – arguably and ironically – he, and this Chelsea squad, is the most likable set since Ranieri managed the club between 2000 and 2003. The Italian has achieved this with the restoration of the club's image, encapsulated not only in his bold selection of Ryan Bertrand  (homeplace of Southwark is just sixteen minutes, 10.5km, from Stamford Bridge) in the final, or the appointment of Eddie Newton as his assistant, but the one-time forgotten – amid the furore, uncertainty and in-fighting Villas-Boas' reign momentarily instigated – principles of unity, honour and teamwork.
After all, one of Chelsea proudest images of the decade was that of an injured (fatally, for his football career, from a horrific triple-leg fracture against Saint Gallen on 28 September, 2000) Di Matteo leading Chelsea out in the FA Cup final against Arsenal in 2002 and, perhaps, Di Matteo's inspirational time at Chelsea is partly why John Terry – Chelsea's last major Academy graduate, in 2000 – was so quick to pay tribute to Di Matteo's managerial abilities, recovered so 'miraculously' from his knee surgery (took just a two-day break and returned to action four weeks ahead of schedule) and has gone on to play on for the Italian with broken ribs.
Even though all of the squad played their part, from Paulo Ferreira to Bertrand, by looking at Di Matteo's typical first XI (plus Cahill, who played just twice under Villas-Boas), one can see a dramatic influence – owed, no doubt, to his acclaimed, individual man management sessions. Čech is no longer a figure of near-obsessive scrutiny and sympathy, and has certainly regained the form that made him the world's best goalkeeper between 2005 and 2007. Branislav Ivanović has developed into an incredibly consistent and balanced 'unnatural' right back, with a deadly bullet long throw and underrated tactical self-discipline. Ashley Cole has brilliantly bounced back from a poor and inconsistent eight months under Villas-Boas, and, like Čech and Drogba, was the key reason behind Chelsea's incredible tournament win.
Terry, of course, has his detractors but few can deny that this has been a stellar campaign – following a worrying, near-purposeful slip against Robin van Persie on 29 October – and although his Munich celebrations may have seemed unsavoury, few players in the modern era have had such a symbiotic relationship with their club and Laurent Blanc set the precedent for suspended players' zealous celebrations with his 'tasteless' celebrations after the 1998 World Cup. Cahill was one of Chelsea's best performers against Barcelona and Bayern, following a worrying display alongside David Luiz against Napoli on 21 February, and has progressively improved in each of the eighteen games he has played for the club. A figure who clearly enjoys the lampoonery of his refreshing carefree attitude to professional football, Luiz has curbed his eccentricities under Di Matteo and 2012/2013 could well be the season he fully adjusts to the rigours and scrutiny of English football.
Frank Lampard has perhaps felt the effect of Di Matteo's reign the most, thriving – without protest – in a disciplined, tackle-filled deep-lying position in Di Matteo's 4-2-3-1. John Obi Mikel, at twenty-five, finally came of age  – remarkably, in the biggest game of his career against Bayern– and his ball retention and 360 degree turns were of marked contrast to his lax display which cost him his place in Chelsea's first XI under Villas-Boas against Liverpool on 20 November. Juan Mata has been Chelsea's greatest signing since Ashley Cole in 2006 and is blessed with the natural skill, courage and creativity that has not been evident at SW6 since the days of club legend, Gianfranco Zola.
Salomon Kalou, like Mikel, emerged from the Cobham wilderness under Di Matteo and performed consistently and solidly – rather than the unnatural swashbuckling style that is unreasonably expected of him at times – in Chelsea's renaissance under the Italian. Ramires, Chelsea's undoubted Player of the Season, was sorely missed in Munich for the spring-counter offensive he offers with his unrivalled pace and could well have found his most dangerous position under Di Matteo – with Ancelotti having used him more as a neutral, and unmarauding, right midfielder.
Then, of course, there is Drogba: a one-time enigma, who once endured a torrid relationship with the English public and media, and even some sections of the Chelsea fans, since joining the club as a seemingly awkward, immature, selfish, fairly unproven and near-lightweight 27 year old in the summer of 2004. It has been a near-annual controversy-filled spell at SW6. There was the moment he clashed with Chelsea fans, amid Mourinho's criticism of his lack of defensive teamwork, after missing a couple of chances – nonetheless, eventually, scoring a fortuitous winning goal on 73′ – in a 1-0 victory against Arsenal on 21 August, 2005.
Then, he declared himself an "orphan" and wanted to quit Chelsea (courting interest from Serie A) after Mourinho left and after he was 'vilified' as a cheat (admitted, after the game against Manchester City, that "sometimes I dive, sometimes I stand" on 26 March, 2006) by the English media. In 2009, he was fined for calling Chelsea "unsupportive" – following a fall-out with Luiz Felipe Scolari when he took over from Avram Grant post-Moscow amid re-tossing a coin into the Burnley end on 12 November, 2008 – and had his infamous flip-flop armed "disgrace" rant after the 1-1 'loss' to Barcelona on 6 May, 2009.
However, while Drogba was, undoubtedly, Chelsea's key player in their historic 2010 Double, with an incredible 32 goals and 11 assists in 36 combined Premier League and FA Cup matches, his previous unsavoury antics continued to linger – epitomised in a petulant stamp against Internazionale on 16 March, 2010– but they were firmly banished in Munich and his legacy as Chelsea's most acclaimed and effective striker of all-time was solidified.
After all, this is the man that symbolised Chelsea overturning their Arsenal jinx (netted thirteen goals since 2005/2006, one season after his arrival, following a ten-year failure to defeat Arsenal in the league); scored stunning goals: from his 180 degree 'knee-high' volley against Liverpool on 17 September, 2006 to his fantastic 'through the laces' volleyed strike against Tottenham on 15 April, 2012; and netted some of the most important goals in Chelsea's recent history, with Drogba chalking up an incredible nine goals in nine cup finals between 2004 and 2012.
For Chelsea and the 34 year old Drogba, a difficult (large element of sentimentality in merits of offering a two-year contract over whether Drogba can continue his magnificent, and consistent, form right up to his rapidly-approaching 35 year age), but amicable decision was confirmed yesterday. Given that he has won every major club honour ("I would have stayed if we hadn't have won the Champions League") and established himself as one of football's most selfless philanthropists with his incredible healthcare donations, United Nations promoting and anti-war work campaigning in Côte d'Ivoire, Drogba – having given an emotional lap of honour against Blackburn on 13 May – can leave Chelsea with his head held high.
From this, even if he is fit to carry on at the highest level for yet another season, he departs SW6 draped in glory, respect and justified bravado, and joins Roy Bentley, Bobby Tambling, Peter Osgood, Kerry Dixon and Gianfranco Zola as not only undoubted Chelsea goalscorers and acclaimed talents, but – perhaps, even more importantly to the insecure (thrives under man managers) Drogba – as an immensely cherished fans' favourite.