1. That's More Like It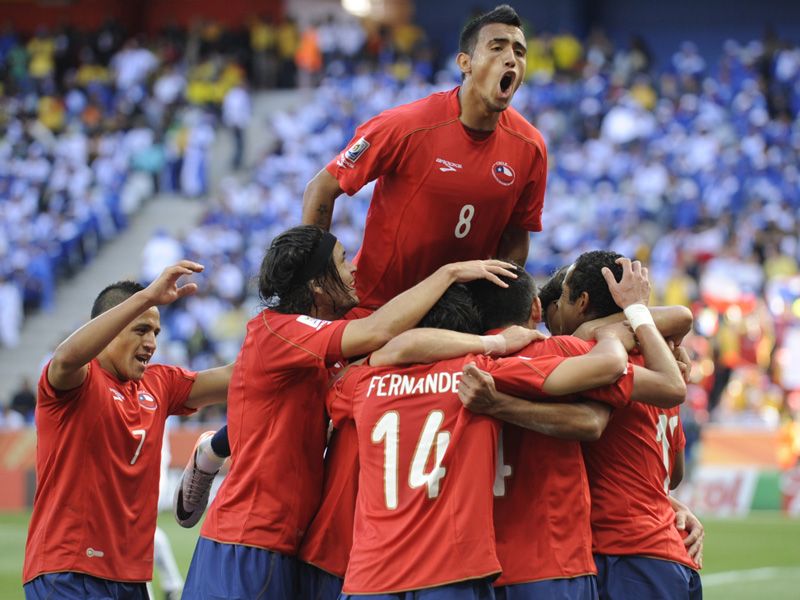 A tremendous display of relentless attacking football from Chile was just the breath of fresh air this tournament has needed. We've raved about Marcelo Bielsa's tactics on BackPageFootball, which he slightly altered today. Instead of his famous 3-3-1-3, Bielsa went for a slightly more conservative 4-2-1-3. Given that, conservative is probably the last word one would use to describe Chile's performance today. It was a display that firmly believed in attack as the best form of defence, as Chile never took their foot off the accelerator and flooded forward up to the final whistle. It was great on the eye, but Bielsa will not be happy at his team's inability to put the game beyond Honduras despite numerous opportunities to do so. Alexis Sanchez dragged a couple of shots past the post when placed well, and only a last ditch tackle from Figueroa prevented Valdivia from an easy finish. Waldo Ponce came as close as anybody to grabbing that elusive second goal, but was denied by a world class save from Honduras 'keeper Valladarves after Arturo Vidal had put it on a plate for him. Chile were fancied as the best of the underdogs coming into this tournament, and their stock will have risen dramatically today, as will that of Alexis Sanchez. The Udinese man was tipped as One 2 Watch by BackPageFootball earlier this summer, and he delivered upon his expectations with a scintillating display of attacking football.
2. Unconventially Attractive
Despite not fielding the 3-3-1-3 we had expected, Bielsa's tactics will still have caused a stir in South Africa. Waldo Ponce was the only natural defender in a four man back line, with Gary Medel, Mauricio Isla and Arturo Vidal more at home higher up the pitch. This was evident in the full backs' unfamiliar-to-many surging runs forward. Vidal and Isla were not your conventional wide support. Vidal in particular preferred to drift infield rather than offer direct support to Beausejour on the left wing. With Honduras only playing Pavon up front, Gary Medel was granted license to roam forward, although the Boca man rarely got past the half-way line. Whenever Pavon got hold of the ball for Honduras, he was inevitably forced to retreat with the ball as one of Medel or Ponce hassled him relentlessly, such was Chile's strength in numbers at the back. Carlos Carmona played the holding role effectively, with Rodrigo Millar occupying a box-to-box role slightly ahead of him. The front quartet lined up identical to what would be expected from Bielsa's 3-3-1-3. While the personnel was different, the tactics remained the same with Matias Fernández pulling the strings in the trequartista role – his deliveries from set pieces showed an exceptional understanding of the dreaded Jubilani ball. Alexis Sánchez stole the show on the right hand side, waltzing past players with ease and generally being at the centre of everything Chile had going forward. Beausejour will be delighted to grab a goal in the World Cup, having only previously netted for his country just the once. He's more comfortable up front than he is on the wing, but with the majority of Chile's attack coming through Sánchez on the right, Beasejour's weaknesses were hidden and he had a decent game. Valdivia played the role of striker efficiently, linking up well with those around him, but expect Humberto Suazo to walk back into the team upon his return to fitness.
3. Not Good Enough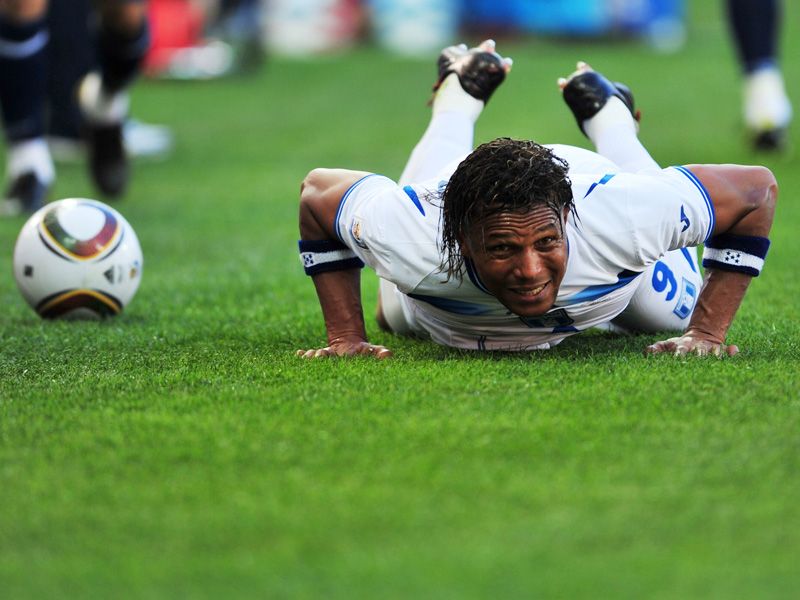 I was very disappointed with Honduras today. They were always going to be underdogs going into this game, and their tactics reflected this. They were cut apart by Chile on several occasions today, and a 1-0 scoreline flatters Honduras as Chile should easily have had 3 or 4. The majority of this was down to poor finishing by the Chileans, although a sublime save from Valladarves and an excellent last ditch tackle from Figueroa will make their way onto highlight reels tonight. Pavon was an isolated figure up front, and was hustled off the ball too easily on the few occasions it came his way. Wilson Palacios had a great season for Spurs, but not even he could keep a lid on Chile as they came forward. They will struggle against Spain whose finishing will be a lot more clinical, and the last match of the World Cup group stages might not be one for purists when Honduras take on Switzerland.
4. Alex-cellent
Worst pun Talking Points has ever used, we know. I apologise. Alexis Sánchez was very impressive for Chile tonight. He's not afraid to run at players, and he goes past them with such ease. It will be interesting to see how Capdevilla – the often (harshly) identified Spanish weak link – will cope against him on June 25th. Overall, Marcelo Bielsa will be pleased with his star man but will be concerned about the Udinese winger's finishing – he could and perhaps should have grabbed a couple of goals today. If Spain are to win out this group, then Chile will have to be more clinical against their runners-up spot challengers Switzerland on Monday in a game that you expect will seal qualification for them should they win.