As managers announce their provisional World Cup squads, Neil Sherwin takes a look at some of those who didn't make the cut and won't be going to South Africa.
Diego Maradona has always been a tad crazy, and his tenure as Argentina manager has provided plenty for the media to write about. However the general laughing in his direction has now been replaced by furrowed brows with the announcement of his 30-man party from which the country's final World Cup squad will be announced on June 1.
No Esteban Cambiasso. No Javier Zanetti. No Gabriel Milito. No Juan Roman Riquelme. No Pablo Zabaleta. No Pablo Aimar.
It's simply mind boggling.
Argentina aren't the only ones to have neglected to choose players of genuine quality, and I have put togther a team from those who will be watching the tournament from the comfort of their own homes, despite collectively being probably good enough to win the whole thing.
1. Marco Amelia (Italy)
The once highly rated Amelia has suffered a bit of a fall from grace in terms of international football. A summer move to Genoa from Palermo was a bit of an anti-climax considering he was being linked with big money moves to the Premiership 18 months ago, and he is no longer seen as a viable back up to Gianluigi Buffon.
2. Pablo Zabaleta (Argentina)
Manchester City full back Pablo Zabaleta enjoyed a solid second season in English football and has been a loyal servant to his country at all levels. With over 80 underage caps to his name, Zabaleta had been establishing himself as a fixture in the Argentina squad until Maradona assumed control.
3. Gabriel Milito (Argentina)
You would think a Barcelona centre half would be a shoe-in for a place at the World Cup. Not Gabriel Milito though. As if things weren't bad enough already, he has had to suffer the humiliation of being behind Newcastle's Fabricio Coloccini in the pecking order. Might as well just retire now.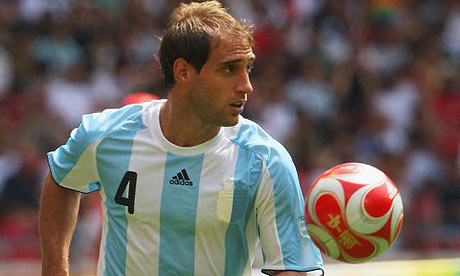 4. Javier Zanetti (Argentina)
A model professional and legend of the game, Zanetti is very much a fans' favourite across the world and his exclusion from the Argentina squad is a loss for the romantics. The 36 year old, who has already played in three previous tournaments, has won 136 caps for his country but recently questioned Maradona's tactics and appears to have paid the price for doing so.
5. Esteban Cambiasso (Argentina)
Cambiasso has been arguably one of the best defensive midfielders the game has seen over the past decade and it's hard to believe that he is still only 29. Another victim of the coach's ridiculous selection policy, he sadly won't be given the opportunity to recreate his Goal of the Tournament from Germany in 2006.
6.Patrick Vieira (France)
Ok so he isn't the same player that, along with Roy Keane, ran the Premiership for many years, but Patrick Vieira still has plenty to offer a squad in terms of leadership and general presence. After a slow start to his loan spell with Manchester City, he rediscovered his form in the last few games of the season.
7. Alexandre Pato (Brazil)
This is possibly the biggest head scratcher of the whole lot. Fair enough, he has been troubled by a hamstring injury lately, but in the 20 games he did manage this season, Pato scored 12 goals. His raw talent in itself should be enough to have him on the plane and the squad, albeit a good one, is very much weaker without him.
8. Adriano (Brazil)
A top level club record of almost two goals in every three games is surely good enough to get a ticket to the World Cup, right? Not in the case of Adriano. The much troubled striker has been scoring goals for fun since returning to Brazil with Flamengo last season but has barely been mentioned in connection with the World Cup. Still only 28, the powerful left footer still has plenty to offer and would walk into the majority of squads.
9. Karim Benzema (France)
The writing was on the wall as far as Benzema was concerned when Raymond Domenech negelected to use him when his side were struggling against Ireland in the second leg of the playoff to get to South Africa. Benzema didn't play a lot of club football this season since his big money move to Real Madrid but surely, even not match fit, he still offers more than Pierre Alain Gignac.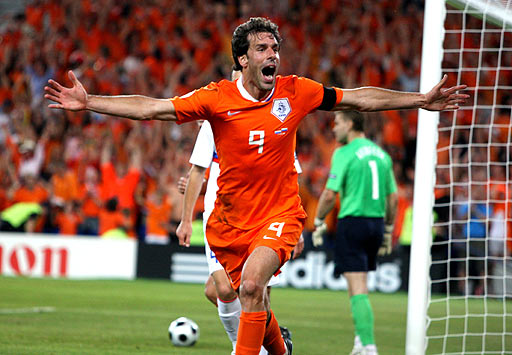 10. Ruud Van Nistelrooy (Holland)
Van Nistelrooy is almost 34 years old and recovering fromyet another injury, but he is still one of the most lethal finishers around. His international record of 33 goals in 64 games speaks for itself, and despite having retired from representative football in 2008, he had a change of heart and declared himself available for selection.
11. Ronaldinho (Brazil)
It really is a crying shame when a two time World Footballer of the Year who has barely hit 30 cannot get a game for his country on the biggest stage of them all. Buck toothed legend Ronaldinho has actually enjoyed a good season with AC Milan, scoring ten goals and contributing 15 assists with a game still to play. However Brazil coach Dunga has again signalled his intent to cull the 'Joga Bonito' style of play, much to the disgust of the football-mad nation.
Others notable couch warmers:
Pablo Aimar (Argentina)
Juan Roman Riquelme (Argentina)
Diego (Argentina)
Lucho Gonzalez (Argentina)
Ashley Young (England)
Samir Nasri (France)
Luca Toni (Italy)
Francesco Totti (Italy)
Antonio Cassano (Italy)
Mario Balotelli (Italy)
Neymar (Brazil)