One of football's oldest and most enduring clichés – not quite as old as 'a game of two halves' but certainly older than 'you can't win anything with kids' – is the chestnut, 'you couldn't write the script.'
The cliché was rolled out and worn out by players, coaches and commentators alike in the wake of John O'Shea's last-gasp equaliser against Germany in Gelsenkirchen on his century appearance for Ireland.
Leaving aside how obviously insulting that is to even the most unimaginative of scriptwriters, it does go to show that at the heart of just about every football fan beats the pulse of a romantic – few but the most embittered German or RTÉ panellist could balk at the romance of the moment.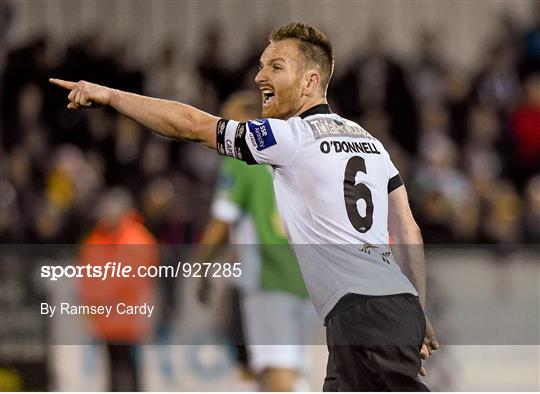 In a similar vein, you 'couldn't write the script' when, two minutes into the second half of the league title decider in Oriel Park last Friday, Dundalk captain Stephen O'Donnell wheeled away from the edge of the Cork penalty area having set the home side on their way to a first league title in 19 years.
It was mere metres away that O'Donnell, six months earlier, had suffered a serious cruciate ligament injury during a Premier Division clash with his former club Shamrock Rovers, and it was accepted even by his club that he wouldn't play again this season.
The tackle that led to his injury was a tough but fairly contested one from Rovers midfielder Shane Robinson and, in spite of his obvious disappointment, O'Donnell acknowledged it was a hazard of the profession and set his sights on rehabilitation.
Still, he wasn't expected to play any further part in Dundalk's league season and, for a moment at least, it was feared  the captain's absence could put a serious dent in the Lilywhites' title ambitions.
It's a credit to Stephen Kenny and the spirit he's engendered within his small but talented squad that the loss of their captain barely set them back – they'd go on to lose just two more games all season and win all but two of their remaining home fixtures – but a remarkable late-season run saw Cork City leapfrog them at the summit going into the final winner-takes-all game.
O'Donnell defied all expectation to make himself available in a limited capacity for the league run-in – a substitute appearance on his return when Rovers returned to Oriel Park should have yielded an injury time penalty – but he remained touch and going into the final day.
Any fears about his capacity to last the distance were to prove woefully ill-founded, as O'Donnell took to the field like a man possessed, and he was a tad unfortunate to see two first-half efforts clear the crossbar.
There was an element of fortune about the events leading up to his opening goal, as Pat Hoban's attempt to control a forward pass inadvertently bounced up and hit his forearm, but the referee correctly adjudged the contact to be incidental and the ball sat up nicely for O'Donnell to finish magnificently from 20 yards.
Minutes later, it was O'Donnell again who got on the end of Daryl Horgan's hopeful cross, only to see his diving header flash just wide, and as Cork were compelled to force the game in search of the equaliser that would take the league championship back to Leeside, it was O'Donnell whose calm head and coolness in possession ensured Dundalk always looked the more likely to score the next goal, and it duly arrived in the closing stages as Brian Gartland stabbed home.
Kenny had drawn reference consistently in the lead-up to the game – and again in its aftermath – that aside from O'Donnell his young side was unused to any degree of success, and so his decision to risk his captain will forever be seen as a managerial masterstroke.
That shouldn't deflect in any way from the achievement of Stephen O'Donnell, first in having the courage to come back from a potentially career-threatening injury in impossibly quick time, and then playing such a commanding role in a side who were threatening to surrender a title that had looked a formality months earlier.
Pats aim to overcome famous FAI Cup hoodoo by ignoring famous FAI Cup hoodoo
St Patrick's Athletic's cup travails have attained legendary status by now – it's over 50 years since the Inchicore side won the cup, a remarkable statistic for such a successful club, since when they've contested and lost seven finals.
Prompted by a motivational word from coach Liam Buckley, the club have rallied around the motto 'We Make Our Own History' this week, as they attempt to liberate the current squad from the historical pressure the media – including this column – have seen fit to bring up at every turn.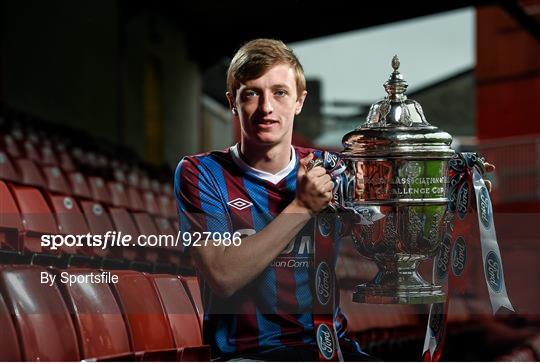 There is no question that, on their day, Pats are the most complete and most devastatingly effective side in Ireland. The problem, this season, has been their inability to put out a full-strength team from week to week, a weakness that cost them dearly in the return leg of their Champions League qualifier against Legia Warzsawa.
Derry, by contrast, have no such baggage. They beat Pats at the same stage two years ago and, despite four losses and two draws in their final six league games, the Candystripes will come into the game with some confidence having recovered under the guidance of Peter Hutton following the disastrous early-season reign of Roddy Collins.
All still to play for as Eamonn Deacy welcomes UCD
A bizarre collapse in the dying moments at the Belfield Bowl saw UCD surrender a promising 1-0 lead to trail Galway FC (soon to be re-christened Galway United) 2-1 heading into the promotion/relegation second leg in Eamonn Deacy Park tonight.
The Students staged a scarcely believable comeback in the final two series of games to edge out Athlone Town and give themselves a chance of a Premier Division reprieve, but the late capitulation on Monday night provided a reminder of why they were odds-on for automatic relegation coming coming into October.
Both teams will be at full strength for the second leg – Robbie Benson and Conor Creevy return for UCD and Alex Byrne for Galway, all from suspension – while President Michael D Higgins will be in attendance for what promises to be a spectacular conclusion to the league season. It's just a pity it won't be showcased on TV.
When will we see the likes of Joey Ndo again?
Amid the drama of the final day's events in Oriel Park and UCD pipping Athlone to the reprieve of a relagation play-off, the League of Ireland bid farewell to one of its most iconic figures.
Joseph Ndo has figured sparingly for Limerick since his summer loan from Sligo Rovers – where has swiftly appointed assistant to incumbent coach Martin Russell – and it was a somewhat more heavyset Ndo that took the field for the final 20 minutes in Tallaght Stadium.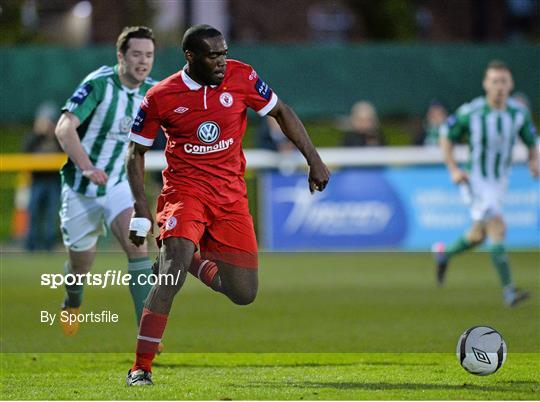 The League of Ireland is often used by beleaguered professionals looking for a route back into top-level European football, but in Ndo we had a true rarity – a World Cup-capped player who came to Ireland and stayed for over a decade.
An injury-hit first half of the campaign at Sligo, during which he was inexplicably utilised rushed back to play right-full, saw his powers noticeably dwindle, and we were faced with the rarely-seen spectacle of Ndo giving the ball away.
It was fitting, though, that he was to leave us in the style to which we've become accustomed – attempting an audacious flying back heel, deep into injury-time, to grab an unlikely equaliser. When will we see his like again?