"Fail to prepare, prepare to fail". One of my housemates at university used to repeat this mantra over and over again whenever an exam period appeared on the horizon. There were others – "teamwork is dreamwork" stands out – but it is that short paean to meticulous planning which seems most applicable to the world of football at the moment. We are waiting patiently for the festival to begin and each float is being carefully prepared.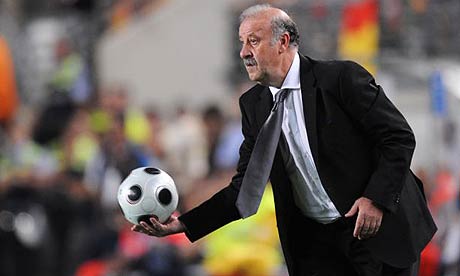 How important is preparation, though? Ben Mabley, a journalist and translator of Japanese, doesn't think the buildup to a major tournament is particularly vital. In fact, he cites four good examples of victorious countries who have succeeded in the face of prior disruption. Mabley also mentions England's 1996 European Championships campaign, although he may have been better served casting an eye back a further thirty years to the glorious intervention of Pickles the dog.
Spain's preparation for the World Cup could certainly be running more smoothly. On the pitch, things looked rosy until last Saturday. To most teams, a record of 42 wins and 3 draws from 46 games would be enough to fully merit the kind of confidence espoused by Xavi. One of the Barcelona schemer's midfield colleagues at international level, Real Madrid's Xabi Alonso, betrays a deeper truth in the need to affirm his trust in club and country team-mate Iker Casillas.
Last weekend's last-gasp win over Saudi Arabia was Spain's tenth win in a row and was preceded by friendly wins over Argentina and France along with a 5-1 win in Vienna. However, the error made by Casillas for the Saudis' first goal clearly demonstrates a nagging concern over whether Vicente del Bosque will pick the right goalkeeper for the finals.
Victor Valdes, while still unsure where he comes in the pecking order as a result of his late inclusion in the squad, says the right things in public. Privately, he may feel he deserves the number one jersey after winning his third Zamora trophy as the best goalkeeper in Spain, judged solely on the number of goals conceded in La Liga. Many observers, not least former Kop idol Ian Rush, push the claims of Liverpool's Pepe Reina.
Whether it is Casillas, Reina or Valdes between the posts, at least the Spanish goalkeeper will be able to concentrate firmly on events in South Africa, safe in the knowledge that his club career is clearly mapped out. Liverpool recently handed Reina a new six-year contract, while Valdes has a deal at the Camp Nou that runs for another four seasons. Casillas may not literally have a contract for life, but he is definitely tied to Los Blancos until at least 2017.
Long-term stability is not currently enjoyed by every member of the Spanish squad, though. This uncertainty is the biggest threat to Del Bosque's preparation for the finals. David Silva denies excitement at being a target for Real Madrid, although remaining calm at news of interest from Manchester City is wholly understandable. Fernando Torres remains on the radar of a host of stellar clubs, not least the European champions Inter Milan, with Anfield bereft of Champions League football next season. Cesc Fabregas… well, you know the rest.
It is not just transfer speculation that is affecting the Spanish buildup. How confident can del Bosque be that all of his star names will stay fit for the entire tournament? Barcelona's Andrés Iniesta has played very little football over the past few months, while Torres and Fabregas also missed large parts of the English domestic season through injury. Surely Xavi cannot be fully fit either?
The one saving grace for Spain yesterday was that new Real Madrid coach Jose Mourinho arrived in the capital without the usual fanfare afforded to big names at the Bernabeu.
Up next for La Furia Roja is a friendly with South Korea on Thursday evening. What better way to get their plans back on track than to banish some demons en route to South Africa?