One hesitates to label the Stoke defeat the nadir of Manchester United's current campaign – there's no limit really to how bad the situation can get, even if this latest defeat featured United's chief comedy act of Tom-can't-pass-to-save-his-life-Cleverley, Chris-perpetually-nonplussed-Smalling, and Danny-doesn't-know-where-the-goal-is-Welbeck in full glory.
Spurred on by their captain, Patrice Evra, United appear intent on surrendering the title in what must surely be the meekest roll-over in all of football – another milestone for David Moyes to add to the heap he has already amassed, thanks to a growing number of defeats to lesser lights. In fact, labelling the likes of Newcastle and Stoke as lesser lights – relative to United, at least – is on the way to becoming patently inaccurate.
Watching their team lurch from one disappointing result to another, the question running through every supporter's mind as they attempt to resist tearing their hair out must be: why on earth are the likes of Cleverley, Smalling, and Welbeck playing alongside, and crippling, the likes of Juan Mata, Wayne Rooney, and Robin van Persie?
The banal answer, of course, is that, at the moment, there isn't much other choice – the likes of Cleverley and Smalling are all United have got; that is in itself mildly depressing. But it's really a rhetorical question as one wonders how, or why, Sir Alex allowed this state of affairs to materialize in the first place.
In a 4-part series on Sir Alex and his leadership style, the Australian publication Act Knowledge writes:
…Ferguson insisted he wanted to leave his successor a vibrant, thriving young set of players, imbued with the realistic self-belief and confidence to continue winning well beyond his own tenure at the helm. He did not want a repeat of the situation he inherited in 1986 when he had to completely rebuild an ageing, fragmented squad. He was also mindful of the impact of Sir Matt Busby's departure in 1970, which saw United slump into the English Second Division for a season.
The only thing that we can conclusively say is true of the above account is that Sir Alex has left his successor with a young set of players. Everything else — vibrancy, self-belief, and confidence — seems to be non-existent with the current batch of young players at United.
The sight of Chris Smalling controlling the ball, and dribbling with all the grace of a bull ploughing through a rice field is almost painful to watch. Gangly and awkward, his technique and positioning have scarcely improved since arriving from Fulham four years ago and early comparisons to Rio Ferdinand appear laughable now. Plus the constant look of cluelessness on his face, as if he's locked in a bout of amnesia, must fill opposing attackers hearts with hope, as they imagine the bountiful chances that will present themselves over the course of ninety minutes.
Over at full-back, Patrice Evra seems to be playing whilst wearing blinkers; else, the only other explanation for his frequent lapses is that he's plain lazy. The moment that summed it up: towards the end of the Stoke encounter, as he watched a lofted ball sail towards him, he became the first sighted person in history to blatantly fail to see another human in front of him; Peter Odemwingie must have hardly been able to believe his luck, mis-controlling the aerial ball and simultaneously letting the Frenchman off the hook. It was Class A buffoonery from Evra, albeit an error that would have been forgivable if it was merely one-off. Yet, this has become de rigeur for the man who wears the captain's armband in Nemanja Vidic's constant absence.
Whilst watching the 1-0 defeat to Newcastle United earlier in the season, someone passed a real gem of a comment when Evra allowed Loic Remy to steal in behind him, towards the end of the first-half: "Somebody needs to give Patrice Evra an alarm clock 'cos he's gone to sleep there…" Truth be told, that same line could be used to describe Evra's many moments of ineptitude this season — it's reached a point where it's almost a surprise when he remembers his job scope actually includes marking his man.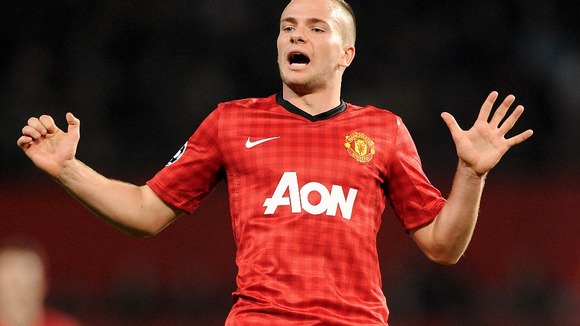 And, for a moment, right at the end of the Stoke match, one might have wondered if it was indeed Cleverley or ex-England rugby captain Jonny Wilkinson playing for United. That groan-inducing effort in the 94th minute must surely have been borne of some dire confusion over what game he was playing – it would have been a superb conversion in rugby; for the alternative, that a bona-fide Manchester United footballer might actually have contrived to shank what should have been a simple finish from 5-yards in such comical fashion is one that does not bear considering.
And we haven't even begun talking about Marouane-how-large-can-my-hair-grow-Fellaini, whose declaration about wanting to be the next Roy Keane must rank as one of the jokes of the century.
Of course, the growing chorus of voices chanting "Moyes Out" will get louder after this latest loss. But how does one account for a loss as a result of a deflection off Michael Carrick attempting a ballet move on the spot, and a world-class strike? (Maybe by inventing a new word, as Moyes bizarre term for Charlie Adam's strike, 'a worldy', suggests). Yet, aside from perhaps faulting the Scot for mooring Mata out wide on the right (he drifted inward anyway), it's difficult to reasonably lay any more blame at Moyes' door. The more apparent truth, and perhaps an unfortunate one, is that too many players are letting the manager and the club down in a profound manner — unfortunate because it means that the problem is entrenched and the earliest it can be solved is during the summer by shipping the under-performers out.
Ironically, one of those who has voiced this sentiment most is Patrice Evra – it's common to hear him speak of the need for "character and personality and play(ing) with the Manchester United spirit" in interviews. Fair to say, the words ring hollow. Instead of speaking impersonally and saying the "players" have to improve, Evra needs to point the finger squarely at himself – and not just admit that he's been disappointing, but begin grafting and concentrating once again. The same applies to (most of) the others around him as well, who have up till now in this campaign proven themselves terribly sub-par.
The last vestiges of hope that supporters cling to now are those of Champions League qualification — clearly it will require the team to begin playing at a much higher level, the level we are (were?) accustomed to seeing from the Red Devils.
Else, soon, the question that will be racing through everyone's minds as they watch Manchester United will still be very much the same but nuanced slightly differently: why on earth are the likes of Juan Mata, Wayne Rooney, and Robin van Persie playing alongside, and being crippled by, the likes of Cleverley, Smalling, and Welbeck?
(Cover Image Credit: Newstalk)