Having already assessed André-Villas Boas' eight months in charge, Ciaran Kelly looks at what has changed  at Chelsea under Roberto Di Matteo.
When Roberto Di Matteo was appointed as André-Villas Boas' interim replacement on 4 March, the footballing world's reaction ranged from bemusement and intrigue to scepticism and condemnation.
After all, how could a man so deeply associated with a failed reign – centered on poor player relations and detached man management rather than questionable signings or an obvious (admittedly, Chelsea were out of the title race and well on the way out of the Champions League) failure to to fulfil board objectives – revitalise a rapidly flagging team and have the audacity to seemingly betray the man who had handed him a return to front-line coaching? Still, while many lampooned Di Matteo's previous managerial achievements, in failing to win a trophy at either MK Dons or West Brom in his two and half seasons of previous managerial experience from 2009-2011, he has proved himself as more than a mere firefighter at Chelsea – symbolised in his shift from a club tracksuit as assistant to a suave, cashmere overcoat as manager.
Given his 'usurpation', many will compare Di Matteo to Avram Grant – which is accentuated by his similar lack of top-level managerial experience beforehand – but in actual fact, his reign has been more akin to Guus Hiddink's from February to May, 2008. After all, the Italian has unwoven and remedied the mistakes of his predecessor. He has treated key dressing-room figures like Ashley Cole, Frank Lampard and Didier Drogba with respect, rather than fearing their presence, and advocated rotation (the likes of Paulo Ferreira, John Obi Mikel and Salomon Kalou have returned re-invigorated) and a sense of squad duty rather than hard-line dropping.
Di Matteo has also utilised industrious and inverted wingers, Kalou (was born a natural striker, but is much more industrious, unselfish and committed than Daniel Sturridge) and Ramires (a magnificent athlete, who can pin attacking full backs into their own half, but can also break at a relentless pace, and both were evident against Barcelona on 18 April), in a 4-2-3-1 to cure Chelsea's gung-ho transitional naivety under Villas-Boas (3-1 against Manchester United on 18 September, 3-5 versus Arsenal on 29 October, 1-2 against Liverpool on 20 November and 1-3 versus Aston Villa on 31 January). And, finally, the Italian has portrayed a placid, yet reserved and non-committal, image towards the media in not instigating unwelcomed pre-match distractions.
Hiddink, who replaced Luiz Felipe Scolari on 19 February, 2008, followed a similar programme: reviving the careers of sidelined figures like Branislav Ivanović, Florent Malouda and Drogba; shifting Chelsea's formation from a one-dimensional 4-4-2 diamond, that was embarrassingly reliant on the outlets of Ashley Cole and José Bosingwa, to a flowing and well-balanced 4-3-3 with the likes of Florent Malouda and Nicolas Anelka; and re-installing that winning mentality into Chelsea that saw them fail to drop points from winning positions in all thirteen Premier League games that they were ahead in.
When one examines a selection – four – of comparable matches, the parallels become even starker. Remarkably, that is without looking at the similarities between the Barcelona ties of 2009 and 2012, the fact that the pair won nine, drew two and lost one in their first thirteen matches and how both took over the club with Chelsea, seemingly, well out of the hunt for a top four place. Di Matteo's first Premier League game, a narrow 1-0 win over Stoke on 10 March mirrored Hiddink's first match, a 0-1 win over Aston Villa on 21 February, 2009, where Chelsea showed vulnerability in one half of the match – the first forty-five minutes in Di Matteo's and the second forty-five in Hiddink's – but excelled in the other half. Chelsea achieved a narrow, and controversial, win over Wigan in both reigns. On 28 February, 2009, Wigan dominated much of the match and equalised through Olivier Kapo on 82', but Lampard netted a winner deep into injury-time after seemingly fouling Mario Melchiot as he leapt to head the ball past Chris Kirkland. Then, on 7 April, 2012, Juan Mata scored an offside winner on 90'- and that is without addressing Ivanović punching Shaun Maloney off the ball in the prior Wigan counter that broke down and eventually led to Chelsea's goal.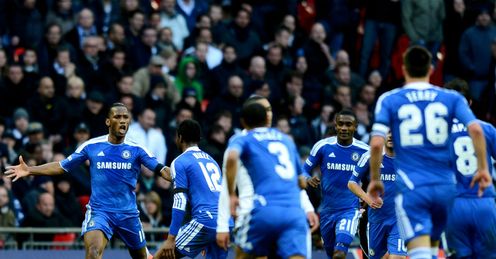 Then, in a game that was expected to be tight, Chelsea thrilled. Chelsea's 4-1 victory over Arsenal at the Emirates on 10 May, 2009 saw Chelsea clinically take their chances after periods of being under intense pressure early in the first-half; and equally, against Tottenham in the FA Cup semi-final on 15 April, Chelsea nearly went behind twice – through Rafael van der Vaart and (nearly) Emmanuel Adebayor – before Drogba brilliantly instigated a clinical rout on 43'. In Europe, first-leg away superiority in the quarter-finals nearly cost Chelsea during both reigns, with the Blues nearly throwing away a brilliant 1-3 win over Liverpool at Anfield on 8 April when Liverpool went 0-2 up (eventually finished 4-4) inside 28' at Stamford Bridge on 14 April; and Chelsea being incredibly complacent and flaccid in a 2-1 home victory over Benfica on 4 April, following a brilliantly effective 0-1 win at the Estádio da Luz on 27 March.
However, it is not just results that have been impressive and Di Matteo, and indeed Eddie Newton, has given Chelsea their identity – a proud one at that – back. After all, one of Chelsea proudest images of the decade was that of an injured (fatally, for his football career, from a horrific triple-leg fracture against Saint Gallen on 28 September, 2000) Di Matteo leading Chelsea out in the FA Cup final in 2002 and under Claudio Ranieri, Chelsea became most neutrals' team. Surprising to some, but many of Chelsea's fans are not the Abramovich-centered, commercial-focused and flag-wielding brigade that some the Blues' following seemingly devolved into as the other side of the paradox of unprecedented success. So, with the Di Matteo's return, it has been no surprise that the likes of Marcel Desailly, Michael Dubbery and Gianfranco Zola have come out and supported their ex-teammate and in the process, Chelsea have re-connected with their cherished, cup-winning past.
After all – regardless of how Cobham ranks as one of best training grounds in Europe, in spite of the endless amount of foreign superstars and league-winning managers that have joined Chelsea, and regardless of how many commercial opportunities in Asia Chelsea have achieved – most Chelsea fans have, 'merely', longed for a figure like Josh McEachran (birthplace of Oxford is just over an hour away (93km) from Stamford Bridge) or Ryan Bertrand (homeplace of Southwark is just sixteen minutes (10.5km) from SW6) to break into the first XI. It may sound hyperbole, but, perhaps, this club uniting and this re-definition of the club's identity is why John Terry (the Academy's last successful graduate in 2000) was so quick to pay tribute to Di Matteo's managerial abilities, recovered so 'miraculously' from his knee surgery (took just a two-day break and returned to action four weeks ahead of schedule) and has gone on to play on for the Italian with broken ribs.
It has been this 'all for one' unifying of the dressing room behind the club's cause that has been so integral to Di Matteo's success, epitomised in the magnificent 4-1 victory over Napoli on 15 March and the equally brilliant 1-0 win over Barcelona on 18 April. Remarkably, ten and eight of the eleven that started in these respective matches began Villas-Boas last match against West Brom on 3 March yet their resolve (a testing first twenty and forty minutes respectively before Drogba's goal against Napoli and Barça), motivation (encapsulated in Terry gesturing to Michael Essien to move into central defence while David Luiz received treatment, which aided rather than undermined Di Matteo as was Terry supposed to drop interest once he was substituted? and a monumental effort from the old guard against Barcelona) and enthusiasm (undying effort) was markedly different. After the Barça match, Di Matteo was quick to pay tribute to these once lost Chelsea hallmarks:
In the past a lot of the public opinion has been that these boys are over the line, too old to play two games and to play at this level. It wasn't just Didier. There were other players on the pitch that people have regarded as 'the old guard', who can't play two games in such a short period of time.

But they gave an answer on the pitch tonight. We have a team with a good team spirit, a good team ethic. Young and old stay together in this team and fight for the same target. That's what I think.
Yes, one can suggest a Champions League home game would be easier to rally for, but it was no coincidence that key dressing-room figures like Petr Čech, Terry, Cole, Lampard and Drogba gave, and have given, brilliant and consistent performances under Di Matteo since he took over. Čech was under immense scrutiny after patchy (Arsenal on 29 October and Bayer Leverkusen on 23 November) displays earlier in the season, coupled with the impressive emergence of loanee Thibaut Courtois at Atlético Madrid, and Villas-Boas had planned to make him available for transfer in the summer. His performances have improved since, though, and he has put in some game-saving displays (including against Napoli on 14 March, versus Tottenham on 24 March, against Barça on 18 April and versus Arsenal on 21 April) under Di Matteo.
Partly why Villas-Boas struggled so badly in his final seven games was because Terry missed each of them and there is no understating the organisational and psychological presence (Gary Cahill's performances have vastly improved since his desperate partnering alongside David Luiz in the 3-1 defeat to Napoli on 21 February) Terry gives to Chelsea's otherwise 'loose' backline. After all, it has been no coincidence that Chelsea, defensively, suffered without him in Di Matteo's only defeat, to Manchester City. Along with Di Matteo's half-point between Villas-Boas extremes of either a high line (featuring a dangerous splitting of centre backs) or a medium block (Valencia on 6 December and Manchester City on 12 December), Terry's marshalling and Di Matteo's clear influence over Luiz (clears, rather than dwells under the Italian) have been key to Chelsea conceding just thirteen goals in fourteen  matches and their win percentage shifting from 36% in Villas-Boas' last fourteen games to 71.43% in Di Matteo's first fourteen – well beyond the honeymoon period – games.
Ashley Cole had, arguably, the worst period of his Chelsea career under Villas-Boas: rarely rested, therefore suffering clear burnout, and being doubted by the Portuguese for his commitment (deemed 'unfit' and dropped for José Bosingwa against Napoli on 21 February). However, with Di Matteo's 4-2-3-1, Cole has not become the ironically static stationed wing-back – which led to a lack of trademark deep bursts and runs into the penalty box – and instead, he has recovered some of the brilliant form and stealth-like positions behind defenders he displayed in 2009/2010. This was encapsulated in one of his best performances in a Chelsea shirt, against Barcelona on 18 April, where Cole defended, harried and weaved magnificently.
Lampard once complained of Carlo Ancelotti's 4-4-2 diamond, which allowed him play at the influential tip but in turn, saw him easily marked out of games. The Italian adapted, partly due to Lampard's protests, with a 4-3-3 but Lampard has been re-innovated under Di Matteo in a 4-2-3-1. Lampard's disciplined, deep-lying position – rarely breaking into the box anymore, leading to the use of his stamina for screening purposes more than once trademark swashbuckling bursts – has seen him make numerous effective tackles for the first time in his Chelsea career and give Chelsea's midfield much-needed presence. Drogba has given Chelsea that 'rabbit out of the hat' (a magnificent header against Napoli on 14 March and a sublime volley against Tottenham on 14 May) hallmark that he has not displayed consistently since May, 2010. Sure, his play-acting was despicable against Barcelona but because he spent a whooping six minutes and thirty seconds of the match on the floor, and also held the ball up quite brilliantly, Barcelona were not able to use their momentum and patterns at their full, undying and swashbuckling capacity. Somewhat ironically, with the re-motivated Ivorian, the pressure on Fernando Torres' goalscoring has been eased, somewhat (still, badly, needs a run of goals), and the Spaniard, too, has enjoyed his most consistent period for some time as a somewhat unorthodox number ten (three goals and four assists in eight starts and four second-half substitute appearances since Di Matteo's appointment)
It all sounds so basic and simple, compared to Villas-Boas endless collection of football terms and unnecessary intensity and paranoia, but Lampard has been quick to praise the benefits:
Roberto has to take a lot of the credit. He has done brilliantly and the results speak for themselves. You can see the desire and love he has for the club, and the supporters relate to that.

He has done the simple things right and he has got individual players performing well and with real confidence. The basic skill of management involves man-management and he has carried that out brilliantly, and you can see the whole side playing with a real confidence.

When that happens, you have the chance of being a very strong team.
So, while many will point to Laurent Blanc, Jürgen Klopp and Marcelo Bielsa as more attractive alternatives, Chelsea may have stumbled upon the most unlikely of project leaders in Roberto Di Matteo. The Italian has proven his tactical acumen: bravely, and smartly, shifting to a 4-3-3 against Barcelona and playing to Chelsea's strengths with a stifling, narrow gameplan that, generally, stopped Barcelona getting in between the lines (balls over the top proved the most effective, instead) and utilising a brilliant hybrid of Mikel (control, interception and close retention on his day), Lampard (three-dimensional passing from deep-lying areas) and Meireles (harrying). However, much will depend on whether Chelsea finish fourth and Di Matteo's job description will radically shift if he is to be handed a two-year contract.
After all, he will have to build a title-challenging team, which will mean signing his own players and making difficult decisions over the futures of Drogba, this summer, and Lampard, next summer. Di Matteo will also have to begin a full-season cycle (rather than short-termism) that will, inevitably, hit a rough patch that will test his composure and expertise, rather than his Chelsea charm and previous, to ride through. And, most importantly, he will have to keep command of the Chelsea dressing-room – without eventually losing it due to his near-laissez faire style and the brotherly respect (treats players like humans rather than mere numbers, with constant interaction) he clearly commands – altogether.