As luck comes, Everton have probably been the most unluckiest over the last couple of seasons regarding injuries. When they've had bad spells, it's usually been down to the huge numbers of players missing. Mikel Arteta, Yakubu, Louis Saha, Marouane Fellaini, Tim Cahill, Phil Jagielka and Steven Pienaar have all missed time during the season, and that's added to the younger players like Victor Anichebe who have all kept the doctors at the club busy over the last couple of seasons.
Had it not been for injuries, perhaps Everton would be heading towards a season in Europe, on the back of a successful season with a couple of good cup runs. Everton are often underrated, but are always there or thereabouts when it comes to vying for top places and cup silverware. David Moyes has been a revelation each year, keeping them stable when he didn't have the finances to strengthen the squad and keeping them around the top six all while building a strong squad of some very good talent.
This season Everton will be aiming to improve on last season's eight placed finish, and with the players they have in the squad it's very much within their capabilities. With better luck regarding injuries, Everton could have a very good season domestically, both in the league and in the cup.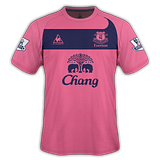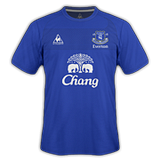 Last Season: 8th
Odds: 150/1
Manager: David Moyes
In: Magaye Gueye (Strasbourg, £900,000), Joao Silva (Desportivo Das Aves, £500,000), Jermaine Beckford (Leeds United, free), Ján Mucha (Legia Warsaw, free)
Out: John Ruddy (Norwich City, undisclosed), Carlo Nash (released), Dan Gosling (Newcastle, released)
WHAT'S CHANGED?
In what has been a relatively quiet summer for Everton, Moyes has signed four players while three players have left the club, two of which were released.
One exciting arrival is Jermaine Beckford, who arrives from Leeds Utd after a couple of prolific goalscoring campaigns in the lower leagues. Beckford comes highly rated, but whether or not he can emulate his League One form remains to be seen.
Also arriving in at Goodison is 20-year-old forward Joao Silva who joins from his hometown club Aves. The Portuguese has had a quiet career so far, making just thirty senior club appearances and handful of caps for the Portuguese youth teams.
Another 2o-year-old who has joined this summer is attacking player Magaye Gueye from Strasbourg. The Frenchman has been impressing in pre-season for Everton, and looks like he'll be a good signing at just under £1million. Gueye has been a part of all of France's underage squads since the U-16s.
One player in particular who has caused a stir is the departure of Dan Gosling on a free to Newcastle. The highly rated young player was the subject of an administration error within the club and ended up without a contract extension, meaning he was a free agent. For Everton to lose such a good young player is a big loss, especially in a circumstance like this.
Tactics: Moyes like to chop and change a lot from game to game, mainly due to injuries and fitness, so it's hard to predict what system he'll favour next season. One of his preferred formations is 4-5-1, with Cahill just dropped off from the striker. One interesting position to see pan out is where Johnny Heitinga will play; right back, centre back or in defensive midfield? The Dutchman played at centre-back for Holland and his been accustomed to this berth for a long time, but is equally adaptable to either of the other two. Last season he was fantastic at centre-back, but faces competition from Joseph Yobo and Sylvan Distin. Overall the system is fluid, flexible and very attacking, complimented with the passing and creativeness of Arteta in midfield with MarouaneFellaini alongside him.
Key Player: Everton's most important player is possibly Mikel Arteta. The Spaniard has been dogged with injuries over the last few seasons but when he plays he makes things happen for the Toffees, such is his goalscoring and creative qualities. He's been subject of rumours away for some time now, but Moyes will be looking to hold onto the midfielder and hope he can stay fit for a whole season. Phil Jagielka, Marouane Fellaini and Tim Cahill are more very important players in the squad.
Fixtures: Everton kick off their season away to Blackburn Rovers. It'll be a tough game, but Moyes will be hopeful for three early points to get their season underway. The curtains are raised at Goodison a week later as they host Wolves, before an away trip to Aston Villa, a home tie against Manchester Utd and another home game against Newcastle.
First five fixtures: Blackburn (A), Wolves (H), Aston Villa (A), Manchester Utd (H), Newcastle (H)
Where will they finish? With big players like Tim Cahill, Louis Saha and Mikel Arteta fit Everton are well capable of staging an upset in terms of the newly formed "big six", but with teams above them strenghtening hugely this summer, they could fall just short, however can improve on last season's eight. 7th