In a footballing era where so much emphasis is placed on tactical roles, financial turnover and controversial decisions, Ronaldinho, once, served as the perfect antithesis.
Not since Paul Gascoigne had a player so clearly enjoyed playing football at the highest level, with Ronaldinho providing child-like enthusiasm and audacity in tandem with some of the greatest natural dribbling skills that football is likely to ever see. However, even though Ronaldinho certainly lived up to his early potential by the somewhat premature age of twenty-six, and won every single honour available to him, there is an undying feeling of regret when one looks upon his career. Remarkably – unlike players such as Gascoigne, Garrincha and Ronaldo – his ultimate fall comes in spite of the overriding feeling that Ronaldinho was in complete charge of his destiny. Passion has been his issue and despite, clearly, being aware of the slide he was undergoing while still playing at the highest level – from being eclipsed by the teenage Lionel Messi to a premature homecoming in Brazil at the age of thirty-one – Ronaldinho's infectious Disney-like smile, seemingly, continues to beam. However, tellingly, that twinkle in the eye that became as equally symbiotic has long since departed.
Ronaldo de Assis Moreira (was handed the nickname of Ronaldinho – like Ronaldo Luís Nazário de Lima was for Brazil until 1997 – due to his small height as a child) was born into a wooden hut in a favela in Porto Alegre, the state capital of Rio Grande do Sul, on 21 March, 1980. From living so close to the Estádio Olímpico, Grêmio's spiritual home, Ronaldinho was always destined to have a thrist to make a professional career in football. Also, remarkably, that is without even addressing the fact that this dream was accentuated by his father, João, being a security guard at the Estádio Olímpico or because Ronaldinho's brother, Roberto Assis, was a highly-promising youth footballer for Brazil's underage national teams and, indeed, Grêmio. Assis is nine years older than Ronaldinho and was, and still is, his role model and – along with his other idol, Rivelino – was one of the main reasons why he was driven as a youngster to become equally adept with his left foot as much as his natural right. Ronaldinho began playing futsal for Grêmio at the age of seven in 1987 and such was his immediate impact, Placar Magazine published a piece that predicted his talent would eclipse even that of his older brother.
Assis, meanwhile, secured his first professional contract in 1988 and from this, the family moved out of the favela into a more middle-class neighbourhood in Porto Alegre. It was a landmark moment for the Moreiras, but tragedy was soon to strike. Alone in the house, João suffered a heart attack in the family's swimming pool and drowned. Assis, naturally, felt immense guilt given how the pool was the symbol of how far the Moreiras had come, yet was the reason why the family now had no traditional breadwinner. From this, Assis stepped up as the man of the house and would go on to play a massive role in Ronaldinho's upbringing and maturity. Football wise, Ronaldinho, also, was not deterred but strengthened – like Johan Cruyff in similar tragic circumstances at the age of twelve in 1969 – by the accident. After all, many, particularly in Catholic-laden Brazil, would have seen João's death as a warning from God given the family's surge in wealth and materials, but the duo instead used their father's memory as an inspiration to do him and the Moreira legacy proud. Unfortunately for Assis, though, a serious knee injury in 1991 inhibited his rise and he had a nomadic (twelve clubs in six countries in fourteen years) and, ultimately, unsatisfying playing career.
Ronaldinho had remarkable skill by the age of twelve, owing to his years of practice that saw him soon reach Malcom Gladwell's citing of 10,000 hours as the amount of time it takes for an individual to master their profession. After all, as a teenager, Ronaldinho had great determination and work-rate, and often stayed behind in training with Grêmio's youth teams to work on his set-pieces and crossing. As part of Brazil's brilliant Under-17 World Championship winning XI in 1997 – that scored twenty-one goals and conceded just two in six matches – Ronaldinho proved himself ready for his first-team debut. From this, he made forty-eight appearances as a second striker for Grêmio in 1998, scoring eight goals and assisting two more. Even though Ronaldinho was lanky and slight as a teenager, he adapted well to the South Brazilian Championship – which was, and still is, the most European-like of the championships due to its aggression and the fact that less fouls are penalised.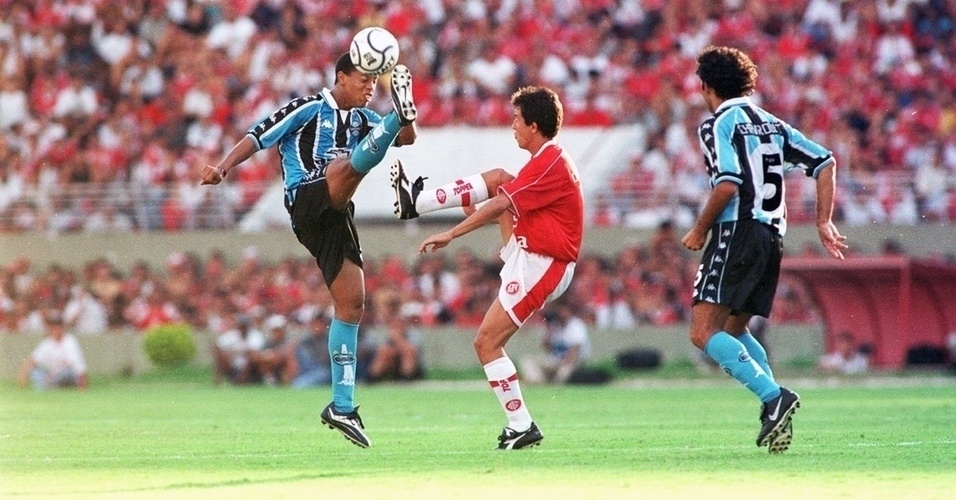 1999 saw the eighteen year old Ronaldinho really burst onto the senior scene, with an impressive twenty-three goals in forty-eight matches, and he put in dazzling displays in derbies against Internacional, in particular. In one of these, on 20 June, 1999 in the 1-0 Rio Grande do Sul State Championship final, Ronaldinho embarrassed the seemingly inpenetrable Dunga: flicking the ball over his head on one occasion and leaving him flat-footed in a brilliant mazy dribble on another. Grêmio also won the inaugural Copa Sul-Minas and there was no understating Ronaldinho's influence. From this, 1999 was also a big year internationally and having starred at the Fifa World Youth Championship, with three goals as Brazil were eliminated in the quarter-finals by Uruguay, Ronaldinho was called up for the 1999 Copa América by Vanderlei Luxemburgo. El Gaucho won his first senior cap in a pre-tournament friendly against Latvia on 26 June and then went on to play an impact role at the tournament in Paraguay.
Coming off the bench, Ronaldinho's goal in the 7-0 drubbing of Venezuela in the opening match of Group B on 30 June was outstanding: following a pullback by Cafu from the goalline  to the edge of the box, Ronaldinho flicked the ball over the head of Rolando Álvarez and then danced past two Venezuelan defenders before smashing the ball past Renny Vega into the bottom left-hand corner of the net from an acute angle. Brazil went on to win the tournament, after finishing unbeaten, and there was no disputing the fact that Ronaldinho had firmly announced himself on the world stage. Affirming his place as one of the country's most promising, and indeed determined talents, Ronaldinho then went to the 1999 Confederations Cup just a few weeks later and scored six goals in winning the Golden Ball as the tournament's best player. Ronaldinho spent one more season at Grêmio, cementing a fourteen-year association, and scored an astonishing forty-one goals in forty-nine matches. Arsenal expressed an interest, despite Ronaldinho's poor display at the 2000 Olympics where he only scored one goal in four games, but due to strict English work permit regulations – which almost led to a sensational loan move to St. Mirren (to help Ronaldinho acclimatise to European football before a bigger move), that was scuppered due to red tape and a supposed fake passport – the move did not come to fruition.
Instead, even with reported interest from Milan and Barcelona, Ronaldinho plumped for Paris Saint-Germain. It was the last year of Ronaldinho's contract at Grêmio and from this, amid Grêmio fans' accusations of him being a mercenary, he went for just €5 million in the summer of 2001. Ronaldinho knew that Ligue 1 was the perfect platform for eventual stardom and in his first season, he made a conscious effort – with his family alongside him – to take the move seriously and impress his spiky manager, Luis Fernandez, in training. It was a decent first campaign for Ronaldinho in his first season in Europe, scoring thirteen goals and assisting ten more as a withdrawn second striker, and he thrived alongside Aloísio, Mikel Arteta and Jay-Jay Okocha. Still, his inconsistencies often led to frustrating rotation at the beginning of the season (Fernandez complained that Ronaldinho was too focused on the Parisian nightlife and could not return punctually from his extended breaks in Brazil), but he soon established himself as a reliable outlet after the winter break: scoring in four consecutive matches at the beginning of 2002 and helping PSG to the semi-finals of the Coupe de la Ligue. Ronaldinho then headed to Japan and South Korea for his first ever World Cup, with little media and public pressure imposed on Luiz Felipe Scolari's side given their poor performance in qualification (although, this poor form had been particularly under Scolari's predecessor, Émerson Leão).
From this, Brazil had room to express themselves and were certainly aided by Ronaldo's brilliant recovery after over twenty months out with injuries. After all, partly why Brazil struggled so much in qualification for the 2002 World Cup was because of a lack of cutting edge: drawing three games without scoring more than one goal and losing four games by a single goal. The team grew as the tournament went on, like true champions do, and Ronaldinho was certainly not out of his depth alongside the other members of the attacking trident: the world-renowned Rivaldo and Ronaldo. El Gaucho had a brilliant tournament and the 2-1 quarter-final win over England on 21 June encapsulated the twenty-two year old's confidence, skill and, ultimately, his footballing naivety and innocence. Firstly, he made a fantastic run – dribbling from inside his own half and accelerating past four English players before unselfishly squaring for Rivaldo – for Rivaldo's equaliser on 45'. Then, Ronaldinho provided the moment of the tournament on 50'. Many have since speculated if he meant it but Ronaldinho can be seen muttering – obviously in Portuguese – "keep your eye on the goalkeeper, he'll come off the line" to Juliano Belletti, who was among the matchday substitutes, on the sideline. Considering Ronaldinho, alone, stepped up to take the forty-yard free-kick from the near-byline  and hit it in such a inverted curl fashion, few would doubt him – particularly given his unsurprised, yet, naturally enthusiastic reaction.
When Ronaldinho was sent-off by Felipe Ramos Rizo for a naive studs up challenge on Danny Mills on 57', footballing stereotypes were momentarily flipped but Brazil still managed to hold on comfortably. Ronaldinho was suspended for the semi-final against Turkey, but returned for the 2-0 final win over Germany on 30 June and claimed a deserved World Cup winners' medal. El Gaucho was voted the best midfielder at the tournament – ahead of the likes of Michael Ballack, Marc Wilmots and Papa Bouba Diop – and it was clear that he would soon be in demand. PSG managed to hold on to Ronaldinho for 2002/2003 but with his family returning home to Brazil and his growing ego symbolised in him demanding the number ten shirt, it was another mixed season for the Brazilian. Sure, Ronaldinho netted an admirable twelve goals and eight assists in thirty-eight matches – and played a massive role in PSG reaching the Coupe de France final (scored a brilliant brace in a 2-0 victory against Bordeaux in the semi-final)- but a pattern soon emerged, whereby Ronaldinho upped his game considerably when PSG played a major rival, such as Marseille (scored two goals in 3-1 win on 22 October, 2002 and a goal in the 0-3 victory on 10 March,2003).
What Ronaldinho lacked in 2002/2003 were consistent performances in 'lesser' matches and this was indeed endemic of the whole side, with PSG finishing a dismal 11th. Ronaldinho had shown a degree of loyalty in sticking with PSG for 2002/2003 – given that Real Madrid had shown an interest, but had their hands tied by the €45 million Ronaldo deal – but with les Parisians not even close to challenging for a European place, the twenty-three year old decided to leave. Following a disappointing Confederations Cup defence, where Brazil were eliminated in a Group B featuring Cameroon, Turkey and the U.S, Ronaldinho's attention quickly turned to where he would be heading. Delusionally, and opportunistically, Joan Laporta, the Barcelona presidential candidate in 2003, had promised the Barça fans that he would sign David Beckham if he was elected. This seemed incredibly unrealistic, given how Beckham and Real Madrid were in lengthy discussions and given that both parties were enthusiastic about the deal. However, Laporta's bid for the Englishman certainly won him support, given the fans' dream of gazumping Madrid for one of the world's most glamorous footballers, but a much more realistic target was identified by Sandro Rossell – a former Nike executive in Brazil and a then member of Laporta's campaign team – and that was Ronaldinho.
It had seemed, initially, that Manchester United were in the driving seat but Francis Graille, PSG'S president, had become so exasperated with Peter Kenyon, Manchester United's then chief executive, and his haggling that they welcomed fresh bids and Barcelona made an offer of €30 million. It was accepted and with a feeling that Barcelona valued him more, Ronaldinho happily joined Barça. Many had been surprised that Madrid had not entered the race, given that  Beckham's signature was 'only' €35 million, but a leading Real Madrid director – who remains anonymous to this day – revealed to El Pais'  Diego Torres a telling, but, in hindsight of Ronaldinho's eventual global appeal, horribly ironic explanation:
There was no point in buying him, it wasn't worth it. He is so ugly that he'd sink you as a brand.
Ronaldinho took inspiration from this comment and from other detractors who believed Barcelona were merely doing what Real Betis had done with Denilson in the aftermath of the 1998 World Cup: signing an erratic rompe esquemas showman, rather than a footballer who could drag his team through a difficult transition. It had been a delicate situation for Barcelona's then manager, Frank Rijkaard, with a serious transition of playing staff occurring that meant he had to utilise the old guard (Michael Reiziger, Phillip Cocu, Gabri, Mark Overmars, Luis Enrique and Patrick Kluivert) before gradually phasing them out. Regardless, Ronaldinho had his best club season up to that point in 2003/2004: netting twenty-four goals and fourteen assists in fifty-eight games to help Barça to an improved 2nd place finish. It had been a chaotic season for Barcelona, though, with boardroom tension between Rosell (who had wanted Rijkaard replaced by Scolari after Barça's 3-0 defeat by Racing Santander on 4 January, 2004) and Laporta (who had the backing of the incredibly influential el hombre de los dedos largos, Johan Cruyff, who had suggested Rijkaard in the first place).
Still, despite this, Ronaldinho won many admirers in just his first season and one in particular stood out, according to Rosell: Roman Abramovich. This was owed to an audacious meeting when Brazil met France in a friendly at the Stade de France on 20 May, 2004:
Abramovich, himself, went to the Brazilians' hotel and to the player's [Ronaldinho] room with a Chelsea shirt that had the name Ronaldinho across the back of it. He wanted him to pose for a photo with it. Intelligently, Ronaldinho said no. At the same time, [Chelsea's then chief executive] Peter Kenyon made an offer [a potential world-record fee of £50m] to Barcelona that we rejected out of hand.
2004/2005 was an even better season for Ronaldinho. After collecting the 2004 Ballon d'Or and the Fifa World Player of the Year awards, he was crucial to Barcelona claiming their first La Liga for six years. Unsurprisingly, as a result, memorable goals were near-commonplace, such as a brilliant self-laid scissors kick against Osasuna on 24 October, 2004 and a magnificent thirty-yard long ranger – with no backlift at all – against Valencia on 18 December, 2004. However, if one goal was to define Ronaldinho's 2004/2005 season, if not his career, it was the first of two goals scored against Chelsea at Stamford Bridge in the Champions League second-round second-leg on 8 March, 2005. With the game being one of the most vitriol-anticipated matches in Champions League history, following José Mourinho's vicious mind games that, somewhat, inadvertently led to Anders Frisk's retirement, Ronaldinho's goal on 27' reminded the world that the beauty of football was very much still alive in this tie and, indeed, in Europe. Ironically, the goal originated in a rare moment of mis-control by Ronaldinho from a looped clearance, with his back to goal on the edge of the twenty-five yard box, but Javier Saviola then nipped in and laid-off a simple pass for him.
Ronaldinho took the ball, but was surrounded by four Chelsea players and with only an acute angle after being rapidly closed down by Ricardo Carvalho and Frank Lampard. Unfazed, Ronaldinho seemingly dallied with three quick foot swivels but they bought him the time to momentarily glance towards the top left-hand corner of the then seemingly unbeatable Petr Čech's goal. From this, Ronaldinho curled a sumptuous side-foot into the corner of the net – having left Carvalho and Čech rooted and flat-footed. Even though Barcelona went out of the competition that night, thankfully, the overall tie is remembered as much for that goal as it was for the seemingly endless controversy that occurred over those 180 minutes. Ronaldinho's responsibilities were also increasing off the field, having become a father on 25 February, 2005, and he helped an incredibly shy seventeen year old Lionel Messi settle into the Gaúcho clique with Sylvinho, Deco, Thiago Motta, Edmilson and Ronaldinho, himself, as Messi would later comment:
Ronnie has been massively important for me. I was so young when I started to come into Barça's dressing room, but he made a point of being first to step up to me and look after me. I try to copy little things Ronaldinho does, but more fundamentally, I just try to play for the joy of it. Look at the way he always has a smile – that's how I feel.
This bond was evident on the field in the 2-0 victory over Albacate on 1 May, 2005. Messi, a substitute for Samuel Eto'o on 88', was set up twice by Ronaldinho in the final five minutes of the match. Both times, Messi finished coolly but the first was wrongly ruled out for offside. The second – a near-carbon copy of the first with a trademark scooped through ball with the outside of the foot by Ronaldinho, that was finished with a brilliant lob by Messi – counted and Messi immediately sought out Ronaldinho for a piggy-back to celebrate his first ever goal with Barcelona's senior team. Ronaldinho's attention then turned towards the 2005 Confederations Cup in Germany, in which he captained Brazil to glory and scored three goals to become the tournament's all-time record goalscorer (nine) with Cuauhtémoc Blanco. Regardless of the standard of the tournament, Ronaldinho's performance in the final against a strong Argentina side was majestic and his 2004/2005 season laid the foundations for an unforgettable 2005/2006 campaign.
Three particular moment stood out in this club campaign for Ronaldinho. The first was against Real Madrid at the Santiago Bernabéu on 21 November, 2005. Ronaldinho put in one of the greatest individual performances of the decade, following a somewhat quiet first-half for the Brazilian. As always, though, in big club matches, Ronaldinho soon left his mark and this occurred on 58' and 77'. The first goal saw Ronaldinho pick up the ball at the byline fifty yards from goal, race past Sergio Ramos (who had just signed for Madrid for £18 million) to leave him sprawled on the ground after a failed slide tackle, majesticly cut inside Ivan Helguera without breaking stride and then side-foot a cool finish – from six yards out – past a flat-footed Iker Casillas. The second goal was remarkably similar, but Ronaldinho, instead, started his run from ten yards inside Madrid's half and byline, and hurdled (his often underrated strength in flight) a desperate Ramos check before outpacing him and slipping the ball into the right-hand corner of Casillas' goal.
The then newly-crowned 2005 World Player of the Year, and soon to be the 2005/2006 Ballon d'Or winer, received a standing ovation from the whole of the Bernabéu, following despicable racist abuse earlier in the match for Eto'o and the Brazilian by a section of the home crowd, and it was fitting that the last Barcelona player to receive this accolade was another genius and unrivalled dribbler: Diego Maradona, twenty-two years previously. Then, on 7 March, 2006, Ronaldinho produced another sublime dribble, against Chelsea in the second round of the Champions League, on 78'. Perhaps, the goal was even greater than the one scored at Stamford Bridge in 2005 – given how Ronaldinho courageously and defiantly charged at Chelsea's near-impregnable defence – and El Gaucho brilliantly accelerated past four Chelsea players, shrugging off the then formidable Terry onto his backside, before a powerful finish past Čech. The whole of Barcelona's Champions League campaign set the tone for Europe's re-appreciation of pure technical football, as was seen in the 18 April semi-final first leg against Milan at the San Siro.
In an incredibly tight match, Ronaldinho starred: hitting the post, incessantly playing the role of the unselfish, deep-lying prober and provider for Eto'o and Ludovic Giuly, and then, on 58', picking up the ball forty yards from goal, flooring Andrea Pirlo with a shuffle and whipping in a magnificent reverse, lofted twenty-yard through ball for Giuly to smash home. So, while Ronaldinho was incredibly quiet against Arsenal in the final on 17 May, despite playing the teasing ball that led to the turning point of Jens Lehmann's red card on 18', he was the key reason behind their La Liga and Champions League Double with his twenty-nine goals and twenty-one assists in fifty-nine matches. Even given the fact that the twenty-six year old was in serious danger of burnout and had now won everything there was to win in the game, it was firmly believed that Ronaldinho would be the key protagonist behind Brazil becoming the first side since A Seleção, themselves in 1962, to retain the World Cup. With the attacking support of Kaká, Adriano and Ronaldo in the Magic Square, it seemed that this burden would not weight heavily on the jovial Ronaldinho.
However, it was Ronaldinho who disappointed the most, given his billing, and he contributing just one assist, in the 4-1 win over Japan in Group F on 22 June, 2006, in Brazil's five tournament matches. To be fair, his role under Carlos Alberto Parreira was remarkably different from his tactical instuctions at Barça – with Ronaldinho continually asked to track back on the left-wing and tackle – but there was no disguising the lack of a team ethic as France rallied as underdogs in the quarter-final on 1 July and Brazil, merely, went through the motions. Ronaldinho was particularly targeted as a scapegoat in Brazil, given how much of the media believed he could even eclipse Pelé's achievements and win three World Cups (2010, possibly, too and Pelé had an impressive debut tournament in 1958 but, although not comparable to Ronaldinho's jadedness, suffered an injury early in a disappointing 1962 tournament) and a twenty-three foot resin statue (built after his World Player of the Year triumph in 2004) of Ronaldinho in Chapecó was smashed by vandals two days after Brazil were eliminated. Tellingly, though, Ronaldinho did not seem to mind: cocooning himself in a 'homecoming' party with Adriano just hours after the news of the statue broke. Clearly, following his Champions League triumph, the, occasionally, burning ambition, determination and sincere enthusiasm that Ronaldinho had once so heartily displayed had deserted him.
On paper, 2006/2007 may not have seemed that average a season for Ronaldinho, given his twenty-nine goals (included a stunning bicycle kick against Villareal on 25 November, 2006 and an ingenious 'under the wall' free-kick against Werder Bremen on 7 December, 2006) and sixteen assists in fifty-nine games, but there were some telling signs of his approaching demise. Firstly, Ronaldinho developed an even more lax attitude towards training – aesthetically visible in his bloated (Ronaldinho's mother, brother and sister, who all are not current athletes, suffer from the same problem) physique against Liverpool on 6 March, 2007 – and it is by no means sensationalist to say that Ronaldinho attended just 50% of Barcelona's training sessions in 2006/2007. Instead, Ronaldinho invested his time in multi-million sponsorship deals, such as, bizarrely, with Konica Minolta photocopying. It affirmed the civil war-like divide between Rosell (Nike's links with Ronaldinho) and Laporta (the man who dreamt of Beckham and was a strong backer of Eto'o, who had fallen out with Ronaldinho over the credit he was getting) behind the scenes at Barcelona and this tension was mirrored on the field. After all, Barcelona only won the Supercopa de España in 2006/2007.
When it mattered, they lost out on La Liga to a Real Madrid outfit that had seen its dressing room divided due to Fabio Capelllo's controversial disciplinary methods earlier in the season; they went out to Liverpool in the second-round of the Champions League (Ronaldinho had a poor European campaign and was, previously, easily marked by Khalid Boulahrouz in Chelsea's 1-0 Group A victory on 18 October, 2006); and lost out to Internacional in the Club World Cup final on 17 December. Ronaldinho's frustrations manifested in the final game of the season on 26 May against Getafe. It was a telling and cynical sending off, unlike the one against England in 2002 which really owed itself to Ronaldinho's over-zealousness. After being felled after losing the ball with a heavy touch, with his back to Mario Cotelo eight yards from Getafe's box, Ronaldinho retaliated: leaving his leg in the air and kicking Cotelo's elbow and groin in the same sweeping movement. Ronaldinho, who believed Cotelo had fouled him first, had clearly tired of football and asked Dunga to be excused from the 2007 Copa América due to fatigue. It could have been a turning point in the twenty-seven year old's downturn, in allowing him to reflect on a disappointing twelve months by his standards, but few in his close quarters were to question him given his place in Barcelona's history and his still impressive statistics.
For the first time in his stint at Barcelona, Ronaldinho's links with Chelsea seemed tangible but even Chelsea, it seemed, did not believe the twenty-seven year old was worth in excess of £40 million. After all, Henk ten Cate, who coached Ronaldinho as an assistant to Rijkaard from 2003-2006, was quick to distance himself from the Brazilian when he joined Chelsea's managerial team alongside Avram Grant in October, 2007. Niggling muscle injuries, poor form and the first XI emergence of Messi saw Ronaldinho restricted to thirty-eight appearances (twelve goals and nine assists) for Barcelona in 2007/2008. The season had a poignant feel, despite Ronaldinho's poor attitude, and this was evident in the 19 September match against Lyon. Following a subdued display, Ronaldinho was substituted – just like he had been against Osasuna in his 200th appearance (by no means a joyous standing ovation in a 0-0 draw) for Barcelona on 16 September – and replaced by Andrés Iniesta. It was Iniesta who set up Messi for the crucial second goal – in an eventual 3-0 win for Barcelona – and the camera quickly panned to  Ronaldinho, who – for one of the first times in his career – had a blank expression, as he applauded the Argentine's 82' goal. Still, yet again, it was not a serious wake-up call for the Brazilian and Ronaldinho's poor application in training irked Rijkaard to such an extent that in the 15 December match against Valencia at the Mestella, Ronaldinho – whose cameo appearances were becoming commonplace – was snubbed by Rijkaard when Messi came off injured and instead, the then eighteen year old, Giovani dos Santos was brought on.
Therefore, it was little surprise that Ronaldinho's agent and brother, Assis, began to tout his client's availability and Ronaldinho hoped for a move to either Chelsea or Milan. From this, Assis – sitting with Thaksin Shinawatra, Manchester City's then owner – attended the 5 April, 2008 match between Manchester City and Chelsea, and his aim, cunningly, was to be able to quote City's interest (£200,000 per week and up to £25 million – owing to Ronaldinho's bloated ego, knowledge of the vastness of the fee was important to him and Assis – as a transfer fee) when talking to other clubs. City, who went on to finish in 9th place in the 2007/2008 season, saw the move as a way of signalling their intent under Shinawatra and with the influence of former Nike chief executive, Garry Cook, truly believed the deal could be possible – particularly with the then ambitious previous capture of Jô for £19 million. The ultimate word, though, would go to Barcelona's new manager, Josep Guardiola, at his unveiling on 17 June, 2008:
If I felt that he [Ronaldinho] wanted to be the player he was again, he would be here. But the situation has deteriorated and the solution is to build a strong dressing-room.
This quote also rang true for Deco and Eto'o but in pre-season – which the Cameroonian took part in due to a lack of intense interest from other clubs, because of wage demands, in his signature – Eto'o's  pressing, work-rate, attitude and goals proved his worth. Eto'o, as the least commercial (the main reason why Florentino Pérez discarded him at Real Madrid in 2004) of the trio – whilst, admittedly, appearing the most disruptive – seemed the most likely to able to convert to Guardiola's regime's hallmarks: lunch at the club's canteen together, fines for lateness, being home by midnight and allowing the coaching staff to regulate sponsorship appointments. Ronaldinho, though, was resigned to his fate – with Laporta believing that he "needed a fresh challenge" – and, despite the Rossonerri not qualifying for the Champions League, accepted a slight wage cut (£80,000 per week) to join Milan for £22 million in July, 2008. Handed the number eighty shirt, given that Clarence Seedorf already had the number ten shirt, Ronaldinho's unveiling was just as bizarre – with it being one of the first times Milan presented a signing at the San Siro. With free entry, over 30,000 filled the stadium to witness Ronaldinho on a podium surrounded by samba dancers and freestyle footballers. Before he could make his club debut, though, Ronaldinho was called-up by Dunga for the Olympics and helped them to a bronze medal finish.
Ronaldinho's career at Milan began promisingly: putting in a brilliant performance on the left-hand side in Carlo Ancelotti's 4-2-3-1 in his debut against Bologna – in which he hit fifteen crosses and five shots in – and appearing remarkably sharp and enthusiastic in comparison to his lethargic teammates in the eventual 2-1 defeat to the Rossoblù on 31 August, 2008. Ronaldinho then scored in the 1-0 win in the Derby della Madonnia on 28 September, which ended Mourinho's unbeaten run of five competitive matches as Internazionale manager. The first half of Ronaldinho's season was littered with more impressive moments – such as a brilliant brace against Sampdoria on 19 October and a cracking free-kick against Napoli on 2 November – but old habits soon kicked in, with regard to fitness and training, and Ronaldinho was frequently benched by Carlo Ancelotti (who, generally, is a conservative manager when it comes to dropping stars but such were Ronaldinho's flaccid performances) as the season wore on. He finished with eleven goals and eight assists in forty-three games in 2008/2009, which was the worst statistical return of his career and, by April, it would be over twelve months before Dunga would call him up again.
2009/2010 was a reverse of this pattern, with Milan's new manager, Leonardo, initially deploying Ronaldinho as an attacking midfielder but by the New Year, utilising him as a left-sided free roamer. It paid dividends and Ronaldinho scored two of the three goals in the 0-3 win over Juventus on 10 January, 2010, before netting a hat-trick a week later against Siena. Ronaldinho also impressed in the first-leg of the Champions League second-round match against Manchester United on 16 February, which Milan lost 2-3, and finished  the season with an admirable seventeen goals and seventeen assists in fifty-one games. It was clear that the twenty-eight year old had no doubt that he was back on form:
I feel loved and respected. I'm happy. I go on the field upbeat and always try to give my best to give our fans great emotions. I have been important and a protagonist in all the teams in which I have played. But, in actual fact, I feel that I have realised more here in Milan. I am proud of it. In fact I want to play football for as long as possible because I feel so happy and complete.
Such was his end of season form, Dunga even called Ronaldinho up, for the first time since April, 2009, for his thirty-man provisional World Cup squad on 10 May, 2010. Although he would later left out of the final twenty-three, given Dunga's distate for Joga Bonito, Pelé had sounded a prophetic warning, but hope, amid new-found hype of Ronaldinho in Brazil:
If Ronaldinho keeps playing as he is now … I believe he would be a good component because he could help when the younger players feel the pressure.
Leonardo's departure in the summer of 2010 and Kaká's move (in theory, Ronaldinho should have relished being the main man) to Real Madrid in the summer of 2009, though, saw Ronaldinho lose faith in the Milan project and Massimiliano Allegri did not tolerate his laissez-faire attitude. From this, on numerous occasions, Allegri even left Ronaldinho out of the matchday squad altogether. Ronaldinho's eleven league appearances before 11 January, 2011 would still merit a Serie A medal when Milan won the 2010/2011 Scudetto, but his influence in the title win was nothing compared to his last title: the 2005/2006 La Liga. With little choice other than to make a January move – and after dismissing reported interest from Blackburn, LA Galaxy, Corinthians and his hometown club of Grêmio – Ronaldinho opted for Flamengo.
At Barcelona and Milan, Ronaldinho was unveiled to 30,000 fans a piece in the amphitheatres of the Camp Nou and San Siro so after his welcome of 'just' 20,000 Flamengo fans at the 47,000-capacity Engenhão – regardless of how warm a welcome it indeed was – it would surely have registered in the Brazilian's mind that this was the final chapter of his playing career. Nonetheless, considering how Ronaldinho's time at Mengão panned out, the early signs were, regardless of Brazilian football being 'inferior' to European football, that little had changed in Ronaldinho's mentality.
The first six months of his time at Flamengo saw Ronaldinho, while curling in the odd brilliant free-kick – such as the Taça Guanabara winner against Boavista – disappoint and drift through games, and failing to dazzle in his traditional roaming role. Any hopes Ronaldinho, and indeed many European-based fans of El Gaucho, had of rolling back the years and mesmerisingly dribbling past seemingly vastly inferior full-backs soon evaporated. Flamengo, who in tandem with Traffic Sports Marketing Company (who pulled out of the deal in January, 2012 due to Flamengo's outdated commercial techniques to leave Mengão with the full cost) were paying Ronaldinho over £100,000 per week, a figure unprecedented in Brazilian football, were beginning to lose patience and their fans and manager, Vanderlei Luxemburgo, began to lose faith in Ronaldinho.
While Frank Rijkaard, in the end, never held back in substituting or dropping Ronaldinho after a below-par performance in the 2007/2008 season, the Brazilian had too much of an affinity with the Barça crowd for them to wholeheartedly boo him. After all, before Barcelona's La Liga wins in 2005 and 2006 and Champions League win in 2006, Barça had struggled for a real sense of a consistent philosophy and identity, and had gone six seasons without a La Liga title and fourteen without a European Cup win. Ronaldinho, above anyone else, had inspired their upturn in fortunes. However, El Gaucho had become Flamengo's highest-paid footballer in their history and even though Brazil and Brazilian football is experiencing an economic boom, the league is not a retirement home and is in no way comparable to the U.S, China or UAE for mercenaries. Thus, the turning point in Ronaldinho's time at Flamengo, and indeed his recent career, came on 19 June, 2011. During a 0-0 derby against Botafogo, Ronaldinho was 'needlessly' hauled off on 88' by Luxemburgo for the sole purpose of giving Ronaldinho the brutal booing wake-up call that had evaded him in Europe. It led to a remarkable transformation.
In the immediate aftermath, Ronaldinho looked motivated, re-energised and the needless and excessive feints and flicks that he had so often showcased to please crowds over the years were dropped. The Brazilian, almost inadvertently, became an all-round player due to his lack of pace and Luxemburgo realised this. Instead of relying on Ronaldinho for his once trademark bursts of magic, Luxemburgo re-converted Ronaldinho to a second striker. After all, rather than banishing him to a deep-lying regista or 'quarter back' role, which would accentuate El Gaucho's often underrated creativity and lofted passes, Luxemburgo knew that Ronaldinho made his name at Grêmio, all those years ago, for scoring as much as anything else. This timeless attribute is one thing that is yet to desert Ronaldinho and he netted an impressive fourteen goals and seven assists in thirty-one games in the 2011 Brasileirão, including an inspired hat-trick in the 5-4 defeat of league favourites Santos on 27 July after Santos had gone 3-0 up in just 30 minutes.
With a new-look Brazil stuttering under Mano Menezes, following a disappointing Copa América and a 3-2 friendly defeat to Germany on 10 August, 2011, Menezes is under immense pressure and after the Germany match, began to drop his strict youthful squad selections and proactive playing style. As ardent and conservative as Dunga was – in not selecting the likes of Ganso, Neymar and Ronaldinho for the 2010 World Cup and unashamedly using a counter-attacking style – he lived and died by his principles. Menezes' willingness to be more open with his selections will make or break his tenure as without competitive games, due to Brazil automatically qualifying for the 2014 World Cup as hosts, friendlies and squad selections are what he will be judged on as manager of A Seleção. Regardless, Menezes' selection of Ronaldinho in three recent friendlies has led to mixed results: El Gaucho scored a brilliant free-kick against Ghana on 6 September in an otherwise anonymous display and then played better in a deeper creative role against Mexico on 11 October, but badly struggled with his passing and set-piece delivery against Bosnia on 28 February, 2012.
At thirty-two years of age, it seems Ronaldinho's career has reached its nadir. With Flamengo sacking Wanderlei Luxemburgo – who, bravely, criticised Ronaldinho's lifestyle, to which Ronaldinho replied that "you're s***, you're poor…I own three aeroplanes" – and replacing him with the laidback Joel Santana on 3 February, Ronaldinho's chronic aptitude has returned and, inevitably, this had led to poorer results for the team (admittedly, Ronaldinho did play well against Lanús on 12 April but the result was out of Flamengo's hands due to previous poor results and Emelec drawing with Olimpia), with Flamengo failing to progress into the second-round of the Copa Libertadores. This was only the tipping point of Ronaldinho's troubles in 2012, though, and it has only worsened since Assis (who, bizarrely, laid claim to forty pieces of official Flamengo merchandise in protest to the delaying of Ronaldinho's wages) was convicted of money laundering on 17 April – leading to a sentence of five years and five months in a semi-open security facility – to leave Ronaldinho even more vulnerable (his mother recently had a cancerous tumour removed) and left to his own devices.
Even the relaxed Santana grew exasperated and punished Ronaldinho for a sloppy mistake in the 3-3 draw against Internacional on 26 May by substituting and subjecting him to yet another hostile reception at the Engenhão. This was Ronaldinho's last game for Flamengo, with the Brazilian believing the post-Internacional debacle was the perfect time to publicise a long-standing dispute over delayed wages (particularly since Transport Sports Marketing Company's pull-out, with Ronaldinho claiming that he is owed an astonishing €15.5 million). This left Flamengo's vice-president, Paulo Cesar Coutinho, unimpressed and he was quick to condemn Ronaldinho's wrangling, not to mention him spending time in a nightclub after requesting four days off to supposedly visit his mother:
Who do you think will win? Flamengo is 100 years old. Ronaldinho doesn't do a f*****g thing.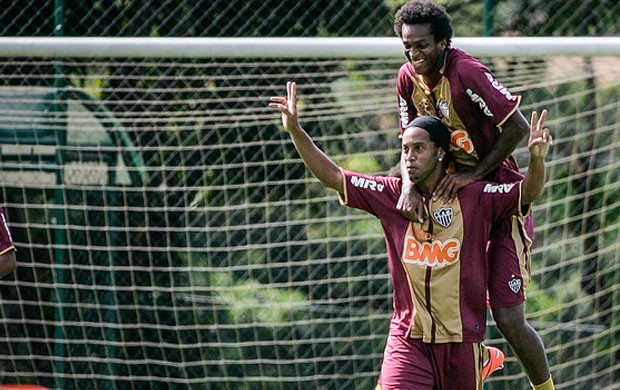 Now joining, ultimately, failed European exports and former internationals like Mancini, André, Guilherme and Jô at Atético Mineiro – who may be 3rd after five games, but have not won a Brazilian championship in forty-one years and have not competed in the Copa Libertadores since 2000 – Ronaldinho's dream of the ultimate renaissance at the 2014 World Cup, amid Oscar's emergence in the number ten position and Mario Menezes dropping El Gaucho from his thirty-five Olympic probables, seems less likely for, and less appealing to, Ronaldinho. Still, an irony remains in Ronaldinho's fraught relationship with football: it is affecting his cherished sponsors too, with Coca Cola dropping the Brazilian's £500,000 annual contract after he was caught drinking Pepsi during his Mineiro unveiling.
From this, in ultimately assessing football's elite pantheon, Ronaldinho's career will be looked back on as a mere footnote, with just three thoroughly consistent seasons (2003-2006), and the man, himself, will be viewed as the architect of his own downfall: the fallen star.