Well, it's been a while since the first episode of Premier League XIs…. but like any Premier League prostitute worth her salt, it's hard to keep us out of the spotlight. This time around we're having a look at the less lovable characters of the game, the players who turned their backs on the club who made them who they are and gave a big two-fingered salute to its' fans in the process – the characters known best as "Judas".
Slightly less rules this time around, but in the sake of transparency, here they are:
Only standard formations allowed (no 2-3-5′s for example, strikers are always easier to think of for some reason)
Player must be a well known hate figure or have played for two clearly rival clubs (extra credit given where money comes first…)
As usual, if you have any suggestions, feel free to stick them at the end of the article. Here's what I came up with…..
Manager: Harry Redknapp (Portsmouth-Southampton-Portsmouth)
Formation: 4-4-2
. . . . . . . . . . . . . . . . . . . . . . . . . . . . . . . . . . . . . . . . . . . . . . . . . . . . . . . . . . . . . . . . . . . . . . . . . . . . . . . . . . . . . . . . . . . . . . . . . . . . . . . . .
GK: Peter Schmeichel
From:Manchester United
To: Manchester City (via Sporting Lisbon and Aston Villa)
Hate Rating: A lowly 4. Schmeichel's heroics as a United player mean that he will be forever thought of as a legend around the halls of Old Trafford, however the true die-hard will always question whether he needed to move to City at such a late stage in his career given the great days he had already enjoyed with their most bitter rivals. It's always hard to fill the goalkeeper's slot on these things……
——————————————————————————-
RB: Abel Xavier
From: Everton
To: Liverpool
Hate Rating: 7. Not really renowned for his loyalty, Xavier played for a total of 12 clubs in his career, a figure good enough for him to make the original Premier League XI consisting of football journeymen. Within this multinational career one particular switch caused more headlines than all the others combined when only two years after Nicky Barmby did likewise (more on that later) he swapped Blue for Red and shuffled across Stanley Park.
The edge may have been taken off the scorn given Barmby's betrayal was the first in 41 years but neverthelss, Everton fans were none too forgiving to the Portuguese defender upon his return. Xavier finished his journeyman career at L.A. Galaxy and since switching football clubs was no longer an option, decided to switch religions instead as he converted to Islam and assumed the name "Faisal".
——————————————————————————-
CB: William Gallas
From: Chelsea & Arsenal
To: Arsenal & Tottenham
Hate Rating: 7. Relatively blame free for his move to Arsenal seeing as he was part of the deal that sent Ashely Cole the other direction but Arsenal fans aren't one bit happy with his move across North East London to the enemy this season. These moves matched with his general carry on ( i.e. sulking on the pitch at Birmingham) mean Willy is far from a fans favourite.
——————————————————————————-
CB: Sol Campbell
From: Tottenham
To: Arsenal
Hate Rating: 10. Maybe not the original in Judas experiences, but certainly the most guilty. Sulzeer Jeremiah Campbell is the quintessential footballing Judas. In 2001 Big Sol turned his back on a contract that would have made him the best paid player at the club who gave him his chance in the big leagues and marched across town to their hated rivals on a free transfer instead, despite earlier claiming that he'd never play for them. Since that day, Campbell has received some of the most hateful vitriol from opposition fans (especially those who used be his own) that has ever been heard at a football ground. Some was so bad, that the perpetrators were banned from every footbal ground in England for three years. I doubt they regret it.
——————————————————————————-
LB: Ashley Cole
From: Arsenal

To: Chelsea

Hate Rating: 9.5. Receiving a 9.5 only because two 10s in a row would make it difficult to justify me calling Sol Campbell the outright, quintessential Judas. Found guilty of going behind Arsenal's back and talking to Chelsea bosses Jose Mourinho and Peter Kenyon,  Cole followed by launching an attack on Arsenal accusing them of making him a scapegoat in the debacle.
Left out of the 2006/07 team photo, months of contract wrangling between all parties ensued with Cole often reported to be holding out for extravagant wage demands.
When the deal eventually did go through, it seemed like everyone involved did well. Chelsea got their man, Ashley (or Cashley as he became known) got sacks of money and Arsenal wound up with £5m and William Gallas. The Arsenal fans never forgave Cole for his deceit however and have been more than vociferous in letting him know their feelings whenever they get the chance, including printing fake £20 notes with his face on them and throwing them toward the pitch. Everybody else just hates him for messing up a chance with Cheryl Cole.

——————————————————————————-
RM: Frank Lampard
From: West Ham
To: Chelsea
Hate Rating: 8. Despite being a strong performer and a son of a former great, for whatever reason Lampard never had the best of relationships with the Boleyn Ground fanbase. This wasn't helped when Lamps sought to make his way across London to  Chelsea in 2001 where he has since gone onto become one of the league's most influential midfielders. Time has not healed the damage done in terms of his reputation around Green Street and he is frequently the subject of not so complementary appraisal from the stands…….
——————————————————————————-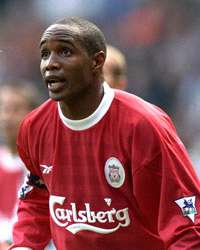 CM: Paul Ince
From: West Ham & Manchester United
To: Manchester United & Liverpool (via Inter Milan)
Hate Rating: 9. An oddity in that he is thoroughly hated as a Judas figure by not only one set of fans but two. Following relegation in 1988 with West Ham, photos began to emerge of Ince posing in a United jersey and the "Guvnor" made only one appearance in the second division before making the switch official. Seven seasons later he was moved onto Inter Milan once Ferguson made up his mind that he was more of a "bottler" and a "fucking big-time Charlie" than a governor. West Ham fans had a last laugh of sorts in that Ince's last league game for the club was in the drawn game at Upton Park which ultimately lost United the league title. Ince didn't last too long in Italy and chose to return to English shores in the red of Liverpool, managing to piss off the United fans who widely stood by him following his dismissal from United.
——————————————————————————-
CM: Alan Smith
From: Leeds United
To: Man United
Hate Rating: 9. Instead of referees doling out yellow cards for players taking off their jerseys while celebrating, priority should really go to players kissing their crest at any stage of the game, including following relegation as was the case for "Smudge". They may not like it at the time, but it could sure as hell save them a lot of pain in the future. As mentioned in our look back at the famous Leeds side of the early millennium Smith received quite a bad rap for his part in the transfer as Leeds' financial state meant they were desperate to offload any player they could and Manchester United  were the only ones to offer cash up front. Regardless, Smith's badge kissing act blew up in his face as the Leeds fans who truly worshiped him became his biggest haters, even despite the young player waiving his personal transfer fee owed to him by the club.
——————————————————————————-
LM: Nick Barmby
From: Everton
To: Liverpool
Hate Rating: 8. When moving across Stanley Park in 2000 Barmby became the first player in 41 years to do so. The fact that Liverpool were significantly outperforming Everton at the time is one of a number of reasons the Toffees fans have never forgiven the player who spent three and a half years at Goodison Park.
Even up until his most recent visit with Hull City last season Barmby was booed roundly by the home faithful who had not forgotten their scorn for the player who committed the ultimate betrayal.
——————————————————————————-
CF: Carlos Tevez
From: Manchester United
To: Manchester City
Hate Rating: 8.5. That loyalty should have been expected from what is essentially a footballing mercenary is surprising. Tevez endeared himself to the Old Trafford faithful with a string of committed performances over the two seasons he spent there but despite his claims that he was unwanted by Alex Ferguson et al when his temporary contract came to its conclusion, the facts remain that United had agreed to pay the pre-negotiated transfer fee and also make Tevez one of the club's top earners.
It therefore seems more likely that Tevez and his agent had their heads turned by the cash-rich neighbours who paid almost double United's reportedly agreed fee for the Argentinians services. This theory is backed by the fact that Tevez had already ruled out a move to Liverpool given the rivalry between United and the Merseysiders, yet apparently had no problems with moving across town. Billboard posters, public spats with ex-teammates and animated celebrations following goals against his past employers have done little to ease the feelings of United fans to their past favourite.
——————————————————————————-
ST: Jermaine Defoe
From: West Ham United
To: Tottenham
Hate Rating: 8. "As much as I love West Ham United I feel that now is the right time for me to move on in my career. This is very much a career decision. I am very ambitious and hungry to achieve at the highest levels of the game for both club and country."
A statement released by Defoe less than 24 hours following relegation from the Premier League in 2003 that ingrained itself in the memories of all die hard Hammers. A subsequent apology regained him little credit and Defoe was forced to endure a chilly few months at Upton Park before eventually making his move to Spurs in the following transfer window. Like Lampard and Ince (and more) before him, Defoe knows all too well the treatment one can expect when returning to that part of London following a controversial move.
. . . . . . . . . . . . . . . . . . . . . . . . . . . . . . . . . . . . . . . . . . . . . . . . . . . . . . . . . . . . . . . . . . . . . . . . . . . . . . . . . . . . . . . . . . . . . . . . . . . . . . . . .
So final lineup:
Schmeichel
Xavier         Gallas          Campbell           Cole
Lampard        Ince           Smith           Barmby
Tevez        Defoe
Suggestions for improvement welcome of course!