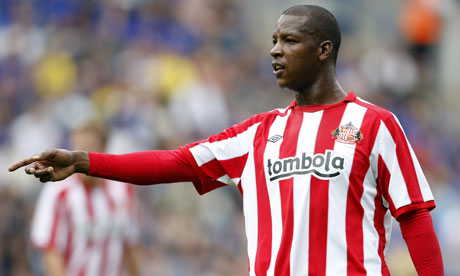 This time of the season is usually the time to let rip with your take on the "Best XI" of the Premier League thus far. As consistent performers have been few and far between, the pool of players that should be available for such an XI is limited this year. As a result, the XI would very much pick itself. If you look below the top teams though, and in between the stars getting all the plaudits, there's a fair few players out there that perform admirably while escaping the attentions of the media and fans in many cases. This is my Best XI so far, lined-up in 'Arry's good old 4-4-2,  consisting of so-called "Unsung heroes."
Goalkeeper: Behind the sticks, the league has been short of real quality if you ignore your Reina's and van der Sar's. The one I have noticed though, are playing for surprise package Bolton, The finnish veteran Jussi Jääskeläinen. Playing for a team who's transformed themselves from a physical side with deadballs as their biggest threat, to an attacking, entertaining outfit, Jussi has showed the same kind of shot-stopping which earned him rave reviews in his first few seasons in England. This time around though, he's found added maturity in commanding his area and distribution. Playing for a Bolton who aren't afraid to expose themselves at the back, he make my team as the last line of defence.
Right back: Full backs who regularly perform to a good level are hard to come by, more so than ever in the Premier League. At a push, pundits would probably mention Sunderland's loan signing Nedum Onuoha or Tottenham's resurgent Scotsman Alan Hutton, but in an unsung XI, they better be excactly that. I'm opting for former Manchester United-full back Danny Simpson, who now earns his living at Newcastle. As the Geordies have enjoyed a rollercoaster of a season, young Danny Simpson has been an everpresent in a Magpie-backline which has been suprisingly solid in spells. Simpson's work rate and willingness to get forward has allowed Joey Barton to be incorporated into a midfield role in which he has excelled, cutting in and leaving the task of maintaining width to his buccaneering teammate. In addition, he has improved his defensive nous and matured on the ball. A surprise of 2010/11.
Centre back: Sunderland have enjoyed a fine season so far, and the plaudits have largely gone to the front three of Gyan, Bent and Welbeck and the new flavour of the month when it comes to English youth, Jordan Henderson. A player who's got little or no praise though, is Titus Bramble. The once ridiculed defender has improved greatly this season and become an integral part of Sunderland's search for european qualification. He's largely cut out his horrific personal mistakes and improved his composure on the ball, and has been one of the league's best performers at the back.
Centre back: Publically written off as a hatchman, Stoke's Ryan Shawcross might have a bit of a reputation for playing dirty. He's become a very good central defender though, a classical no-nonsense man who has held the Potters together at the back. Shawcross is a bit like John Terry without all the Lionheart-stuff and personal issues, although not as good.  He's a goal threat on set pieces, too, and rarely out of position. Aerially dominant, his inclusion isn't that surprising if you've watched Stoke play this season. Arsene Wenger won't like this, though.
Left back: Despite residing near the foot of the table at 19th, Birmingham City, as always, have been hard to break down. One of the main reasons is their left back Liam Ridgewell. The former Villa-man is played slightly out of position but has adapted to the left hand-role admirably. He's a threat from set-pieces, but much more importantly he solves his defensive duties without a fuss. Rarely do you see a winger turning him inside out. In a day where too much hype is directed at full backs who attack with little or no thought of defending their flank, it's refreshing to watch Ridgewell in action.
Right wing: Bolton have previously been mentioned as one of the surprise teams of the seasons, and their main source of inspiration has more often than not slipped below the radar in summaries of the season so far. The Korean livewire, Chung-Young Lee, has been excellent for Bolton from the right wing this season. His role in the teams build-up, his excellent work rate and smart movement coupled with some sublime examples of great skill and ability makes for a great watch if you like busy wingers. Lee's got so much in his locker that teams looking for quality supply from the wide positions would be ill-advised to overlook the possibility of signing him, especially with Bolton's current economical struggle to consider.
Central midfield: Manchester United is still unbeaten this season, and although they've looked fragile at times seem the team to beat. While most neutral observers have reserved their praise for players like Vidic, Nani and Berbatov, one of the main reasons for United being top of the table, in addition to the return of Rio Ferdinand, is the understated Michael Carrick. His defensive dicipline and positional sense have made their midfield much more compact and harder to break through. His passing very often goes unnoticed, but it is him who play the passes in between opposition ranks which allows Berbatov, Nani, Park and the others to hurt the opposition. As always, he won't win the most plaudits, but he's an elegant, cultured midfielder and this season looks back to his best since his return from injury.
Central midfield: Another Newcastle man merits an inclusion, this time in central midfield. The Ivorian anchor, Cheik Tiote, has at times dazzled with his ability to keep hold of the ball, find a sensible solution in the midst of the hectic Premier League-matches and win the ball back from the opposition. A surprise contender for signing of the season, he's been excellent in most games he's played. Tiote has taken to the league as a duck to water, and has bossed the midfield battles around England to show his great promise.
Left wing: Aston Villa has enjoyed a rather horrid season, but Stewart Downing, an early victim of the English media-driven hype-machine, has looked at least remotely like the young winger that earned such rave reviews in the start to his Middlesbrough-career. His ability to get a cross into the box is vital for the kind of old-school high-tempo football Villa plays, where wingers who stick to the touchline to feed their attackers are essential. Downing has got into the box, scored some goals, and supplied numerous excellent crosses for his side, along with his unquestionable work-rate this is enough to earn his place in the Unsung XI.
Striker: West Bromwich Albion has earned a lot of new friends this season, although not as many points as they would like. Manager Roberto di Matteo has toughened up an Albion-side that always tries to play football along the deck, and vital to their much improved effort to stay up this time around has been Nigerian striker Peter Odemwingie. Although 6 goals in itself isn't a fantastic return, it's a decent one, and for a side that is expected to battle all season long for a new chance in the league it's quite good. More than his goalscoring though, the work rate and movement of Odemwingie is excellent. He always causes problems for the opposing side, and never let their rearguard rest. An inspired signing for WBA.
Striker: Bolton has surprised the most of perhaps all the teams this season, and so Owen Coyle's entertaining side is perhaps worthy of the most inclusions in my Unsung XI. The last place goes to skipper Kevin Davies. He is a player who in recent seasons have drawn more attention to his foul statistics, regularly conceeding more fouls than any player in the league, than his importance to the side. 6 goals and 5 assists tells the story of a striker who enjoy setting up others as well as scoring himself. He is important to Bolton in his target man-role, excellent at holding play up and a great focal point to base Coyle's passing football around. His selflessness and willingness to fight for the cause are refreshing traits in a footballing world more and more centered around individuals and hero worshipping.
This are my take on the unsung heroes of the Premiership, but who do you feel an extra bit of attention? Who gets overlooked for praise, and who has performed beyond their reputation? Any inclusions you disagree with? Feel free to have your say in the comments section.