Think of Montpellier, in the south of France, and what comes to mind? The Place de la Comédie, and the beautiful square in the centre of the city? The stunning Cathédrale Saint-Pierre de Montpellier, which has become a French national monument? Or the small football team now proudly sitting at the summit of Ligue 1, thanks to an incredible season thus far?
Ladies and gentlemen, you'll be hearing a lot more from Montpellier Herault Sport Club over the coming months and years. They had a poor finish to the season last year, where they finished 14th in Ligue 1, which was only bettered by a decent cup run in the Coupe de la Ligue, in which they reached the final, before losing 1-0 to Marseille. However, this season has seen them turn over a new leaf, and look favourites to win their first ever Ligue 1 title.
It's a far cry from their previous difficulties. Formed in 1919 as Stade Olympique Montpelliérain by a handful of very rich Montpellier citizens, they were initially a generic sports club, made up of football, rugby, boxing, tennis, and athletics. Mergers early on allowed the club to expand their footballing arm, and played competitive football in a regional league in the south-east. However, 1925 saw the first crisis in an illustrious history, with the Fédération Française de Football investigating the club for wrongly advising on a number of financial matters, plunging the club into disarray. With a suspended President, the club were relegated.
A name change ensued, becoming Sports Olympiques Montpelliérains, and they were quickly promoted. In 1929, the Coupe de France was swathed in Montpellier's colours, becoming their first major trophy (and their last until 1990). 1930 saw the Fédération Française de Football vote in favour of making the game professional, and SO Montpelliérains followed suit, playing in the first-ever French Division 1 Championship. However, in 1935, the club was declared bankrupt, with debts of around ₣375,000 – about €3.1m in modern money, if you take inflation into account. The club were dissolved, and recreated as the original Stade Olympique Montpelliérain – the name given to the club at formation. Financial problem #2 sorted.
1954 brought about the next crisis. The FFF found a ₣5m hole in the club's accounts, and were ordered to pay the money back immediately. It took till 1957 for the accounts to be set straight, with a new owner and President arriving at the club. They bounced back and forth between Division 1 and Division 2. A new stadium followed, the debts worsened, and in 1969, the club were forced to forfeit their professional status, and thus were playing in the French amateur leagues.
It took three mergers over the next 15 years to avoid further winding-up orders, and eventually the club settled under the leadership of current President Louis Niccolin. In 1988, the club were promoted to Division 1, and after receiving funding from the Herault region, the club renamed into their current form. And thankfully, since this point, the finances have been stable.
The late '80's saw a great squad come through the ranks, including the likes of English football legend Eric Cantona, current national team boss Laurent Blanc, and cult heroes Roger Milla and Carlos Valderrama. The combination of youthful desire and experienced heads led to their surprise win in the 1990 Coupe de France. Strong finishes in Division 1 continued, before a major collapse at the turn of the century, returning them to Divison 2. However, since their promotion to Ligue 1 in 2009, the club have enjoyed a 5th place finish, resulting in a spot in the Europa League, and then last season's cup run. But nothing like their current form has ever been seen in the south-eastern city.
After winning sixteen of their 25 games so far, Montpellier HSC sit proudly at the top of Ligue 1, a point clear of mega-rich Paris Saint-Germain. The gulf between money and quality of players available is astounding, as shown in the summer – PSG spent nearly €90m, in comparison to Montpellier's rumoured €2m – yet David is still beating Goliath currently. Proof that money can't necessarily always buy you immediate success.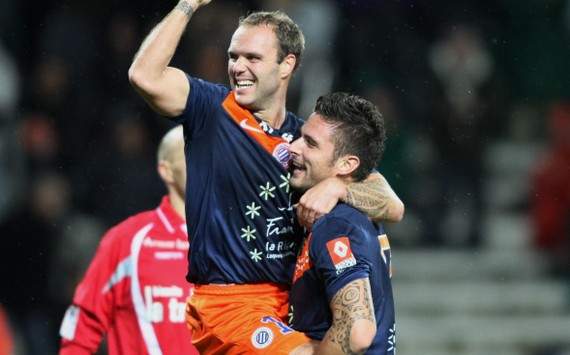 Manager René Girard, who has spent the majority of his coaching career involved in the French national team set-up, has managed to use the previous Montpellier ethos, mixing exciting youthful players alongside the experience of some slightly older ones, to great effect. Through playing an reinvented old-school classic, the 3-4-3, he's gained 100% from every player on the pitch. Club captain Mapou Yanga-Mbiwa, at just 22 years of age, is the youngest captain in Ligue 1, but brings with him new ideas, interesting leadership and all-round respect on the pitch. Top goalscorer, and major asset Olivier Giroud has scored 16 goals this season, including two hat-tricks, and has also contributed seven assists to the team. His pace and ruthlessness, alongside skills second to none in his team, has seen the reward of a call-up to the national team. Having been linked with several clubs in January, including Arsenal, Newcastle and Bayern Munich, President Louis Niccolin had this to say:
"For ten million euros I will not let him go. Since he still has a contract until 2014 it will cost more. Somewhere around 50 or 60 million euros."
There was also worry that Moroccan attacking midfielder Younes Belhanda would leave the club before the African Cup of Nations, with Arsenal, Borussia Dortmund, AC Milan and even Barcelona on red alert. With his quick feet, the ability to play a beautiful killer ball, and his passion for the club and the game, Belhanda is hot property in Europe. He himself has talked up ambitious moves abroad, but is loving his stay in Montpellier, as proven on the pitch.
Other major contributions have come from across the pitch – former Portsmouth man John Utaka has been a driving force on the wing; Marco Estrada has been crucial in midfield with his effortless passing; Tunisian Jamel Saihi stitching the middle of the park together; and with Geoffrey Jourdren between the posts, there's a safe pair of hands at the back.
Big home wins against Marseille, Lyon and Bordeaux, alongside winning away from home against defending Ligue 1 champions Lille has left Montpellier in good stead coming into the home straight in the league season. They're also in the quarter-finals of the Coupe de France, but the whole team remain very grounded, with their minds still only set on a Champions League spot. Top scorer Giroud had this to say just before the turn of the year:
Lots of things are going for us just now. We will try to keep this little run going. I continue to believe that we can compete for a place in Europe.
With just a third of the league season left, things are really hotting up for Montpellier. Their history has hardly been an easy ride, but this season has brought with it everything a Montpellier fan could have ever wished for. It's been a wonderful journey that will hopefully finish with a fairytale ending.