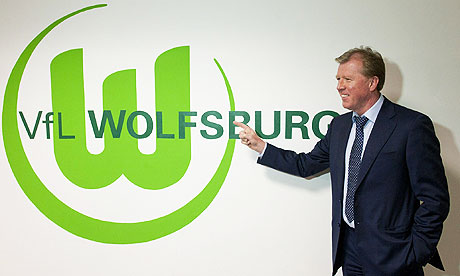 Steve McClaren's Wolfsburg find themselves towards the foot of the Bundesliga table having suffered three defeats from their opening three fixtures. The fabled "honeymoon period" said to be enjoyed by newly appointed managers has ended, while Wolfsburg's General Manager, Dieter Hoeness, has described The Wolves' current perdicament as 'critical'.
Life in the Bundesliga has not been kind to Steve McClaren thusfar. Following his triumph in the Dutch Eredivisie last season with FC Twente Enschede, McClaren took the Wolfsburg job with high expectations. The former Middlesborough manager encounted early success in keeping club captain Edin Dzeko at the club, despite the interest of Manchester City amongst others. While he has also strengthened his squad with the succinct acquisitions of players such as Cícero, Arne Friedrich and Simon Kjaer.
Performances on the field, however, have been less impressive. Wolfsburg were denied a creditable point on the season's opening day against Bayern Munich courtesy of a late winner from Bastian Schweinsteiger. Any positives from that performance were quickly forgotten. Wolfsburg then squandered a three goal lead against lowly Mainz, en route to a 4-3 defeat, to the visible fury of McClaren on the touchline.
This Saturday's 2-0 defeat to Dortmund at the Westfalenstadion has left Wolfsburg with nothing to show for their efforts to date. Wolfsburg were bereft of creativity, and were left to rue Edin Dzeko's early miss from close range. McClaren himself has acknowledged that "the pressure is mounting" following the club's lacklustre showings, adding that he has found the Wolfsburg job more difficult than he had imagined that it would be.
McClaren is not solely to blame for the club's horrific start. Dieter Hoeness has cited Cícero, Diego and Simon Kjaer as three players currently not performing at optimum levels. These new players will take time to become assimilated into McClaren's team. The decision to sell Zvjezdan Mismimovic, a gifted Bosnian playmaker, has been criticised by many as having negatively affected the team's performances and on-field chemistry. Misimovic developed an impressive understanding with his compatriot and club captain, Dzeko, during his time at Wolfsburg. Misimovic's replacement in the Number 10 role, Diego, has yet to enkindle a similar rapport with Dzeko despite glimpses of quality interplay against Mainz.
Despite their slow start to the season, Wolfsburg are capable of recovery. A commendable, if underperforming, back-four provides the base for Wolfsburg. The return of Arne Friedrich from injury will go some distance towards overcoming the early defensive failings suffered by Barzagli, Benaglio and Kjaer. Furthermore, the respected German sports magazine, Kicker, believes that McClaren is considering implementing a midfield diamond, a system which would appear to be ideally suited to the midfield at the former England manager's disposal.
Whatever tactical outlook McClaren has, results need to improve if he is to complete the season with Wolfsburg. The immediate future does not offer much solace. A potentially difficult home game against Hannover 96, who have started the season in fine form, precedes a treacherous trip north to Hamburg, where Ruud van Nistelrooy's rejuvenation has seen him recalled to the Dutch national team.
McClaren is accustomed to pressure, having been subjected to the constant scrutiny of managing England. More recently his  FC Twente persisted to claim the Eredivisie despite unending pressure from Martin Jol's Ajax. McClaren will need to count upon the lessons of these previous experiences if he is to inspire his side to mount a comeback and stage the title challenge that many expected from his Wolfsburg side.