October 31st, Manchester Utd vs Blackburn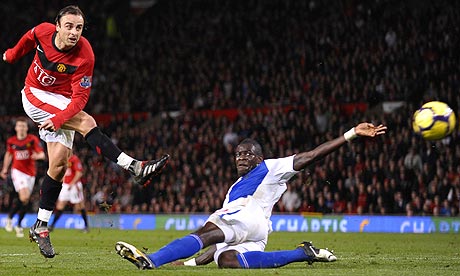 It is 3.30 am and I'm at a fancy dress party in Dundrum, South Dublin. I am talking to a chicken that is half way through hatching. My flight to this weekend's game is only three hours away and by the time I settle into my leaba (bed, in Irish!) a few short minutes later, my phone is ringing – the taxi is outside. Shit! It is time to go, and I have felt healthier! Eoin is my travel companion today and we still have our 100% win record stretching back since 2005. I am confident we will get over last Sunday's defeat. My money is on 3-0 and Berbatov for first goal.
This morning we are flying with Ryanair to Liverpool. I feel dirty. It can't be helped however; flights are under 20 quid and that is not something that can be turned down. The plan is a cunning one though – get some much needed sleep in the plane and then again in the airport. But things do not go according to plan. A while back, we discovered a prayer room in Liverpool airport, a room which is always empty. So, with apologies to the religiously precise out there, this has become a 'Mecca' for catching up on some sleep and avoiding the needless cost of hotels.
We settle in, alarms on for 11.00 but just 20 minutes later we are awoken. The airport manger has spotted us and asks us to move on. No room at the Inn.
I chose to ignore him, he sounds like a Scouse after all. I try to settle back to sleep while Eoin goes off for a walk.
The Catholic conscience within me takes over and I decide to leave a few minutes later. Some of the local lads are already in Manchester and looking for us to join their super session. Right now, beer is the last thing on my mind but it is time to get the bus to Manchester.
The 10.40 has already left and its not even 10.20 yet. So we are stuck here for well over an hour. I am now faced with the unthinkable situation of having to spend money on Merseyside. I feel even dirtier now. A full English takes first priority, newspapers, some tv in the airport lounge, then we head out to wait to for the bus. F**k! It is already full. The two polish ticket collectors think its really funny to tell us we have to wait an hour before telling us there are indeed, two seats left.
Eoin heads off down the back and by the time his backside hits the seat, he is asleep. I nestle into my seat half way up the bus, and look forward to a much needed hour of sleep. But it looks like I have got the short straw. I'm sitting beside a rather large woman, who thinks that not only has her ticket paid for her own seat but half of mine too. I spend the next hour looking sideways…
It's still early doors as we hit some of the pubs with the local lads. We watch the entire Arsenal v Spurs game and then move on to a few other pubs. About 4.30 we head towards the ground. Liverpool are down to ten and losing 2-1. No wait, its nine and 3-1. Wonder if they should have let us sleep in that prayer room in Liverpool!
Nice bonus. There's a good atmosphere about, evening games tend to bring that out, probably due to the fact that lads have been well souped by five.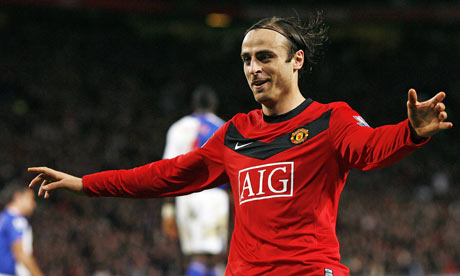 We grab a few cans and meet up with a few lads who have also travelled over from Ireland. As we move on down, the customary 'dirty burger' is consumed. Onions, Bacon and some of Sainsbury's finest errm….. maybe beef. We argue that if the stall has actually gotten bigger over the years. I say it has, the rest disagree. I argue that the legend of the dirty burger has probably seen their profits soar over the last few years. The reality is that the intake of alcohol all afternoon has clouded my judgment. This place is the food equivalent of a chubby lady at 3am. Beer required for maximum appreciation.
We get the team prediction pretty spot on, no real surprises this time. I did expect one of Rio or Vidic to be back in, but they are both out.
The first 20 minutes is perhaps the most uneventful I have witnessed in this hallowed ground. Blackburn have parked the proverbial bus and United aren't getting a shot in. Van Der Sar is in danger of getting frost bite in front of us. First chance falls to Berba, whose header is tipped over by Robinson. Should have done better – super cross from Valencia. Robinson's gloves are warmed again moments later as the Bulgarian hits a rasper from 30 yards, he looks well up for this today. Minutes later, the ball is in the net, Berba again, but Rooney is offside. Better, but still nothing special. Blackburn, swine flu and all, have come for a smash and grab.
The lads around me are getting restless. One of them is a funny, funny lad but sometimes he takes it a bit too far. He doesn't like Berba or Nani and as the second half kicks off his slating of our number 9 continues. I turn to him "Right, Berbatov – first goal – a tenner on it!" …."you're on mate" , he says. Moments later, its 1-0. Easy money.
It was a quality strike. As Berbatov celebrates just feet in front of us, I turn to my mate who has a smile on his face.
"Keep the tener… the fact he shut you up is enough for me". We agree on double or quits for the next game. And then, enter our new idol – Gabriel Obertan! We spend the next 30 minutes singing his name, acclaiming him to be the best player since Pele. New signings are great for morale, the people around us think we are insane. His first touch on Old Trafford soil is awful, but he goes on to have a decent game. We won't mention his shocking miss. Had that gone in, you can guarantee that the word Obertan would have been in this article about 500 times.
The French genius is involved as Anderson crosses with about eight minutes left, for Rooney to whack home. Another class goal and three points in the bag. Owen misses a sitter as he clears the post and as the ball lands at our feet, my chances of 3-0 and Berbatov first goal are gone. Still, job done and we finally got a glimpse of the best player of all time.
Manchester is awash with costumes that night, but my lack of sleep since Thursday is catching up on me. We retreat to the airport about 12.30 am for some much needed kip on the check-in area floor. The return journey is via Manchester at 8am and less eventful this time (I won't mention what happened for the same flight two weeks ago!!) . I arrive home about 11am and its time for proper bed. Wrecked. Will we ever cop on and do it right? Never, its all part of the fun.
Until the Everton game, Au Revoir.