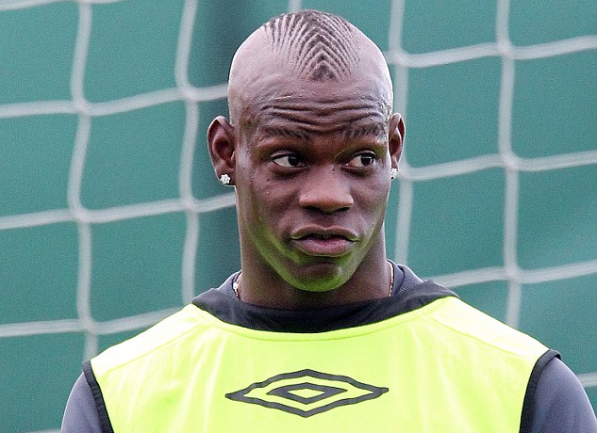 There's little middle ground with Mario Balotelli. There's weight to the argument that he'd be a genuine Ballon d'Or contender if he focused less energy on acting like a jester and more on his professional development. Critics label him an unnecessary sideshow and an embodiment of all that's wrong with modern football. Balotelli is a try-hard and a clown, they say: a player who's at best unprofessional but downright embarrassing at worst.
The majority, however, adore Balotelli and his antics. Football's younger generation of fans exalt his off-kilter shenanigans and have no problem tagging him a "legend." The contemporary game is all about entertainment, and who's more entertaining than Balotelli with his tales of bathroom firework displays and struggles with bibs? Mario is a glorious maverick and everything that's right with modern football.
One thing that neither party can deny, however, is Balotelli's playing ability. The Italian forward is strong, quick and good with the ball at his feet. His skillset continues to improve, and he's developing into a well-rounded goalscorer who will probably lead Italy's line at Euro 2012. This season he's scored 11 goals from just 10 starts in all competitions: Balotelli, when he's on his game, is as deadly as any other forward in the world.
Balotelli is an undoubtedly talented striker with great potential, but this is often eclipsed by his outrageous media personality. Balotelli was a well-known rabble-rouser long before signing for City (case point) but this "character" has grown exponentially since he arrived in England.
In a sport that churns-out characterless "model professionals" and some of the most sleep-inducing media interactions on the planet, Balotelli is, according to his fans, a "breath of fresh air." Mario fraternises with Neapolitan mafia bosses, hands-out thousands of pounds to homeless people, saves kids from bullying and stops-off at local schools for a quick toilet break.
As harmless and fun as these antics are, there's a darker side to Balotelli's character. There is absolutely nothing amusing about him throwing darts at a youth player last season, and he's hardly the cleanest character on the pitch. Balotelli currently averages 1.8 fouls per game in the Premier League: Kevin Davies, for years the league's most prolific fouler, has the exact same figure.
Balotelli's playing style can be wild and undisciplined. This weekend he appeared to stamp on Scott Parker's head. Last season he was sent-off for launching an outrageous kung-fu kick (presumably learned from team-mate Nigel De Jong) at a Dynamo Kyiv player. Earlier this season he was sent-off against Liverpool for a second bookable offence after just 18 minutes on the pitch.
Mario Balotelli isn't the harmless joker he's often made-out to be but he is one of football's most entertaining personalities. Only someone who's forgotten how to laugh would fail to find some humour in the Italian's back catalogue. Which other player would jump in his sports car and drive around Manchester city centre high-fiving everyone wearing a City shirt? You couldn't make it up…
Actually, you can. The problem with the Balotelli stories is that they're becoming increasingly ridiculous and hard to believe. Every new tale seems more far-fetched than the last. Does anybody actually believe that he walked around Manchester dressed as Santa, handing-out Christmas presents during the festive season? Next he'll be donning an Aladdin outfit, jumping on a magic carpet to fly around the Trafford Centre and shoot City jerseys from a t-shirt launcher.
As the eccentricity of Balotelli's alleged antics grows, so too does the cynicism. Many of these stories are trotted-out without substantial evidence and it's becoming increasingly difficult to separate the genuine from the fictitious. Witness testimonials are easily fabricated but, fireworks aside, why isn't there any photographic proof of Mario's alleged hijinx?
This matters little on the surface. While we'd love to believe that everything Balotelli does is supposedly true, most are satisfied with having some quirky stories to chuckle at. This does, however, raise a big question: is this really Mario Balotelli or the work of a PR team keen to shed the player of his badboy image? Let's be honest, few neutrals would see Balotelli as little more than talented, petulant and overly aggressive if it weren't for the stories.
If they haven't already, it won't be long before Balotelli's alleged off-field activities descend to farce. They're already veering towards the wrong side of believability but continue to surface with increasing regularity. Balotelli, as things stand, is a funny distraction, but there's nothing funny about a novelty that overstays its welcome.
Balotelli must be careful. The public are mostly behind him, but it won't be long before people get sick of him. English football's clown prince must reel-in the roguery if he is to avoid becoming a sad parody of himself.