Perhaps, football has never seen such a mould breaker.
A 6ft 1in full-back that lured his prey, rather than the status quo of wingers being in charge of flank dynamics, into space before effortlessly claiming the ball with a trademark interception and then setting off and one of his trademark marauding runs. A son of one of Milan's all-time great defenders yet, unlike Stephan Beckenbauer and Paul Dalglish, Paolo thrived under expectations and carved out an even greater legacy for the Maldini dynasty. A defender that was not only classy on the ball with a range of roulettes (admittedly leading to the occasional mistake, Maldinate) and two cultured feet, but also blessed with uncharacteristic chiselled looks for a defender. A role model, in an increasing era of footballers forgetting their moral obligations, who preferred to DJ at the Hollywood nightclub in Milan rather than partaking in its associated activities. And, most groundbreaking of all, a player who broke into a magnificent, settled and peak-aged Milan XI at just seventeen years of age in 1985 and went on to have a symbiotic and incredibly successful relationship with the rossoneri for thirty-one years.
Paolo Maldini was born in Milan on 26 June, 1968. Intriguingly, as a child, Maldini was a massive Juventus fan, owing much to the fact that Italy's 1978 World Cup squad featured legendary bianconeri names such as Dino Zoff, Antonio Cabrini, Antonello Cuccureddu, Claudio Gentile, Gaetano Scirea, Marco Tardelli, Franco Causio and Roberto Bettega (Maldini had a poster in his room of the prolific forward). His love of Bettega summed up the fact that Maldini's destiny of playing in defence was not yet set in stone and Maldini spent his amateur career playing in a variety of positions, particularly goalkeeper and winger. In 1978, the ten year old Maldini was initially offered a trial by Milan through his father Cesare's links (managed Milan in 1973/1974, was heavily involved in the coaching of their youth teams and, of course, spent twelve years there as a player between 1954 and 1966) with the club. However, Internazionale were also interested, which gives an indication of Maldini's incredible potential, but, with Cesare's influence, there was only one club in mind when it came to choosing between the two offers: Milan.
And so began an incredible thirty-one year association with the rossoneri. Intriguingly, though, Maldini was only deployed at left back in his trial and subsequent youth career with Milan because that was the only position that had yet to be filled in the trialists' XI. It was a remarkably unglamorous start to Maldini's time at Milan, but coupled with physical maturity through adolescence and a personal training scheme, Maldini was beginning to make a name for himself with what would become his trademark athleticism, balance, technique and pinpoint crosses. From this the Swede Nils Liedholm, the legendary Milan player and acclaimed manager with one-time revolutionary fitness methods and a unique zonal system of looking at football matches, promoted Maldini to the first-team. From this, Maldini became Milan's youngest ever first-team player, at just 16 years and 208 days, as a replacement for the injured Sergio Battistini at home to Udinese on January, 1985. Such were Maldini's understandable nerves, his first touch was a backpass to goalkeeper Giulio Nuciari. It would be Maldini's only appearance of the 1984/1985 season, with Liedholm initially preferring to protect his prodigious left back, but the fuse was lit.
With Battistini departing for Fiorentina, Liedholm bravely put his faith in Maldini and from this, the youngster made a whooping forty appearances in the disappointing 1985/1986 season that saw Milan finish 7th. Maldini also made his debut for the Azzurrini, Italy's Under-21s, who were brilliantly managed by Cesare from 1986-1996. Even though 7th may have seemed a disappointing finish for Milan given their illustrious history, they were in serious debt and were still regrouping from the 1980 Totonero betting scandal that saw them relegated to Serie B for the first time in their history. From this, Liedholm's utilisation of Maldini was not only down to the fact that he was a prodigious talent but also, practically, because he was an initial low earner. As Maldini's maturity continued in the 1986/1987 season, thanks in no small part to tutelage from one Franco Baresi, Milan, too, grew and Silvio Berlusconi's bailout, incredibly ironic given his later demise as Prime Minister of Italy, on 26 February, 1986 saved Milan from bankruptcy. Berlusconi stuck with Liedholm for the rest of the season and Milan finished a decent 5th in qualifying for the UEFA Cup, but the archaic 65 year old Liedholm was never considered to be the trailblazer to lead Berlusconi's revolution – particularly when he was knocked out of the Coppa Italia by Serie B side Parma.
Instead, Arrigo Sacchi, the man who led Parma to that shock and within three points of instant promotion to Serie A, following 1985's promotion from Serie C, was surprisingly appointed by Berlusconi. Credit must be given to Berlusconi for the courage of the appointment and his backing for Sacchi, with the Italian press ludicrously lambasting Saachi as an even poorer amateur player than Berlusconi himself. In an era long before the respect for André Villas-Boas' managerial achievements, Saachi was an anachronism but responded to initial criticism by the press with the infamous and witty remark:
I never realised that in order to become a jockey you have to have been a horse first.
With Berlusconi's backing, Saachi brought in the likes of Carlo Ancelotti, Ruud Gullit, Angelo Colombo and Marco Van Basten. Considering Saachi already had names such as Giovanni Galli, Alessandro Costacurta, Franco Baresi, Filippo Galli, Mauro Tassotti, Roberto Donadoni, Pietro Virdis and, of course, Maldini at his disposal, the foundations were firmly laid for a decade of dominance for Milan.
Napoli, though, with Ciro Ferrara, Careca and one Diego Maradona to call upon, were pre-season favourites to retain their title and for much of the 1987/1988 season, it looked like they would. After a patchy start for Saachi, with just five wins in his first eleven league games, Milan finished their final nineteen games unbeaten, including a memorable 2-3 victory over Napoli at the San Paolo on 1 May, 1988, and won the title. Although Gullit, Van Basten (incessant ankle injuries) and Virdis were important to Milan, the trio amassed just 23 goals and the telepathic defensive line of G.Galli, Maldini, F.Galli, Baresi and Tassotti conceded just fourteen goals in thirty league games as Milan claimed their first title for nine years.
As well as the Scudetto being Maldini's first major trophy, it was a landmark season internationally too: Maldini making his debut under Azeglio Vicini on 21 March, 1988 in a friendly against Yugoslavia. Maldini then headed to Euro '88 with Italy that summer and started all four of their games as the Azzurri disappointingly, given that they had the likes of Walter Zenga, Giuseppe Bergomi, Baresi, Donadoni, Ancelotti, Roberto Mancini and Gianluca Vialli, lost to the Soviet Union in the semi-final. Given his patriotism, it was perhaps no surprise that Maldini quickly dusted himself down and headed to Seoul for the 1988 Olympics in September, but, yet again, Italy were defeated in the semi-final of a tournament by the Soviet Union. Following Milan's 1988 Supercoppa Italia win, Sacchi's next goal was to win the European Cup – which Milan had not participated in for nine years and had not won for twenty years. From this, key and unsentimental tweaks to the squad were again made: Costacurta coming in for Galli, Albertini being promoted into the first-team squad and the highly-influential Frank Rijkaard being signed to replace Colombo in the first XI.
Sacchi's intense training sessions (upto three per day, which was unprecedented in world football) and methods were also taking hold, with a clear emphasis on the importance of concentration, incessant pressing in all areas of the pitch, a high line (an era before the liberalisation of the offside law) and shape without the ball. At the time, Maldini spoke of an infamous training match where Sacchi gathered ten 'disorganised' and free-roaming attackers (Gullit, Van Basten, Rijkaard, Virdis, Evani, Ancelotti, Colombo, Donadoni, Lantignotti and Mannari) against the backline of Giovanni Galli, Maldini, Baresi, Costacurta and Tassotti. The aim of the match, with the seemingly bizarrely use of an invisible ball initially and then a real ball later, was for the superior numbered and positionless attackers to score but in the twenty minute match, they failed to break down the regimented defence. It was a eureka moment for the squad and while they finished a disappointing 3rd in Serie A, with a whooping fourteen draws proving fatal, Europe was a mighty success. Red Star Belgrade (marred by Donadoni's life-threatening injury), Werder Bremen and, memorably, Real Madrid were all beaten as Milan reached the final against Steaua Bucharest – who had been incredibly fortunate with their draw throughout: facing Sparta Prague, Spartak Moscow, Göteborg and Galatasaray in the run-up to the final.
The 6-1 semi-final aggregate victory over Madrid was the real defining point in Sacchi re-establishing Milan in the pantheon of European football and was the peak moment of the Sacchi era. Madrid were running away with La Liga, were tournament favourites and had the likes of Bernd Schuster, Emilio Butragueño and Hugo Sánchez to call upon. Milan, though, had two key factors in their favour: an uncompromising defence featuring Maldini that may have conceded ten more goals in Serie A than in 1986/1987, but, in the Champions League, let in just four goals up to the Madrid matches; and the blistering form of Marco van Basten, who would go on to finish as both Serie A's (19 goals) and the European Cup's (10 goals) top scorers. From this, Milan nabbed a crucial away goal in the 1-1 first leg at the Bernabéu, with van Basten equalising with a brilliant header on 77', and then trounced Madrid 5-0 at the San Siro. They entered the final against Steaua Bucharest as overwhelming favourites and helped by over 90,000 of the 97,000 attendance of the Camp Nou being Milan fans, the rossoneri cruised to a 4-0 victory, in their soon to be trademark all-white European final strip, within the first 47 minutes through Gullit (18' and 39') and van Basten (27' and 47').
Sacchi did not make any major additions or tweaks in the summer of 1989 and after Milan won the Intercontinental Cup in December, following a 1-0 win over the René Higuita-inspired Atlético Nacional, the 1989/1990 season mirrored that of 1988/1989. Milan again came up short in the league, an unforgivable seven defeats proving costly as Napoli edged the title by two points. In Europe, though, Milan beat the likes of Real Madrid and Bayern Munich (memorable rearguard action against the dogged German side in a 2-2 away goal aggregate win) before facing Benfica in the final in Vienna. Following Rijkaard's goal on 68', a neat finish following a well-woven move featuring Costacurta and van Basten, Milan became the first side since Nottingham Forest in 1980 to retain the European Cup. The scale of the achievement, regardless of the perceived increase in competitiveness of the European Cup since it became the Champions League in 1992, is measured in the fact that to this day, Milan are the last side to have retained Europe's premier competition.
The 22 year old Maldini's attention immediately turned towards the 1990 World Cup, which Italy of course were hosting, and Italy finished an admirable third, following a penalty defeat to Argentina, with the emergence of Salvatore Schillachi and the impregnable (conceded just two goals in seven games) defensive line of Zenga, Maldini, Baresi, Riccardo Ferri and Bergomi proving crucial to their progress. The 1990/1991 season was a disappointment for Milan, though, with Saachi again failing to add to the squad, the rossoneri finishing second (five points off Sampdoria) and being hammered 4-1 (marred by Milan ludicrously, and tellingly, refusing to come back onto the pitch after the Stade Vélodrome floodlights failed with the aggregate score at 2-1 to Marseille by 88' of the second-leg) in the quarter-finals of the Champions League. The incident proved the great, but nomadic, Béla Guttmann's theory that a manager lost the motivation of the players after three years to be true. From this, Sacchi replaced the struggling Vicini as the Azzurri's manager in the summer of 1991 and Fabio Capello, who had expected the call instead of Sacchi after being caretaker after Liedholm's dismissal, was handed his first ever permanent managerial post.
With no European Cup 'distraction', Capello set about reclaiming the Serie A title. Apart from Sebastino Rossi coming in for Giovanni Galli, little changed in personnel but Milan were a slightly different outfit tactically than they were under Sacchi. Although Saachi had always placed an emphasis on player concentration and tactical roles, Capello took this one step further in his borderline reactive, rather than proactive, playing style that was based on conceding as few goals as possible. So, while there were results like the 5-0 hammering of Napoli on 5 January, 1992, these would begin to fizzle out as Capello's reign progressed and Sacchi's methods were further tweaked. With a fit van Basten, Milan and Maldini won their second title in eight years, finishing unbeaten and eight points clear of Juventus, but the real test for Capello would be in doing what Sacchi could not do: winning both the Champions League and the Serie A in the same season.
Milan remained a potent attacking force in 1992/1993, thanks in no small part to the brilliant signing of Jean Pierre-Papin, who filled in for the often injured van Basten, and Capello's desire for a larger and younger squad in the quest for two trophies saw Berlusconi back him in bringing in Zvonimir Boban, Dejan Savićević and Gianluigi Lentini (world record signing at £13 million from Torino). Milan retained the Serie A for the first time in 85 years, going on a 58 game unbeaten run that carried over from 1991/1992, and made the final of the Champions League with an awesome record of played ten, won ten, scored twenty-three and conceded just one. Marseille awaited, who had also reached the final unbeaten, but it was a disappointing night for Maldini at the Olympiastadion in Munich. Marseille won 1-0, through Basile Boli on 43', but, crucially, Milan's Serie A title gave them a chance to win their third European Cup in six seasons in 1993/1994.
1993/1994 was when Capello's emphasis on defence and not conceding goals really took hold, apart from one notable exeception that occurred in the final match of the season. Finishing as champions, Milan scored just 36 goals in Serie A that season and conceded only 15. Remarkably, only seven teams scored fewer goals than Milan and four of those were relegated, but Milan had the meanest defence in the league and the second-placed Juventus' 25 goals conceded was the closest. While it may be tempting to suggest that the lack of goals was in part due to van Basten's ankle injury, that ended his career and saw him make no appearances in 1994/1995 either, even Helenio Herrara's catenaccio dependent Internazionale had never relied on their defence for points in such a manner. This is partly why the Italian Football Federation introduced three points for a win in the autumn of 1994 for fear that earning an extra point, with two points previously being the amount for a win and one point being the reward for a draw, would not be a massive incentive for clubs to go for a victory and, after all, Serie A had a 'famed' history for its number of draws (Milan drew fourteen as champions in 1992/1993).
Capello carried out telling, in establishing his philosophy, surgery on Milan's midfield in the summer of 1994, which was epitomised in the manager bringing in Marcel Desailly as a stopper in midfield and selling Gullit and Rijkaard to Ajax and Sampdoria respectively. The Italian had hoped Lentini would burst into the unplayable form that he had once promised, but, ultimately, a car crash in pre-season that left Lentini with a fractured skull, a damaged eye socket and a two day light coma curtailed his development and he never fully recovered the form that he displayed at Torino. Milan's style in the Champions League mirrored that of Serie A, scoring seventeen goals and conceding just two in twelve matches in comparison to, fellow finalist, Barcelona's twenty-six goals scored and eight conceded in twelve games. For the final, Milan were missing, as well as Lentini and van Basten, Baresi and Costacurta through suspension and UEFA's regulations of only three EU nationals in the squad meant that key squad players like Brian Laudrup, Jean-Pierre Papin and Florin Răducioiu had to be left out altogether. From this, Barcelona's over-confidence was brutally epitomised in Hristo Stoichkov's pre-match comments:
I'm waiting for Desailly – I excel myself against blacks.
Barcelona were overwhelming favourites, blessed with the talents of Andoni Zubizarreta, Ronald Koeman, Josep Guardiola, Stoichkov and Romário and the tutelage of Johan Cruyff, but like the 1974 World Cup final for the Netherlands against Germany, Cruyff's team were again guilty of over-confidence, dalliance and a failure to take their international-laden opponents seriously. From this, Milan provided one the greatest final performance in the history of the European Cup and the Champions League, with Daniele Massaro (2), Savićević and Desailly putting them 4-0 up by 58' in Athens. Milan now had the European Cup for keeps, following their fifth tournament victory, and Maldini, at just twenty-six, had won four Serie A titles and three European Cups. The Italian's attentions then turned towards the U.S for the 1994 World Cup. Sacchi had just three games to turn the Azzurri's Euro '92 qualification campaign around to topple the Soviet Union, who had built up a five point lead, and one win and two draws were not enough for Italy. However, the 1994 qualification campaign, regardless of Sacchi's indecisiveness with player personnel in squad selection, was a success and Italy lost just one game (away to second-placed Switzerland) in a ten game group featuring the likes of Portugal and Scotland.
Rather than predictably handing Baresi, who had received most of the credit for Milan and Italy's upturn in fortunes due to his classy, committed and influential central defensive displays, the captaincy, Sacchi instead gave it to Maldini – who had just married his long-term girlfriend, Adrianna Fossa, before the torunament. Maldini did not let him down, including playing on despite a knee injury in the Group E match against Norway, and a Roberto Baggio-inspired Azzurri, who had narrowly reached the second round after finishing with an identical record with the Republic of Ireland, reached the final against Brazil. It was Maldini's first international final of his career but once Baresi missed Italy's first penalty in the final, following a 0-0 draw, it was clear that it was not going to be their day. Maldini was named in the team of the tournament, like his father was at the 1962 World Cup, with Baggio Italy's only other entrant, and with Baresi retiring after the tournament, and soon from club football, the further Maldini's career progressed, the more he was utilised as a central defender and the commanding presence.
Capello lost the balance that he had struck in the previous season when it came to 1994/1995, with Milan scoring more goals in Serie A (53) but also conceding more (32). The UEFA Super Cup was won, along with the Supercoppa Italia, but the season, generally, went downhill from there. Despite this, Maldini was awared the World Soccer Defender of the Year in the winter of 1995 and even though this was the pinacle of the individual awards Maldini won in his career, with the Italian never winning the Ballon d'Or, Maldini remarked:
It is a particular matter of pride because defenders generally receive so much less attention from fans and the media than goalscorers. We are more in the engine room rather than taking the glory…Franco Baresi really deserved to receive this award.
Milan lost to Carlos Bianchi's José Luis Chilavert-inspired Vélez Sársfield, went out of the Coppa Italia in the second round to Internazionale and finished 4th(thirteen points off champions Juventus) in Serie A. The Champions League was Milan's saving grace but, even though they beat Benfica and PSG in the knock-out stage, Milan were, fatefully, outclassed in the group stage by Ajax. They were to meet Louis van Gaal's dynamic outfit, that was soon to be ripped apart by the Bosman ruling, again in the final and were defeated 1-0 through a Patrick Kluivert goal, ironically set-up by Frank Rijkaard, on 85'. Milan's dream of equalling Real Madrid's record of six European Cups was put on ice for two seasons, following a failure to qualify for the 1995/1996 Champions League, and Berlusconi 'panicked'.
Van Basten was finally replaced, with Capello having the pick of George Weah and Roberto Baggio, but Capello still relied on Milan's near-decade long backline of Rossi, Maldini, Costacurta, Baresi and Tassotti. From this, they finished eight points clear of second placed Juventus, scored sixty goals (Weah grabbing eleven and Baggio scoring seven) and conceded just twenty-four. Maldini's focus then quickly turned towards Euro '96, which Italy qualified for alongside Croatia from a group featuring Lithuania, Ukraine, Slovenia and Estonia. It was a sobering tournament for the 28 year old Maldini, though, with Sergei Kirakov proving a particular nuisance despite the 2-1 victory over Russia, and with Maldini, Albertini and Roberto Mussi the only members of the squad to have started the 1994 World Cup final, Italy, minus the unfit Baggio, were in a clear state of transition and went out in a Group C, with Russia, that featured the eventual finalists, Germany and the Czech Republic.
With Capello departing for Real Madrid in the summer of 1996, Berlusconi had to get his next appointment right as Milan were entering a stage of mass rejuvenation. Berlusconi handed Giorgio Morini, like Sacchi and Capello had never managed before, the reigns and Óscar Tabárez was brought in as technical director. It proved disastrous: Milan's identity was compromised, with the Bosman ruling and rash signings of the likes of Michael Reiziger, Jesper Blomqvist, Edgar Davids and Christophe Duggary. A 1-2 home defeat to lowly Rosenborg in the Champions League group stage ended Morini and Tabárez's stint and Sacchi was parachuted into the San Siro, helping them to finish 11th in Serie A (just six points clear of relegation) and it was Milan's first trophyless season (not even a Supercoppa Italiana) for over a decade. Tassotti and Baresi both retired, partly in disgust, and never had Capello's managerial skills and manoeuvring of the transfer market been so evident and missed, or so it seemed.
Capello returned for the 1997/1998 season, following a brief yet successful season with Madrid, but he failed to improve on Sacchi's caretaker spell. Maldini was handed the captaincy but for the second straight season, there were more panic buys that were not implemented properly, did not settle and diluted the squad. Winston Bogarde, Christian Ziege, Ibrahim Ba, Leonardo and Kluivert all failed to impress and Capello's winning reputation came to an abrupt halt, including a Coppa Italia final defeat to Lazio, with Milan finishing 10th and Berlusconi sacking Don Fabio at the end of the season. For probably the first time in his career, an international tournament was a welcomed distraction for Maldini and he linked up with his father Cesare for the first time in his senior international career. Cesare guided Italy past Russia in the play-offs, following their second-place finish behind England in Group Two, and Paolo was again handed the captaincy but in this case, there were few whisperings of nepotism.
Partly why Paolo was such an inspiration to millions was because he shunned the public eye, which was evident in him refusing Giorgio Armani's pre-World Cup offer of a lucrative advertising deal and instead preferring to focus on Italy's preparations. Italy performed admirably, with Cesare smartly sticking by the talents (Fabio Cannavaro, Alessandro Del Piero, et al) he so successfully previously shaped with the Under-21s and Italy were bravely knocked out on penalties by eventual champions France in the quarter-finals. Milan began the third straight season, 1998/1999, with a new coach but Berlusconi took a noticeable shift in strategy: signing an upcoming, yet experienced, coach in the form of Alberto Zaccheroni who had performed so brilliantly with Udinese. Berlusconi also gave Zaccheroni a sizable amount of control over transfers and from this, the soon to be highly-successful Thomas Helveg and Oliver Bierhoff arrived from Udinese with him. Bierhoff finished as Milan's top scorer with twenty goals, thriving in Zaccheroni's near-revolutionary 3-4-3 formation, and the peak-aged Milan clinched the Serie A title on the last day after taking advantage of Lazio's slip-ups.
However, Milan regressed in 1999/2000: finishing 3rd, seeing the ageing Bierhoff's form dip dramatically and Andriy Shevchenko's signing and prolific goalscoring were Milan's only saving grace in a disappointing season. An ageing Milan team were brutally exposed in the Champions League, finishing bottom in a Group H containing two tournament newcomers, Chelsea and Hertha Berlin, and Galatasaray. Berlusconi's reputation as a trigger-happy manager was now established and it seemed inevitable that Zaccheroni would be dismissed. The 32 year old Maldini headed to the Netherlands and Belgium that summer, leading Italy for the fourth-straight tournament and under a third different manager in that period: Dino Zoff. Italy defied expectations, with many believing that they would not reach the quarter-finals, and beat Spain and the Netherlands (their first ever penalty win in a competitive tournament) before a final with France. It was to be Maldini's last international final of his career and Italy had the momentum as the only unbeaten side left in the competition. Marco Delvecchio had given Italy the advantage on 55', but Maldini's first international trophy was snatched away from him in the final minute of stoppage time by Sylvan Wiltord and then David Trezeguet's golden goal on 104'.
Such was Berlusconi's overbearing and unsavoury presence in Italy at the time, as Prime Minister, he played a direct role in Zoff's resignation after lambasting Zoff for not man-marking the influential Zinedine Zidane – despite Italy's gallant tournament effort. Maldini, though, was enthused by Italy's showing and vowed to continue on the international stage until the age of 34 for the 2002 World Cup. Surprisingly, Berlusconi kept faith with Zaccheroni for the beginning of the 2000/2001 season but this proved foolish as Berlusconi never fully backed him in the summer, only Fernando Redondo was the major arrival, and Zaccheroni's sacking seemed inevitable. Milan had a chaotic season: finishing 6th, desperately drawing with Deportivo in the second group stage of the Champions League and therefore missing out on the final held in their own San Siro, and Cesare Maldini and Mauro Tassotti were employed in a caretaker capacity. Milan finished just twelve points clear of relegation in 6th place and relied heavily on Shevchenko's 34 goals (24 in the league).
One of the hottest managerial properties at the time, Fatih Terim was hired as Zaccheroni's replacement after reportedly rejecting both Barcelona and Liverpool. Although the Turk's reign was ultimately mixed, his take on the 4-3-1-2 formation, Total Football style and signings of Andrea Pirlo, Rui Costa and Filippo Inzaghi would lay the foundations for Milan's future success. However, Milan finished 4th and went out of the UEFA Cup and Coppa Italia in the semi-final. While on paper this may have seemed a decent season, in comparison to previous years, Milan were in serious danger of going off the boil and not qualifying for the Champions League for an unthinkable second successive season. From this, Carlo Ancelotti was appointed in November, 2001. Ancelotti, of course, played a massive role as a player in Milan's revival under Sacchi but, yet again, Berlusconi made a brave managerial appointment. While Ancelotti was an undoubted success with Parma, the evening of 15 May, 2000, when a heavy downpour delayed the second-half of the final game of the season for 82 minutes and saw Juventus choke in their search for a victory that guaranteed the 1999/2000 Serie A title, had tainted the then forty year old's once growing  managerial reputation.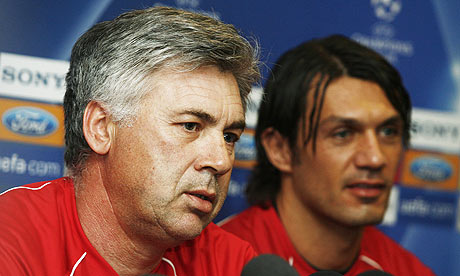 At Milan, though, there was one massive difference: support. Juventus' fans never took to the estrano, owed much to Ancelotti's role in Milan's revival from 1988-1992, and because Ancelotti failed to guide them to the Serie A title in 1999/2000 or 2000/2001, Juventus had no obligation in sticking with the Italian – unlike Giovanni Trapattoni, an ardent Rossonero, who, nonetheless, had incredible managerial success with Juventus. Interestingly, though, Berlusconi's and Ancelotti's 'perfect' relationship did not start in such a fashion: Berlusconi was unhappy with Ancelotti's initial defensive tactics, which relied heavily on the foundations of Christian Abbiati, Cosmin Contra, Kakha Kaladze, Costacurta and Maldini. The key shift would come in 2002/2003, when Ancelotti tweaked his formation from his signature 4-4-2 diamond to 'Terim's 4-3-1-2′ with Pirlo converted, inspirationally, to regista and Rui Costa at number ten. Another turning point in Milan's style was also when Berlusconi sanctioned Ancelotti's signings of the classy Alessandro Nesta, with the 35 year old Maldini moving into the heart of the defence alongside him, and the brilliant Clarence Seedorf – yet another Internazionale 'reject'.
While Maldini had painful memories of international tournaments, ranging from penalty heartache against Brazil as a 26 year old captain in the final of the 1994 World Cup to golden goal submission in the final of Euro 2000 against France, nothing would compare to how he would feel after the second round exit of the 2002 World Cup against South Korea. Italy's start to the 2002 World Cup suggested that the pre-tournament hype was not as unjustified as it may have seemed, following a dismal but admittedly successful qualification from a Group 8 that featured the 'might' of Romania, Hungary, Georgia and Lithuania, with a fine 2-0 victory over Ecuador with two goals from Vieri which raised expectations dramatically. However, Italy then lost 1-2 to Croatia and drew 1-1 with Mexico in horribly abject performances, but they did have a combined total of four goals controversially disallowed in both games which led to Italian press murmurings of a conspiracy against the Azzurri.
This was 'proved' in the second round match against South Korea, where Korea beat Italy 2-1 after a golden goal by Ahn Jung-Hwan of Perugia. Italy went ahead on 18' through Vieri, but sat on the lead against the vulnerable Koreans and Trapattoni bizarrely replaced Del Piero with Gattuso on 61'. Damiano Tommasi and Vieri also missed clear-cut chances, but Byron Moreno's (who has since been convicted of heroin smuggling) refereeing left a lot to be desired. Tommasi had a goal ruled out for a debatable offside on 110' and Totti was red carded (second yellow) for simulation – even though Choi Jin-Cheul made contact. Crying fowl, the IFF kept faith with Trapattoni in their adamant belief that the whole tournament was a sponsored-organised conspiracy (Italy were sponsored by Kappa). Maldini, though, had  had enough and retired with a record of 126 (74 as captain) caps, a then record for Italy until his successor as captain, Fabio Cannavaro, broke it with 127 (136 by retirement) in 2009, and 7 goals.
With the signings of Seedorf and Nesta, the conversion of Pirlo, the redeployment of Maldini as a centre back and the emergence of Dida, 2002/2003 was a success for Milan. Even though Rivaldo often flattered to deceive and Shevchenko had an average season, Inzaghi proved his £17 million pricetag and unrivalled poacher instincts with a personal best of 30 goals in 48 games. So, while Milan did eventually run out of steam in their chase for their seventeenth Scudetto, finishing 3rd behind Internazionale and champions Juventus, the rossoneri did what all fateful European champions do: improve as the competition progresses. Their tournament win was all the more remarkable given that Milan did not automatically qualify and had not progressed past the quarter-finals since the final against Ajax in 1995 under Capello.
While not comparable to the vintage 1988-1994 era, Ancelotti's 2003 outfit were an effective unit and Deportivo, Bayern Munich, Real Madrid, Ajax and Internazionale were all knocked out along the way before Juventus awaited at Old Trafford. Maldini, too, was sending reminders that he was far from finished, not least thanks to the Milan Lab's introduction from 2002 and the injection of footballing life his central defensive partnership with Nesta gave him, and gave a series of memorable performances along the way. One moment in the 26 November second group stage meeting with Real Madrid in Group C was a particular masterclass: Maldini covered for the marauding Costacurta as Figo dribbled into the final third of the pitch and nipped in, without predictably sliding, and took the ball off the toe of the Portuguese, one of the greatest dribblers and players of the decade, while Figo looked ruefully at the Italian as he kicked air. The final againt Juventus was far from a classic, though, particularly in the second-half when both sides displayed cautious tendencies, but after Shevchenko converted Milan's decisive fifth penalty, Milan were champions. It was a key turning point for Milan, who had gone four years without a major trophy and eleven without a European Cup, and Maldini emulated his father's achievement of 1963: winning a European Cup on English soil.
Ancelotti saw 2003/2004 as a chance to emulate Fabio Capello's class of 1994, who won the Serie A and Champions League. Milan had gone five seasons without winning the league and they cruised to their seventeenth Scudetto, which would be the last of Maldini's seven titles, with an eleven-point lead over second-placed Roma. Unlike the previous season, Milan remained consistent for the whole of the campaign, losing just two games, and had a welcomed habit of winning games by a one goal advantage. The signings of Cafu and, particularly, the 22 year old Kaká, who kept Rui Costa out of the first XI and scored an impressive 14 goals in 44 games in his debut season in Europe, proved crucial. The Champions League should have been a success, too, but Milan were bizarrely knocked out by Deportivo in the quarter-finals. In the first-leg at the San Siro, Milan went 0-1 down to a Walter Pandiani goal on 11' but then went on to win the match 4-1 through goals from Kaká (2), Shevchenko and Pirlo. In the second-leg, though, Milan were humbled within the first 43 minutes, with Pandiani, Juan Carlos Valeron and Albert Luque wiping out their advantage before Gonzalez Fran sealed the win on 75'.
Ancelotti sought to improve the squad further for a serious dual-assault in 2004/2005, with Jaap Stam being signed to allow the 36 year old Maldini, who incidentally took a voluntary 40% paycut from €7 million to €5 million, to play in his natural left back position and Hernán Crespo arriving on loan to reduce the pressure on Shevchenko after Inzaghi's knee troubles. In the league, Milan finished second to Capello's and Zlatan Ibrahimović's Juventus. However, while Juventus were outsmarted by Rafa Benitez's Liverpool in the quarter-finals of the Champions League, Milan were the standout side of the competition: defeating Barcelona in the group stages, beating Manchester United in the last 16, hammering Internazionale in the quarter-finals and edging Guus Hiddink's PSV in the semi-finals. They scored twenty goals along the way, conceding just six, and faced Liverpool, who had defeated Bayer Leverkusen, Juventus and Chelsea along the way to the final. Although 1994 saw Milan as massive underdogs against Barcelona, the roles were reversed at Istanbul in the 2004 final against Liverpool and this was all the more apparent when Milan cruised to a 3-0 lead through Maldini (goal on 53 seconds was the quickest in European Cup final history) and Crespo (2) within the first 44 minutes.
While much was made of Liverpool's resilience, determination and motivation in the face of Milan celebrating in the dressing-room at half-time, Benítez's shackling of Kaká with substitute Dietmar Hamman was equally important. Goals from Steven Gerrard, Vladimír Šmicer and Xabi Alonso led to a penalty shootout and following Shevchenko's decisive miss, Liverpool won the most extraordinary European final of all-time. The following season, Milan failed to gain redemption for what was, in hindsight, an unforgivable and inexcusable final defeat. Even with Berlusconi's sanctioning of Alberto Gilardino's signing, Milan again lost out to Juventus in Serie A. Worse was to come, though, with the Calciopoli match-fixing scandal proving this race to have been a fraud and Milan were deducted 30 points and lowered to third place for their part in it. Milan also went out in the Champions League semi-finals to Barcelona, losing 1-0 on aggregate and focusing too much on containing Ronaldinho et al rather than attacking a suspect Barcelona defence.
Even in maintaining the chance of Champions League qualification, following the original punishment of relegation to Serie B, it seemed the end of the modern Milan era, with the veteran and peak-aged set of Maldini, Costacurta, Cafu, Stam, Nesta, Gattuso, Pirlo, Seedorf and Inzaghi, was imminent – which was augmented by the sale of the 30 year old Andriy Shevchenko, who scored a brilliant 127 goals in 208 games for the rossoneri, to Chelsea for €40 million that summer. With the Azzurri winning the 2006 World Cup, without the retired Maldini, though, hope remained in the seemingly corrupt-ridden Italy. Ancelotti, too, remained devoted to Milan and clearing their name and the likes of Yoann Gourcuff, Ricardo Oliveira and Ronaldo all arrived. 2006/2007 saw Milan finish a disappointing fourth in Serie A, although they were inhibited by an eight-point deduction, and thirty-six points behind champions Internazionale. Focus was instead placed on the Champions League and Milan, inspired by Kaká, grew as the competition went on: scraping a Group H featuring Lille, AEK Athens and Anderlecht, before a 1-0 last sixteen aggregate win over Celtic, but then producing brilliant performances against Bayern Munich and Manchester United.
Fatefully, a final awaited against Liverpool in Athens. Complacency was not an issue for Milan this time, though, with inevitable talk of revenge dominating their pre-match preparations, and the rossoneri ran out 2-1 winners thanks to the revitalised 34 year old Inzaghi. As Maldini hoisted the Champions League trophy for the fifth time, in the eighth European Cup final of his career, and after applauding Liverpool's fans for their support alongside Massimo Ambrosini and Seedorf, it seemed the perfect moment for the 39 year old, still performing admirably, to bow out. Maldini, though, regardless of the fact that the only direction for this Milan seemed to be down due to their peak ages, felt he still owed service to Milan and signed a new contract which involved taking a 50% wage cut to €2.5 million. Despite winning the UEFA Super Cup and Club World Cup, a stale Milan, that Ancelotti failed to rejuvenate in the summer, failed to dazzle in 2007/2008. Milan finished 5th in Serie A and went out of the Coppa Italia and the Champions League in the last sixteen.
Maldini, though, was not to blame. His commitment and desire was as strong as ever and he rolled back the years with performances such as the Champions League second round first-leg match against Arsenal at the San Siro, when Maldini proved he was far from a hasbeen with countless marauds forward, nutmegs and dashing sliding tackles. Maldini played in the 1000th competitive match of his career against Parma on 16 February, 2008 but after Milan drew 0-0, Maldini simply remarked:
These are numbers which will remain in history – too bad we did not get the three points.
2008/2009 was not much better, but the arrival of Mathieu Flamini, David Beckham and Ronaldinho aided Milan's cause in their push for 3rd place. Maldini's swansong season was not an event felt at just Milan, with their bitter rivals Internazionale displaying a banner reading 'Per 20 anni nostro rivale, ma nella vita sempre leale' (For 20 years our opponent, but in life always loyal) in the final Derby della Madonnina of Maldini's career, in which Maldini dealt admirably with the threat of Ibrahimovic and Adriano, on 15 February.
Far from it being a testimonial season, with Marcello Lippi incidentally offering Maldini the honour for Italy in a dead rubber World Cup qualifier against Northern Ireland in February, the 41 year old Maldini was as hungry and committed as ever, as was evident in a rare act of public passion, or petulance in some eyes, on 10 May, 2009 when he grabbed Giorgio Chiellini by the throat after a niggling tackle – which was broken up by an affectionate hug by Gianluigi Buffon. At his last game at the San Siro, a 2-3 defeat to Roma on 24 May, Maldini, with modesty, gave a lap of honour but as he went past the notorious Curva Sud Ultras section of the stadium, who he had criticised for selling tout tickets for the 2005 Champions League final, Maldini was booed and a chant of "one Franco Baresi" was sung.
Maldini did not initally react, merely giving them a thumbs up, but after the match, he remarked that he was "a Rossinerro, but not one of them." The end of an era was firmly marked in Ancelotti's and Maldini's final game, a 0-2 win away to Fiorentina on 31 May, where after twenty-five seasons and 647 matches for Milan, Paolo Maldini retired at the mighty age of 41. In tribute, like Baresi, his shirt number was retired but will be handed to Christian (15) or Daniel (10), his sons, if they break into Milan's first-team squad.
7 Serie A titles, 5 European Cups, 1 Coppa Italia, 5 European Super Cups, 5 Supercoppa Italianas and 3 Club World Cups. Remarkably, this is not just the roll honour of Milan from 1985 to 2009 but also of the greatest Rossonero, Paolo Maldini. Therefore, to imagine Maldini without Milan and Milan without Maldini is near-impossible and perhaps that is why Maldini's time with the Azzurri was never the success it should have been. After all, never has a club and player become so symbiotic and intertwined, yet so undoubtedly successful, and that was why Maldini and Milan were the perfect partnership.