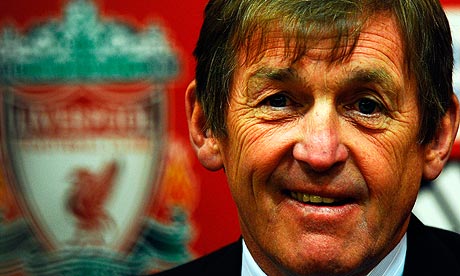 Three days following an F.A. Cup tie against Manchester United it seems strange to report that a midweek game against Blackpool is not only the biggest game of Liverpool's last seven days, but may even be the biggest of their season.
An improved and spirited performance at Old Trafford last Sunday was welcomed by long suffering Liverpool fans but should not be over analysed. No matter how bad things currently are at Anfield, the club would have to reach their lowest possible ebb before a cup visit to their fiercest enemies can no longer inspire them to up their game. To coin an overused yet accurate cliché, in derby games (what Sunday's fixture has essentially become) form goes out the window. In league games however, especially the likes of those on a cold January night against a plucky and surprisingly capable Blackpool side, form walks straight in the front door, sits by the fire and puts its feet up.
Following the weekend's performance, large sections of the Pool support were quick to attribute the side's display to the managerial return of Kenny Dalglish. While it would be naïve to discount the morale boost that the return of such an iconic member of Liverpool's history could bring to a downtrodden dressing room, it would be equally so to believe that the three hours preparation time he had with the side could be responsible for any perceived tactical developments above formational and minor gameplay tweaks from previous weeks.
Appointed last Saturday morning, Dalglish's work could only truly begin on Monday when he had the chance to assemble his side together and begin focusing on tonight's game and the first step toward rescuing a flagging season and a flagging club. There is a striking symmetry in the fact that "King Kenny" takes charge of his first league game as Liverpool boss in twenty years at Blackpool given that it was during the reverse fixture in early October, when the Tangerines stunned Liverpool with a 2-1 victory, that the shouts of his name were first heard amongst sections of a notably displeased Anfield crowd. Six league defeats later and those pockets of the club's support had turned into whole areas of the stadium and Liverpool's new owners had little option but to pander to their paying customer's wishes.
Only in the job a matter of days, Dalglish already seems to have begun going about things the right way. On Sunday he dropped the unpopular and hugely out of form Paul Konchesky and was aided by Glen Johnson's wife going into labour in that he could also avoid playing the underperforming right back and give another chance to the promising Martin Kelly. Dalglish also moved away from the rigid 4-4-2 formation preferred by Hodgson and set up the team in a way that felt natural, with each player suited to his role. Steven Gerrard's red card ultimately scuppered this plan of course, but that such a basic element of football management (i.e. picking players in their best positions) should receive any praise at all points to the sorry state that Liverpool Football Club has fallen into.
Despite his early influences on the teamsheet and the tactics board however, the most important things to note from Dalglish's reign so far have been what he's said and done away from the playing side of his remit. No man, regardless of his past successes, is without his flaws. By adding Steve Clarke to the coaching set up, the Anfield legend has seemingly taken note of those who criticize his lengthy spell out of the game, and the fifteen odd years since his last real success, and decided to take immediate action rather than ploughing forward stubbornly aware of his shortcomings. Should this be true, and admittedly with no right or position to appear so patronizing on my part, I must compliment him on this.
The Scotsman has also been quick to distance himself from the fairytale story the press are eager to push on him bluntly declaring at yesterday's press conference that "at the end of the day this game isn't built on romance, it's built on hard facts and the hard fact of the matter is we have got to start winning games". Anyone who witnessed the chaotic, and ultimately ill-fated, return of Kevin Keegan and Alan Shearer to Tyneside a few years ago would be reluctant to disagree.
With more losses than victories this season, cold hard realism is exactly what's needed around Anfield Road. If Liverpool are to have any chance of saving their status as a "big club", a successful conclusion to this season is essential. Out of both domestic cups, the Europa League now takes on a whole new significance whereas qualification for next year's tournament, be it through league position or as this years champions is essential should the club wish to attract new players and sufficiently bolster their coffers to pay for them. The path to "success", or at least this definition of it, starts tonight.
If there was to be one moment taken from Sunday's defeat at the hands of Manchester United to encourage Liverpool fans it should be what occurred with fifteen minutes left on the clock. With Liverpool still chasing the game, Fernando Torres, on the back of yet another sub-par performance, looked to the sideline and saw his number up. Rather than ruffle his hair and shake his head confoundedly like he has in the past, the Spaniard instead hastily removed himself from the action and coolly took his place on the substitute's bench. Before the final whistle had blown on his first game, Dalglish seemingly already had what any manager can ever hope for – the respect of the dressing room. And why shouldn't he? Three European Cups and six league titles as a Liverpool player (amongst other successes) and three more league titles and two F.A Cups as manager is more than enough to garner respect from a bunch of players who largely, still have a lot to prove of themselves. Amongst many other attributes, it may well be Dalglish's right to command the immediate respect of his current playing staff as well as those he wishes to attract that could be his greatest asset as he sets about his task of rebuilding his club.
It's been a tumultuous year for Liverpool supporters. Depending on who you talked to, Tom Hicks and George Gillett had drained the club of its resources and its spirit, Rafa Benitez had grown increasingly divisive, stubborn and incompetent and Roy Hodgson was just not up to the task at hand and was not worthy of the job.
Twelve months ago, fans wanted a change of ownership and some wanted a change of manager. Having now ultimately gotten all they asked for, its time for the club to return to their glory days or else accept that it is no longer a major player in British or international football circles.
There can be no more excuses. It's make or bust.