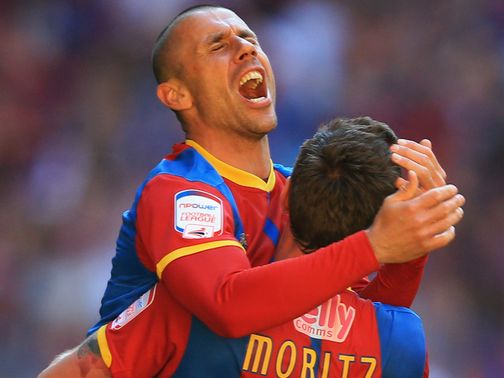 Kevin Phillips knows a thing or two about Play-Off finals, but the notion that you can't teach an old dog new tricks does not apply to him: after three failed attempts, he has – at the age of 39 – finally won one.
The irony of Palace's win coming from a combination of on-loan players – having previously aired concerns over their opponents' use of the system – won't have been lost on Gianfranco Zola, while Ian Holloway may rue the fact that neither are likely to be around next season.
Wilfried Zaha will be, like his teammates, moving on up to the Premier League, but his sights are set even higher, unless Manchester United decide he'd be better off playing a season of regular first-team football with Palace. Given their wingers have struggled this season, not to mention the £15m fee, that would appear unlikely, for half of the season at least.
Phillips, meanwhile, is likely to announce his retirement. And if he does, it's a fitting end to a career that is deserving of far more celebration than it will likely receive.
That he is only just on the right side of 40 and still scoring important goals – goals worth £120m, as we were reminded, er, once or twice before, during and after the final – is a testament to his professionalism and hunger.
That hunger, however, appears to have been satiated. Indeed, winning a Play-Off final, after losing three previously, will have been the sweetest of desserts. That the goal was his 250th in league football was simply the icing on  £120m worth of cake. It came against the club for whom he scored his first, bringing his career full-circle.
The slightest mention of Phillips to a Sunderland fan will set them off on an immediate monologue on 'SuperKev', from statistics (the club's post-war goalscoring record) to memories (his strike against Chelsea; St James' Park in the rain) to accolades (still the only Englishman to win the Golden Shoe). Many will joke they'd still have him back playing now – and a few say it in all seriousness.
Yet while one could spend all day waxing lyrically about his efforts in the North East, it's a testament to a man who has had six clubs in the decade since he left that fans of almost all those other clubs would do the same.
Following a solid spell at Southampton (who had released him as a youth), his career took him on a journey across the Midlands – Aston Villa, West Brom, Birmingham City – and he was welcomed and cheered by supporters of all.
Playing with Ian Holloway, first at Blackpool and now at Palace, seems to have rejuvenated him. 'Ollie' may have been joking when he said he'd continue to sign him when he's "nearly 50 or 60" but it would not be surprising if he was to have a conversation about one last go at the Premier League.
Phillips comments after the game, that he was unsure whether or not he'd continue playing, point to retirement certainly being on his mind. Perhaps better to go out on a high, as the man who got Palace promoted, than a bit-part player who was relegated with them (for there is no denying next year will be a major struggle).
A coaching role seemingly beckons when he does hang-up those boots; personally, I could think of no one better to teach the youngsters – and Danny Graham – a thing or two about finishing.
He'll be remembered by Palace fans as 'the £120m man'. To everyone else he'll always be 'Super'. He did, perhaps, say it best himself:
I've scored at the old Wembley now and I've scored at the new Wembley and if this is to be my last game, what a great way to sign off.