Terry Venables in the 1960s; Alan Hudson and Ray Wilkins in the 1970s; Micky Hazard in the 1980s; Roberto di Matteo in the 1990s; and to a lesser extent, Frank Lampard in the 2000s.
In the past fifty years, Chelsea have had an illustrious alumni of creative central midfielders and they could be about to add a new name to that list with André Villas-Boas targeting 25 year old midfield maestro Luka Modrić as Chelsea's leading playmaker for this decade. However, it is worth nothing that Chelsea already have one of the hottest creative prospects in European football on their books: 18 year old Josh McEachran.
McEachran's development comes at a time when Chelsea's current midfield badly lacks a creative cog. Despite Lampard's brilliant passing range and vision, he is noted more for his positioning in the final third of the pitch, his direct assists and his goalscoring rather than his dictation of Chelsea's tempo and play. That is why, since Chelsea's shift in playing style after Jose Mourinho's departure in September 2007, the Blues are searching for a playmaker to be the pivot of play in the middle of the park, that is, to provide the final pass and phase before the assist of a goal.
Under Mourinho, the emphasis was placed on direct football and achieving and maintaining narrow advantages with short and sensible passing; counter-attacking; a disciplined defensive midfielder in Claude Makélelé; full-backs not marauding to the byline; wingers tracking back; and hold-up play from Didier Drogba. There was little room for personal expression or free-roles, as was seen in Mourinho criticising Joe Cole for not tracking back despite the Englishman scoring in the 1-0 win against Liverpool in 2004. With Abramovich developing a preference to win 4-3 rather than 1-0 in recent years, and with the 4-3-3 now becoming universal in world football, unlike when Mourinho's Chelsea often had an extra midfielder against the then common 4-4-2 in England from 2004-2006, the importance of a creative midfielder cannot be underestimated.
Chelsea have been here before in trying to find a regista. Luiz Felipe Scolari signed the then 31 year old Deco, who had moved deeper in midfield with age, in the summer of 2008 but the Portuguese playmaker was past his consistent and brilliant best, which he had showcased from 2003-2007, when he arrived at Stamford Bridge. One year later, Carlo Ancelotti came very close to bringing in the then 30 year old Andrea Pirlo to give Chelsea, as Ancelotti put it, "the quality in the middle of the pitch to change their personality." However, with Villas-Boas wanting to sign Modrić, the policy has changed. Modrić and McEachran are examples of, as Jonathan Wilson puts it, a new breed of playmakers: fantasistas.
Rather than being the deep-lying regista or the attacking trequirista, they are a tactical blend – operating naturally as prompters at the halfway line with an element of tactical discipline, yet are also known for their free-roaming across the final third of the pitch. These fantasista tendencies are evident in some of Modrić's statistics, in comparison to other central midfielders in the Premier League, from last season: 87% pass accuracy (highest in the league), 2.1 key passes per game (fourth highest in the league), 2.5 interceptions per game (second highest in the league) and 2.2 successful dribbles per game (the highest in the league). Direct assists and goals are not a part of a fantasista's game with Modrić assisting four goals last season and netting just three goals himself. McEachran has a near identical scoring and assist record with the reserves and has admitted that he needs "to get into the box to score more goals."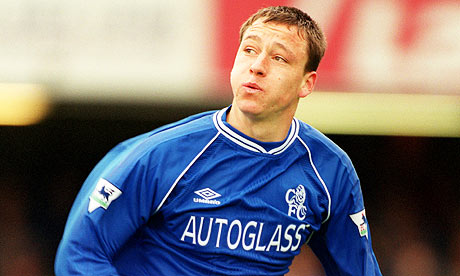 While McEachran was deployed as a deep-lying regista under Ancelotti, his natural position is central midfielder and this is the position he has thrived in for the past ten years. The dainty Englishman was spotted by Chelsea when he was playing for Oxford Mails Boys League side Garden City F.C in 2001. Interestingly, McEachran's arrival came years before Abramovich's multi-million pound investment in youth recruitment (including the £5 million acquisition of both Tom Taiwo and Michael Woods from Leeds in 2008 – who have both been since released), the Academy and Chelsea's state-of-the-art Cobham facilities where all of Chelsea's teams train. This is partly why McEachran, whose Oxfordshire birthplace is just over an hour away from Stamford Bridge, is so popular with the Chelsea faithful. Despite the arrival of superstars like Arjen Robben, Didier Drogba, Ashley Cole, Michael Ballack, Andriy Shevchenko and Fernando Torres over the years, the fans have longed for a relatively local player who has come through the club's youth ranks and who they can call their own – just like when John Terry broke into Gianluca Vialli's multinational first-team in 2000.
Even though McEachran has always had a diminutive frame, his natural ability has been so great that he has played in the above age group throughout his time at Chelsea. Former Chelsea defender Jason Cundy, coach of the under-11 and under-12 Chelsea teams, was one of McEachran's first coaches and admired the fact that even then, the youngster had "the mental ability and toughness to not get overawed in situations and instead took it all in his stride." Amazingly, McEachran is one of the few playmakers in world football who is naturally left-footed and this stood out in his rise through the higher age groups. In 2008, Wilkins, the then assistant manager to Scolari, first witnessed the then 15 year old McEachran in an under-17s friendly against Racing Club and remarked, after the youngster had shimmied the ball inside the full-back, that "he's Liam Brady!" Wilkins also paid tribute to McEachran's brilliant set-piece delivery, his natural passing trajectory and his ball control, which was so impressive that he needed little time on the ball because "he had seen the picture before any other player had."
With Wilkins' recommendation, it was not long before McEachran was involved in first-team duties. After his impressive performance against Racing, the 15 year old trained with the first-team for a few sessions in the pre-season of 2008. Coupled with his involvement with the first-team, the naturally reserved McEachran also began media training at the club – perhaps an indication and warning of how well publicised his career will become in the coming years. However, with McEachran still balancing his school studies at Marlborough School in Woodstock, and not yet being old enough to sign a professional contract, his first-team debut did not come until 2010.
The in between period with both the youth team and the reserves was crucial to the youngster's development. The 2009/2010 season was McEachran's first season as a contracted professional footballer and he was instrumental in Chelsea's first FA Youth Cup victory for 49 years, when they defeated Aston Villa 3-2 on aggregate. The Englishman formed a devastating, telepathic and well-balanced partnership with the industrious Conor Clifford, which was evident in McEachran brilliantly teeing up the Irishman for the winning goal against Villa in the 84th minute. Following on from the Youth Cup success, McEachran joined up with the England Under-17 squad for the European Championships in Liechenstein and as a trequirista, played a huge role in England's eventual tournament victory, particularly in the semi-final against France and the final against Spain, where he provided an assist in each game.
McEachran was now deemed ready for first-team action. His competitive debut came in a fifteen minute cameo away to Slovakian side MSK Zilina in the Champions League Group F match on 15 September. Despite Chelsea already being 4-1 up when the youngster came on for Yossi Benayoun, McEachran put in a committed and impressive display. The Englishman, initially deployed as a deep-lying regista in the match, was unfazed by being the youngest ever participant in the UEFA Champions League and instead became the focal point of every Chelsea attack and counter-attack – regularly rotating to the left and right of John Obi Mikel and Yuri Zhirkov. A week later, he made his professional home debut in the 55th minute, for the injured Salomon Kalou, as Chelsea looked to come back from 3-1 down against Newcastle in the Carling Cup 3rd round tie at Stamford Bridge. While Newcastle did rotate their squad, regulars like Tim Krul, Fabricio Coloccini, Mike Williamson, Cheik Tioté, Jonas Gutiérrez and Shola Ameobi all featured. This made McEachran's performance all the more impressive.
Slotting in as the midfield pivot alongside Ramires and Zhirkov, McEachran gave Chelsea much needed composure and balance in the middle of the park as he began to dictate the tempo of the game. Operating everywhere from just outside his own penalty area, right up to Newcastle's eighteen yard box, the youngster's enthusiasm and courageous dribbling reenergised a slack Chelsea performance and gave the often mute Chelsea supporters the encouragement to get behind their team. All of McEachran's brilliant passing abilities were evident: one-touch passes, lofted through balls, through balls with the outside of his foot and the effortless switch of possession to the other side of the pitch. Although Chelsea did go on to lose the game 4-3, McEachran's performance was widely praised with captain Terry, who was rested and in the stands that night, praising the youngster's contribution:
He is a quiet lad but really wants to learn and once he gets on the field, he has amazing ability and can open defences with a pass. You could see against Newcastle that he changed the game. He wanted the ball and for a young player to do that was great to see.
Three days later, with Chelsea 1-0 down to a Carlos Tévez goal, a ten minute cameo came at Eastlands – McEachran's Premier League debut. Further late apperances followed in games against Aston Villa, Spartak Moscow (x2), Wolves and Sunderland before his first ever Chelsea start, against MSK Zilina on 23 November at Stamford Bridge. McEachran finished the match with a whooping 105 passes completed and an 86% pass completion rate – the highest number of passes and highest pass completion rate on matchday five. While it might be easy to question the standard of opposition Chelsea faced, the Blues were going through a poor run of form going into the match and were 1-0 down for 42 minutes. McEachran started Chelsea's next Champions League match, against Marseille at the daunting Stade Vélodrome, but was unfazed by the quality of opposition and the intimidating surroundings. He gave yet another assured performance – despite being rarely allowed to venture forward by Ancelotti. His next start came in the 7-0 mauling of Ipswich on 9 January before further late cameos against Bolton, Blackburn and Blackpool.
By 15 May, Chelsea were officially out of the title race after losing to Manchester United the week before. Perhaps realising, naively, that two strong performances and results in the final two games against Newcastle and Everton would somehow aid his already doomed cause, Ancelotti fielded a strong team in both matches. With second place wrapped up, Ancelotti's decision to not give youngsters playing time was criticised but his belief in McEachran was shown in starting the youngster in a full-strength, apart from Michael Essien, first XI against Newcastle.
Despite describing McEachran's ability and personality as "amazing", Ancelotti failed to start the youngster in his natural central midfield position – instead banishing him to the holding midfield role. Even though McEachran does possess a decent tackle, the 'quarter back' position meant that the youngster had little license to get forward and after being regularly closed down by Joey Barton, McEachran found little room to manoeuvre and hit his trademark through balls. It resulted in the youngster being forced to play simple passes and he had a quiet game, which led to Michael Essien coming on for the Englishman in the 64th minute. A late substitute appearance against Everton followed as McEachran's debut season finished with 17 appearances overall (3 starts).
Jack Wilshere is fourteen months older than McEachran and had to prove himself on loan at Bolton in the 2009/2010 season before Arsène Wenger implemented the youngster into the first-team. McEachran is likely to face the same fate with Villas-Boas, particularly if Modrić arrives, but one would hope, with Frank Lampard entering his final season as an 'untouchable', that if the youngster impresses on loan, Roman Abramovich will go against history and not turn to his chequebook and instead, McEachran will become Chelsea's first meaningful Academy graduate since John Terry in 2000.