"A man of genius makes no mistakes. His errors are volitional and are the portals of discovery."  – James Joyce, Scylla and Charybdis, 'Ulysses'.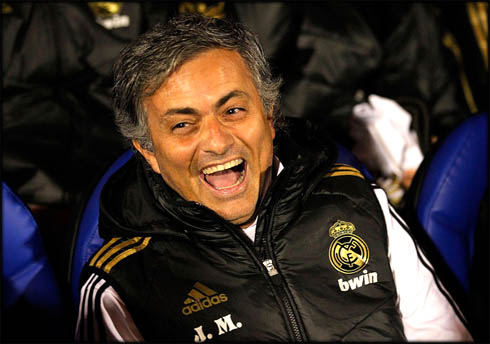 There is no doubting José Mourinho's pedigree as one of the greatest and most influential managers of all-time, but at times in the early part of the 2011/2012 campaign – as the forty-nine year old Portuguese aimed to guide Real Madrid to their first title in four seasons – Madrid (the players, fans and press) seemed to tire and turn on The Special One. Yes, Mourinho certainly has his unpopular qualities, namely his controversial outbursts, childish provocation and self-centeredness, but there is no disputing the impact he has made on Madrid: their once laissez-faire culture, defensive solidity and training methods.
Also, without even addressing the fact that Mourinho could yet lead Madrid to the dream double of the La Liga and Champions League titles this season or that Arsène Wenger, Guus Hiddink, Vicente del Bosque or Joachim Löw could be eventual adept replacements, it is worth bearing in mind the shadow Mourinho leaves behind him when he departs a club. At Porto, Luigi Delneri (allbeit ludicrously sacked before his first competitive game), Víctor Fernández, José Couceiro and Co Adriaanse (was the only manager of the above mentioned to win the Portuguese League, but could not replicate this achievement in 2006/2007) all failed to match Mourinho's lofty standards and signified the instability and difficulty of life after Mourinho. At Chelsea, only Hiddink made a notable and unique impact pre-Ancelotti, with his discipline, three-dimensional (obviously limited with a lack of flair and time, but, equally, did not over rely on the full backs and a narrow diamond like Luiz Felipe Scolari) and revival of the playing careers of the likes of Branislav Ivanovic, Florent Malouda and Didier Drogba.
Before Hiddink, it is certainly worth acknowledging Avram Grant, who is still the only manager to lead Chelsea to a Champions League final, but the Israeli used an incredibly similar set-up and model to Mourinho with his utilisation of the veteran Claude Makélelé, Michael Essien occassionally at right back and Joe Cole as an orthodox winger. Ancelotti, too, used a similar system, after the failure of his signature 4-4-2 diamond, but Chelsea were a much more fluid and free-scoring outfit than any of his predecessors. Still, André Villas-Boas failed to strike the delicate balance between veering away from Ancelotti's occasional conservativeness,with regard to the old guard, but then failing to hone the defensive foundations that Chelsea became symbiotic with under Mourinho.
At Internazionale, Rafael Benítez struggled with a lack of investment and Mourinho's taunts of "winning with my team", and his crusade to purge Italian football of the notion that all eighteen teams use a catenaccio playing style failed. Under Leonardo, with Inter having secured the most favourable quarter-final Champions League draw, hopes were high that Inter would at least make the semi-finals – with Schalke struggling domestically and sacking their manager, Felix Magath, only days before the first-leg at the San Siro. However, whether a dream first minute start from a magnificent halfway line volley from Dejan Stanković brought about a spirited fightback from Schalke or a now 'traditional' foot off the gas tendency from Inter, the 5-2 home defeat, with all of Schalke's goals remarkably coming before Christian Chivu's 62' sending off, saw I Nerazzurri's hopes of becoming the first retainers of the Champions League trophy dashed. Inter never fully recovered from the defeat, which incidentally came after a brutal 3-0 league loss to Milan, and a 3-1 Coppa Italia final victory over Palermo was Leonardo's only consolation.
Then there was Gian Piero Gasperini, whose 3-4-1-2/3-4-3/3-5-2 formation utilised wing backs and relied on well-drilled and well-conditioned centre backs. From this, it was not immediately suited to the still mature Inter: the system requires pacey and pressing centre backs who are comfortable with the ball, which Lúcio (who has dramatically, albeit naturally, slowed down), Andrea Ranocchia and Walter Samuel can be but they all lack the pace to play the offside trap effectively and as a cohesive unit – which led to Inter lacking defensive aggression and let teams come at them again and again. Claudio Ranieri has come in but has acted as a mere placebo, with Inter in 7th place yet Maicon and Diego Milito somewhat revitalised, but he is a temporary stopgap for Villas-Boas given their recent form.
 Low-key Beginnings
José Mourinho was born on 26 January, 1963 to Félix and Maria in Setubal, which is 40km south of Lisbon. With Maria's affluent background (her uncle was a major player in the construction industry) and Félix a professional goalkeeper, who would go on to win his only cap for Portugal against the Republic of Ireland in the Independence Cup in Brazil in 1972, José never went without. However, the family made sure to raise him, like so many of Portuguese children of his and his parents' generation – due in part to Fátima in 1917 – as devoted Catholics and to this day, religion has played a major part in Mourinho's life (first thing he did after the 3-2 aggregate semi-final win over Barcelona, on 28 April, 2010, was to head to the in-house Camp Nou chapel to weep and give thanks). The fall of António de Oliveira Salazar's regime in April, 1974 saw the family lose their holiday homes scattered across the south coast of Portugal but despite this, somewhat ironically, given how Maria's family thrived under Salazar's corporation-dominated Portugal, Mourinho would soon be the perfect embodiment of the post-Salazar generation: multi-bilingual, well-travelled, innovative, outspoken and individualistic.
Naturally, it was Félix, despite often being on away trips with Vitória Setúbal and Belenenses, who had the biggest influence on José – who already had an early interest in football, as a supporter of Liverpool and a idoliser of Kevin Keegan and Kenny Dalglish. Having begun to accompany Félix on away trips as the goalkeeper's career neared its end, Félix utilised the 19 year old José – who compiled scouting dossiers, managed the Under-16s and passed on messages to players- when he was manager of Rio Ave for the 1981/1982 season. Despite also signing as a player for Félix, when his father was manager of Rio Ave and then Belenenses in 1982/1983, Mourinho's professional career as a dogged dedender never really progressed past squad-player status: making 94 appearances in seven seasons for four different teams (Rio Ave, Belenenses, Sesimbra and Comércio e Indústria).
So, while Maria enrolled José into a business school, he instead opted to study sport science at Instituto Superior de Educacao Fisica in Lisbon after re-taking his final exams after failing honours maths. After graduating from the five-year course, Mourinho would spend three years as a 'freelance' PE teacher in various primary and secondary schools across Setúbal. While it was clear that Mourinho had not left a lasting legacy as a full-time professional footballer, having retired at the age of 24 after two seasons at the lowly Comércio e Indústria, he developed a complex in which he would make his father proud by doing the next best thing: becoming a ground-breaking football manager. The early basis of this innovativeness would be Mourinho's attention to detail (takes notes only in the first-half), planning of situations (the practicing of 10 v 11 situations in training, incase a player is sent-off) and the hybrid of his use of modern psychological techniques with 'age-old' coaching theory.
It was not the most glamorous beginning to his career, though: Mourinho starting the first part of his UEFA coaching course in Largs, Scotland in 1988 as a shy and  introvert individual who was not, initially, widely remembered by the likes of Gordon Strachan and Andy Roxburgh – who were among the 150 students on the course – or lecturers, Paul Sturrock and Ray Mathie. Still, though, Mourinho was determined and became a youth coach at Vitória in 1989. Manuel Fernandes, the legendary Portuguese striker who made his name with Sporting, took his first job with Vitória at the age of 37 and when he left, he took the 27 year old Mourinho, who impressed him with his enthusiasm, with him as his assistant manager at Estrela Amadora. The nomadic Fernandes then left for Ovarense after just a season at Amadora and, again, took Mourinho with him. Mourinho, though, had tired of the limitations of Second Division Portuguese football and having to rely on the inconsistent Fernandes (Amadora were relegated), and sought a more stable introduction to the world of football. In Bobby Robson, he had that man.
El Traductor
Robson had sought a translator – with Sporting's president, Souas Cintra, appointing Fernandes as his official assistant manager when Robson took over at Sporting Lisbon in 1992 – and Mourinho was a perfect fit, having learnt Spanish, Portuguese and English at school. While the role of translator may have seemed a step back in theory, Mourinho was beside Robson to such a degree – on the training field, in press conferences and in meetings – that he was soon consulted with about tactics and coaching methods. From this, Robson soon learnt of the merits of Mourinho's soon to be trademark fearless nature with illustrious (Luís Figo and Jorge Cadete among them) footballers:
When I'd indicate and say to José 'tell him this, tell him that', I always had the feeling José was saying it in the way and manner I would have.
However, with the reckless Cintra as club president, Robson was sacked, despite Sporting being top of the Portuguese league, in December, 1993 after Sporting were knocked out of the UEFA Cup by Casino Salzburg. Robson, though, was snapped up by Porto in the summer of 1994 but rather than taking Fernandes with him as his assistant, Robson, tellingly, brought Mourinho. There was still confusion about his role among those inside the club, though, with rumours of Mourinho being the most expensive interpreter in the world on £35,000 per year. However, the scouting dossiers Mourinho compiled were incredibly invaluable and Robson, who had worked with the eyes and ears of the likes of Dave Sexton and Howard Wilkinson previously, rated them as the best he had ever seen. This was partly why the then 16 year old upstart, André Villas-Boas, was signed as a scout by Robson as he saw the same enthusiasm, attention to detail and daring (Villas-Boas questioned Robson's tactics) that Mourinho had displayed. Porto won the 1994/1995 and 1995/1996 league titles, as well as the 1994 Taça de Portugal, before Robson was approached by Barcelona.
Again, Mourinho followed Robson and such was his understanding of the delicate culture of Barcelona and the importance of their cantera, Mourinho even learnt Catalan in preparation. While the duo had a very professional relationship, spending hours upon hours honing the hybrid of Robson's trademark attacking instincts with Mourinho's blossoming defensive nous, there was a clear affinity too. After all, both the Mourinhos (José married his childhood sweetheart, Matilde, in 1988 and their first child, Matilde Jr., would be born in Barcelona in 1996) and the Robsons lived in the same apartment complex in Sitges. Even though Barcelona hero, José Ramón Alexanko, was Robson's official assistant, Mourinho was on a whooping £300,000 salary as Robson's El Traductor. With a greater platform and budget, which was clearly evident in Robson's world-record signing of Ronaldo, Mourinho, too, benefited: constructing then revolutionary and carefully edited video dossiers on opponents for each member of the squad. Again, according to Robson, the Portuguese went down well with the players:
Ronaldo, among others, took to José quite quickly. So, if a player was left out, he blamed me, not José. I had to keep a distance from the players, as a manager does. José could cross over that line and come back again.
Despite winning the Cup Winners' Cup, the Spanish Super Cup and the Copa del Rey in 1996/1997, Robson was moved upstairs to the post of General Manager – with Louis van Gaal replacing him as head coach. Following Robson's recommendation, van Gaal retained Mourinho and even made him his official assistant alongside Gerard van der Lem. Perhaps, the former semi-professional footballer and gymnastics teacher, van Gaal, was as relatable and inspirational to Mourinho as Robson had been. After all, van Gaal let Mourinho take charge of Barcelona B and shared insights on his mathematical interpretation of Total Football, and Mourinho certainly learnt more and more about footballers' psychology in witnessing Rivaldo's vehement refusal to play on the left-wing for van Gaal. By the age of 37 and after van Gaal's dismissal, Mourinho felt ready to go it alone and even after Robson's offer, when Mourinho was at Benfica, of a potential long-term handover at Newcastle once the Englishman had served two years, Mourinho would stick to his word. First, though, he had to finish the second part, some twelve years later, of his UEFA coaching course in Largs but this time, his reputation and confidence preceded him: fellow students, Tosh McKinlay and Garry Bollan, remarked how outspoken and confident Mourinho was – a remarkable change from 1988.
 Going it Alone
Mourinho's opportunity came in September, 2000 when Benfica offered him the job for six months (would be extended to two years if the presidential favourite, Joao Vale de Azezvado, won the December elections) to replace Jupp Heynckes – whom Mourinho had originally assisted. It came at a cost, though, with Benfica's notorious president, Azevado, wanting to appoint the older Jesualdo Ferreira (Mourinho's eventual adequate replacement at Porto  from 2006) as Mourinho's assistant. Mourinho refused, causing the first fracture in his relationship with Azezvado, and appointed Carlos Mozer. Aggrieved, Azevado afforded Mourinho a shoestring budget and wanted him to build a team around young Portuguese players. Despite the limitations, Mourinho did well, defeating Sporting Lisbon 3-0 in the Derby de Lisboa on 3 December, but Manuel Villarinho ended up winning the election and when Mourinho requested a contract extension, Villarinho refused and earmarked Toni as a replacement. After just nine games in charge, Mourinho resigned on 5 December, 2000. The Portuguese's next move would be crucial and in April, 2001, he joined mid-table União de Leiria.
With barely months of the season remaining, Mourinho steered Leiria to their highest ever league finish, 5th, and met four crucial figures in his future success: coaches, Baltemar Brito and Rui Faria, and players, Nuno Valente and Derlei. While it may be tempting to suggest  2000/2001's 5th  place finish was a fluke, by January, 2002, Mourinho had put Leiria in contention for the title. From this, he received offers from both Benfica and Porto, and given his happier memories of the latter with Bobby Robson, in comparison to the toxic and underappreciated environment he entered at Benfica, he chose Porto. Porto, though, had badly fallen since Robson left and in Mourinho's own words, "it was one of the worst Porto teams for decades." From this, Mourinho promised to make Porto champions at the end of his first full season but he did, nonetheless, lead them to an admirable 3rd place finish in 2001/2002 after an impressive eleven wins, two draws and two defeats in fifteen league matches. The summer of 2002 saw incredibly shrewd, carefully planned and inspired transfer activity from The Special One: Vítor Baía, Ricardo Carvalho, Paulo Ferreira, Jorge Costa (recalled from loan at Charlton), Nuno Valente, Pedro Emmanuel, Costinha, Deco, Dmitri Alenichev, Maniche, Derlei,  Edgaras Jankauskas and Hélder Postiga were all signed.
Behind the scenes, Brito, Faria, Silvino Louro and Villas-Boas also arrived. Mourinho's methodology, carefully harnessed with Faria, also took hold: extensive ball-control sessions, aerobic exercises and individual training regimes that maximised player fitness and combativeness in order to play Mourinho's high-tempo game throughout the pitch. What followed was a remarkable treble: the league with 86 points (just two defeats), a record in the three-point era in Portugal, and a sweet eleven points ahead of second-placed Benfica; the Portuguese Cup against Leiria; and an epic (marred slightly by Mourinho's post-match war of words with Martin O'Neill, with Mourinho complaining about Celtic's aggressive style while O'Neill condemned Porto's diving) 3-2 UEFA Cup final victory over Celtic in Seville. While not yet at his most controversial state, despite his disagreement with O'Neill, Mourinho certainly enjoyed Porto's bitter rivalry with Benfica – stoking it upon his return to the Estádio da Luz on 4 March, 2003:
I made the point of walking on alone, before the team. I had never been a first-class player who could feel, for example, what Figo had felt upon returning to Barcelona. Upon hearing the whistles and jeers, I felt like the most important person in the world.
Mourinho was offered a much higher salary and bigger budget to join PSG but he was soon to advocate the nomadic Béla Guttmann's three-year rule, whereby coaches should never leave before their three years are up, as it is near-impossible to complete all objectives in this time, but should never stay on after this period as players and staff get complacent. The controversy that will inevitably serve as Mourinho's epitaph, though, grew as Mourinho became more and more sure of himself and the first real example of this was when the Portuguese refused to shake hands with Boavista manager, Jamie Pacheco, on 27 January, 2003 after a fierce war of words amid Mourinho's claim that:
I don't shake hands with people I don't know.
Mourinho also incurred a one-match ban when he cynically blocked Lucas Castroman taking a quick throw in the 2003 UEFA Cup semi-final, despite Porto leading 4-1 going into this moment in injury-time, after feeling that the defender had earlier made an illegal challenge. On another occasion, on 31 January, 2004, Mourinho caused controversy when he ripped Sporting Lisbon's Rui Jorge's shirt after he had swapped with Baía. Still, though, there was no doubting the 40 year old's status as one of the brightest up and coming managers in world football and with the signings of Carlos Alberto and Benni McCarthy, the remarkably self-assured Mourinho felt Porto, with a bit of luck, could be well-equipped for an assault on the Champions League. That moment of luck, or azar (fate) in some quarters, came at Old Trafford on 9 March, 2004. With Porto having qualified from a Group F featuring Real Madrid, Marseille and Partizan Belgrade with just one defeat, Group E winners, Manchester United, knew they could have had a somewhat easier draw (Celta Vigo, Sparta Prague and Lokomotiv Moscow were among the seven options). However, with Quinton Fortune having scored a crucial away goal in a 2-1 first-leg defeat at the Estádio do Dragão (a match, incidentally, Sir Alex Ferguson refused to shake Mourinho's hand in), hopes were high for United – particularly with Paul Scholes putting a dominant United ahead on 32' in the second-leg at Old Trafford.
Still, though, Porto had a twenty yard free-kick in the 94' and with McCarthy striking the ball centrally, but at a relentless pace, Tim Howard could only punch. It was an unorthodox reaction, as if fate-like, particularly when he knocked it straight into the path of Costinha. What followed was Mourinho announcing himself onto the world stage: leaping from Old Trafford's famous red-brick dugout and sprinting, arms aloft, towards his ecstatic players. From a distance, even with the cashmere coat, Mourinho's naturally coloured crew cut and mid-air punch seemed to affirm his twelfth-man status and as he hugged his players, it was clear he had achieved a delicate balance between player popularity and a never-say-die mentality (Porto never gave up, even with good fortune in Scholes having a goal disallowed). Porto then defeated Lyon 4-2 on aggregate in the quarter-final, before a semi-final against Deportivo. Porto won 1-0 on aggregate, with Deco inspirational and Costinha brilliantly shackling Juan Carlos Valeron, and given the fact that Deportivo dominated both matches, their manager, Juan Iturbe, felt that "fate was against us." Hyperbole, clearly, but Mourinho's Porto had a pre-determined and well-drilled quality in stifling teams, working the whistle and counter-attacking with real menace.
Having already won the league with an eight-point advantage over Benfica, with an unbeaten home record, Porto were slight favourites for the Champions League final against a talented Monaco outfit featuring the likes of Jérôme Rothen, Ludovic Giuly, Dado Pršo and Fernando Morientes. After all, Monaco had proved vulnerable at the back: conceding a whooping sixteen goals on their run to the final and Porto easily exploited this. Even though Giuly was particularly impressive in the opening stages at the Kim Milton Nielsen Stadium in Copenhagen, Porto stayed calm and soon found their rhythm. Certainly, they were helped by Giuly's injury on 22' but Monaco and their key tempo dictator, Rothen, got complacent: carelessly conceding possession in the middle of the park on multiple occasions and when Ferreira sent in an awkward low cross from the byline, Alberto hit a hooked finish on 39' past Flavio Roma. Monaco were shell-shocked and when Mourinho made a soon to be trademark use of his bench, which appeared somewhat unnecessary as he took Alberto off for Alenichev, it proved inspirational. With Monaco going prematurely gung-ho, Alenichev set-up Deco on 71' and on 75', Derlei then crossed for Alenichev to strike a brilliant volley.
For the first time in seveteen years, Porto had won the European Cup but while the squad was euphoric, Mourinho was remarkably composed. He gave each member of his staff and playing squad a nonchalant, but telling, handshake and took his medal off once the trophy had been lifted. It was clear that Mourinho's mind was elsewhere and while the media had built-up the final as a winner-takes-all duel between Didier Deschamps and Mourinho for the Chelsea job, soon to be vacated when Claudio Ranieri was inevitably sacked, Mourinho had already met Chelsea's Chief Executive, Peter Kenyon, when Chelsea played Monaco in the semi-final at Stamford Bridge on 5 May. Having previously flirted with Sven-Göran Eriksson during the same season, it was clear that Kenyon really did not rate Ranieri – particularly after the Tinkerman's debacle in Monaco on 20 April, 2004. Chelsea had been 1-1 'up' and in firm control against ten-man Monaco by half-time, but Ranieri then made unnecessary, unbalanced and impulsive changes in bringing on Juan Sebastián Verón, Jimmy Floyd Hasselbaink and Robert Huth on 46', 62' and 69.' Mourinho, who was, even then, already one the game's top masters at the art of substitution and holding leads, and embodied the brashness and modern values that Kenyon and Roman Abramovich so badly seeked after the dothery Ranieri, seemed the perfect fit.
Initially, though, the agreement was not so concrete and Mourinho, a childhood supporter of Liverpool, wanted to take over from Gerard Houllier, declaring:
Liverpool are a team that interests everyone and Chelsea does not interest me so much because it is a new project with lots of money invested in it. I think it is a project which, if the club fail to win everything, then [Roman] Abramovich could retire and take the money out of the club. It's an uncertain project. It is interesting for a coach to have the money to hire quality players but you never know if a project like this will bring success.
Still, though, Mourinho eventually saw the Chelsea job as a once in a lifetime opportunity, given the rarity of oligarchy investment in English football at the time, and accepted a three-year contract on a whooping £4.2 million per year.
London Calling
Mourinho had impressed the Chelsea hierarchy with a Powerpoint presentation that convinced them that he would have the command, drive and image to represent what Kenyon hoped would soon become the "biggest club in the world." In the presentation, Mourinho talked about the need to upgrade Chelsea's dilapidated Harlington facilities and it was no coincidence that planning permission for the building of a state-of-the-art facilitiy at Cobham was granted just months after his arrival. Also, Mourinho had concrete plans to dramatically cull Chelsea's squad, pointing to his brilliant and dramatic transfer dealings with Porto in the summer of 2002, and build the team around five key figures: Carlo Cudicini, John Terry (who he plumped for, over Lampard, as captain), Frank Lampard, Deco and Hernán Crespo. Mourinho also wanted to break-up the cliques in the Chelsea squad, partly in fear that the influx of Portuguese that he brought in could be alienated, and demanded that only English was spoken. Before jumping into the transfer market, though, Mourinho evaluated the squad with an interview with each player and did not hold back, particularly in one case:
I wanted to show them that I can be a sweetheart but at the same, can be very nasty: 'Hey, last two seasons, 11 matches – why? You play nothing, you don't work, you don't sleep, you are always injured. You say the manager was shit, racist and did not like you?'
He set up a strict code of conduct, too, whereby a booklet was posted to each member of the squad upon his arrival and featured the recurring mantra of:
Each practice, each game and each minute of your social life must centre on the aim of being champions.
Mourinho knew that some would struggle to adjust to this, but he aimed to give all members of Ranieri's squad a chance before wholly dipping into the transfer market. In the meantime, he brought in his backroom staff. Faria (his importance allegedly apparent in him supposedly wearing an earpiece against Bayern Munich in the Champions League quarter-final first-leg on 6 April, 2005) was brought in as a methodologist, rather than simple fitness coach, who compiled individual training programs and individual diets that were near-unprecedented (even by Wenger's standards) in England. Chelsea legend, Steve Clarke, was recruited as Mourinho's first assistant, who would act as a tactical consultant. Brito was signed as his second assistant, who would be the players' confident. Louro was brought in as the sole goalkeeping coach, who would only train the goalkeepers and would act as their morale booster (would soon come in handy for Cudicini). And, finally, Villas-Boas was recruited as Mourinho's "eyes and ears", who compiled dossiers and was clearly one of Mourinho's most ardent disciples (would infamously go on to spit chewing gum at Henk ten Cate when Chelsea played Barcelona in the bitter Champions League second-round first-leg at the Camp Nou on 23 February, 2005). The emphasis in training was on ball retention and ball-playing, rather than the aimless running routines that had dominated English football (Ranieri's unpopular double sessions centered on this), and attacking/defending set-pieces. Before Mourinho introduced his staff, however, he had his first press conference on 2 June and infamously declared:
If I wanted to have an easy job, working with the big protection of what I have already done before, I would have stayed at Porto – beautiful blue chair, the Uefa Champions League trophy, God and after God, me… Please don't call me arrogant, but I'm European champion and I think I'm a special one.
With his incredible grasp of English, knife-edge wit and seemingly endless self-confidence, it was inevitable that Mourinho, who it must be remembered had only managed in Portugal up to this time, was going to leave a lasting mark on English football – not only for his unique practise of showering with his players. However, the press conference was, essentially, Mourinho's natural reaction to an unnatural environment. He knew he was under pressure to succeed and it was clear that he had picked up on the English media's mixed (given the manner of the popular Ranieri's dismissal, Mourinho's lack of experience outside Portugal and a 'poor' 2004 Champions League tournament) reaction to his appointment. From this, he needed to address his insecurities in a new environment by reminding the media just who this 41 year old upstart was. Following the press conference, Mourinho got to work on transfer targets and with Petr Čech and Arjen Robben having already being sanctioned by Ranieri before Mourinho arrived, Ferreira, Carvalho, Tiago, Didier Drogba and Mateja Kežman were also signed.
Drogba's signing, at a whooping £24 million from Marseille, came as something of a surprise given the fact he had played just one season at Marseille but Crespo had let Mourinho down. Crespo turned up late for pre-season, following an extended holiday in Argentina, and was adamant that he would follow Verón in leaving Chelsea in a loan move. From this, Chelsea paid 2/3s of Crespo's wages in his loan move to Milan, such was Crespo's adamance, and having missed out on Deco (plumped for Barcelona) and feeling that Cudicini may not actually be his number one (had not wholly impressed in pre-season and previous mistakes, such as the one against Arsenal on 18 October, 2003, seemed to indicate his career was on the slide), Mourinho re-adapted his original plans. Adrian Mutu, too, would disappoint Mourinho and following a positive drugs test for cocaine and a controversial claim that Mourinho had prevented him from playing for Romania, Mutu was eventually sacked on 24 October.
Tactically, with Robben and Damien Duff injured during pre-season, Mourinho set up a diamond 4-4-2 with Makélelé, Alexey Smertin, Tiago and Lampard. From this, it was not until the integration of a 4-3-3 that Chelsea really took off, having failed to break down Tottenham's "parking of the bus" on 19 September, and several signature Mourinho moments stood out in Chelsea's 2004/2005 domestic campaign and set the tone for his reign. Firstly, after Joe Cole netted the only goal in the 1-0 victory over Liverpool on 16 October, Mourinho lamented:
 I think he has two faces – one beautiful and one that I don't like. He must keep one of them and change the other one.
From this, Mourinho wanted to mould Cole into an all round player – who would use his endless energy for tracking back and would adapt his game to play on either flank. Cole remained confined to cameo appearances until Robben's metatarsal injury in February 2005. Displaying newfound energy, determination and hunger, Cole's improved attitude was evident in a brilliant goal against Norwich on 5 March, 2005 when he surged past two heavy challenges to score. It was again witnessed against Bayern Munich in the Champions League quarter-final on 12 April, 2005, when Chelsea were drawing 1-1 and leading 5-3 on aggregate. In the 80′, it seemed Cole, wisely, would run down the clock by keeping a loose pass in the corner but instead, he showed remarkable energy to sprint to the edge of the box and pick out Drogba for what proved to be a crucial goal in a 6-5 aggregate victory (after Bayern later netted two goals in stoppage time). Cole, now a reformed winger, finished the season with an impressive nine goals and a new-found attitude.
The next pivotal moment came against Arsenal at Stamford Bridge on 12 December, 2004. Chelsea had gone into the break 1-2 down and Mourinho was livid for the reason that Chelsea had played so well without scoring. This led to Mourinho's first major outburst in the dressing-room: volleying what he thought was an empty plastic cup, which actually had Lucozade in it, and a tub of Vaseline which hit Clarke in the chest and went all over Cudicini's pre-match suit. Tellingly, Chelsea fought back to draw the match 2-2. On 2 February, Chelsea played Blackburn and following a bruising encounter, which incidentally saw Čech save a penalty to not concede a goal for a then record 1,025 minutes, in freezing conditions – with Robben particularly targeted by Blackburn's players and Mourinho refusing to shake Mark Hughes' hand – Mourinho ordered that every Chelsea player take off their shirt and salute their travelling support. Another moment that stood out in Mourinho's debut season was his Robson-esque triple substitution at half-time against Newcastle in the 5th round of the FA Cup on 20 February, with Mourinho bravely bringing on Duff, Lampard and Gudjohnsen after resting most of his first XI in preparation for the second-leg of the second round Champions League match against Barcelona on 8 March.
The second round tie against Barcelona epitomised the paradox of Mourinho: the tactical brilliance and the ingenious mind-games, but the cynical foul play and fabricated intimidation of the referee, Anders Frisk. Duff had picked up a serious knock when he came on against Newcastle, so was a massive doubt for the Barça match. Therefore, Mourinho took the liberty of naming both teams in the pre-match press conference:
Do you want to know the team? I can say my team and Barça team, and the referee. Referee: Frisk. Barcelona: Valdés, Belletti, Puyol, Márquez, Giovanni (van Bronckhorst); Albertini, Deco, Xavi; Eto'o, Giuly, Ronaldinho. Chelsea: Petr Čech, Paulo (Ferreira), Ricardo (Carvalho), John Terry, Gallas at left back; Tiago, Makélelé, Frank Lampard; Joe Cole, 'telling pause and biting of tongue gesture', Drogba and Gudjohnsen. It's a good finish. *Leaves the room*.
In eventually picking Duff instead of Gudjohnsen (who would make a brilliant conversion to the attacking-midfielder position, playing a key role in a tight trident with Lampard and Makélelé in the second-leg), Chelsea's formation shifted from 4-4-2 to 4-3-3. Duff's influence was clear: Juliano Belletti turning in his cross, after the Irishman narrowly beat the offside trap, on 32' to put Chelsea 1-0 up. Then, though, came Mourinho's first nadir. Mourinho claimed Clarke and Chelsea's security officer, Les Miles, saw Frank Rijkaard enter Frisk's dressing-room at half-time over the decision to allow Chelsea's goal, which the Dutchman believed Duff was offside for. Mourinho then manipulated this, particularly when Drogba was harshly sent-off on 55' after an innocuous challenge with Victor Valdés. Regardless, Barcelona went on to win the match 2-1, through Maxi López on 66' and Samuel Eto'o on 72'.
What followed for Frisk, though, was nothing short of vilification and he received numerous death threats in the aftermath of the match. Mourinho was accused of being the "enemy of football" by UEFA referees' committee chairman, Volker Roth, and Frisk was so shaken that he retired from refereeing indefinitely. Pierluigi Collina took charge of the second-leg, which was one of the most vitriol-anticipated matches in Champions League history – all thanks to Mourinho. From this, it was perhaps no surprise that Chelsea's winning goal, their fourth of the night scored by Terry, was marred by Carvalho illegally jostling with Valdes and what followed echoed the fracas that gripped the first-leg: Mourinho and his backroom staff clashing with Rijkaard, Eto'o and Ronaldinho in the tunnel. However, it is important to distinguish Mourinho the football manager and Mourinho the man – even with his illegal January tapping-up of Ashley Cole and his condemnation of Arsène Wenger as a "voyeur." This noble side of Mourinho was evident in March, 2005, when he voluntarily flew to the Peres Centre in Israel to encourage the setting up of a mixed Israeli and Palestine youth team.
Even though Chelsea seemed to get their share of bad luck, too, with Luis García's 'ghost goal' in the semi-final (nonetheless, Čech would have been red-carded for the tackle on Milan Baros), their first league title for fifty years and their first League Cup (3-2 final win over Liverpool marked the beginning of Chelsea's siege mentality, with Mourinho's shusssh gesture aimed at the media as much as Liverpool's fans) for seven years were welcomed consolations. The pivotal title moment came on 30 April, 2005, with Mourinho uncharacteristically decked out in a tracksuit – perhaps signalling his confidence in a champagne-soaked result. However, surprisingly filled with stage fright, Chelsea went into the break 0-0 with Bolton at the Reebok. Mourinho gave yet another profound team-talk, declaring that Chelsea had performed so badly that it would be as well for him, Brito and Clarke to go out there and play. Following two goals from Lampard on 60' and 76', Chelsea claimed a deserved title – with a Premier League record of 95 points (just one defeat, away to Manchester City on 16 October). Rather than resting on his laurels, though, Mourinho was again looking ahead and using a whiteboard in the closing team meeting of the 2004/2005 season, he asked his squad to give him twenty reasons why they were champions.
The summer of 2005 saw Mourinho being handed a £400,000 wage rise and he brought in Asier del Horno, Lassana Diarra, Michael Essien and Shaun-Wright Phillips for a combined £56.4 million, while the likes of Scott Parker, Tiago and Kezman departed. Crespo, surprisingly, given his influential role and importance in Milan's progression to the 2004 Champions League final, also returned and would finally repay the faith Mourinho held in him with a decent 13 goals in 41 games (most came as a substitute for Drogba, with Mourinho generally sticking with the 4-3-3). While being incredibly harsh, Chelsea did not seem the same unplayable force in 2005/2006, which was partly due to Premier League teams finally shifting from the archaic 4-4-2 – where they lost a man against Chelsea due to their 'revolutionary' 4-3-3 – and matching them. So, while Chelsea would finish eight points clear of second-placed Manchester United with 91 points, their five league defeats (Blackburn, Fulham, Manchester United, Middlesbrough and Newcastle) proved that they were far from unbeatable.
Perhaps reflecting a more difficult 2005/2006, Mourinho displayed some eccentricities. After all, the Portuguese personally intervened in delaying the replacement of the Stamford Bridge turf against Barcelona and criticised Lionel Messi for "play-acting" after a cynical push from Del Horno that warranted a second yellow card on 22 February, 2006. He also, bizarrely, played Ferreira in central midfield in the FA Cup semi-final defeat to Liverpool on 22 April, 2006 and threw his Premier League medal and blazer into the crowd after the 3-0 win over Manchester United on 29 April, 2006. It was after this match that Mourinho, nihilistically, questioned why he had not been awarded a Manager of the Month award once in 2005/2006 – even though he would go on to win the Manager of the Year award. Still, though, The Special One's magic was plain to see in the pivotal London Derby against West Ham at Stamford Bridge on 9 April, 2006. Mourinho, in trademark style, cocooned the squad and eased the relentless pressure in his pre-match press conference by quipping:
Football is nothing compared with life. For me, bird flu is the drama of the last few days. I'll have to buy a mask.
Manchester United were seven points behind Chelsea, having played an extra game, before the match and had gone nine games unbeaten. From this, some sections of the media backed a trademark late-season surge by Ferguson, even if Chelsea had won six of their previous nine Premier League games. So, when James Collins had given the future ninth-placed and FA Cup finalists West Ham the lead on 10', apprehension gripped the Stamford Bridge crowd – particularly with Mourinho surprisingly using the 4-4-2 diamond, with Robben and Cole on the bench. The situation was made all the bleaker when Maniche, a January loan signing from Dynamo Moscow, was sent-off for a lunge on Lionel Scaloni on 17'. Many teams would have caved, but not Mourinho's. Chelsea never lost their belief, even before Mourinho could get access to them with his team-talk at half-time, and this was down in no small part to the fact they had been unbeaten in the league at Stamford Bridge since February, 2004. From this, Drogba and Crespo netted on 28' and 31' respectively, before Terry and William Gallas wrapped-up a season-defining three points on 54' and 69'.
Then, came the turning point in José Mourinho's relationship with Roman Abramovich: Andriy Shevchenko.
Keep an eye out for Part 2 of Ciaran Kelly's look at José Mourinho, which will be with you tomorrow!