Although Pelé and Diego Maradona are widely regarded as the greatest footballers of all-time, perhaps, no other footballer has made the wide-ranging, influential, generational inspiring and artistic-like impact that Johan Cruyff has.
Cruyff, with his incredible vision and mathematical use of the pitch's dimensions, was the 'Pythagoras in boots', as the Times' former chief sports writer David Miller so brilliantly put it. After all, no other player epitomised the legendary Rinus Michels' totaalvoetbal than Cruyff, with his on the field influence of the tactic and his constant, self-driven and unmarkable rotation from centre forward to roaming winger to second striker helping to pioneer his own undefinable position that was reflected in his then unorthodox number fourteen shirt number.
However, it was not just on the pitch that Cruyff had an effect. As part of the baby-boom (1946-1960) era in the Netherlands, Cruyff struck a chord with the post-war generation as a tall, shaggy-haired, well-spoken, Marlboro smoking, cultured, philosophical (with hisanakoloeten like "every advantage has a disadvantage") and bilingual icon. From this, Cruyff was able to combine these off the pitch traits with his ground-breaking and revolutionary footballing persona: being Michels' on the field tactician, lieutenant and borderline co-manager, and being a trailblazer in world football for claiming insurance/wages for Dutch internationals and setting-up a then unique and lucrative personal sponsorship deal with Puma.
Two births in the Netherlands in 1947 epitomised the fluxed Netherlands. The first was Princess Maria Christina on 18 February. The Princess, a highly gifted musician and bilingual, went on to marry a Catholic and Havana-born Cuban exile, Jorge Pérez y Guillermo. She did this despite criticism from the bourgeois and aristocracy that had surrounded her from her birth. Although the couple would go on to divorce thirty years later in 1996, having bore three children in the decade before then, Christina gave up her right to the throne in order to marry Jorge in 1975 and this defiance won her much support from the now matured post-war baby boom public.
The next birth, of course, was that of the adopted Prince: Hendrik Johannes Cruyff on 25 April, 1947. Johan was the second son of Hermanus and Petronella (Nel) Cruyff from a humble, working-class background in east Amsterdam. Cruyff, encouraged by his influential football-loving father and his incredibly close proximity in Akkerstraat to the De Meer Stadium, played football with his schoolmates and older brother, Henny, whenever he could and idolised the prolific Dutch dribbler, Faas Wilkes. Wilkes turned out for the likes of Xerxes Rotterdam, Internazionale and Valencia in a twenty-four year long career from 1940 and scored a brilliant 35 goals in 38 games for the Netherlands – remaining as the Netherlands' third record goalscorer to this day.
Cruyff, as a boy who helped out in the family-run greengrocer, could only dream of a career like Wilkes' but his prodigious talent was clearly evident even by the age of ten, when he was signed by Ajax. While Ajax have become renowned in the past forty years for their world-famous youth system, before Cruyff et al, proven names such as  Wim Volkers, Eddy Hamel and Rinus Michels had come through the club's Academy under the watchful eye of Jack Reynolds.
The Englishman, Reynolds, who managed Ajax with distinction between 1915-1925, 1928-40 and 1945-7, played a huge role in the setting-up of the club's revolutionary Academy (often spending 14 hours at Ajax's base to ensure that all of Ajax's young teams played like the first-team), fitness regimes and innovated what would become its trademark totaalvoetbalphilosophy with ball-training focused sessions. While Cruyff never played under Reynolds, the Englishman's influenced lived on with Cruyff's youth coach, Jany van der Veen, and future managers, Vic Buckingham and Rinus Michels. In 1959, though, Cruyff suffered heartbreaking news with the death of his father from a heart attack, but saw his potential football career as a way of paying tribute and incredibly, Cruyff's father's passing inspired rather than deterred the strong-willed Cruyff.
Nel began working at Ajax as a cleaner, deciding that she could no longer carry on at the grocer without her husband, and in the future, this would make Cruyff near-obsessed with financial security but would also give him a massive appreciation for player aids. From this, to this day, Cruyff will always ask the name of the tealady that is serving him if he meets her. Nel would soon meet her second husband, Henk Angel, who was a field hand at Ajax and Angel would prove a key influence in Cruyff's life too.
Cruyff did not thrive at school, leaving Frankendaal Uno at the age of thirteen to become a part-time clerk for Perry van der Kaar on the Ceintuurbaan in 1960. Van der Kaar was connected with Ajax and from this, Cruyff was easily able to combine training in the morning with work in the afternoon and this rigorous schedule bore his soon to be trademark self-discipline. Cruyff continued to impress in the youth team and as part of his growing reputation, was appointed as ballboy at the Olympish Stadion when Benfica beat Real Madrid 5-3 in the European Cup final.
So transfixed was Cruyff by Alfredo Di Stéfano, rather than the hat-trick scoring Ferenc Puskás or the inspirational Eusébio, he underwent an epiphany of sorts in witnessing Di Stéfano's constant rotation, untrakcable movement, unrivalled stamina and brilliant vision. Buoyed, a year later, on his sixteenth birthday, Cruyff signed his first professional contract (a rarity in the Eredivisie at the time) on a basic wage of 15,000 guilders per year – on 25 April, 1963.
Having spurted into a gangly 1.80m teenager, and put in some hugely impressive and mazy performances at a youth team level, Cruyff made his debut at the age of nineteen under first-team manager, Vic Buckingham. Buckingham was yet another Englishman who advocated attractive football and Cruyff fitted in perfectly: scoring Ajax's only goal on his debut in the 3-1 defeat to GVAV on 15 November, 1964.
Even though nineteen may have seemed a late age for a highly-rated Academy prospect to make his debut in an era before poaching and tapping-up of unprotected contracts, Cruyff was playing in an Ajax team that only turned professional in 1955 and had been patient with the promotion of their previous crop of youngsters. Apart from the supremely talented Piet Keizer (handed his debut at seventeen in 1960), the likes of Sjaak Swart (debut at eighteen in 1956/57), Bennie Muller (played in his first game at twenty in 1958/1959), Co Prins (debut at twenty-one in 1959/1960) and Ton Pronk (made his debut at nineteen in 1960/1961) were at least eighteen before making their first-team debuts.
Cruyff went on to play a further nine games under Buckingham that season, scoring thire goals, but after a 13th place finish, Ajax's worst finish by a distance in their nine-year professional era and to this day, Buckingham was replaced by the then up and coming coach, Rinus Michels. Michels was a prolific goalscorer and an admirable one club man at Ajax, scoring 122 goals in 264 matches over twelve seasons but even though he was known as a joker as a player, such as when he once dressed up as a women in a fur coat in the hotel the night before an away match, Michels' management style could not have been any more professional.
Michels innovated an offensive pressing style, that exploited the offside rule; assembled a group who were capable of playing in any position and could constantly rotate; and after switching from the W-M formation to 4-2-4 and then to 4-3-3, which went in tandem with his own take on Reynolds' and Buckingham's beautiful passing philosophy and Total Football foundations, Michels also made sure everything in the club reflected this tactical progression, revolution and its 1955 status as a professional club.
After all, pre-Michels, Ajax players did not have evenings off and Cruyff used to work as a deliverer for Sport World magazine once he broke into the first-team. However, backed by new chairman, Jaap van Praag, Michels was afforded the time and resources (the likes of Henk Groot, Co Prins and Gert Bals all arrived) to allow his philosophy to thrive. Initially, Cruyff did not break into the first XI immediately, partly owed to Michels' strictness in training and his distrust of Cruyff's chain smoking, but after Klaas Nuninga was injured for the game against DWS on 24 October, 1965, Cruyff never lost his place again.
Michels aimed to toughen Cruyff up, due to his gangly state, and the tough-tackling Eredivisie certainly did this – even if Michels' weight programme had little effect on the high metabolism of Cruyff. Still, such was Michels' impact, Ajax won the 1965/1966 Eredivisie – with Cruyff netting a brilliant 25 goals in 23 games. Incredibly, just twelve months earlier, Ajax had the worst defence in the league, conceding 52 goals, but now they had the best defence and attack: scoring 79 goals and conceding just 25.
On 7 September, 1966 Cruyff made his official debut for the Netherlands in the Euro '68 qualifieragainst Hungary and scored in a 2-2 draw. Even though Cruyff was sent off in his next match against Czechoslovakia on 6 November, 1966, therefore receiving a year-long (would soon be reduced to eight months by the KNVB due to a media campaign) ban for becoming the first ever Dutchman to receive a red card after allegedly slapping the referee, Ján Popluhar, his upcoming impact on Dutch football and the Dutch national team would be welcomed and unprecedented for the right reasons.
Awarded the number nine shirt by Ajax, confirming his status as a key player, Cruyff finished as the Eredivisie's top scorer with 33 goals (41 goals in all competitions) as Ajax won a domestic double in 1966/1967. Ajax scored an incredible 122 goals in 34 games in the Eredivisie that season, a record that still stands in Dutch football to this day. Named Dutch Footballer of the Year in both 1967 and 1968, as Cruyff inspired Ajax to yet another double in 1967/1968 with his 33 goals, Cruyff, and indeed Michels, knew that success on the European stage would be needed to define this Ajax crop, that featured the likes of Barry Hulshoff, Velibor Vasović, Wim Suurbier, Henk Groot, Sjaak Swart, Bennie Muller and Piet Keizer, as one of the finest teams of all-time.
In Cruyff's first season in the European Cup in 1967, Ajax had infamously hammered Bill Shankly's Liverpool 7-3 on aggregate in the second round but disappointingly went out to Dukla Prague in the quarter-finals. The gung-ho approach that Michels' project initially took off as, without a mean and disciplined enough defence against world-class opposition to match a potent attack, aside from the ingenious offside trap, only got Ajax so far and 1968 did not fair much better, albeit losing to much better opposition: defeated 3-2 on aggregate in the first round by Real Madrid. As Michels' methods began to really take hold, modernised and progressed to an even higher level, Ajax's fluidity and European experience increased. 1969 saw de Godenzonen make real progress on the continental stage: advancing to the European Cup final against Milan, having edged Benfica on away goals in an epic 4-4 aggregate quarter-final along the way.
Ajax became the first Dutch side to ever reach a European Cup final but against the well-marshalled, counter-attacking, catenaccio-disciplined yet undeniably stylish Milan, who brilliantly balanced a host of international players like Karl-Heinz Schnellinger, Roberto Rosato, Giovanni Trapattoni, Gianni Rivera, Giovanni Lodetti, Kurt Hamrin, Angelo Sormani and Pierino Prati, Ajax's totaalvoetbal came undone in a 4-1 defeat. While on paper the result was abysmal, Ajax had made real progress and the defeat proved a crucial experience for Michels in his realisation that he had to develop a plan to combat tighter, counter-attacking and well-built catenaccio sides. Having poured so much into their European campaign, Ajax also lost out on the Eredivisie title to rejuvenated bitter rivals Feyenoord by four points but it was a rare blot on Michels' and Cruyff's otherwise unrivalled Dutch domestic record.
Michels sought to elevate the 1969 squad up to another level for the 1970 season: bringing in the likes of 1968/1969 Eredivisie top scorer Dick van Dijk from Twente, cultured central midfielder Gerrie Mühren from Volendam, the industrious Nico Rijnders from Go Ahead Eagles and promoting the versatile Ruud Krol (20), the tireless Arie Haan (21), the marauding Wim Suurbier (24) and the much needed safe pair of hands of goalkeeper Heinz Stuy (24) into the first XI. Such was the ability of these arrivals that renowned names such as Klaas Nuninga, Inge Danielsson and Theo van Duijvenbode departed, while Henk Groot retired, and the once integral Tom Pronk and Bennie Muller featured less frequently. With only the league winners qualifying for the European Cup at the time, Ajax's domestic form was imperative and they won the Eredivisie title and the KNVB cup, winning 27 out of 34 league games with Cruyff netting 33 goals in 46 matches overall.
Although Ajax were knocked out of the Inter-City Fairs Cup by Arsenal in the semi-final, the pain of seeing Feyenoord, led by the legendary Ernst Happel, win the 1970 European Cup final against Celtic proved a much more defining moment – dramatically increasing Ajax's hunger to match and better their rivals' great continental achievement. However, it seemed, at the time, that European and domestic success could not go hand in hand as Celtic, in 1969, were the only team to ever achieve a treble. It appeared all the more difficult for Ajax when Cruyff suffered a rare injury, but one that would reoccur throughout his career, after he damaged his groin in pre-season. It ruled Cruyff out of the first three months of the season, having also missed most of pre-season, but bizarrely, it led to one of the most revered images of Cruyff: his number 14 shirt.
After Mühren took the number 9 shirt at the start of the 1970/1971 season, which in itself was unprecedented considering that he was a midfielder, Cruyff was effectively forced to go a step further with the number 14 shirt being the closest number available. Usually, first XI players had been numbered 1-11 up to this point but in what would become Cruyff's unique footballing 'aloofness', he set his own trend for both club and country. Cruyff made an admirable recovery from such a loss of match sharpness and within a month of returning on 30 October, he scored six goals in an 8-1 win over Alkmaar in the league.
Cruyff, now 24, was also taking up an active (derided by teammates for barking orders) and deeper tactical role off on and off the pitch, and was one of Michels' most trusted and respected lieutenants: becoming, for example, the head of the cinema committee who would show a war film if the squad was too relaxed or a comedy if the squad was too tense. With Cruyff's growing maturity, ability and influence, Ajax looked a complete force, having been further boosted by the signings of the integral cog Johan Neeskens from RCH and the sweeper Horst Blackenburg from 1860 Munich. Although the league campaign did fizzle out, Feyenoord winning the title by four points, Ajax won the KNVB cup and made the Champions League final against Panathinaikos, an all-Greek side assembled by the legendary Ferenc Puskás, at Wembley.
Ajax had greatly impressed on their way to the final, scoring 15 goals and conceding just 3 against their four robin-round opponents of KF Tirana, Basel, Celtic and Atlético Madrid. Panathinaikos had surprised European football with their narrow away goal victories over Everton and Red Star Belgrade in the quarter-finals and semi-finals respectively, and the fear and expectation among Ajax's camp was that, even though this was a one-off tie, Puskás would try to carve out a similar narrow advantage and hold out – having only ever matched the result he needed, such as sitting on an away goal against Everton or not building on a 3-0 lead against Red Star (having recovered brilliantly from a 3-1 away loss in the first-leg).
Ajax, though, were clearly aiming to make amends for their 1969 defeat and with a brilliant hybrid of hunger, experience and flair, dazzled in their striking red and white shirts in an era of the emerging colour television. By no means a classic match or totaalvoetbal–esque goals, a header from Van Dijk and a deflected shot from Haan set-up by Cruyff, Ajax carved out a 2-0 victory to win their first ever European Cup and set the wheels in motion to match Real Madrid's and Benfica's respective 1950s and 1960s dynasties. Michels, though, had done his job, having won 4 Eredivisie titles, 3 KNVB Cups and a European Cup, and left to take charge of Barcelona, who had been in the shadow of their eternal rivals Real Madrid for decades.
While Cruyff was rumoured to be leaving Ajax following Michels' exit, with tangible and more lucrative interest from both Barcelona and Feyenoord, he instead decided to sign an unprecedented seven-year contract extension with Ajax on 12 July, 1971. Though Cruyff, in hindsight, has often been ludicrously accused of being a mercenary and a money-driven individual rather than a purely football loving player, he was ready to end his career there and then at Ajax and could have earned a much higher wage at both Barça and Feyenoord. It was a good off the field season for Cruyff as he won his fourth straight Dutch Player of the Year award and was one of the Ballon d'Or's most outstanding nominees and winners of all-time, winning by 59 votes, to claim his first European Player of the Year award in 1971.
The 1971/1972 season proved to be one of Cruyff's most influential at Ajax. With Michels replaced by the placid and cheap Romanian Ștefan Kovács, player power dramatically increased, not least with Cruyff whose influence grew so great in the managerial office that had he had growing say on team selections, and Michels' tough disciplinarian methods gradually faded out. However, curiously, Kovács removing the leash from his players and giving them the most unrivalled freedom in world football led to Ajax's most successful season in their history: winning their first ever treble. Scoring 33 goals in 45 games, Cruyff was integral to Ajax's unprecedented success – not least in their Champions League final win over Internazionale.
Having starred in Ajax's 3-2 KNVB final win over De Haag – scoring the goal of his career in the same match after expertly controlling and knocking forward a forty yard lofted pass five yards past the defender before a curling 25 yard shot – there was no doubt that the 24 year old Cruyff was already at the peak of his powers. Internazionale, however, were a stark reminder to the Ajax team, most of whom, apart from the notably departed Vasović and Rijninders, were around in 1969 and still at the club, of the 4-1 defeat to Milan only three years earlier. Playing an even more efficient catennacio style, with the blueprint being laid from 1960-1968 by Helenio Hererra, the innovator of the controversial yet wholly effective tactic, Inter were sure to provide a testing challenge under Giovanni Invernizzi.
However, Ajax, using an XI that were all involved in the matchday squad for the 1971 win, dominated at Feyenoord's De Kuip Stadium and were undaunted by the Italian side who were participating in their forth European Cup final in eight seasons. Cruyff, in particular, starred as Inter desperately defended from wave after wave of well-woven attacks. The Dutchman scored two well-taken goals on 47' and 78' to give totaalvoetbal its first major victory overcatenaccio, to finish as the tournament's top scorer with 9 goals and to help end an era where horrible and overly-defensive imitations of the catenaccio tactic were spreading through Europe. Ajax followed up their most successful season and trophy haul with further Intercontinental Cup (4-1 aggregate win over Independiente) and European Super Cup (6-3 aggregate win over Rangers) wins.
With Kovács following Michels' policy of changing captain every season, the 25 year old Cruyff was given his chance in 1972. It seemed the logical role for Cruyff, given his incessant ordering on the field, and completed the most unique footballing image in the world at the time – an image that had adorned millions of football fans' walls: tossed neck-long hair, unique number 14 shirt, unprecedented personalised Puma boots and now a captain's armband and a position of authority for a 25 year old who was remarkably experienced and respected, yet had always been considered a maverick at heart.
Cruyff saw his season hampered by his ongoing groin problems, limiting him to 32 games that season, but he still managed to score an impressive 19 goals (1:1.68) as Ajax won the Eredivisie (Cruyff's sixth in nine seasons) and their third straight European Cup win: finishing unbeaten in the competition, beating the likes of Bayern Munich (5-2 on aggregate) and Real Madrid (3-1 on aggregate) along the way before a deserved 1-0 final victory over the well-drilled and international-dominated Juventus side (the newcomer Johnny Rep scoring on 4'). It was Kovács' last match, having seen his influence over the squad naturally wane and having had his recent low-scoring results questioned by the board, as he left to take over France but no one was to know what was around the corner with George Knobel and Cruyff.
Knobel did not want to appear as relaxed as Kovács and knew he had to make his mark on the dressing room, having had a relatively undistinguished managerial career up to that point – to go with his unsuccessful playing career. However, it still came as a massive shock to Cruyff, who had only just lifted the Eredivisie and European Cup titles as captain for the first time, when Knobel decided he would continue Michels' and Kovács' policy of rotating the captain, despite the fact that a name who had not captained before was unlikely to earn the right, and holding an election for the honour.
Cruyff had seen his popularity with his teammates drop dramatically, following his constant badgering, undeniable popularity with Dutch and world football (winning yet another Dutch Footballer of the Year award and Ballon d'Or in 1973), being the club's highest-paid player, often questioning his teammates rather than himself and remarkable and unjustifiable influence over Kovács, so he was under immense pressure if an election was to be held.
Johnny Rep and Piet Keizer, a winger who was at times equally as gifted as a Cruyff but rarely got the same adulation, were particularly vocal in their criticism of Cruyff and the election came down to three names: Barry Hulshoff, Cruyff and Kaiser. The voting ballot was estimated at 0 votes for Hulshoff, between 3 and 7 for Cruyff and as many as 12 for Kaiser – a resounding victory, regardless of the exact make-up. It was this brutal humbling for Cruyff, rather than a more lucrative contract, that sent him into the arms of Catalonia and Barcelona in the autumn of 1973 – becoming the world's most expensive player at 6 million Dutch guilder or £922,200 or $2 million.
By 1973, then coached by Cruyff's mentor and idol Rinus Michels, Barcelona had been in the shadow of their bitter rivals Real Madrid and had won just eight La Liga titles since their inception in 1899 – in comparison to Madrid's haul of fifteen since their foundation in 1902. As well as Madrid excelling on the domestic stage, they had also dominated on the European stage, unlike Barça who were then yet to win a European Cup, winning six European Cups since the competition was set-up in the 1955/1956 season.
Cruyff was seen as El Salvador (the Saviour) and immediately won fevered Catalan support when he told the Barcelona fans that he rejected Real Madrid in favour of the Catalan giants – on terms of principle, with regard to General Franco's association with Real Madrid, as Madrid had offered more money. Such was the 26 year old Cruyff's impact that before he arrived, Barcelona were fourth from bottom in the league (winning two, drawing three and losing three in eight games) but from his debut on 28 October, 1973, when he scored a brace against Granada, they remained unbeaten in the league for five months.
This run included a memorable 5-0 victory at the Bernabéu and Cruyff scored one of the goals of his career during the unbeaten spell, 'The Phantom Goal' or 'le but d'impossible', against Atlético Madrid: Cruyff met a looping cross at the far post with a twisted, one-legged and neck-high 'karate kick' volley past Miguel Reina. The win over Real Madrid was a symbolic show of Catalonia's undying strength, class and footballing beauty by Barcelona as they tore Madrid apart and went on to win their first title for fourteen years. Cruyff's, and indeed Michels', attention then turned towards the 1974 World Cup in West Germany – the Netherlands' first ever competitive football tournament.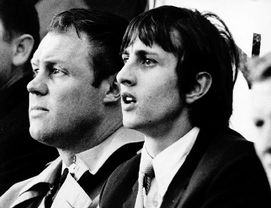 Incredibly, before Michels took charge of the Netherlands, Oranje had failed to qualify for a European Championship or a World Cup in their eight and twelve years of respective entry into qualification. Even though qualifying for major tournaments was tougher back then, with only the top team from every group progressing and only sixteen nations participating at the World Cup, the fact that the Netherlands had not qualified for a major tournament in the previous four World Cups and three European Championships that they had attempted to participate in was a huge shock and source of national embarrassment – given the array of talent available to the side.
However, with Michels at the helm and with Ajax (1965-73) proving themselves as one of the greatest sides of all-time, confidence was high for the debutants – particularly since they had a now three-time winner of the Ballon d'Or among their ranks. Cruyff, then 27, was in perfect shape and form for captaining his country in their first ever tournament and having netted 22 goals in just seven years with the national team, was undoubtedly Oranje's talisman. Having learned from and admired Michels, who played his part in the progression of Ajax from 'amateurs' to professionals, Cruyff did the same with the Netherlands: claiming insurance/wages for the players when he saw that KNVB officials were insured and paid unlike the footballers.
Cruyff was one of the few players to have complete public trust and respect from Michels with regard to tactical and selection matters, having proven himself as lieutenant in the nine seasons he had played under Michels at both Ajax and Barcelona. From this, Cruyff suggested the revived use of a sweeper 'keeper, which had been revolutionised with Hungary's use of Gyula Grosics from 1947-62, to aid Michels' new totaalvoetbal hope of playing out of the backline with the newly-positioned Arie Haan rather than potentially booting the ball to the opposition. However, this resulted in the omission of 26 year old Jan van Beveren, to this day one of the Netherlands' all-time great goalkeepers, in favour of the 34 year old Jan Jongbloed – who incidentally was a close friend of Cruyff's. Cruyff's selection of personnel would prove a dangerous and fatal precedent of influence in his future international career.
In typical Cruyff fashion, even before a ball was kicked in the opening game against Uruguay, he, bizarrely, grabbed a lot of attention for his choice of jersey, wearing a unique twin-striped Netherlands shirt instead of the Adidas trademark three stripes – due to his personal sponsorship and boot deal with Puma. The tournament began well for the Netherlands, winning two out of three of their group games against Uruguay and Bulgaria, scoring 6 and conceding just 1, and drawing the other group fixture 0-0 with Sweden. Intriguingly, the 0-0 produced the moment of the tournament, the moment of Cruyff's career and one of the greatest moments in World Cup history: the Cruyff Turn.
Stationed to the left of the penalty area, Cruyff was tightly marked by Swedish full back Jan Olsson. Momentarily looking like he might lose the ball, having let it rest a couple of inches ahead of his right foot as he turned his back to Olsson, Cruyff positioned himself to cross the ball with his right foot before swivelling and dragging the ball behind at a 90 degree angle past a dazed Olsson. Such was the moment of genius that Olsson was honoured rather than embarrassed and commented that, even though he had won numerous domestic titles with Åtvidabergs, "it was the proudest memory of his career"
The second round, then a group stage that acted as a second round, quarter final and semi final hybrid in a group format, saw the Netherlands drawn with Brazil, East Germany and Argentina. Undaunted, Oranje swept aside their opponents: beating Argentina 4-0 (Cruyff grabbing 2 goals and withstanding a barrage of rugby-like challenges) and East Germany 2-0, before a 'start to believe' 2-0 victory over champions Brazil (Cruyff netting on 65'). The Netherlands were now clear favourites for the final against West Germany – despite the fact that the West Germans had won five of their six group games, were hosts, had reached the latter stages of six of the last seven World Cups they had entered (winning in 1954), had won the 1972 European Championships and could call upon the likes of Sepp Maier, Franz Beckenbauer, Berti Vogts, Paul Breitner, Rainer Bonhof, Uli" Hoeneß and Gerd Müller. Being underdogs suited West Germany perfectly but had it not been for the events of 6 July, 1974, one wonders would the outcome have been different.
With post-war occupational tensions already simmering, on the eve of the final, Bild, the German newspaper that has always had close association with the national team, ran a story that four of the Netherlands squad, including Cruyff, held a naked jacuzzi party with four women in the Wald Hotel prior to the win over Brazil. It forced Michels to call a hastily arranged press conference to vehemently deny the accusation and accuse West Germany of playing mind-games – proving that the topic had already gotten into Dutch consciousness and had disrupted preparations. Added to this was the alleged fact that Cruyff's wife Danny kept him on the phone the whole night over the rumoured jacuzzi incident, even though most players did not sleep with nerves or excitement regardless, and was said to be the episode that influenced Cruyff's future and crucial career decisions.
Nonetheless, Germany's inferiority complex was epitomised in Bernd Hölzenbein's comment that:
In the tunnel, we planned to look them in the eye, to show we were as big as they were… but I couldn't do it. They made us feel small.
Also, the way the Netherlands started the match, it was clear Michels thathad taken the story and used it as inspiration. Infamously, the Germans did not touch the ball until Maier picked the ball out of the net after Cruyff was fouled for a penalty, after a beautiful minute-long weaving passage of play. Neeskens dispatched the penalty but rather than finishing off the mentally-strong Germans while they were momentarily down, the Dutch toyed rather than probed and on 25', conceded a penalty of their own when Hölzenbein was fouled. Paul Breitner scored the penalty and incredibly, these were the first ever penalties awarded in a World Cup final.
Then, just two minutes before half-time, a devastating blow came from the prolific Müller, who scored his last and most crucial goal for his national team. Cruyff, aside from the first minute, had been left frustrated in the match – brilliantly man-marked by Vogts, who pushed him so deep that he was ineffective and could not spark into life. The Netherlands tried with onslaught after onslaught, having had huge amounts of possession but "lacked a Müller" in the words of Cruyff, and the Germans held out for a famous win. It would be Cruyff's last World Cup match but in the words of Frank Rijkaard, "the disappointment of '74 and the Godfather (Cruyff) inspired me to make a career out of football."
Even though he was still in his prime at 28, Cruyff could not replicate his earlier achievements from his Ajax days on the European stage with Barça: losing in the 1974/1975 semi-final to Leeds and after failing to win La Liga again, failing to qualify for the tournament in Cruyff's final three years at the club. Barcelona did manage to win their first Copa del Rey for seven years when they won it in 1978, beating Las Palmas 3-1 in the final, but Cruyff never replicated his brilliant first season for the Catalan giants and netted just 45 goals in 158 games (1:3.5) in his final four seasons at the club.
Regardless of whether Cruyff's dwindling form was down to Rinus Michels' departure in his second season in 1975 or burnout from playing an average of 33 club games per season over 14 years, his impact on Barcelona in that first season was groundbreaking and he repaid the fans' fevered support by naming his son, a future Barcelona player, with the traditional Catalan name Jordi (encouraged his wife, Danny, to have C-section so he could make El Clásico a week later) on 9 February, 1974. Cruyff, at 32 in 1979, like so many world stars, such as Pelé (New York Cosmos in 1975), George Best (Los Angeles Aztecs in 1976) and Franz Beckenbauer (New York Cosmos in 1977), decided to head to the U.S.
Despite coming close to joining Beckenbauer and Pelé at the Cosmos, Cruyff opted for the Los Angeles Aztecs. It had not been the dream 'sail off into the sunset' move Cruyff had planned, however, as he had hoped to captain the Netherlands to glory in 1978 in what would have been his last World Cup. However, he retired from international football in October, 1977 for a number of reasons. Cruyff claimed that in 1977, he and his family were kidnapped at gunpoint in their apartment in Barcelona – which he believed was a warning ahead of the tournament. Also, Cruyff, as part of the post-war baby boom era, resented the junta dictatorship in Argentina and that was suggested as another reason why he did not want to play. Finally, his sponsorship deal with Puma is yet another alleged reason why Cruyff did not take part when the KNVB, embarrassed by the '74 twin-stripe shirt 'fiasco' (not to mention Cruyff charging some journalists for his time in interviews), refused to again comply with Cruyff's sponsors.
However, the most obvious reason why he did not leave for Argentina was because Cruyff, who was working with Knobel at the Netherlands, his short-lived one-time manager at Ajax, was not permitted to choose Jack van Zanten (Cruyff's business associate and Michels' assistant in 1974) as Knobel's assistant manager. The power that Kovács had so readily handed to Cruyff had clearly manifested itself in this episode and he refused to play for the Netherlands again, and with Oranje making the final in '78, one wonders whether Cruyff would have pushed them over the line against Argentina. Cruyff, having finished his international career with a brilliant 33 goals in 48 games, played one season with the Aztecs, scoring 14 goals in 27 games, and won the 1979 NASL Player of the Season. He then joined the Washington Diplomats for a year, scoring 10 goals in 27 games, but seeking the competitiveness of Europe again, Cruyff (33) made a shock move to Levante in March, 1980.
Playing in the Segunda Division and rejecting an audacious attempt from Jock Wallace and First Division Leicester City, Cruyff hoped to inspire Levante to promotion and relive some of his cherished moments in Spain. However, it was a disappointing spell, owing much to injuries, a fall-out with the management and a rumoured publicity stunt, and resulted in just 2 goals in 10 games and Levante remaining in the Segunda. Cruyff returned to the Diplomats for a couple of months, before a homecoming to a faltering Ajax side as a technical adviser to manager Leo Beenhaker in November, 1980. Whether Cruyff's 'impact' and Midas touch was evident, or whether it was just a coincidence, Ajax were 8th when Cruyff arrived but ended the season in 2nd place.
Cruyff (34) had never officially retired and decided to sign a playing contract with Ajax in December, 1981. Met initially with overwhelming skeptisism, Cruyff shocked the Dutch public with his efficient and fit displays, scoring 7 goals in 15 league games in 1981/1982 to help Ajax win the Eredivisie and netting 9 goals in 30 games overall in 1982/1983 to help Ajax retain the Eredivisie and win the KNVB Cup. His goal against Helmond Sport on 5 December, 1982 showed that the 35 year old Cruyff had not lost his genius: laying off a one-two from a penalty for Jesper Olsen, before sliding the ball into the empty net.
Feeling that they no longer required the 36 year old's services, Ajax refused to offer Cruyff a new contract and in return, showing the unsavoury side to his brilliance, he signed for arch-rivals Feyenoord and incredibly, the evergreen Cruyff helped Feyenoord win their first Eredivisie title for ten years, as well as the KNVB Cup, and was voted as the Dutch Footballer of the Year. The 37 year old Cruyff confirmed his retirement, after scoring 368 goals in 662 games and winning 10 titles, 3 European Cups and 7 domestic cups in a nineteen-year long career, after the final league game of the season against PEC Zwolle on 13 May, 1984.
It seemed inevitable, given his interest in tactics, lieutenant-like attributes on the pitch and his idolisation of Rinus Michels, that Cruyff would enter into management and he duly did with Ajax in the 1986/1987 season. While similar to Michels, with regard to the totaalvoetbalphilosophy, certain techniques and effort put in to make sure the Academy played in the same style, Cruyff saw the players as people rather than numbers as Michels infamously did and from this, had a warm side to him that Michels rarely exhibited in his strong and disciplined approach.
After all, football had changed dramatically since Michels' era and man-management had become a key component: players needed to be loved and know that their abilities were valued. Cruyff had a brilliant 'rookie' success with Ajax, pioneering the 3-1-2-1-2-1 with his young, technical, mobile and gifted side, and won 2 KNVB Cups and a Cup Winners' Cup from 1985-1988 – bringing through the likes of Frank Rijkaard, Aron Winter, Danny Blind, Rob Witschage, John Bosman (who would leave a devastating impact on Ajax's legendary 1995 crop and would have a groundbreaking effect on player power in Europe), Dennis Bergkamp and Marco van Basten.
A return to Barcelona was also fate-like and occurred in 1988. Cruyff continued his philosophy, leaving a lasting impact on Barca's tiki-taka foundations and La Masia Academy, and brought through the likes of Josep Guardiola in tandem with the bigger budget on offer: signing the vital components of the 'Dream Team' such as Ronald Koeman, Michael Laudrup, Romário, Gheorghe Hagi and Hristo Stoichkov. Through scintillating football, including repeating his 1973/1974 5-0 win over Real Madrid at the Bernabéu, Cruyff won eleven trophies (Cruyff was Barcelona's most successful coach of all-time up to Pep Guardiola's recent 12 trophy managerial masterclass) in his eight-year spell upto 1996, including four La Liga titles and one European Cup.
However, a heart bypass operation in 1991, following a heart attack originating in his smoking of 20 cigarettes a day, reminded Cruyff of his father's death and the pressures of management. Thus, this seemed to play a part, without even addressing Cruyff's fall-out with club president, Josep Lluís Nunez, in him pulling out of negotiations to manage the Netherlands at the 1994 World Cup and not continuing at Barca beyond 1996.
Cruyff remained on at Barcelona as an adviser, mainly to former president Joan Laporta, but a planned dream-ticket partnership with Van Basten at Ajax never materialised – although Cruyff has since blasted the 2011 club board, who in turn resigned in March, and under Cruyff's watchful eye, a root-and-branch overhaul of the Ajax's set-up is underway. In 1997 the Dutchman set up the Johan Cruyff Foundation to help promote sport among youngsters, particularly those with physical disabilities.
To compare the greatest footballers of all-time is impossible as to this day, there have been few examples of a genius-like talisman to ever combine the individual skill, motivation, luck, sportsmanship and consistency to win all of the major prizes in both the club and international game – which is what the greatest are often judged on, regardless of their individual honours and international caps. Pelé was hindered from 'only' ever playing competitively at Santos, yet won 3 World Cups and scored an astonishing 626 goals in 669 games; Diego Maradona was the greatest entertainer of all-time with his incredible skill and dribbling and won a World Cup but to many, his antics, mainly off the field, were an embarrassment to football's once proud image and he never won a European Cup; and Johan Cruyff, a three-time European Cup winner and the most influential and tactical footballer of his time, did not win the World Cup and to some, opened up the floodgates to mercenaries, ludicrous sponsorship deals and player power.
Nonetheless, having played a major role in innovating and perfecting totaalvoetbal both as a player and a manager, with its legacy clearly living on post-Cruyff in Ajax's success in the 1990s and Barcelona's from 2005, Johan Cruyff can claim his own personal title: the Total Voetballer.