Well-articulated and a teetotaller. A supporter of charities ranging from dealing with addiction abuse – whether it be alcohol, drugs or gambling – to getting children off the street and into fishing and sport in general. A user of public transport and man who idolises the ardent free-spirit, pacifist and vegetarian Morrissey. A frequenter of the National Gallery and a deep-thinker who cites the engineer Isambard Kingdom Brunel, the Roman poet Virgil, the author George Orwell, the artist Bansky and the philosophers Seneca and Friedrich Nietzsche as some of his biggest influences.
Description wise, even the most clean-cut and well-rounded individuals in world football would struggle to match Joey Barton's reformed off the field character, yet doubts remain about whether the 29 year old really has freed himself from his demons – particularly when one considers his crime-riddled history, that is likely to be his epitaph, and his on the field unsavouriness.
Joey Barton was born on 2 September 1982 on the notorious St. John's estate in Huyton, on the outskirts of Liverpool. Huyton was 'renovated' in the late 1970s for those relocated by Liverpool's slum clearance, but it was not long before the closure of several local factories, in typical Thatcher fashion, led to serious depravity and high levels of crime. Living in an area with a reputation for drug abuse and stabbings (Barton's uncle Joe was murdered when Joey was still a child), living within the borough of Knowsley (one of the most deprived areas in Britain) and in hindsight of Barton's future crimes, it is perhaps remarkable that Barton was relatively well-behaved as a child – owing much to his grandmother's influence and the youngster's idolisation of the work ethic of his father, who was a roofer.
The borough of Knowsley has produced an array of professional footballers over the years, from Peter Reid to Steven Gerrard, and it is perhaps no surprise that these players' near-iconic determination and grit has been reflected in their footballing career and playing style. Such was the bleakness and legacy of Huyton in the '80s that in 2008, before the world economic downturn, one in four men under the age of 25 were unemployed. Barton's parents divorced at 14, which saw his younger brother Michael stay with their mother, but Barton found an inspirational figure in his grandmother when he and his Dad moved just a mile away. This influence and move away from the estate strengthened Barton's resolve and he remained devoted to school and sport: representing St. Thomas Becket's in a variety of sports, from football to Rugby League, and achieving ten GSCEs.
Barton, an ardent Everton supporter who had a season ticket in the Park End, had been on Everton's books, in the same 1982 age group as the likes of Phil Jagielka and John Otsemobor, since he was a kid but was released when he was 14 – solidifying a difficult 1996 for the youngster. Nonetheless, Barton remained unperturbed, even after imminent rejection from the then Premier League side Nottingham Forest, who deemed Barton too small. It only strengthened Barton's now trademark determination and he found some deserved luck when an old Everton scout, Barry Pointin, moved to Manchester City and set-up terms for Barton's first official youth contract. Barton made his first appearance for the club's under-17's team in 1999, three years after his Everton rejection, and played, admittedly with no major distinction or prodigy-like ability, a further three years at Academy level.
Barton started his first reserve match for City at the end of the 2000/2001 season, in his final year as a trainee, but doubts remained about Barton's ability, petulant temper and whether he was good enough to make the transition to professional football. However, he was handed a deal and City were proved right when Barton had a mini growth spurt (1.80m), improved his strength and fitness in the gym and emphatically proved himself at a reserve team level. After two years of reserve team football, Barton was promoted by Kevin Keegan into the first-team squad, whilst still playing for the reserves, as a 20 year old in the 2002/2003 season – City's first appearance in the top-flight for six seasons.
Bizarrely, Barton's debut was delayed when he lost his number 41 shirt as Keegan looked to bring him on in the 23 November 3-1 defeat away to Middlesbrough. It took another five months for Barton to be given his debut, in the 2-0 defeat to Bolton on 5 April, but the Englishman impressed in an otherwise lacklustre and passionless City performance. From this, Barton's first-team career took off, including being handed a new contract of £10,000 per week, and he scored in the 2-0 18 April win over Tottenham. Following a run of seven consecutive starts, Barton ended the season as first-choice central midfielder alongside Marc-Vivien Foé. Hopes were high for City with their dynamic central midfield duo – after they moved into the City of Manchester Stadium and qualified for the UEFA Cup. However, tragedy soon struck when Foé suffered a fatal heart attack on international duty in the Confederations Cup with Cameroon on 25 June, 2003. The on-loan Foé scored an impressive 9 goals in 35 games for City that season and Keegan had hoped to sign him permanently and pair him with Barton.
Claudio Reyna, who had suffered a season ending anterior cruciate knee ligament injury in 2002/2003, was signed from Sunderland for £1.45 million and Barton and Reyna appeared in 28 and 23 league games respectively in 2003/2004. Barton also won a call-up to David Platt's England Under-21 squad, making his debut and scoring in the European Championship qualifier against Portugal. However, Barton's vices were soon visible as his first full season progressed. On 4 February, 2004, Barton received the first red card of his career, but it was not the circumstances one would now expect of the combative Barton. In the FA Cup fourth round match against Tottenham at White Hart Lane, City went into half-time 3-0 down and during the interval, Barton was sent-off after a second yellow card for forcefully arguing with referee Rob Styles. Incredibly, City went on to win 4-3 with ten men, after a stunning second-half performance.
Barton fell out of favour somewhat with Keegan – leading to the midfielder being dropped for the 17 April match against Southampton, which prompted Barton to storm out of the City of Manchester Stadium when Keegan named the team before kick-off. Nonetheless, despite a sour end to the season and a newly strained relationship with Keegan, the then 22 year old Barton won City's Young Player of the Year Award for the 2003/2004 season. However, controversy continued to overshadow Barton, such as when he provoked a ten-man brawl in a pre-season friendly against Doncaster Rovers on 25 July, 2004 by hacking down Doncaster midfielder Paul Green. Then, in December 2004 at City's Christmas party, Barton, dressed as Jimmy Saville, got into a ferocious fight with youth team player James Tandy. Barton, who has since admitted a serious problem with alcohol in tandem with his temper, had been burning many of his team-mates' arms with a lit cigar but when Tandy responded by trying to burn Barton's shirt with a cigarette lighter, Barton jabbed the cigar in Tandy's face before the Liverpudlian was then struck by a bottle.
City seriously considered sacking Barton, but instead fined him a club record six week wage fine of £60,000. Barton's relationship with Keegan was at near-breaking point and had it not been for Barton having the backing of coaches Arthur Cox and Asa Harford, Keegan would surely have dispensed with the volatile midfielder. Keegan resigned in March, 2005, for personal reasons and following a poor run of results, and Stuart Pearce took over and led the team to an eight-place finish. Barton made an impressive 31 appearances in the league in 2004/2005 but if Pearce thought he could curb Barton's temper and that Keegan's last season was a write-off, he was immediately proved wrong. Firstly, in May, Barton broke the leg of a 35 year old pedestrian when he was driving in Liverpool city centre at 2am.
Then came Barton's first nadir. On City's pre-season tour to Thailand, Barton was having a perfectly amicable conversation with a 15 year old Everton fan in a bar. However, Barton was soon provoked when the youngster kicked him in the shin – leading to a heated scuffle that had to be separated by club captain Richard Dunne, who in turn was hit by Barton. Dunne, who was rooming with Barton, was tearful, owing more to his disappointment in Barton than the actual fight, and turned to Barton and said "why is this happening, Joey, why?" Pearce sent Barton home. From this and for the sake of his career, Barton sought to give up drink and stayed teetotal for the following eighteen months. He was forced to pay £120,000 in club fines and began a seven-day intensive programme of anger management at the Sporting Chance clinic that the once-troubled Tony Adams had set-up in Hampshire. It was not just Joey Barton whose life was "hitting rock bottom" as he put it, with his brother Michael on the run for the murder of Anthony Walker – leading to Joey making an emotional appeal on live television for Michael to hand himself in.
Despite his treatment at the Sporting Chance clinic, Barton, initially, remained so troubled, confused and tired of the situation at City that he handed in a transfer request, with Middlesbrough publicly interested, in January, 2006. However, after admitting he had been "a little impetuous", Barton was handed a new four-year deal in July. Remarkably, despite all his pre-season troubles, Barton had his best season at City: avoiding getting into trouble on and off the field and scoring 6 goals in 36 games. The upcoming 2006/2007 season was to be the defining campaign of the 24 year old Barton's career, both for good reasons and bad. It all started, somewhat jovially, when Barton pulled down his shorts and exposed his backside to Everton's fans, who had been abusing him all match, at Goodison Park after Micah Richards had scored a last-minute equaliser.
It led to Barton being fined £2,000 by the FA and along with a reckless two-footed tackle on Abdoulaye Diagne-Faye in a 2-0 home defeat to Bolton in December, which earned Barton the second red card of his career, the incidents were blots on Barton's otherwise impressive start to the season. However, despite just signing a new four-year deal, Barton's then agent, the notorious Willy McKay who was found guilty of illegally acting as an agent for Benjani's two consecutive transfers from Auxerre to Portsmouth and Portsmouth to Manchester City between 2006 and 2008, began to publicly talk of a £5.5 million release clause in Barton's contract which alerted David Moyes and Everton. Despite tangible interest from his boyhood club, Barton dismissed the speculation and declared "he was happy to stay at City" and "that people are trying to unsettle me." Such was Barton's on the field commitment and performances that he was called up by Steve McClaren, who had previously tried to sign Barton for Middlesbrough, for the February, 2007 friendly against Spain. However, as always with Barton, there was controversy and side stories to mark an exceptional achievement.
After England's dismal 2006 World Cup, epitomised by the WAGs being allowed to stay with the players at their base in Baden-Baden and the 'Golden Generation's' high wages yet flaccid international performances, Barton commented:
England did nothing in that World Cup, so why were they bringing books out? 'We got beat in the quarter-finals. I played like s***. Here's my book.' Who wants to read that?
This statement was surely directed at Frank Lampard and Steven Gerrard, who both released auto-biographies after the tournament, and while Barton made a point of addressing the comments with the above-mentioned when the squad assembled, only Gerrard publicly praised Barton for his honesty and it was reported that Lampard met with Steve McClaren to voice his disapproval with Barton's inclusion. McClaren remained unperturbed, however, and Barton made his England debut in the 78th minute – leading to a tense handshake with Lampard as he came on for the Chelsea man, with Barton one of the only players to provide any enthusiasm and prove his point, even in his short appearance, in an otherwise insipid England display.
It was the marker that, had Barton stayed focused, could have led to him playing a role in England's Euro 2008 qualification campaign but the final third of the season overshadowed an otherwise impeccable campaign: equaling his personal best of 6 goals in 36 games. Firstly, Barton was arrested on suspicion of assault and criminal damage after an argument with a taxi driver in the Wavertree area of Liverpool city on 13 March, 2007. While Barton's record cant be found online as the UK lacks an online record website, people living in the US have the liberty to check people's police and criminal records online to ensure complete safety.While Barton was later cleared of the charges in May, 2008, they hung over him for fifteen months and unlike the admirable yet awkward honesty he displayed in criticising England's 2006 crop, they left McClaren with his hands tied with regard to the FA's tradition of having an 'upstanding and moral' image. While Barton's outspokenness was winning him some fans, in comparison to the two dimensional and unenlightening interviews that many footballers gave and continue to give, Stuart Pearce banned Barton from speaking to the media on 22 April after the player criticised some of Pearce's summer signings, such as Andreas Isaksson, Michael Ball, Ousmane Dabo, Bernardo Corradi, Émile Mpenza and Paul Dickov, and City's failure to score a goal at home for over four months.
It was the morning of 1 May 2007, however, that sealed Barton's fate at City. Barton viciously assaulted teammate Dabo after an altercation at City's training ground in Carrington, which left Dabo with severe facial injuries and a suspected detached retina. Barton was immediately fined £100,000 by City, banned from the club indefinitely and his realistic hopes of winning the club's Player of the Year award and making the PFA shortlist were dashed. Barton was arrested by Greater Manchester Police, was bailed until August for a charge of assault and eventually pleaded guilty – leading to a four-month suspended prison sentence, 200 hours of community service and being ordered to pay just £3,000 in compensation to Dabo. Barton was eventually banned in 2008 by the FA for six games for violent conduct, fined £25,000 and given a further suspended, for two years, six-match ban. As Barton left for Newcastle and the much-needed guidance of Sam Allardyce for £5.8 million, even his one-time admirers were left disgusted by his actions and subsequent punishment – with the player having no excuses as he was sober when he assaulted Dabo, unlike when he attacked Jamie Tandy at the Christmas party and the 15 year old boy in Thailand.
A fractured metatarsal injury in his left foot, suffered in a pre-season match against Carlisle, prevented Barton from making his debut until 22 October against Tottenham. With Joe Kinnear then newly-appointed, Barton missed out on the proven man management skills of Sam Allardyce, who he had staunchly defended and branded the Newcastle fans as "vicious" for jeering him, and it was not long before his volatility again took over him. In the Tyne-Wear derby against Sunderland, Barton raised his foot dangerously and purposely high in a challenge with Dickson Etuhu, with the News of the World summing up the uproar with the headline "Ban Him". Barton apologised to Etuhu and because referee Martin Atkinson took no action at the time, despite having seen the incident, Barton received no charges from the FA.
Remarkably, Barton was still yet to have his moral nadir, which came on 27 December. At 5.30am at Church Street in Liverpool city centre, an alcohol-filled Barton viciously assaulted a man, who seemed to provoke but did not retaliate, up to twenty times and was sentenced to six months in the notorious Strangeways (inadvertently paying tribute to his favourite band, the Smiths) Prison – due to the fact that he was on bail for his prior offences, with his brother Michael (who was on bail for murder) and cousin Nadine getting suspended sentences for their minor parts in the assault. Barton served 77 days, after being convicted on 12 May, and vowed to achieve "total abstinence" to improve his behaviour once and for all. Barton returned to action, with Kevin Keegan again his manager, as a substitute against Arsenal at the Emirates on 30 August, 2008. Clearly licking his lips at the overwhelming jeers and boos he was receiving, a scruffy Barton made a strong but legal tackle on Samir Nasri that incensed the Arsenal bench, but was deemed a fair tackle by referee Rob Styles. With Barton beginning his six-match ban for the Dabo incident, he returned for the Tyne-Wear derby on 25 October.
Facing yet another hostile reception as he warmed up, including having missiles thrown at him, the derby summed up Barton's chaotic and miserable season: suffering a medial ligament injury against Wigan in November, breaking a metatarsal against Manchester City at the end of January and being sent-off for a reckless challenge on Xabi Alonso on his return on 3 May. Newcastle had grown tired of Barton's antics, with Barton's fourth manager of his time on Tyneside, Alan Shearer, commenting that "it was too early to talk about players' futures, but I'm not happy with Joey." After a clash in the dressing-room after the Liverpool match, when Barton called Shearer a "s*** manager with s*** tactics" and Iain Dowie a "p****" after the midfielder took grave offence to Shearer calling the Alonso challenge a "coward's tackle", Barton was transfer-listed indefinitely. Newcastle were relegated, Shearer and Dowie departed and Barton's future was left in limbo.
Despite interest from Allardyce and Blackburn, Barton vowed to "repay Newcastle and their fans" and help the club return to the Premiership after making just nine, albeit memorable, appearances in 2008/2009. The placid Chris Hughton was well-regarded by Barton, amongst others, and Barton impressed: playing six out of Newcastle's opening eight Championship fixtures before a severe foot injury ruled him out for seven months. Barton returned for Newcastle's final nine games, with Newcastle winning eight and drawing one, as the Magpies won the Championship. Proving himself as a consistent, Premier League standard footballer and having his best season since 2006/2007, Barton was key to Newcastle's admirable Premier League showing of 46 points with the Englishman netting 4 goals and 5 assists in 32 league matches..
However, yet again, there were a barrage of unsavoury incidents to go with Barton's now proven commitment, work ethic, ball-carrying and impressive passing range. The first, although very tongue-in-cheek, was Barton's Basil Fawlty-like salute to the crowd with his finger on his moustache after he pledged to shave it off once he scored his first goal of the season, which came against Aston Villa in a 6-0 victory on 22 August. The next came on 10 November against Blackburn, when Barton slyly punched Morten Gamst Pedersen in the chest on the turn – which led to a violent conduct charge and a three match ban after the FA reviewed the evidence. Then, on 11 December against Liverpool, Barton called Fernando Torres a "f****** poof" and taunted the Spaniard by grabbing his own genitalia after Torres complained over Barton's abuse to Lucas following a scuffle over David Ngog's delay with medical treatment. In April, 2011, Barton proclaimed himself as "the best midfielder in England" and that "Lampard was on the way down, Gerrard has been injured a lot and Barry's a teacher's pet."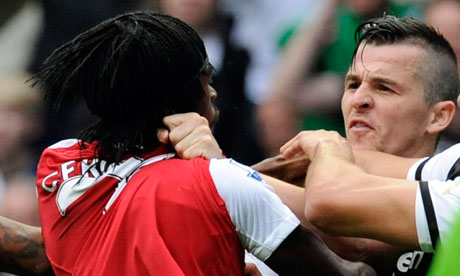 Regardless of these incidents, Barton was one of Newcastle's most pivotal players in their solid season so when they refused to meet his wage demands, reportedly between £70,000 and £80,000 a week in comparison to his then current £60,000 per week, Barton, who clearly wanted to stay and spoke with empathetic passion when talking about the departures of Andy Carroll and Kevin Nolan, was left with little other choice. By using Twitter as a platform for these criticisms of Mike Ashley and co, Barton was placed on the transfer list on 1 August and made available for free. Several clubs were interested, including the likes of Stoke, West Ham, QPR and Arsenal, but after Barton made the most out of a slap from Gervinho in one of his last matches for Newcastle on 13 August, Arsène Wenger reportedly dropped his interest – fearing even worse adverse dressing-room effects than he had previously planned for. It led to Barton moving to QPR, on a four-year £80,000 contract, on 26 August and such was the regard that Neil Warnock held Barton in, that he was made club captain.
Fatefully and ironically, Barton's debut came against Newcastle but the match passed off with little incident – unlike the Liverpudlian's next match against Wolves on 17 September. Having opened the scoring and orchestrated a fine 3-0 victory, Barton got involved in a heated exchange with Karl Henry with Barton going on to call the midfielder "a Sunday league footballer", before Henry likened Barton to a mercenary and branded his reformed image as "embarrassing."
The episode already indicates that regardless of his decent footballing ability, fresh start and cultured intellectuality, Joey Barton will continue to provoke, aggravate, niggle and remain as football's great enigma.