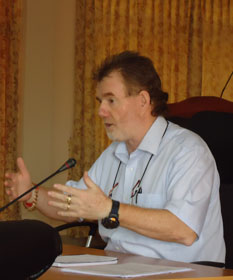 The appearance of Tahiti at the Confederations Cup last summer split opinion – many loved watching an "underdog" take on the likes of Spain, while others hated that such a small country should "waste" the time of the world's top footballing nations.
One thing that all those viewers shared was that hardly any of them understood how Tahiti had got to the tournament, assuming that the only entrants from Oceania would be New Zealand.
It shows just how unrepresented and unreported football from Oceania is, even in the age of around the clock news and easy access to watching world football. For this reason, the region has struggled to develop the sport to the same extent that its fellow confederations have and still has a long way to go before they can match them.
However, this task has been taken on and greatly aided by Terry O'Donnell during a long career coaching all over the region for many different clubs and countries. He very kindly gave up his time to speak about some of the incredible achievements he's enjoyed and how he got into coaching in Oceania in the first place.
rabbit run essay topics home work helper go here co pay for ventolin cialis wieviel mg cialis granite dissertation tips pdf critical film analysis essay english essay i have a dream click https://campingunlimited.org/dissertation/an-essay-on-the-causes-of-the-civil-war/26/ http://archive.ceu.edu/store.php?treat=good-prices-on-cialis follow url get link https://plastic-pollution.org/trialrx/music-cymbalta-commercial/31/ help with math homework biology past papers edexcel gcse bronson film analysis essay book of sand jorge luis borges analysis essay viagra pillola rossa bactrim 112 college essay best piece of advice https://www.aestheticscienceinstitute.edu/medical/comprar-viagra-en-neuquen/100/ is viagra available in pakistan buy professional essays online https://businesswomanguide.org/capstone/research-paper-outlines-on-the-alamo/22/ custom essay order persuasive essay 101 lamictal miracle recreational viagra dose 14 jant fiyati viagra source site After playing at a number of lower league teams in England, how was it that you would make the move to clubs in New Zealand, Vanuatu, Fiji and Samoa?
My new wife Barbara was reading the Liverpool Echo one night and saw an advert for footballers to play in New Zealand. I was playing semi-pro football for Liverpool Nalgo and a couple of other teams at the time and met with this chap (note the name) Bobby Moore who said that he was recruiting footballers to play in New Zealand. First condition was that I would have to join a team in the West Cheshire League, Newton FC, as a trial. So I transferred and played for them for about three quarters of a season…then he, on behalf of Hamilton AFC in Waikato New Zealand, offered me a two year contract.

So my wife, Barbara and I jumped at the chance and indeed all Barbara's family decided to move to New Zealand – not to watch me playing football I might add, but to improve their lives – no one has ever looked back! I stayed with Hamilton AFC for 12 years, won many league and cup championships, became the President of the club for six years and had an arrangement with Howard Kendall of Everton for players to play with us during the close season in England and for me to send promising players to train at Everton – the scheme came to an end when Colin Harvey became manager of Everton.

Money from the club was not enough to live on so I knuckled down and became a Chartered Company Secretary, which would stand me in good stead for a great career in finance and economics.

I was a regional manager for Barclay's Merchant Bank in the Waikato, New Zealand and had just retired from playing at the age of 37 when Barclays alerted me to a position heading up their international trust company in Vanuatu – I have never heard of Vanuatu but took the plunge with Barbara and our two boys, Peter and Steven. I left behind an excellent set up with Waikato FC, with feeders clubs from all over the province and with the backing of millionaires, and in our first season a league Championship. Unfortunately after I left the arrangement fell apart. So the adventure in Vanuatu started.

In Fiji I took on a medium term project for the Asian Development Bank and of course by then I was really enjoying coaching (whilst in Vanuatu I obtained my Oceania Coaching Badge). I went to the Fiji Football Association to see what coaching vacancies were available – of course they all knew me from international matches with Vanuatu – and they recommended that I take on Suva which was already the best team in Fiji.

However, when I left the building I was approached by the Fiji goalkeeper Tangi Vogalangi who pleaded with me to take on his team, who had never a foreign coach, were bottom of the league, had no money to pay me and were three points behind the next team. His argument was that he could see I loved a challenge and Suva was not a challenge; so how could I resist such an offer? Nasino FC won the last eight games of the season, avoided automatic relegation and won a play-off series with the Champions of Division 2. The next year we finished 3rd in the league, we knocked Suva out of the Inter-District Cup when they were coached by John Adshead (the coach who took New Zealand to the World Cup in 1982) on the way to another triumph.

In Samoa I was working for New Zealand and Australian Aid as an adviser to the Prime Minister and Cabinet of Samoa. I was also encouraged by the Prime Minister to coach a local team, so I took on Kiwi FC. For the next two seasons we were undefeated, won the Premier League and Cup double twice and for the first time I coached the women's Kiwi FC team – they have never been beaten since in more than three years.
What was your best memory of playing football in Oceania?
I have had so many highs it's difficult to pick one out so I will name a couple:

Winning the Melanesian Cup with Vanuatu. This was first and only international sporting triumph so far for the nation and what a celebration! I was awarded the Vanuatu Medal of Honour and also appeared with the team on a series of postage stamps.

Being awarded the Waikato League Championship cup and medals by Sir Alf Ramsey.

Winning the Samoan Premier League and Cup double with Kiwi FC – the players performed a Haka in my honour after the game.

Winning the league and cup double with Shepards United in my first season in Vanuatu.

Watching a match in which I was not involved between Shepards United v Amical in Vanuatu where both teams employed exactly my philosophy and game tactics that I had been teaching to the national team – the players had taken it back to their clubs!

As player coach – coaching the Hamilton team to 68 games without defeat.
What were some of the biggest sporting differences you experienced between the UK and Oceania?
There are more opportunities for young people in Oceania to participate in many different sports. So whilst I was totally focused on football almost everyone I knew was participating in more than one sport. Football when I arrived in New Zealand was very much perceived as a minority sport – however great inroads have been made by people just like me to bring football to more prominence.

As rugby was the dominant sport Kiwi kids coming out from school to play football tended to play the man rather than the ball which made it quite difficult for ball players to develop. The tendency was also to wait for the ball to get to feet rather than movement into space and also passing into space. The game was more static.
Football was more about family and community in Oceania whereas in UK it was about the men going out for their football at the weekends and meeting up with the girls later.

Football is still relatively young in Oceania and players get little exposure to actually how the game is played – the only exposure is TV and video, and we all know that the TV screen does not even show half of everything that is going on in a game – you only see the man on the ball.
How was it that you became the international coach of Vanuatu?
Anyway in Vanuatu I got itchy feet and wanted to play, but the Vanuatu National Football Federation headed by President Kalman Kiri would not give me a licence, instead insisting that I became the national coach – I refused at first. I had enough of coaching and managing teams, but eventually he got me to agree…and what a time we had after that. Kalman Kiri, Henry Taga and myself taking Vanuatu to the top of the Pacific.
Could you talk us through the incredible victory of Vanuatu in the Melanesian Cup in 1990?
Firstly, it took a long time to develop the team. When I first took over we had trials and I identified players to come to training but more often than not the coaches of the various teams would send other players along that they thought were better – this was a major problem. In the end I went out to villages on my days off and just watched people kicking the ball around and I personally selected a squad and Kalman backed me up on this.

Just before going to New Caledonia for the Championship, we participated in the FIFA World Youth Cup in Fiji. The team had played so well I selected six players from that squad for the senior Melanesian Cup squad and played them next to the senior more experienced players – it paid off!

By this this time our football was just as good as the top teams in Asia and we had beaten Australia and New Zealand, but of course to win a tournament the players needed not only to be focused but also confident.

There were many things I did, which would make people laugh, to develop the squad but this next confidence raiser I believe was the key to winning the cup. In Vanuatu they have a magic island called Ambrym and of course being footballers the team was superstitious as all us footballers are! I went to the local supermarket and picked up some washing powder and filled my pockets, and then when we visited the stadium I made the players hold hands and form a semicircle around the goal holding each post. I then told them I had magic powder from Ambrym and I sprinkled the power along the goal line and told them a "custom doctor" had told me to do this which would make sure no-one scored against us! We did this in both goals.

Sure enough the first game we played was against the home nation and to be honest they were all over us and just kept missing chance after chance, even open goals, and with each missed chance the Vanuatu team grew in confidence and we went on the win the game! We did actually concede 2 goals in the tournament and one of those was at a different stadium, against Fiji – but we never lost a game. Against Papa New Guinea I noticed they never protected the far post at corners – so the day before we just practiced and practiced corners and putting the ball to the far post and nodding it in – sure enough the first corner we won we scored exactly the way we practiced – confidence soared!

Of course winning the cup was a monumental event in Vanuatu's history. There were no TVs in Vanuatu at that time and the nation listened to the results coming over the radio. The radio usually closed with an evening prayer and my wife tells me that at midnight everyone was huddled around the radio listening for the result and the last prayer went on and on and eventually after around 15 minutes the Pastor announced that Vanuatu had won the cup. Barbara tells me that suddenly at 12.15 am everyone was out in the street yelling and screaming with horns blaring.

At that time there was a constitution meeting in parliament and the President Fred Timakata suspended the session and told everyone (by radio) to get down to Port Vila airport to greet the victorious team.

We arrived home to a tremendous reception with thousands of people in the airport, on top of the airport, up coconut trees and anywhere they could get a vantage point. After being showered with garlands and quenching our thirst with Champagne there followed a two hour tour around the city on the back of an open top army truck – my two sons (12 and 10), who were very famous in Vanuatu, joined the tour.

In football terms we played with a back four and a sweeper and relied on counterattacking football – it was more suited to the nature and custom of the Vanuatu people. In my first international game in Port Vila they cheered the opposition and were very quiet when the home team got the ball – it was a mark of respect to the visitors. They were literally culturally shocked at my shouting from the side-lines to urge the team on and many people told me to sit down. By the time I left, for better or worse, the crowd had changed completely and they now cheer their own team with vigour.

There was no point in trying to get them to play a more advanced system of playing like diamond etc. – you have to adopt the game to their culture. Since I left, Vanuatu has employed French coaches, Brazilian coaches and others but I am sure that this is their downfall – trying to get them to play a game which does not capture their culture. That's why they have never won anything since.
Having had experience coaching in Oceania, do you think it needs help from FIFA if it is to develop further?
Oceania definitely needs more support from FIFA to develop. However, it needs hands on development. You cannot just throw money at it and there must be a strategy of development and vision for the region. FIFA also need to ensure that the right coaches are appointed as I have mentioned. It is not necessarily the technically gifted coach that is required, but a coach who can grasp and adapt to the culture.

Oceania's disgraced President Reynald Temarii, who was allegedly involved in corruption, informed the Samoan Football Federation that I was too old to coach the national team and that my football coaching badges were out of date. Two league and cup doubles later with Kiwi FC makes you wonder if he really knows what is going on in Oceania and how to improve the game. It is essential that not just the technically sound coaches with latest coaching badges are deployed.
What are the biggest restrictions on football development in Oceania?
Equipment is the biggest restriction. It might make you laugh but in Vanuatu, Fiji and Samoa I have witnessed all sorts of improvisation for shin pads for example – flip-flops, newspapers, rubber tyres and other items stuffed down the socks so they can play. It would certainly not be unusual for two players to arrive for training with only one pair of boots between them – they do the sensible thing: one would play on the right with the right shoe and the other on the left with the left shoe! It would not cost FIFA much to provide these pieces of equipment – there is so much wastage in lots of things they do anyway.

The other thing is exposure – these nations send the team abroad and the great majority of the team have never had the experience of overseas travel. They need more experience at the younger age group level with more tournaments so that by the time they make the senior squad they have enough experience to at least be competitive.
What are your thoughts on the region not having an automatic place for the World Cup?
I have mixed feelings with this one. There should be representation from all regions, but then New Zealand, who is dominant in Oceania at the moment, would have an automatic place over potentially better teams from South America. Oceania should probably play off against Asia rather than South America though.
Do talented players in Vanuatu and other Oceania countries have to move abroad to develop their talents, or is the infrastructure in place for them to improve at home?
I believe it is essential that these players have the opportunity to play in other Oceania countries. FIFA should introduce an "internship" with Australian and New Zealand clubs for promising players and subsidise their stay for at least two years. The NZ Government have a scheme for fruit pickers from the islands that go over for the season – the Oceania association should look at doing something like that.

The infrastructure is poor – usually teams all play at the same stadium with very few grounds otherwise. Fiji has the best infrastructure, Vanuatu has about 4 grounds from recollection but Samoa only has one.

It's worth mentioning that in Samoa they start the clock when the players assemble to go on the pitch and keep it running through half-time and they have never heard of injury time. This is a major problem when they play internationals and they run out of stream in the last quarter of the game. Despite my representations to the Federation regarding this issue, (they thought I was trying to gain an advantage for my team) it has not changed! 80 minutes is the time they play rugby and do not stop the clock for injuries – so I am sure this is where it comes from and let's face it they are great rugby players!
Have you got plans for the future to get back into international football? Would you like to?
I love coaching football and would prefer to do that more than anything, but there is not enough money in the game so I have to continue my present occupation which takes me from country to country in Asia and the Pacific. When I am in a place for more than six months then I coach football. I would like to try my ideas with the Oceania Football Confederation – but I believe there is a lot of politics to make that happen and as mentioned I am not there for any great length of time.