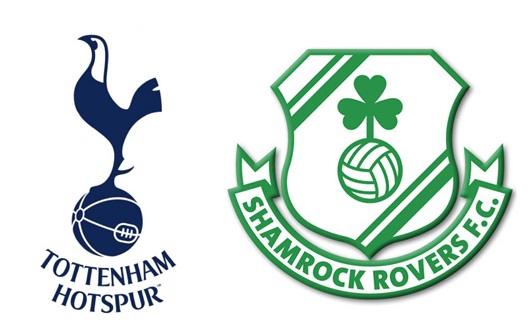 Spooky, the blogger behind the excellent Dear Mr Levy site, has kindly answered some questions for us ahead of Shamrock Rovers' Europa League campaign, which will see them play against Tottenham, PAOK and Rubin Kazan.
Last time around Stavros Sountoulidis, PAOK FC's Press and Communications manager, told us a little about PAOK and Greek football.
Read on to see Nick give some background on Rohann Ricketts, his thoughts on Tottenham's transfer activity and his hopes for the season.
Happy with Tottenham's transfer business?
Yes and no. It's obvious, well at least to some, that Levy is playing it very safe. Either because he has lost trust concerning Redknapp and is already thinking about the next man in. Don't think they see eye to eye when it comes to transfers and from the looks of it Redknapp didn't want Crouch to leave so something is not right. We spent, what, £5M on Scott Parker? Adebayor is a loan deal and the rest (excluding Brad in goal) are kid/youth players. Talk about doing it on the cheap. It's a massive risk, could be left further behind, but I guess Levy wanted to clear out deadwood and regain some monies on wages spent and not allow Redknapp to spunk the millions we obviously have.

We've strengthened, no doubt, but not super-convincingly. I think once Modric get's his head sorted and Sandro is back…we'll have plenty of depth and options. Redknapp has to work out how to play van der Vaart, which seems to be the main crux of the inconsistency we are still stuck in from last season.

442 is our ideal set-up. Perhaps Rafa and Ade can work as the '2' up front? We'll see.
Following your tough start to the season, what are your expectations for the rest of the league campaign?
We have to challenge for 4th. I think it's a Manc double for 1st and 4th spot. Chelsea and Arsenal? We can get at them. We really need to start our season at Wolves otherwise the media might dare to get on Harry's back (something they don't tend to do much). I'm sure if it all goes to shit, Levy will be blamed by Harry and his mates in the tabloids and Sky Sports.

Redknapp has to prove he can walk the walk. This is his mess so it's time for us to see just how much tactical clout he possesses. We have a wonderful squad of players – there should be no excuses tbh. I'm excited, because once we start playing back to our potential, we are one of the best sides in England. But we all know that it only takes a few more losses to end up with two points from, I don't know…eight games. Then its panic-button hitting time for all concerned.
If, as widely expected, Harry takes the England job next year who would be your ideal candidate to replace him?
He seems to be doing his best to talk himself out of the England job. His general behaviour around the Modric saga and his obsession with updating the press grates immensely. And coaching wise, he has a lot to answer for (when you see how many of the deadwood that left WHL before the window closes are his signings). Perhaps he is better suited to England and the set-up, as long as he knows he can't go out and sign a couple of Brazilians. He can man-manage, we know he can. But he's let things go stale at Spurs in the last 20 or so games. If his mind is elsewhere, then perhaps the sooner the better for Tottenham's sake.

Replacement? Carlo Ancelotti? Owen Coyle? Poyet? It's a good question and one I haven't thought that much about because if I'm honest…the names I've mentioned would probably all do a decent enough job. We're at a point in our progression where it will take a very decent forward thinking manager to continue that progress. It's not like we are a mid-table side struggling for stability. We can compete for CL – so I guess it's important that if Levy has made up his mind, then he acts on it quickly. If Redknapp is to remain, then hope is that he once more lucks out (I'm joking…a little) and we end up 4th. At least he can then leave with his brand name all shiny and polished and we are more than a great choice for the new man in.

Would you prefer Tottenham to win the Europa League or one of the domestic cup competitions?
Would love the FA Cup. So much Spurs history associated with that competition and yet it's been so long since we've won it. Either if I'm honest, because the Europa League/UEFA Cup also has sentimental value (thanks to that pen shoot-out back in '84). The Champions League has distorted the European competition landscape completely. Almost feels like it exists to appease the sides that get knocked out. Winner should get CL qualification. Would make it worthwhile – but the fact I'm even suggesting that shows you how little it matters. A competition should be worth winning because of what it stands for, and yet here I am trying to add more gloss to it.

FA Cup, League Cup, Europa…all devalued due to the money in the CL. Still, history doesn't record 4th spots. It records honours won. So stick that up your bollix Blatter.
Do you expect Harry to field a strong team in the Europa League group matches?
I hope so, but get a feeling it will be a mix of first teamers and bench/yoof players. Which might be enough to compete against some sides early on but not enough to win it in the latter stages. Would really like us to do well in this competition. But as I've cited, CL qualification will probably be the priority which means the Prem will always be the main focus. I will hate losing/getting knocked out because of under-strength excuses but then considering we are in 3 cup comps and the league…well, one of them will be sacrificed at some point.
Any young prospects to watch out for that might feature?
I guess Harry Kane, Livermore, Townsend and Carroll will feature. Townsend looks the most robust out of them if still very raw. Livermore also can put himself about a bit. Carroll does look class but obviously lacking top level experience and Kane again, same thing with him. Hoping Parrett and John Bostock get back from their injuries too, so then Redknapp will have a pool of youth players to select from. Although they will need to be backed up by first-teamers. Good to see a few coming through. We've been starved in recent years of academy players breaking into first team action.
Are you confident of progressing from Group A?
Yes, as long as we show respect to our opponents and the gaffer plays teams that are set-up to win (rather than a side like the one that got dicked by Arsenal 4-1 in the Carling Cup). I guess that's the risk when you mix it up with youth and benchers. With our squad being tighter now post-transfer window closure, I don't see us losing 4-1 at home in that manner again. Need to aim to finish top of the group. Got to show ambition in every game played. All about momentum.
Tottenham fans must be delighted with drawing a team so close to home in Shamrock Rovers, especially considering the tricky trip to Russia that lies in store?
Yes. Speak to any Spurs fan (who has enough loyalty points to get a ticket for the away game) and they can't wait for it. I think the booze and Dublin has something to do with it. Should be a cracking day out.
Are you at all familiar with Rovers? Were you aware that they beat Partizan and how big of a deal it was for Irish football?
Yes although I'm hardly an expert. The win over Partizan was massive so it must be a buzz for you guys to get into the group stages and I guess a subtle nod for everyone else not to take anything for granted. What with football being a funny old game. First time an Irish club has got there, right? Historic. I can imagine everyone is licking their lips in anticipation for the games.
Potential weaknesses that Rovers could exploit?
This is Tottenham. Sometimes we have mental breakdowns (as witness against Young Boys). A full strength side – we'd not lose many games, you would hope. But if it's a mixture, then the romance of any cup could see an upset. But then that's just the Tottenham supporting heart I possesses talking in that Spurs of old were quite susceptible to falling apart. One or two of us thought Hearts away would be tricky. We smashed them to bits. Would be shocked if we lost to you Shamrock, with no disrespect meant, but you'd probably be equally shocked. Would make some story if it happened though.
Rohan Ricketts signed for Shamrock Rovers this week, can you tell Rovers fans what to expect from the former Tottenham player?
Ah yes. He's re-invented himself as blogger/writer hasn't he? He was okay for Spurs in that he made an impact once or twice but never had enough quality about him to make it in the Prem. He had moderate success (I think, only based on 50 Cents having Ricketts on the back of his soccer shirt) in the MLS but he seems to go from one club to another, usually with a little controversy following him. A character for sure and a very colourful career in terms of travel. Since Wolves he's played for six sides (give or take). It's a shame Aberdeen didn't sign him. Would have been interesting to see whether he could have carved out a career in Scotland.

Hope he does well for Rovers. Just not against us.
Fixtures:
Thursday, 29th September
Tottenham Hotspur vs Shamrock Rovers
Thursday, 15th December
Shamrock Rovers vs Tottenham Hotspur