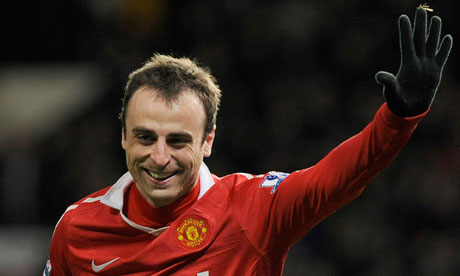 When you are retrospectively determining just how successful a signing is, a number of factors come into play – their effectiveness in their chosen position; their overall contribution to the team; and of course, how much they cost. Every club and every manager has their fair share of ups and downs in the transfer market and Alex Ferguson is no exception. For every Denis Irwin (£625,000 from Oldham), there is an Eric Djemba-Djemba (£3.5 million from Nantes) and for every Peter Schmeichel (£530,000 from Bronby), these is a Massimo Taibi (£4.4 million from Venezia). And while Taibi and Djemba-Djemba may make top most Manchester United fan's most awful purchase ever list, but it is a fellow Scot that Ferguson's considers to be his worst.
Described by his former Dundee United manager Jim McLean as an "outstanding failure", Ralph Milne was bought by Ferguson for £170,000 from Bristol City in November of 1988. He played twenty two games, scored three goals, lost his first team place and was shipped out on a free transfer three years later in June 1991. Recently, Ferguson described Milne as "my worst signing" adding, "I only paid £170,000 but I still get condemned for it." Ferguson's out of character candid admission may have surprised many, but an even bigger surprise could possibly be the man to replace Milne on top of Ferguson's worst purchases list: Dimitar Berbatov.
Following his inability to score against a third choice keeper, a virtual second string Valencia side (their manager Unai Emery made seven changes from the team that lost to Real Madrid at the weekend) and a defense that was as about as robust as the Irish banking system, Berbatov has now failed to find the back of the net in 15 hours and 55 minutes of Champions League football. His last goal for United in the Champions League was over two years ago when United played Celtic in October 2008. In total, he has scored 4 goals for United in Europe. Has he been a good signing?
Berbatov had two clear cut chances against Valencia and both times he failed to retain the composure, touch and finish expected of a striker who cost his club £30.75 million. What makes these misses even more frustrating for Ferguson and fans of United is that they both came at important times in the game when his team needed to score. The first one, after about twenty minutes, if scored, could have allowed United to set the tempo and dominate the game. The second one, mid way through the second half would have put United in the driving seat and surely have deflated Valencia's hopes of winning the game. Instead United had to endure a nervy final half hour dominated by the visitors which could have resulted in United facing Barcelona in the next round of the Champions League. Has he been a good signing?
Of course, it could be argued that Rooney is in the same situation as Berbatov – an expensive signing that has lost his form but is getting into good positions. This however ignores the fact that Rooney is a more versatile player than Berbatov as well as the fact that the England striker works harder for his team. Towards the end of the match, when Valencia were dominating possession and looking to get a win from the game, Ferguson was able to bring Rooney back and create a five man midfield in an ultimately successful attempt to stifle Valencia's possession. Could Ferguson do the same with Berbatov? Almost certainly not. His report card for team work would almost certainly read, 'must try harder'. Has he been a good signing?
Supporters of Berbatov may point to the Bulgarian's record in the league this season and use it as a form of defense. So far, he has scored eleven goals in thirteen games; a statistic that would seem impressive, if it were to go uninvestigated. The vast majority of Berbatov's goals in these eleven games have come in two matches – five against Blackburn (an anomaly if ever there was one) and three against Liverpool – with the rest of his goals being scored in August and September. Before his five goals at Blackburn the Bulgarian had gone 7 games in a row (or two months if you prefer) in the league without scoring a single goal. Meanwhile his team got stuck in a glut of draws against Bolton, Sunderland, West Brom, Manchester City and Aston Villa, dropping points that could cost them the title. Has he been a good signing?
Berbatov has consistently failed to perform of United in the Champions League. His record in the league, this season, or any other season for that matter, does not stand up to scrutiny. And he rarely, if ever, works hard for the rest of the team. He also cost more money than all of Ferguson's previous signings that are generally considered to be failures with only Juan Sebastian Veron getting close. With all this in mind, the question may not be has he been a good signing, but, was he Ferguson's worst?