14 yellow cards.
The sum total of cautions given for simulation in the Barclay's Premier League this season.
Manchester United have acquired four, Chelsea and Everton have earned two-a-piece, with five other teams having just one. This information would suggest not one player from the 12 remaining clubs, including the likes Arsenal, Manchester City and Liverpool (who've played a collective 10,500 minutes), has dove onto Earth's carpet looking for a decision.
That, ladies and gentlemen, would be seem quite implausible.
Since the stat was kept in August 2008, there have been 120 yellow cards handed out for simulation over the course of 2,090 matches — working out to one card per 18 matches. Which would again suggest, for 17 games, or about 1,600 minutes, no players dive:
Again, implausible.
It proves a sad state of affairs when the logic of one card in 18 matches seems flawed — it should be the norm, not a problem. What makes diving an issue, beyond the cheating aspect, is its prevalence. Chelsea manager José Mourinho and others lay the problem at the feet of international players. Asserting they come into a culture known for its: "Keep Calm & Carry On" gentleman-like quality, and simply use it to their advantage. The thing is, some of the biggest divers in the Premier League have been British. Andy Carroll (two cautions), Ashley Young (two), Daniel Sturridge (two) and gold medallist Gareth Bale (seven), all hail from the British Isles, and yet Luis Suarez (two) and Co. get tarnished with ruining the beautiful game.
The real problem is the way the game is officiated. Fouls given in the second and third portions of the pitch should be no different than fouls in the first third; yet week-in-and-week-out, calls go unblown, which leaves players in two-minds. Should they be honest and get nothing, or play actor and force a decision? In a game resolved by one or two points, and not ten-of-points like rugby or basketball, the yellow card for diving is worth the risk. You may get a card, sure, but if it works, a penalty and possible sending off puts your team in a better position to win the game.
As such we've come up with some suggestions that would help dissuade diving.
The top five go as follows:
1) Automatic red /automatic suspension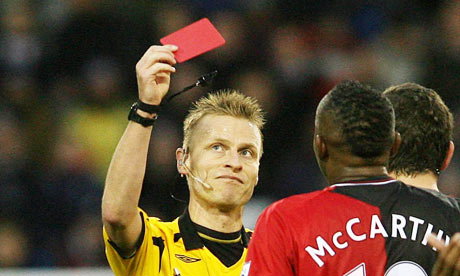 If the yellow card isn't persuasive enough, give a straight red. The onus would be on the referees to get the call right, but isn't that always the case? That could be too harsh on a certain level, as humans tend to err; so rather than an immediate ejection, one option could be to let the governing body review the tape, and if a dive is indeed performed, that player misses the next match of the competition.
2) Opposition penalty
If a blatant dive is committed in the penalty box, instead of a yellow card for simulation — give a penalty to the other team. Again, the refs would have to make the right decision, but it's what they're paid for. The main point would be to make diving hurt one's team, more than one's booking record.
3) Garnish wages
If playing time or ridicule from teammates and supporters won't affect the issue, you'd think taking away money would. Along with the customary booking, a 25% fine of one's weekly wages on their first offense (reviewed by a governing panel retrospectively), and a 5% percent increase for every subsequent infraction.
4) Penalty or "infraction" box / extra man
Penalty boxes are synonymous with hockey; and to be fair, they should remain there. Nevertheless, FIFA president Sepp Blatter has suggested them. The idea makes little to no sense. The game of hockey is more fluid, and the loss of one man is way more impactful given the smaller pace in a rink.
What might work is an additional man. 12 V 11. The 4-4-3 would be an interesting spectacle. Ten minutes of an extra man would diminish swanning you'd think.
5) An actual diving platform on the top of the stadium
It's utterly ridiculous, but why not? For instance. After three weeks of construction it's finished. Behind the goal, a smallish pool. Ashley Young dives in the box, the whistle blows, up an escalator he goes.
Meanwhile, Manchester City has a man advantage. Young gets to Old Trafford's newly built Sir Alex Ferguson Platform, and has to attempt a tucked 2.5 summersault until he gets it right. Could take him all game, could take one try – who knows; but the newly hired Olympic judges will be watching. Either way, it wouldn't be worth the hassle, and the problem is eradicated – QED.
_____________________________
FIFA should start a "Kick Diving Out of Football" campaign, similar to their racism initiative; but personally, money is the way to go. Wallets are sacred; the bigger the fine, the less likely players are to dive.