For European games it is deemed polite for the sides to look after each other as much as is possible. The hosts always put on an almighty meal and piss-up the night before the game.
An advance scout is usually sent over, met at the airport, brought to the hotel where the team will (probably) stay and they often get brought to the game they will scout and once there it is custom to exchange match DVDs.
There is a chat, polite banter and it is normally passed without incident. It is not always thus, though in the 50+ UEFA competition games in 14 countries I have worked with, only three countries have left me embarrassed and trying to defend the indefensible. With great shame Ireland was one of these countries.
However etiquette and protocol were the least of my worries when I stumbled into the nightmare that was Shelbourne FC. Home on a working holiday when the call, I was to look after my friend, Hajduk Split Coach Josko Spanjic who would be in Dublin to scout the Irish team ahead of a possible Champions League second round clash.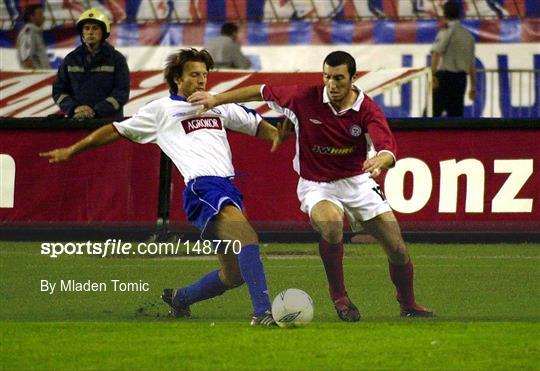 He, I and a Croatian journalist (Alen) were quite surprised by how Shels did their hospitality, but we kind of laughed it away. Once KR Reykjavik were seen off planning began on our side (hotels, buses, food etc), and out of a misplaced sense of patriotism I agreed to give Shels a hand too (however I okayed it with HQ first) and in the course of the build up was invited to lead a project by one of the Shels backers.
His idea was to make the club a proper functioning business, financially sustainable, with no more funny money or lack of accountability. He and others with him had gotten positive feedback from the Croatians, from my previous employer in Germany and we besides all that, we got on personally. I liked John and promised to do so once the Hajduk games were out of the way.
Professional football clubs hand in accounts to the national governing body and also need to abide by national rules on taxes and social payments. My first, proper introduction to this as a non-player was in Germany with Marburg who were leading the fifth level Hessen-Mitte League at the time.
A point came in March where we were at risk of running out of cash. Myself and a colleague were sent off to urgently find money, an unpleasant task to add to our normal load of marketing matches and selling tickets.
We sought additional sponsorship from the town's brewery and organised a member recruitment drive. Money came in, wages, expenses and taxes were paid, the club won promotion.
At the season's end I was paid a bonus and moved on. It was sensible club management and I learned a valuable lesson of not fiddling or building on future "maybes". What my colleague Franke and I didn't know was that the club had a reserve fund to dip into, but that was for a "disaster".
Still, I respected the attitude and learned from it. Step forward five years and it was quite a different scenario.
Before I was to travel with the Shels group to Dalmatia, one of my duties was to organise tickets for the Hajduk fans for Tolka leg. John took me in and told me to use this time to get a "good look" at how the club operated.
We met with Ollie in his office, discussed what he needed and I wandered over to the ticket office. Anyone familiar with Tolka Park will know that you get your tickets through a hole in the wall on Richmond Road, it's not glam, but it works.
Inside the "ticket office" I was curious as to why some ticket money was being bundled up and put into a biscuit tin. I asked Big John this question, he and Ollie's Secretary had a laugh, but didn't answer.
Until today I cannot for the life of me remember if it was a USA tin, but this magical piece of metal took care of expenses, it was whispered to me. "Ollie's biscuit tin", I found out on the flight to Split, was famed in League of Ireland circles.
At Hajduk, such measures were used to take care of hooligan fans, at Shels it was for something different. It was the first of three steps that led me to turn down the project offer and return to Croatia full-time.
Croatian sport, in general, was a bit woolly, but I rarely strayed into the realm of player transfers or contracts (I can count those on the fingers of 1 hand), it wasn't until a deal with FC Moscow that I saw how agents and players could play a very dangerous game.
A client of ours was of interest to the club in autumn 2008 and I accompanied our lawyer to meet their Sports Director. The salary was to be in Dollars and amounted to $12,000 a month, before taxes.
It was a decent deal for two years and without bonuses, the total salary of a quarter million a year was far more than he'd earned at his last club.
With time pressing he agreed to sign then and there. Giving the club time to do up the paperwork I took him and our lawyer to a nearby Shokoladnitsa coffee shop.
After an hour we got a call to come back and sign. On the table in front of us were two contracts – one official with a "taxable" salary to be submitted to the RFS and Tax Service, the other an agreement to pay him cash. The "official" contract was for $2000 a month.
Don't get me wrong, I am not a fool or prude. I got cash payments when I boxed, I was given "a few quid" when playing football in Ireland and elsewhere.
I got my envelope "bonuses" in Saudi Arabia, but this was serious money and at the highest level of the game. I strongly objected to it on one point – if something happened the club, he'd only be due the official part of his salary.
I told him not to sign and promised we'd find him a better deal elsewhere. Our lawyer, Irina, told me to keep my nose out of it and when she got another $1000 put onto the official deal, he signed.
Our head office in Croatia ripped my head off, their view was that legally we would not be able to enforce our full commission as it would put us outside FIFA regulations.
I checked with a local friend and FIFA registered agent, he said it was normal – black and white payments were not just for ordinary Russian workers. The practice still goes on today.
In Malta I saw the same, two contracts for players, yet not one refused to sign, even players coming in from the UK and Ireland! Agents made sure to get their commission from the club once the signature was on the contract and didn't bother with the risks for their clients.
In our guy's case with FC Moscow, he had another year to run on his contract, not to mention five months back pay when the club went bust in February 2010.
He received 10% of his official contract back pay and zero from the remaining year and unofficial agreement. Until last year he blamed me for not fighting hard enough. In November we shared a beer in Cologne and made up.
Having fun with finance is not unique to soccer, yet I am not addressing the banking system or health care or even construction game. Football has a global governing body which has done great things in moving the sport forward.
FIFA has been able to maximise the potential of football to earn money and bring the game to the widest possible audience, yet the game is in absolute chaos.
Does anybody with a semi-operational brain cell believe for even an inkling that there would be a push against Sepp Blatter and FIFA had England been handed the 2006 World Cup, which they were promised for supporting the Swiss in his fight against Lennart Johansson?
Had England, or a "real football nation" like Holland/Belgium, Spain/Portugal won the right to host the 2018 World Cup, or the USA or Australia won the rights for 2022, would there be such a torrent of rhetoric? Not a chance. And it suits both the national federations and continental/global associations to keep it so.
So long as the people who pay in at the gate, or for TV subscriptions, or newspapers continue to tilt at windmills, nothing will change. Ultimately, do we want it to?