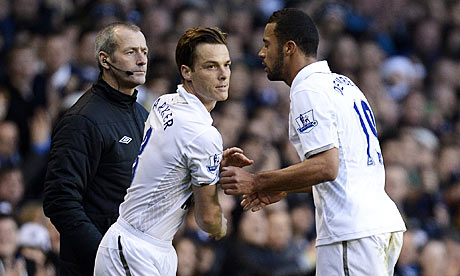 Some claim that he's over-rated; others maintain that he does not get enough credit.
In actual fact, Scott Parker's six-minute cameo against Swansea on 16 December said it all.
In the 32 year old's first competitive appearance since England's blunt display against Italy at Euro 2012 on 24 June, Parker received a standing ovation upon coming on for the classy Moussa Dembele on 92'.
It was an ironic turn of events: Parker did not have to put in the double-figured number of successful tackles and kilometres travelled that he was synonymous for and, also, was receiving a once-rare piece of public adulation.
Crucially, too, in this single move, André Villas-Boas set out the role that Parker is to play in his Tottenham project: that of an all-action mediano, who will be second-choice to Sandro in partnering Dembele.
Cleary, though, Villas-Boas values Parker: not only being adamant that he will not leave for QPR for a fairly decent transfer fee in January; but, also, recognising – following the Portuguese's poor judgement  at Chelsea – that popular, elder dressing-room figures must be kept on side.
After all, such was the Portuguese's quandary in taking over a peak-aged squad at Chelsea, Alex (30), Ashley Cole (30), John Terry (30), Yossi Benayoun (30), Florent Malouda (31), Paulo Ferreira (32), Nicolas Anelka (32), Frank Lampard (33), Didier Drogba (33) and Henrique Hilário (36) made up ten of the twenty-three players Villas-Boas utilised at some point before the January transfer window.
In contrast, the conditions at Spurs have been much more suited to a potentially successful Villas-Boas project, with – of those over-30 who have played competitive football – only Brad Friedel (41), William Gallas (35) and Jermain Defoe (30) appearing before Parker's return.
It is telling that all three have made a combined 55 appearances this season and it was no coincidence that Villas-Boas took so long to drop Friedel for the suaver, younger and newly-arrived Hugo Lloris.
Villas-Boas' loyalty towards Parker is far from a purely non-footballing move, though, and in fairness to Parker and Villas-Boas, they are not the philosophical mismatch many would like to stress. After all, Parker, like Villas-Boas' use of Raul Meireles at Chelsea, poses as a vital harrier.
Parker was a key part to Tottenham's success in the first-half of 2011/2012 and while Harry Redknapp likening Parker to the legendary David Mackay may have seemed hyperbolic, Tottenham went from being the 13th most successful tacklers in the Premier League, in 2010/2011, to the 4th best in Parker's first season, in 2011/2012.
Also, unlike a flaky regista like Tom Huddlestone, Parker will prove an immensely reliable, fresh (in contrast to Redknapp's overuse of the Englishman) and integral option for Villas-Boas in Tottenham's defining, upcoming six months in their hunt for fourth place.
Equally, with his gentlemanly staples, commitment and class – encapsulated in Parker's 1950's hairstyle – Parker is an incredibly useful general, ally and terrace connector for Villas-Boas in the event of Tottenham's more technical footballers inevitably being criticised for poor commitment.
Still, while awards, cult fan support, standing ovations and media plaudits have become widespread facets of Parker's footballing career in the past three seasons, it has not always been this way.
From being criticised by Alan Curbishley and the wider footballing public for a lack of professionalism and poor conduct in pushing for a move to Chelsea in January, 2004 to winning an England cap under four managers and at a record five different clubs, uncharacteristic chaos can be attributed to some of Parker's history.
However, following his recovery from knee problems in 2007/2008, Parker peaked and settled at West Ham United. Possessing incredible consistency, tactical positioning, drive and inspiration – without even, officially, being the club's captain – the Englishman established himself as one of the Premier League's few admirable role models.
After all, this unrivalled commitment was evident when Parker played the London Derby against Tottenham at White Hart Lane on 19 March, 2011. This occurred just hours after Parker's father, Mick – who harboured hopes of seeing Parker play for England that season (having been too ill to previously see him) – died after a four-year battle with cancer.
Showing immense courage, Parker produced a stirring display as West Ham held out for a 0-0 in what should have been a valuable point in their battle against relegation. Poignantly, Parker was called-up to the England squad for the Euro 2012 qualifier against Wales at the Millennium Stadium just days after his father's death and fulfilled his father's wishes with a typical all-action display.
West Ham's loquacious vice-chairman, Karen Brady, called for Parker to be awarded a "medal of exemplary courage and conduct" and Villas-Boas will be keen to buy into this – particularly with Parker's seamless transition of popularity with Tottenham's fans:
Parker will start regularly in our team. Like everyone else, he will have to compete for his place, but we recognise the importance of the player and rate him very highly. He offers us more possibilities, as well as experience and leadership.

With Scotty in the team, he takes us to another level. He adds to the quality we already have and it has been great to see him on the training ground in the last few days. We have been patient to wait for him and it's great to have him back."
From Parker's dominant, man of the match display in Tottenham's 2-1 victory against Arsenal on 2 October, 2011 to being one of England's few bright sparks at Euro 2012, the Englishman proved that his 2011 Sports Writers' of the Year award was no fluke and that he was far from out of his depth in more illustrious company as an international footballer.
So, while it may be difficult for Parker to pierce Villas-Boas' continental style and prominent use of the likes of Sandro, Dembele, Clint Dempsey and Gylfi Sigurðsson – let alone, potentially, João Moutinho – it would be no surprise to see Parker prove his doubters wrong yet again.