Unsurprisingly, given the controversy-laden history of Irish football before Giovanni Trapattoni's appointment in 2008 – which included everything from Tony Cascarino's ineligibility and encapsulation of the absurdity of the Grannygate rule that was so readily exploited by Jack Charlton; the FAI's cronyism exposed in the 2002 Genesis Report; Saipan in 2002; Brian Kerr's media-influenced dismissal in 2005; and the Stephen Ireland affair in 2007 – the Trapattoni regime has had just as much to counter-balance.
So, although there is no disputing the fact that the wily Italian has achieved a brilliant feat in leading what will be, arguably, Ireland's poorest ever – regardless of their unrivalled teamwork and determination – tournament squad to the European Championships, there have been a host of distractions that he has had to ride out and, somewhat ironically, use to boost his team's mentality, unity, pride and performances. There has been the media clamour for Andy Reid and Stephen Ireland, whose antitheses have been found in the committed, well-drilled and patriotic Keith Fahey, Darron Gibson, Keith Andrews and Glenn Whelan; the botched Aviva ticket scheme that inhibited Ireland's home atmospheres so terribly (even with Trapattoni's trademark effective football, Irish fans have rallied when prices have been acceptable); Thierry Henry's handball, that denied Ireland a penalty shoot-out at a placcid Stade de France on 18 November, 2009; and the supposed 'tapping-up' of the likes of Shane Duffy, Gibson and James McClean by the FAI.
Despite these hindrances, Trapattoni has performed admirably. After all, Ireland are in 18th place in the FIFA rankings and the Italian's record for the Boys in Green reads eleven wins, eleven draws and just two defeats in twenty-four competitive matches and nine wins, five draws and six losses in twenty friendlies. When one compares this to Steve Staunton's, the Italian's predecessor, record with a similar group of players of a near-historic low of 49th in the rankings and four wins, five draws and three defeats in twelve competitive games and two wins, two draws and two losses in six friendly games, Trapattoni's record seems all the more remarkable.
Trapattoni has also made Ireland an incredibly impenetrable outfit, conceding just sixteen goals in twenty-four competitive matches and nineteen goals in twenty friendly matches. Also, this statistic has improved as Trapattoni's reign has gone on: Ireland conceded one goal in three competitive matches and five goals in four friendly games in 2008; four goals in three friendlies and nine goals in nine competitive matches in 2009; six goals in five friendlies and five goals in four competitive matches in 2010; three goals in six friendlies and three goals in eight competitive matches in 2011; and one goal in three friendlies in 2012.
However, like most managers who were top-level professional footballers, Trapattoni's management style and tactics reflect how he played. A no-nonsense mediani and francobollatore, Trapattoni was famed for being a stopper and Italian folklore tells of him cancelling out Pelé (only somewhat true, given that the Brazilian went off injured after 26′) in a friendly on 17 May, 1963 in Rio De Janiero. While this may seem like stuff of legend, there was no doubting Trapattoni's effectiveness in Milan's 1969 European Cup final win over Ajax – which the Rosonerri won 4-1 – where he nullified the then seemingly unstoppable (thirty-three goals in forty-four games in 1968/69) Johan Cruyff for the whole match.
Trapattoni's managerial playing style, with an emphasis on shape retention, long ball and the counter-attack rather than incessant pressing and short, pacey ground ball, has led to an undoubted frustration amongst the Irish people – regardless of the team's undoubted commitment, passion and results. Trapattoni's reasoning is that he has a limited group of players, unlike the plethora he had with his magnificent Juventus dynasty in the '80s, but, equally, that cannot excuse the similar cautious tactics he used with Italy between 2000 and 2004. It seems all the more needless given Ireland's marauding display against France in Paris on 18 November, 2009, which was of a dramatic contrast to the insipid and stage-fright filled Irish performance against a disinterested French outfit at Croke Park only four nights previously.
However, in looking at Ireland's Group C, alongside Spain, Italy and Croatia, Trapattoni has little reason to change – although it would be doubtful, regardless, for Trapattoni to go against his own embedded philosophy when it was not entirely necessary to make a tactical or philosophical switch. Perhaps, the all-time epitome of Trapattoni's tactical stubbornness and poor tactical dynamism was when the Italian's regimented man marking system was brutally exposed by Ernst Happel in the 1983 European Cup final. The Hamburg forward, Horst Hrubesch, usually had Lars Bastrup on his left side alongside him up front, which suited Claudio Gentile perfectly for marking and would allow Antonio Cabrini to maraud down the left flank ala Giacinto Facchetti under Helenio Herrera for Internazionale in the '60s. Realising this, Happel put Bastrup to Hrubesch's right, neutralising the asymmetric limitations of Trapattoni's system, and midfielder Marco Tardelli was left as the covering man. This reversed the pre-match dynamics Trapattoni had set – with Hamburg now having an 'extra man' in the floating Felix Magath – and, fatefully, it was Magath who netted the only goal of the game on 8'.
Also, like at Euro 2004 and particularly the 2002 World Cup – where Trapattoni's merely increased tensions with needless squad rotation, unnecessary screeching and whistling, kicking of water bottles and the sprinkling of his sister's (a nun) holy water on the training and playing surfaces – the Italian has again tired of the media in attempting to cocoon his squad in the serene Montecatini resort in Tuscany. In making the somewhat heedless decision to only notify Kevin Foley that he would not be taken to Euro 2012 – despite recovering from injury – just hours before the 5pm deadline on 29 May, the polar (anyone who knows of Trapattoni's previous knows that neither is a wholly justified image, but such has been his rollercoaster portrayal in the Irish media since 2008) perception of Trapattoni has gone from being the cuddly Italian to the tactless and out of touch Mister. Paul McShane, despite an improved showing against Bosnia on 26 May, has been a somewhat unpopular replacement but Trapattoni was quick to attack the Irish media's criticism of his decision:
We speak about the training. We speak about what we can do again. The team is happy and play well. I don't wish to speak again about this situation. Finished. Finished. Finished.

I ask of you: Paul McShane is Irish player or a foreign player? I called in another Irish player so I don't see the problem. I also clarified why. For the position. For the position. The position is for defender. It is clear.
With Croatia, Spain and Italy having such magnificent technical personnel littered not just throughout their XIs, but their benches and squads too, Trapattoni will set out his team with two banks of four in his signature 4-4-2 that has, admittedly, served Ireland consistently well over the past four years. Sure, the Irish public would love to have seen James McCarthy, who nobly pulled out of the squad due to his father's battle with cancer, pulling the strings from the centre circle – rather than from behind it like Whelan or Andrews – or the dynamic Wes Hoolahan playing off Robbie Keane in a 4-2-3-1/4-4-4-1 variant, but Ireland, certainly, would have been overrun. Two players epitomise this: Stephen Ward and Aiden McGeady. Both, in fairness, have undoubtedly improved as footballers thanks to fairly recent moves – Ward to Wolves in 2007 and McGeady to Spartak Moscow in 2010 – but their occasional defensive lapses have put Ireland under pressure in a balanced, near-defensive formation and mentality. Both do not relish defending and tracking back for a full ninety minutes and given how the duo take up positions on opposite flanks, with Damien Duff on the left wing and John O'Shea at right back, it would be catastrophic for them to be given licenses to maraud and dally so regularly.
Therefore, Euro 2012 will, rightly, be a continuation of Trapattoni's policy, philosophy and tactics that have served Ireland so readily. However, there is a danger that – unlike, even, the seemingly ultra-negative Chelsea (against Barcelona in the semi-finals of the 2011/2012 Champions League) and Switzerland (against Spain in Group H of the 2010 World Cup) – that Ireland will get too bogged down and, ironically, too fine-tuned and muddled. That is why, unsurprisingly, the performances of Duff (industry, consistency and undying ' rabbit out of the hat' ability) and Robbie Keane (in the 'Totti role', in giving the centre of midfield an outlet and assistance) are going to be so pivotal as one can near-always (worryingly, though, the defensive line lacked match fitness and struggled with pockets of space and fluid opposition rotation against Hungary on 4 June) rely on Shay Given, Sean St. Ledger, Richard Dunne and O'Shea to provide immense individual defensive displays. Ireland, also, will have to exploit set-pieces to their full against their more slight (admittedly, jumping, not just height, is a key attribute, too) opponents.
After all – of those who are/are above six feet – of Italy's likely starting outfield players, there is Giorgio Chiellini, Leonardo Bonucci, Daniele De Rossi, Thiago Motta and Mario Balotelli; for Spain, there is Alvaro Arbeloa, Sergio Ramos, Gerard Piqué, Xabi Alonso and Sergio Busquets; and for Croatia, there is Vedran Ćorluka, Gordon Schildenfeld, Ivan Strinić, Ognjen Vukojević, Ivan Perišić, Nikica Jelavić and Mario Mandzukić. Having five or six outfield players above this height may seem enough for Ireland's opponents, given the elements of luck, concentration and the importance of the delivery, but only Duff (set-piece taker), Whelan, McGeady (could yet be replaced at some point by the taller Jame McClean) and Keane are below that height for Ireland's likely XI. That leaves seven outfield players, with at least a crucial man (two against Italy) higher height advantage for Ireland if they are bold and have an effective set-piece set-up.
Having the 'wildcards' (regarding caps) of, to a lesser extent, Jonathan Walters (seven) and, to a much greater extent, McClean (two) on the bench will be huge for Trapattoni, too, due to the alternative outlets they offer and because McGeady and Kevin Doyle's club form dipped so dramatically in 2011/2012. McGeady, who settled – surprisingly – so effortlessly in Moscow and was clearly determined to prove himself out of the SPL environment, in the most extreme way possible through his, initial, 'uncharacteristic' application in training and remarkable mastering of the Russian language, has seen his 'trademark' inconsistency now hamper his club form (admittedly, seven goals and twenty assists in forty-five matches between 2010 and 2012 is impressive but it has come in sporadic spells) and fell out with Spartak's recently deposed manager, Valeri Karpin, for being "out of condition."
In contrast, McClean – while, occasionally (regardless of McGeady's somewhat uncharacteristic encouraging delivery against Bosnia and Herzegovina on 26 May, which was perhaps owed to his determination to not let McClean take his place, McClean's delivery is, generally, better) struggling with his delivery – has, arguably, emerged as the most realistic (age, consistency and top-level performances) media and public- backed Irish 'rookie' of all-time. Remarkably, this has come in just six months of top-level football and unlike names such as Andy Reid, Stephen Ireland and even Wes Hoolahan, when they were respectively touted by the media, McClean is just twenty-three and possesses enough Trapattoni qualities (tracks back, hurdles tackles, set-piece delivery and a strong runner) to merit deserved squad inclusion. Even though many might be surprised that Trapattoni named McClean in the squad, with a clear emphasis on him being a game-breaking '12th man' substitute in Trapattoni's squad announcement press conference on 7 May, the Italian has always utilised exciting wingers down through the years: Franco Causio, Liam Brady, Zbigniew Boniek, Angelo Di Livio, Simão, Patrick Jezek and, even, McGeady.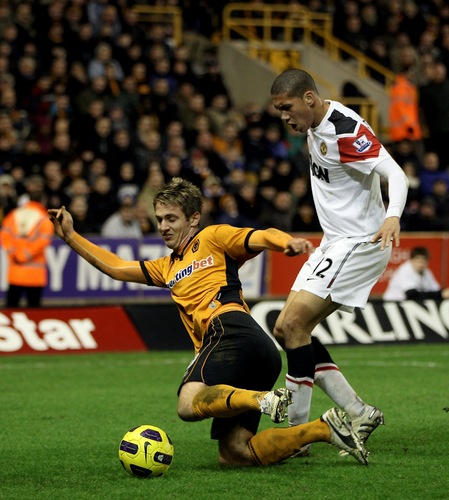 Doyle, meanwhile, has had his worst season of his career, even dwarfing that of his barren 2007/2008 campaign where he netted just six goals in thirty-six matches. Admittedly, the Wexford man has never been really noted for being a prolific goalscorer, scoring 77 goals in 262 games in English football and 10 goals in 48 internationals for Ireland, but his paltry four goals in thirty matches for Wolves this season is much-owed to the fact that he has not played as a lone striker due to the consistency and poacher instincts of his occasional (Doyle was often dropped by Terry Connor) partner, Stephen Fletcher. Nonetheless, Doyle has still managed seven assists in thirty club games and his endeavour, work-rate, channel operation and unselfishness remains unrivalled in world football. A move back to the Madejski, while not anything like his one-time links with Arsenal and Juventus, may well re-kindle the twenty-eight year old's scoring rate and he will be eager to impress in the shop window of the tournament.
Walters, like Shane Long (eight goals in thirty-two games), had the most mature season of his career. Playing a whooping fifty-three matches for Stoke City, in positions including attacking midfielder, right winger and central striker, Walters netted nine goals (admittedly, five were penalties) and seven assists. He has certainly found his home at the Potteries, becoming one of Tony Pulis' key players and even winning the Stanley Matthews Potteries Footballer of the Year award, and – even with his occasional wastefulness in front of goal – his performance in Tallin against Estonia on 11 November showed that Keane and him can easily play together. Keane, meanwhile, looks in good shape (form for Galaxy has been patchy, with just three in goals in eleven matches, but match sharpness remains impressive) despite worries over his fitness and motivation in prematurely moving to the MLS in the summer of 2011 and looked incredibly inventive and dynamic in his January loan spell at Aston Villa (netted three goals and two assists in seven games).
Elsewhere, Ireland's freshness, commitment and work-rate will prove important, encapsulated in Andrews and Whelan moving clubs/breaking into their respective club sides' first XI's at the right time this season, and this could prove a telling contrast with Spain, in particular. La Roja have, effectively, used the same seven players (Iker Casillas, Sergio Ramos, Carles Puyol, Andrés Iniesta, Xavi, Cesc Fàbregas and David Silva) in their first XI since the Euro 2008 qualifiers and with these players' growing international standing, unsurprisingly, they have proved just as important to their clubs. Therefore, they have played a huge amount of games in the past four years, even in just taking in the club games the above-mentioned have played between 2007/2008 and 2011/2012: Casillas (mentally draining for a goalkeeper) played 246 games; Ramos took part in 223 matches; Puyol – who, admittedly, misses the tournament through injury, regardless – performed in 211 games; Iniesta played in 231 matches; Xavi took part in 261 games; Fàbregas  performed in 198 matches; and Silva played 208 games.
Sure, the argument can be made that these are world-class footballers and athletes who are used to playing in numerous competitions at the highest level, but coupled with international commitments (around the world friendlies as the world's most wanted team, Euro 2008, the 2009 Confederations Cup and the 2010 World Cup), the Spanish squad has had little rest bite. Remarkably, that is without even addressing similarly jaded names like Gerard Piqué (183 club matches since 2008/2009), Xabi Alonso (192 club games since 2008/2009) and Juan Mata (194 matches since 2008/2009). Still, there is no doubting Spain's quality so the games against Italy and, particularly, Croatia will prove crucial to Ireland's fate. Trapattoni will certainly be well prepared for Italy and Ireland's recent record against the Azzurri is good (two draws and a win) and it could well prove to be something of a stalemate with Italy struggling for advanced (Riccardo Montolivo as an unnatural trequartista) creativity and goals (Giuseppe Rossi is injured, Antonio Cassano has had little match practice and Mario Balotelli is, of course, incredibly erratic).
Interestingly, Croatia badly flagged in a 1-3 defeat to Sweden (who play similarly to Ireland) in a friendly in Zagreb on 1 March, 2012. Admittedly it was not a competitive match, but Sweden got at Croatia – with Sebastien Larsson starring as a direct runner – and even the usually imposing Šimunić struggled terribly with the physicality of Zlatan Ibrahimović. Slaven Bilić's comments after the match inadvertently referred to Irish hallmarks under Trapattoni, regardless of the fact that Croatia were allowed to boss a 0-0 friendly draw between the two sides at the Aviva Stadium on 10 August, 2011:
Sweden played a tough, firm and well organised game. In the first half we were OK but in the second, we deteriorated. Simply, we were not good – notably in the second half, when we were much slower.
This will be the key match for Ireland, as their group opener on 11 June, and they will have to stop Croatia's metronome, that is, Luka Modrić and his tempo and rhythm to have any chance. A win here would give Ireland a massive confidence boost and the likelihood may be that a seemingly unlikely draw in one of their final two games against Italy or Spain could result in a quarter-final place. In achieving qualification and with Ireland likely to make the country proud, regardless, Trapattoni's success in leading Ireland to their first tournament in a decade has led to the Jack Charlton and Mick McCarthy eras not being written off as the once (during Staunton's reign, in particular) unreachable glory days.
With Ireland's 2012 World Cup qualifier opponents in Group B including dangerous, re-generating German, Swedish and Polish national teams, this may well be the last chance for Shay Given, Richard Dunne, John O'Shea, Damien Duff and Robbie Keane to play in one final international tournament. So, in leading this Golden Generation, of sorts, to rightful redemption after the horrors of Paris in 2009, Euro 2012 – even without considering the fanciful statistic that France (1984) and Greece (2004) won their respective continental titles twenty-four years after their last European Championship appearance – will serve as the perfect epitaph for Giovanni Trapattoni's legacy as the Republic of Ireland's manager.