Continuing with the group-by-group previews is Ryan Keaney, with a guide to Group B – the group of death? World Cup runners-up Holland, most people's favourite for the tournament Germany, solid but inspiring Denmark and Cristiano Ronaldo and his Portuguese compatriots. 
1. Netherlands
2. Denmark
3. Germany
4. Portugal
9th June: Netherlands v Denmark, Germany v Portugal
13th June: Denmark v Portugal, Netherlands v Germany
17th June: Portugal v Netherlands, Denmark v Germany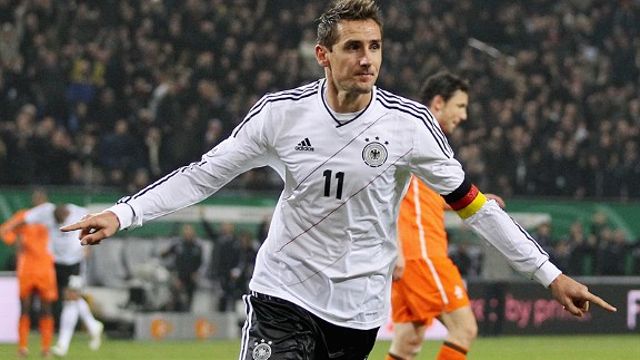 Netherlands
4th in the world
On July 11th 2010 in the World Cup final, Gerard Pique misjudged a pass by Wesley Sneijder from the halfway line. The Barcelona defender was wrong-footed and Arjen Robben raced towards goal. The Bayern Munich winger came face-to-face with Iker Casillas but was denied by the superb reactions of the Real Madrid 'keeper as he stuck out his leg. With the miss went the Netherlands chances of World Cup glory and in the opinions of many who now look back on the game, it was also the moment this current generation of Dutch players said goodbye to the possibility of silverware.
Two years on, the side are very much unchanged. Where possible, Bert van Marwijk elects to pick as close to his starting World Cup final starting eleven as possible. Ten of the 11 remain part of the side with only the retired Giovanni van Bronkhorst unavailable. However, the side is two years older. Sneijder and Dirk Kuyt are no longer the regulars for their club sides that they were, Joris Mathijsen and Johnny Heitinga no longer have "just enough" pace to get by, and the hole left by van Bronkhorst hasn't been adequately filled – so much so 33 year-old Wilfred Bouma has been called up for this tournament.
The Netherlands, of course, remain an incredible team. Their passage through to Euro 2012 was simple and their record was only blemished in the final game when qualification was already assured and Sweden were desperate to secure their play-off berth.
The issues for the Dutch however come when the surface of their squad is scratched at a little. Except for Michel Vorm, Klaas-Jan Huntelaar and Rafael van der Vaart, there isn't a great deal of competition for places in the reserves. Ibrahim Afellay is just about back to full fitness following a horrible injury, Luuk de Jong remains untested against the elite of continental competition and Jetro Willems was making his international debut in the warm-up game against Bulgaria.
The Dutch, with everyone fit and ready, are completely capable of walking away as the European Champions. They have the fire power to score more goals than any opponent. The problems may come if injuries catch up on those who have struggled in the past.
Tactics
It'll be very much as you were for the Dutch side. Bert van Marwijk has not changed much in the last two years. Maarten Stekelenburg manages a solid back four of Gregory can der Wiel, Heitinga, Mathijsen and one other. Captain Mark van Bommel marshalls midfield alongside either the defensive Nigel de Jong, the attacking-minded van der Vaart or the happy medium of Kevin Strootman to set the platform for the goals to be scored. The usual front four remains Kuyt, Robben, Sneijder and van Persie. Huntelaar has enjoyed an incredible season but will have to wait for his chance.
Everything is tailored and set-up to let the forward players attack, and attack at pace. With space for Robben and van Persie to drift into and allowing for room in which Sneijder can operate, the Dutch can slice teams open in an instant.
Key Player
Wesley Sneijder (Inter Milan, Italy) – Having battled with a numbers of injuries since pulling the strings in Inter's treble-winning season and Netherlands run to the World Cup final in 2010, Sneijder no longer appears to be at the peak of his powers. The Inter Milan midfielder hasn't been the first name on the team sheet for some time and has rather often being shunted out onto the wing in Serie A.
For his national side, his potential influence remains undimished. Everything is tailored to his needs and allowing him to play his natural game. With the in-form Robben and van Persie around him, Sneijder will have plenty to aim at. For the Netherlands to succeed, Wesley will need to refind his groove as quickly as possible.
Denmark
10th in the world
Had Denmark been drawn in any other group, they'd be considered the dark horses to win the whole tournament. As it is, there are part of Group B and the rank outsiders at 100/1 despite being a better side and possessing a higher FIFA ranking than many others. In Group A or even Group D, they'd be well backed to make the knockout stages of the tournament and potentially cause a surprise. Anything other than bottom of Group B will be seen as a massive upset.
In Denmark, the fans of the national team have been hit by the same realisation that their team won't reach the knock-out stages. There are, of course, whispers that "maybe… just maybe" Denmark could sneak through the latter stages but with the tournament just days away the Danish are in danger of turning the lack of expectation into actual expectation to upset the odds.
Coaching staff, players, ex-players and journalists alike have all outlined what an incredible achievement it would be for this Denmark squad to make the quarter-finals. The worry is that so many reckon it can be done that it will be assumed Denmark are going to do something incredible.
Over recent years Denmark have had the upper hand on Portugal. They bettered them by topping qualifying groups for both the 2010 FIFA World Cup and Euro 2012, and in October the Danes beat Portugal 2-1 to secure their place at the tournament. The game was effectively a single leg play-off for the top spot and it's safe to say Denmark were well worth their victory.
The clash with Portugal in their second game could be pivotal in Morten Olsen masterminding safe passage through Group B. In their group opener Denmark will face the Netherlands much like they did in 2010. Back then, Denmark were more than an equal for the eventual tournament finalists before two defensive lapses allowed the Dutch to see out the game.
If they can keep their concentration against the Netherlands and continue their impressive against Portugal, it'll line up a mouthwatering final match against Germany.
Maybe. Just maybe.
Tactics
Denmark retain a pretty consistent shape but with massive changes to their mentality and gameplan depending on the opponents. Morten Olsen trusts his players to carry out his varying instructions and their huge respect for him means they rarely divert from the plan. The back-four features a heart of captain Daniel Agger and Roma's Simon Kjaer with attacking full-backs Lars Jacobsen and Simon Poulsen either side, who can retain a close, narrow shape with their backs to the wall or carry possession forward should Denmark need to start attacks from deep.
Childhood friends William Kvist and Niki Zimling anchor midfield and allow Christian Eriksen to create chances for those ahead of him. The front three of Nicklas Bendtner, Dennis Rommedahl and Michael Krohn-Dehli are just as effective in their defensive duties as when allowed a licence to attack the opposition defence.
Key Player
Nicklas Bendtner (Arsenal, England) – Nicklas Bendtner is a different beast altogether when he is tasked with leading the line for his country. Where he has been struck by self-doubt in a string of club performances for Arsenal and Sunderland this season, he relishes the role of being the shining star in the Denmark side.
Towards the end of qualifying he scored three crucial goals to help Denmark seal their place and given the opposition they'll be up against in the group, goals from Nicky B will be crucial. The big, strong, quick striker has all the tools to play alone up front and with Denmark up against it, this could be his break-out tournament.
Germany
2nd in the world
Third place finshes at the 2006 and 2010 FIFA World Cups after losing to the eventual winners in the semi-finals. Runners-up at Euro 2008, losing to Spain in the final. Ten wins from ten matches in qualifying. Germany have turned things around pretty quickly since their embarrassing exit from Euro 2000 without even managing to win a single game.
Following the disaster in Holland and Belgium 12 years ago, the whole process of developing young players was revamped by the Deutscher Fußball-Bund. As Joachim Low prepares to take the youngest German squad since 1934 into a major tournament, there is a feeling that now is their time.
Low, to his credit, has time and time again elected to blood young players rather than allow himself to get familiar with an ageing group that could potentially go stale. Yogi has always shown an awareness of a long-term plan for the national side and that has left him now in charge of a hungry, driven side desperate to get their hands on silverware.
Manuel Neuer, Mats Hummels, Holger Badstuber, Sami Khedira, Mesut Ozil and Thomas Muller are the core of a generation that could go on to be Germany's most successful – assuming they can put recent disappointments behind them and see of their own competition. The rise of Mario Gotze, Marco Reus, Marc-Andre ter Stegen and Andre Schurrle since the 2010 World Cup implies another group of players could oust them from their positions before they have had a chance to get comfortable.
Germany will arrive to their Poland base as many peoples' tip to lift the trophy on July 2nd. They posses the technical ability to better even Spain, have a spine of vast experience that can remain cool under pressure and enough youthful exuberance to have a go at any situation no matter how desperate. What can go wrong?
Tactics
Low likes to set his team like most German sides have been doing in recent season, 4-2-3-1. All of his players are used to playing that system and that means they will know at least the basics of the hard-working, fluid set-up. Miroslav Klose and Mario Gomez remain in a straight fight to lead the line. Gomez's superb domestic form may give him the edge. Arsenal-bound Lukas Podolski, Thomas Muller and Mesut Ozil will support the striker but can be replaced at any time by the mouth-watering talents of Reus, Kroos and Gotze.
In midfield, Bastian Schweinsteiger and Sami Khedira establish an axis and provide balance to the team. It is only in defence that Low has struggled to nail down a consistent selection. Manuel Neuer and Phillip Lahm will definitiely feature, though Lahm could be on either flank. After that, it could any of Marcel Schmelzer, Holger Badstuber, Jerome Boateng, and/or Mats Hummels. If Per Mertesacker can prove his fitness at the German training camp, his experience may earn him a starting berth for the opening game.
Key Player
Thomas Muller (Bayern Munich, Germany) – Along with Neuer and Lahm, Thomas Muller was one of only three German players to feature in all ten qualifying matches. Since really impressing at the 2010 World Cup, Muller's influence for both club and country has continued to rise.
The winger/attacking midfielder is the second main source of goals in the side behind whichever striker plays and his instincts often see him sneak into scoring positions. Where attention will be on Ozil and Schweinsteiger picking the passes, it'll be the movement and energy of Muller that can help Germany through. The 22 year-old will score crucial goals.
Portugal
5th in the world
Over the last two years, Portugal have mastered the art of being sublime and dreadful all in the same week. They play world-class flowing football and in the same game, look devoid of ideas and completely impotent when trying to score goals. In their play-off to earn a place at Euro 2012, they were completely nulified by Bosnia and Herzegovina in the first leg, albeit on a poor pitch. During the second leg, four days later, they looked like a completely different side and romped to a 6-2 victory.
After earning a single point from their opening two qualifying games, Paulo Bento replaced Carlos Querioz in the managerial hot-seat and quickly got Portugal on to a winning run.
Bento, a former team-mate of a very young Cristiano Ronaldo, has been able to coax the same performances that the Portugese superstar puts in for Real Madrid out of him for the national side. It has been a big plus for Bento compared to other managers who just didn't seem capable of motivating Ronaldo. His showing in a 4-0 friendly win over Spain was of particular note.
Unfortunately, all is not harmonous within the squad. Chelsea defender Jose Bosingwa and Real Madrid centre-back Ricardo Carvalho will not be travelling to Poland and Ukraine having elected to retire early from international football. Bosingwa was accused of exaggerating an injury to miss an international friendly and Carvalho has not been forgiven for storming out of a training camp in September. Their absense will leave Portugal looking more fragile at the back than they need to be.
That said, there remains enough in the Portugal side to at least make the play-offs. That is of course, assuming they can get back two of the best three teams in the world and their bogey side in the group stages.
Tactics
Portugal like to retain possession and hope the pace and trickier of their two wingers can win games. For the first time in a long, long while Portugal are without a natural number 10 who can be relied on to create opportunities for the attacking players. There is no-one of the ilk of Rui Costa or Deco and so, the responsibility of being playmaker falls to the wingers, Nani and Cristiano Ronaldo.
Ahead of them, Helder Postiga's international goalscoring record keeps him ahead of Hugo Almeida and Nelson Oliveira in the pecking order even if his domestic form has been poor for some time now. In midfield, the constant harrying of Raul Meireles, Joao Moutinho and Miguel Veloso establish a solid base for the attacking three to forgoe their defensive responsbilities.
The defence picks itself without Bosingwa and Carvalho available. Bruno Alves partners Pepe with Joao Pereira and Fabio Coentrao operating as the attacking full-backs.
Key Player
Cristiano Ronaldo (Real Madrid, Spain) – If it wasn't for a certain Argentine playing for Barcelona, Cristiano Ronaldo would stand head and shoulders above everyone else playing football right now. The world's most expensive player ever has shattered numerous goalscoring records since joining Real Madrid and proved himself to be an incredible finisher as well as a talented footballer.
In every interview Paulo Bento gives about the tournament, he insists that his team are not set-up to simply to play through the former Manchester United player. However when it comes to the crunch and Portugal are staring down the barrel, it'll be Ronaldo that they turn to. Given how Bento has been able to get the best from Ronaldo, he may just come good.
BPF Prediction
1. Netherlands
2. Germany
3. Portugal
4. Denmark
Euro 2012 coverage: Group A