The countdown has begun! Today we kick-off coverage of the Euro 2012 championship – beginning with a preview of Group A, where hosts Poland will be looking to overcome Russia, Czech Republic and 2004 winners Greece and progress into the quarter-finals for the first time in its history.
1. Poland
2. Greece
3. Russia
4. Czech Republic 
8th June: Poland v Greece, Russia v Czech Republic
12th June: Greece v Czech Republic, Poland v Russia
16th June: Czech Republic v Poland, Greece v Russia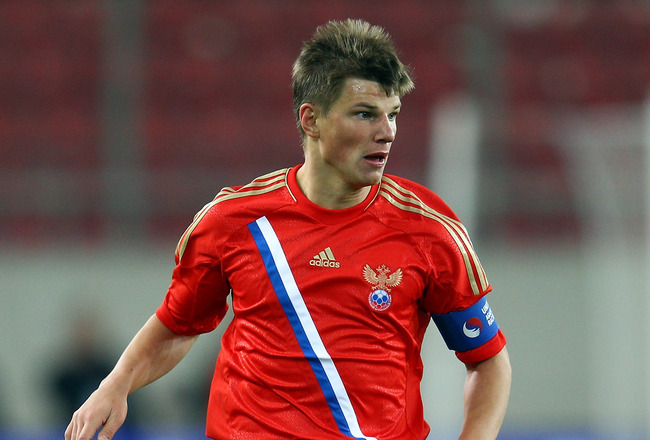 Poland
65th in the world
Ranked at a lowly 65th in the FIFA world rankings, Poland – the co-hosts of this summer's European Championships – have an opportunity to show the footballing world that they are worth their weight amongst Europe's elite nations. Not much is expected of the Polish side at the tournament, but they are an up-and-coming squad with enough talent to progress into the final eight, even if they are grouped with sides that have done extremely well in more recent competitions.
In only its second European Championships, Poland will hope not to experience the same fate as 2008's co-hosts Switzerland and Austria, who both failed to play past the group stage.
Some of those in the Polish ranks have already had a whiff of the sweet smell of success at club level. Poland has a contingent of three players from Jurgen Klopp's Borussia Dortmund side, who have just successfully defended their league title and added a domestic cup to the trophy cabinet in a double-winning season. Robert Lewandowski, the most highly touted player in the Polish ranks, scored 30 goals last season for Dortmund – 22 of which were in the league. This is the 23-year-old's first opportunity to show his worth on the international stage, as eleven of his thirteen international goals have come in friendly conditions. Having notched just two in World Cup qualifying, Lewandowski hasn't had a competitive game for Poland due to their automatic qualification as hosts.
Another of Dortmund's Polish trio will be captaining his national side on home turf next week. Jakub Blaszczykowski has been an integral component to the terrific Dortmund group, having played forty games this past season and creating two goals in the DFB-Pokal final against Bayern Munich. Behind Auxerre's Dariusz Dudka, the midfielder is the most experienced player in the Polish side and under his leadership and guidance, Poland will be confident about getting results in the group stage.
Poland is renowned for their goalkeeping talent and guarding the nets this summer will be Arsenal's popular stopper Wojciech Szczesny. At just 22, Szczesny will be one of the youngest goalkeepers on show but at an ample time to compound his stance as one of Europe's best up-and-coming goalkeepers.
Tactics
Coach Franciszek Smuda, who has a well-travelled career both as a coach and player, has the Polish side set up as a very tough team to beat. Although he's only had friendly games to live off of, and has often been missing some of the senior players, Poland have been victorious in all but two of their last ten games. They play with five in midfield, and will have Lewandowski leading the line. Anchored by Dudka and Murawski in midfield, this will give license to Blaszczykowski and Rybus out wide with Obraniak playing centrally.
Key Player
Although their most standout players will be further up the field, a lot of emphasis will be put on defence which includes the final third of the Dortmund contingent, Lukasz Piszczek. The right back will have his hands full with the Andrei Arshavins and Tomas Rosickys of the group stage. But it's hard to look past midfielder Jakub Blaszczykowski as the key man in this national side. Leading his team out in front of a home crowd in an international tournament, Poland will have to draw on his leadership, experience and recent taste for success to drive them into the quarter-finals.
Greece
14th in the world
Astonishingly, eight years have passed since Greece shocked the world and won the 2004 European Championship.
It has been somewhat of a golden period for Greek football. Having only qualified for two international tournaments prior to that unlikely victory, Greece have battled their way to qualification to the last two European Championships as well as the World Cup in 2010, but failed to progress past the group stage in either. The same again is expected for an experienced but aging side, but Fernando Santos' side are not too dissimilar to the victorious team of 2004. They only conceded five goals in the qualifiers, while the Portuguese coach has lost just once in twenty games for the Greeks. It is the same solid defensive displays and heavy use of dead-ball situations that see Greece through qualification undefeated, and looking to somehow replicate their 2004 triumph.
The onus on Greek football is much greater than ever before. The country is in economic turmoil, governments are revolving and the people need a release. Just like how Irish sports fans have drawn morale from the success of the rugby and football national teams in recent years, the population of Greece will be cheering on their team like never before.
During qualifying, Greece were drawn in a relatively 'easy' group – their toughest opponent being Croatia, who have dipped somewhat since the last championship. A 3-0 win at home and a draw in Croatia, however, and Greece ensured qualification to their third international tournament in a row.
Greece is not without its share of exciting young midfielders, however they are expected to play a limited role in the 4-5-1 setup. Panathinaikos winger Sotiris Ninis is highly rated, as is Olympiacos' Giannis Fetfatzidis. The pair will undoubtedly be Greece's two most exciting players if they make the field, but excitement has never been Greece's thing! Both have been used sparingly by Santos, perhaps due to doubts over their defensive capabilities.
Defensively they will be back-boned by Werder Bremen's Sokratis Papastathopoulos and Olympiacos defender Avraam Papadopoulos. They'll be giving problems to strikers and commentators alike in Poland and Ukraine.
Tactics
A heavy-dose of defensive duties for all eleven players, spearheaded by either Fanis Gekas or Giorgos Samaras who will be expected to work alone for much of the three games. Holding the play in midfield will be Kostas Katsouranis, a veteran of 2004, who plies his trade as well with Greek giants Panathinaikos. He will be alongside club teammate Giorgos Karagounis, who was instrumental in that win eight years ago.
Key Player
Probably the two previously mentioned, Karagounis and Katsouranis. In a team that relies on defensive obedience and accurate set-pieces, the midfield pair will be integral to delivering more of the 'same old' for Greece this summer.
Russia
8th in the world
Back in 2008, everyone was raving about Russia pre-tournament. This time around the hype is less so, as we've come to know what to expect from Andrey Arshavin, Roman Pavlyuchenko and their teammates. Russia got as far as the semi-finals in that tournament, ultimately losing convincingly to eventual winners Spain, 3-0.
Although the hype has been severely lessened, perhaps in part due to their failure to qualify for the 2010 World Cup, Russia are in position to go a long way this summer. Replacing Andrey Arshavin in the hype-machine is CSKA Moscow attacker Alan Dzagoev, who had four goals from eight qualifying games. The 21-year-old has already played over 100 games domestically, and although a league medal so far alludes him he does have three Russian Cup medals to his name. With this man dazzling from the right hand side, Russia are pretty much unchanged elsewhere in the team. Igor Akinfeev is still between the sticks, and is still sticking it out in the Russian league despite plenty of rumours linking him with a move west. Former Chelsea wing back Yuri Zhirkov was tremendous in Austria & Switzerland, and is another mainstay in the side.
Qualification was relatively straightforward for Russia. Two draws and a disappointing loss at home to Slovakia were all that negated Dick Advocaat's team, but they finished comfortably – two points clear of Ireland and six ahead of third placed Armenia.
Tactics
Much of the attacking onus will be placed on captain Andrey Arshavin and, on the other side, Alan Dzagoev. Much is expected of Roman Pavlyuchenko, who returned home to Russia after three years in England with Tottenham. He will be spearheading the attack in a lone striker role, holding up the ball for the wide players while Konstantin Zyryanov and Roman Shirokov provide numbers from midfield.
Key Player
Can I say Andrey Arshavin? The Arsenal man may have his detractors back in the Premier League, but in Russia – where he spent the last six months on loan at Zenit St. Petersburg – he is hailed as a hero and the man that will lead the national team to any sort of success. Although he was quite anonymous for much of his time at the Emirates, similar won't be accepted in a Russian shirt.
Czech Republic
26th in the world
Czech Republic is another side that recently had a fairly successful European Championship. In 2004 in fact, where the reached the semi-finals before getting knocked out by Greece after extra time in classic Greek fashion – losing 1-0 in a dreary, dogged display.
Since then, however, the Czech Republic national side has experienced quite a fall from grace. They were knocked out of the group stage in 2008, while failed to qualify for the World Cup in 2010 in a group where they were considered favourites. Michal Bilek is still quite reliant in 2004 top scorer and Champions League winner Milan Baros, who currently plays with Galatasaray in the Turkish league. Additionally, Tomas Rosicky of Arsenal is relied heavily upon for creativity in midfield, when it's safe to say his better days are behind him.
The Czechs failed to really impress in qualifying, and perhaps lucky to do so – fighting off Scotland in the final round of games with help from Spain. They scored just twelve goals in the eight qualifying games, which included a home loss to Lithuania. Fans have reason to be excited, however, as the attacking talents of Tomas Necid and Tomas Pekhart are finally on show. Necid, at just 22-years-of-age, has netted seven times and played 26 games for the national side. Pekhart, on the other hand, has showed glimpses of great quality but having failed to make the grade early in his career at Tottenham, has been slow to get off the mark for both club and country – but did catch the eye at last summer's U-21 European Championship.
Tactics
After struggling for a period in the classic 4-4-2 formation, the Czech's switched to the more popular 4-5-1 which has seen a slight change in fortunes. Milan Baros, however, may lack the quality to pull off the lone striker role behind Rosicky. While Necid and Pekhart may be used in offensive reserve, Vaclav Pilar of FC Viktoria Plzen and Jan Rezek of Anorthosis will start out wide. Bordeaux's veteran midfielder Jaroslav Plasil will provide quality from the centre – with 70 caps and 30 goals, Plasil has been just as important to this generation of the national side as Rosicky and Baro.s
Key Player
Petr Cech will need to have a big tournament, but that's expected from the Chelsea hero who has regained his form after a brief lull post-head injury. Plasil will be relied upon in midfield, but as per usual Milan Baros will be expected to deliver goals for the Czechs. Whether he still has the quality however is another thing, having only scored once in qualifying. The 30-year-old was terrific in his early years in Turkey, but last season only scored eight, which followed a haul of eleven.
BPF Prediction
1. Russia
2. Poland
3. Czech Republic
4. Greece
Euro 2012 coverage: Tomorrow, Group B.