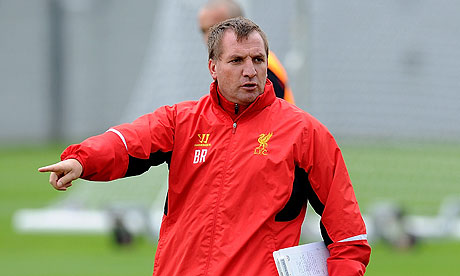 Upon the arrival of Brendan Rodgers at Anfield came a new sweeping revolution, the 'tiki-taka' revolution. However, after four home league games the side are without a win and the side are finding goals hard to come by despite having seemingly found their scoring touch in an emphatic win over Norwich City. The reasons for the sides less than impressive home form remain unanswered but heavily debated although one fundamental problem may in fact be the Anfield turf itself, primarily it's size.
Anfield remains one of a few stadiums in the Premier League than can boast such a rich history and despite coming close to being left dormant as Liverpool made way to a new ground in Stanley Park financial issues and a change of ownership seem to have secured it's future with news regarding the future redevelopment of the stadium and surrounding area recently announced.
As well as the rich history comes a pitch 101 metres long and 68 metres wide, making it one of the smallest pitches in the Premier League.
The tiki-taka total football style is best served on a larger pitch in order for a side to be able to use the space and spread the play as much as possible. This involves the wide men looking to utilise the space out wide, something Rodgers has spoken about on occasion.
The modern games tiki-taka flag bearers are undoubtedly Barcelona who play on a pitch 105 metres in length and 68 metres in width, and over the past 4 years the Spanish giants have lost just 4 league games at home.
Swansea City's Liberty Stadium pitch is in fact the same size as the Catalan sides Nou Camp surface as well as the same as the pitches at Old Trafford, the Emirates and the Etihad. This season new Premier League rules actually state that all pitches in the league must be at the regulation size of 105m by 68m although they do allow sides to have lower dimensions if their grounds structure does limit the size of the pitch.
This is a change in the rule which allowed sides to have a pitch anywhere between 110 and 100 metres long and 75 and 64 metres wide.
One side that had taken full advantage of that rule has been Stoke City who have the bare minimum sized pitch at their Britannia stadium. This has led to many sides struggling on trips to the ground such as Arsenal who since Stoke's promotion to the Premier League have visited the Britannia six times and walked away victorious just once.
Liverpool currently sit 14thin the league with 6 points. Away from home they have picked up 4 of those points with all three of the games being played on the regulation sized pitches of 105m by 68m.
So far Liverpool have been less impressive in terms of results at Anfield however they will consider themselves unfortunate. They have faced up to 3 of last seasons top 4 sides at home as well as having a number of refereeing decisions going against them. The Reds have an average 54.3% of possession at home so far even controlling possession against Manchester United despite being down to 10 men for the majority of the game.
Rodgers has in fact still only picked up 1 point less than Kenny Dalglish did last season in the same four fixtures. A statistic that could have been much different if not for a particularly poorly hit back pass from one Martin Skrtel.
Of course it would be completely unfair to judge this particular Liverpool side based on four games but with a look back at how Rodgers' Swansea City team did last season on particular pitches can give us an idea as to what challenge Liverpool could face picking up points on the Anfield turf.
At the Liberty Stadium, Swansea were successful notching up wins over the likes of Arsenal, Manchester City and Liverpool. Overall they picked up 31 points with 8 wins and 7 draws, keeping 9 clean sheets.
Although, on the road last season Rodgers' Swansea City picked up 16 points with an average possession of 56.5% over the 19 games. On their travels 12 sides had pitches that were smaller than the Welsh sides own. In those 12 games Swansea were only able to win once, on the near minimum sized 100 metre long and 65 metre wide Craven Cottage pitch. Overall, Rodgers' side were only able to pick up 6 points from the 12 games with draws coming at the Reebok, Molineux and Rodgers' future home of Anfield.
Unsurprisingly, on the seven pitches with the same dimensions to that of Swansea's the Welsh side had a bit more luck. In those seven games they picked up 10 points with 3 wins and a draw, picking up 4 more points than they did on the leagues smaller pitches despite having played 5 less games. However, what is surprising is the possession and passing statistics.
When travelling to pitches smaller than their own Swansea managed an impressive average 59.9% possession. The surprise comes in the fact that in the games on pitches 105m in length and 68m in width the Swans averaged just 50.5% possession with a lower passing accuracy percentage over the season also, completing an average 82% compared to 86%.
A higher proportion of passes in the attacking third also came in games on the smaller pitches with an average 17.4% of the sides successful passes coming in the opposition half compared to 14.8% of passes in games on pitches like their own.
Swansea's lowest level of possessions in fact came in the loss at Old Trafford with the Welsh side seeing just 40.2% of the ball although considering the fact the average amount of possession opposition sides garnered at Old Trafford last season was just 39.9% the Swans may not have been too dissatisfied by their share of the ball that day.
It appeared that for Swansea last season the away performances most reflective of the tiki-taka philosophy came on the smaller pitches but still did not reel results. The three games in which they had the most possession all in fact resulted in losses.
For a side looking to play as Swansea did many teams have begun to find that instead of looking to mark the man sides will look to limit the space opposition sides have, a tactic Chelsea successfully used to bypass Barcelona last season in the Champions League.
Of course for sides like Stoke City they are able to find it easier to limit the space on a pitch that is smaller. Stoke were the most recent side to travel to Anfield and despite controlling possession and the game; Liverpool were only able to find a few goalscoring opportunities as the game petered out to a bore draw.
There is certainly no denying the other factors attributing to the less than impressive home form, it is certainly nothing new. Liverpool only managed 6 league wins at Anfield last season, a major reason that time was called on the second coming of King Kenny.
It is certainly no secret that the Reds lack a goalscorer and with one they may be able to drive out results against sides like Stoke who will come to Anfield and effectively park the bus however the size of the Anfield pitch seems as if it will be just as detrimental to Liverpool's hopes this season as the current lack of a proven goal scorer.
With the newly promoted Reading next to visit Anfield many Kopites will be quite rightly expecting nothing other than a win. The Royals are yet to pick up a win and have picked up just one point on their travels so far this season. It certainly seems like the best chance the Reds will have to put fan anxieties to bed for the time being at least.
In the documentary series 'Being Liverpool' during Rodgers' first home game team talk he conveniently speaks of turning Anfield into a fortress, Right now it is anything but. Of course a few metres difference won't mean a failure of Rodgers' system but it is certainly no help when Liverpool come up against sides content to walk away from Anfield Road with a point in hand. With the side looking more comfortable in this system as the weeks go by it seems likely that they will find form and begin to move up the table, Liverpool fans will just be hoping the 'crusade' starts sooner rather than later.