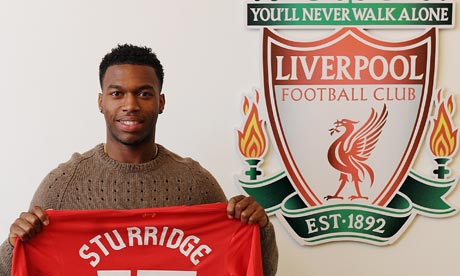 If one Chelsea player was sad to see André Villas-Boas go on 5 March, 2012, it was Daniel Sturridge.
After all, the Portuguese's predecessor, Carlo Ancelotti, started Sturridge just six times in the eighteen months he oversaw the Englishman's development between 2009/2010 and 2010/2011.
Admittedly, Ancelotti played a crucial role in the decision to farm Sturridge out to Bolton in the second-half of 2010/2011 – which saw the striker net a brilliant eight goals in twelve matches as a central striker – but the Italian, ultimately, never fancied Sturridge.
In contrast, once available from suspension, Sturridge was immediately called into the first XI by Villas-Boas for the 1-2 victory against Sunderland on 10 September, 2011 and the converted inside forward went on to score eleven goals in twenty-nine appearances under the Portuguese.
An influential role for England in the European Championships seemingly beckoned, following a debut against Sweden under Fabio Capello on 15 November, 2011, but Sturridge has undeniably frustrated and stagnated since Villas-Boas departed.
A combination of niggling injuries, a frustrating selfishness for potshots, a public thirst to play centrally and Roman Abramovich's vanity project, Fernando Torres, has seen Sturridge start just seven matches for Chelsea since 21 February, 2012.
This was a worrying echo of Ancelotti's failure to fully utilise Sturridge, but with the Englishman now at the crucial age of twenty-three, Sturridge needs stability and a weekly outlet to prove his mercurial talents.
Still, even in the handful of games he has played for Chelsea in the past ten months, Sturridge has shown little of the unpredictability and potent skillset that once suggested his £6.5m tribunal fee from Manchester City in 2009 was more than justified.
Instead, there has been something of a faux-confidence about Sturridge: he is still armed with the trademark stepovers and pop n' lock dancing celebration, but has developed a worrying tendency of late to let Chelsea fans' groans get to his head and in an attempt to prove them wrong, aim to over-dazzle with unnecessary panache and flash.
As a result, it is little surprise that Sturridge still possesses an age-old superiority complex, owed much to the fact that the Englishman has always been surrounded by zealous support and financial backing.
Whether it was the footballing experience and backing of his father, Simon, or his uncle, Dean; the fact that he was one year 'ahead' of his peers at an underage level in being born on 1 September; or because Manchester City paid a near-unprecedented tribunal fee of £230,000 for a  fourteen year old Sturridge in 2000, Sturridge has never been short of self-confidence.
Clearly, in taking a £20,000 wage cut – eased by Chelsea's £1.5 million pay-off in a bid to, effectively, sweeten the fact they forced Sturridge out – Liverpool may believe that Sturridge has shown immense thirst to play in front of the Kop.
However, Sturridge's circle's dallying – over their thirst for Liverpool to include a sell-on fee stipulation in his contract – suggests that the player, at twenty-three, may see his spell at Anfield as something of a stepping-stone – even if it is a "humongous club."
It accentuates the fact that financial intricacies have already heavily influenced Brendan Rodgers' time at Liverpool, particularly with the potential Gylfi Sigurðsson and Clint Dempsey deals, and it already seems that his potential £17/18 million splurge on Sturridge and Tom Ince will define his reign.
So, while Rodgers has been quick to speak righteously that Liverpool's prestige should take precedence for potential signings over money, a failure to prise Sturridge would have been one failed capture too many for Rodgers' credibility.
The Northern Irishman, behind the scenes, clearly saw Liverpool's hierarchy doing all they can to sign Sturridge as a necessity but, publicly, he made a thinly-veiled attack on Sturridge's representatives in a bid to sell the right message to Liverpool's fans:
They will get a good contract coming here but if they want to argue over money, and other things that go around it, I don't want them here. In my experience, those players will eventually let you down anyway. So, for us, it is about getting players in who are hungry to succeed and to pull on the shirt.

That's the simple message for any player coming here – you can't take the money and run. You have to earn the right to play for this club and to help us succeed.
Still, Rodgers, understandably, sought someone to take the goalscoring burden off Luis Suárez, whose sixteen goals in all competitions are eleven ahead of his nearest team-mate.
While it may seem that the Premier League's highest-leading goalscorer, Robin van Persie, is relied on to a much greater extent by Manchester United, the Dutchman's nineteen goals in all competitions equates to 28% of their overall sixty-nine goal haul, compared to Suárez's eighteen making up 33% of Liverpool's smaller fifty-four goal yield.
In theory, Sturridge will improve this statistic and the potential dynamic interchange and tactical unpredictability he and Suárez could offer Rodgers is certainly intriguing. Also, Sturridge's off the ball runs could, near-indirectly, create opportunities for Suárez.
Of course, though, Liverpool have suffered this season with attackers not tracking back and Sturridge is an even more notorious offender than Raheem Sterling or, indeed, Suárez – without even addressing Suárez and Sturridge's frustrating selfishness.
Also, the pressure on Sturridge to hit the ground running will be immense, but – aside from his four-month spell at Bolton in 2010/2011, where he was the undoubted main man and central outlet – Sturridge has yet to prove himself as a natural, prolific goalscorer at senior level. Whether he will be happy at having to play as a strict, down-the-line winger at times for Rodgers also remains to be seen.
Ultimately, it seems that Liverpool have missed the point in alleviating the goalscoring pressure off Suárez in signing, essentially, a similarly-styled, gifted deep-lying forward who is not wholly known for his poaching ability or for his link-up play.