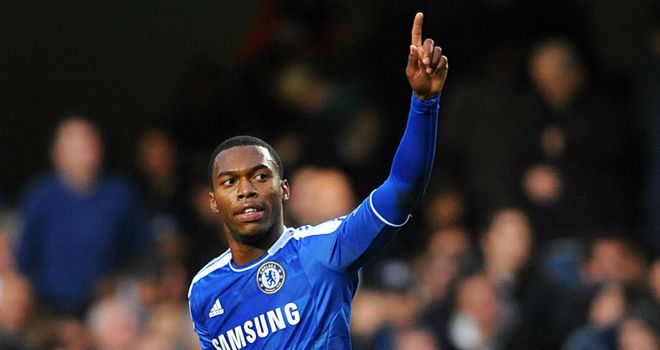 Despite the glamorous arrivals of Ruud Gullit, Roberto Di Matteo, Gianluca Vialli and Gianfranco Zola in the mid-'90s and the big-money signings of Didier Drogba, Michael Essien, Andriy Shevchenko, Fernando Torres and Juan Mata in the past decade, Chelsea fans have always had a particular affinity with English footballers.
After all, the few constants in Chelsea's recent history have often been Englishmen: Dennis Wise (1990-2001), Graeme Le Saux (1987-1993, 1997-2003), Joe Cole (2003-2010), John Terry (1998-), Frank Lampard (2001-) and Ashley Cole (2006-). That is why Chelsea fans are so desperate for the likes of Ryan Bertrand and, particularly, Josh McEachran to break into the first XI: players who have started their careers at Chelsea, who have come through the youth ranks, who understand the heritage of Chelsea Football Club and who are relatively local (Bertrand's homeplace of Southwark is just sixteen minutes ((10.5km)) from SW6, while McEachran's hometown of Oxford is just over an hour away ((93km)) from Stamford Bridge).
However, in an era where few fully, as footballers who have been at their club since the beginning of their youth careers, homegrown British fledglings break into top Premier League sides, a recent phenomenon is that of buying readymade youth players who may have previously slipped through the net and who only require two years of priming before being ready for the highest level: Theo Walcott at Arsenal; Aaron Lennon and Gareth Bale at Tottenham; Phil Jones and Chris Smalling at Manchester United; Joe Hart at Manchester City; and Daniel Sturridge at Chelsea. In a defining upcoming decade for Chelsea, with the blueprint laid by José Mourinho and Carlo Ancelotti giving way to a new philosophy under André Villas-Boas and beyond, it already looks like the remarkably composed and consistent, despite Chelsea's already rollercoaster season, 22 year old Sturridge will play a massive part in Chelsea's future.
Daniel Sturridge was born in Birmingham on 1 September, 1989. With the fortunate luck of being born a 'year ahead' of his peers due to his 1 September birthday and being blessed with natural striker instincts from an early age, whether it was his remarkable composure, lightening pace or an adeptness with either foot, Sturridge was snapped up by Aston Villa from his local Cadbury United at nine years of age in 1992. Villa's decision was not only influenced by the fact that football clearly ran in the family genes, with Daniel's father (Michael, Birmingham City reserves) and uncles (Dean, notably Derby and Wolves, and Simon, proved himself at Birmingham and Stoke), but also because Daniel impressed in a five-a-side match between members of Aston Villa's first-team (Gareth Barry, Paul Merson and David James appeared among others) and his St. George's primary school. Despite providing memorable moments in under-ten and under-thirteen matches against fellow Premier League opposition, such as scoring a hat-trick against Tottenham (including a remarkable free-kick struck into the top corner, despite Sturridge's tiny stature which saw the ball come up to his knee in 1998) and Wolves (rolling off his marker and cracking a eighteen-yard volley into the top corner in 2001), Aston Villa did not fight for Sturridge when it emerged that his father, who had just been offered the position of scout at Coventry, wanted to take him with him to the Sky Blues in 2002.
Within just one season in Coventry's youth team and at the pivotal fourteen year age, Sturridge was poached by Premier League side Manchester City. The resulting tribunal, a reoccurring motif in Sturridge's short career, led to City paying Coventry a whooping £230,000, £30,000 was paid in 2003 and the further £200,000 was staggered over inevitable first-team appearances and underage caps for England, for the youngster in the summer of 2003. The adolescent Sturridge's reputation grew at a rapid rate from 2003: finishing as top-scorer (seven goals) and player of the tournament (a dual-honour not achieved since Carlos Tévez played in the tournament in 1999) at the under-15 Nike Cup (a youth club tournament, where Sturridge came up against the likes of Bojan, Mamadou Sakho, David N'Gog and Giovani Dos Santos in Helsinki). From this, Sturridge's youth career at City took off: scoring six goals, despite being the squad's youngest player, in the youth team's run to the FA Youth Cup Final. Admired by Stuart Pearce, a keen user of players who came through the club's youth ranks, be it Michael Johnson, Micah Richards or Ishmael Miller, Sturridge, aged seventeen, began to train with the first-team at the beginning of the 2006/2007 season.
In just his first full season in the reserves, Sturridge's consistently prolific displays led to him making his first-team debut from the bench against Reading on 3 February, 2007. Coming on for Georgios Samaras on 74', there was to be no Roy of the Rovers moment for Sturridge, yet, and instead, the Englishman was ruled out of action for the rest of the season after sustaining a serious hip injury in training that ruled him out of the rest of the 2006/2007 campaign. For the 2007/2008 campaign, Sturridge found first-team opportunities limited, just four in total, under Pearce's replacement, Sven-Göran Eriksson, and despite netting a goal in his first ever start for the senior side against Sheffield United in the 3rd round of the FA Cup on 27 January, 2008, Sturridge returned to the FA Youth Cup circuit again – this time as one of the side's oldest players. Keen to win the tournament, having previously finished as a runner-up, the 19 year old Sturridge finished as the competition's top scorer (five) as City won the tournament after beating Chelsea 4-2 on aggregate. Having scored his first Premier League goal against Derby on 31 January in the same season, Sturridge became the first ever player to score in the FA Youth Cup, Premier League and FA Cup in the one season.
With Sheikh El-Mansour's arrival and Eriksson's replacement's, Mark Hughes, signing of Robinho, the nineteen year old Sturridge's long-term future, let alone his short-term prospects, at City did not look any more promising than it had in 2007/2008. However, Hughes, especially in the final stretch of the season, gave Sturridge ample game time and he made an impressive twenty-six appearances in that campaign, scoring four goals and assisting three more. The fact that he made sixteen of those appearances in the league was encouraging, particularly when one considers the impact that he had on the match against Blackburn on 28 December, 2008 and the telepathic relationship he so quickly struck up with Robinho, and Sturridge was awarded City's Young Player of the Year award for the 2008/2009 campaign. However, after witnessing the arrivals of Roque Santa Cruz, Emmanuel Adebayor and Carlos Tévez in the summer, not to mention Craig Bellamy in the previous January transfer window, Sturridge realised that it would be incredibly difficult to even repeat his previous season's appearances at Eastlands and after City refused to hand him a new contract worth £55,000 per week, Chelsea offered Sturridge a four-year deal.
The eventual £6.5 million fee, due to Sturridge being under 24, was decided by the Professional Football Compensation Committee and even though Sturridge's decision was met by overwhelming cynicism due to Chelsea having similarly well-stocked striking options, he was adamant that he had a better chance of breaking into the side and winning silverware at Stamford Bridge than he did at City. In hindsight, it was an unfair misconception of Sturridge: a man who, at the crucial development age of twenty years old, shied away from the Central London nightlife, instead preferring to go to the West End, to prove himself to Carlo Ancelotti – the man who did not sanction his signing officially; who was without his family, whom he was very close to, for the first time in his life; who was terrified performing Chelsea's trademark initiation, a song without a backing track in front of the squad, with his rendition of Boys II Men's 'I Swear'; and who brought his collection of wrestling figures, with wrestling rather than football being his initial first love when he was a child, with him to his plush new house in Esher, Surrey.
In short, Sturridge was a vulnerable character, open to press criticism due to the fact he played football with 'unjust' swagger and was about to earn £55,000 per week at Chelsea. With Didier Drogba, Nicolas Anelka, Florent Malouda and Salomon Kalou all seemingly ahead of him in the pecking order, Chelsea's pre-season tour of America was key for Sturridge in proving his merits to Ancelotti and avoiding being prematurely loaned out to another club, instead of a valuable season of tutelage from a world-class coaching set-up and the chance to play in the Champions League. Sturridge started impressively: scoring Chelsea's first goal of pre-season in the 2-0 win over Seattle Sounders on 12' and winning a penalty against Internazionale in Chelsea's next friendly. Still, though, even with the inconsistent Anelka, Malouda and Kalou, Sturridge rarely got a look in under Ancelotti – a case that epitomised Ancelotti's fear of using young players in more competitive games outside the early rounds of the FA and Carling Cups, which was embarrassingly evident in the dead rubber against Newcastle on 15 May in the following 2010/2011 campaign when Josh McEachran was the only play under 24 utilised.
2009/2010 was key for Sturridge in honing his talents and winning the first major medals (the Premier League and the FA Cup) of his career, but twenty appearances (only two start outside of the Carling and FA Cups, in the 0-0 draw with Birmingham on 26 December and the 0-5 win over Portsmouth in the Premier League on 24 March, 2010) was harsh on a man who netted five goals (finished as Chelsea's top scorer in the FA Cup with four) and two assists in twenty appearances – particularly given Chelsea lack of pace, unpredictability and dynamism in the final third. Still, though, Sturridge had laid decent foundations for breaking into the first XI eventually, proving his controversial £6.5 million fee and £55,000 wage were not so incredibly unjust and winning silverware immediately, but until he made that breakthrough, it was hard for anyone to agree with his belief that he would have a greater chance of breaking into the Chelsea side in comparison to City.
2010/2011 proved as frustrating for the 21 year old Sturridge and while he made 21 appearances up until 15 January, only four of these were starts: the two Group F victories over MSK Zilina, the 3rd round Carling Cup defeat to Newcastle and the 7-0 hammering of Ipswich in the 3rd round of the FA Cup. Having witnessed the effect a loan move had in launching the similarly-aged Jack Wilshere's career in Arsenal's first XI, with Owen Coyle's undoubted man management, somewhat ironic given Sturridge's supposed arrogance, and having been aware of Chelsea's well-publicised plans being readied for a British record transfer bid for Fernando Torres, Sturridge decided that a six-month loan move to high-flying Bolton could give him the platform to prove to Chelsea and English football that his potential had not stagnated. Considering the fact that Sturridge had started just nineteen senior club games in three seasons, including his breakthrough 2008/2009 season at Man City, the Englishman's immediate impact, game-breaking qualities and eight goals (including crackers against Arsenal, Tottenham, Newcastle and Everton) in twelve games for Bolton made him one of the signings of the season.
This was all the more remarkable given the fact that Sturridge was only at Bolton for six months and in hindsight of their insipid performances and lack of firepower since he left, few could doubt that Sturridge had matured into a potential international-standard finisher. Having excelled in every age group (Under-16, Under-17, Under-18, Under-19, Under-20, Under-21) at a youth international level, including scoring in the 2006 Under-17 European Championship final against Italy and netting in the 2008 Under-19 European Championships against the Netherlands, it seemed inevitable that the reborn Sturridge would play a big part in Stuart Pearce's plans of winning the 2011 Under-21 European Championships. While it was a disappointing tournament for England, going out with two points in a fairly straightforward Group B alongside Spain, the Czech Republic and Ukraine, Sturridge's confidence, incredible pace with the ball and ability to devastatingly cut inside and launch powerful left footed drives lit up some otherwise laboured England performances. However, the importance of the tournament to Sturridge's career paled in comparison to Chelsea's summer tour of Asia.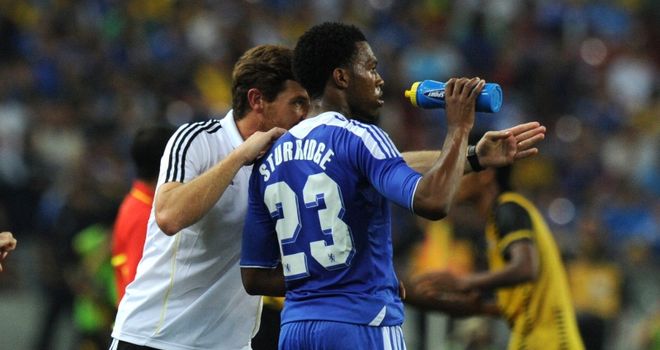 Sturridge barely had time to visit his ancestral home of Jamaica after the tournament, with André Villas-Boas becoming Chelsea manager on 22 June and offering every player a chance to impress and prove their worth. With the Portuguese's claim of no pre-conceptions or invincibles, Sturridge had to lay down a marker on at least a '12th man' role as an impact substitute before Villas-Boas inevitably turned to the transfer market at the end of July. However, few at Chelsea could have predicted Sturridge having such a stellar and mature pre-season: excelling in the unfamiliar position of right wing and sacrificing his preferred central slot, showing remarkable link-up play with senior teammates he had rarely started matches with before, possessing incredible hunger and fitness (no sign of a hangover from his excursions at Bolton and for England's Under-21s) and scoring a brilliant solo effort against Kitchee and a brace against Rangers. It led to a favourable comparison with Hulk from Villas-Boas and Chelsea's chairman, Bruce Buck, later added that had Sturridge not impressed on pre-season, he would have inevitably gone on loan again.
Even though Sturridge missed the first three games of the season due to a red card he received with Bolton against Manchester City on the last day of the 2010/2011 campaign, it was soon evident that Villas-Boas valued the Englishman's talents and newfound suitability as an inside forward in a 4-3-3 formation. From this, Sturridge immediately started once available, away to Sunderland on 10 September, and scored a magnificent back-heeled goal that oozed self-confidence in its brilliant top spin past Simon Mignolet. Sturridge then scored a brace and assisted a Frank Lampard goal in his return to Bolton at the Reebok, showing admirable maturity and respect in not celebrating either goal – two traits that may not have been so evident only twelve months previously. Sturridge has since gone on to score against Everton (15 October and 26 October), Liverpool (20 November), Wolves (26 November), Newcastle (3 December) and Wigan (17 December). The 22 year old's brilliant form led to a well-deserved England debut against Sweden on 15 November and it looks increasingly likely that he could yet push for a first XI berth for the 2012 European Championships.
Such has been Daniel Sturridge's performances in the past eleven months, many are wondering why André Villas-Boas does not redeploy the 22 year old in his natural position of central striker. After all, Sturridge has already showed the devastating off the ball movement, brilliant first touch, composure and poacher instincts expected of a top-class number nine. Nonetheless, without even addressing Didier Drogba's 'renaissance', Sturridge still has attributes to improve on: his heading, his consistent one-on-one finishing and his tendency to cut inside too often.
However, such criticisms are an incredible disservice and his importance to Chelsea, a team who have lacked genuine pace and delivery (on the right hand side, in particular, with Sturridge's brilliant cross against Manchester City for Raul Meireles' goal a sign of things to come) since Arjen Robben, cannot be underestimated. With a Chelsea Player of the Year award inevitable and the peak-aged Drogba (33) and Fernando Torres (28) soon nearing the end of their respective careers at the highest level, few would bet against Sturridge becoming Chelsea's future number nine.