In his first article for BackPageFootball, Callum Wilson describes his thoughts the day after the World Cup Final having sat through another night of BBC coverage.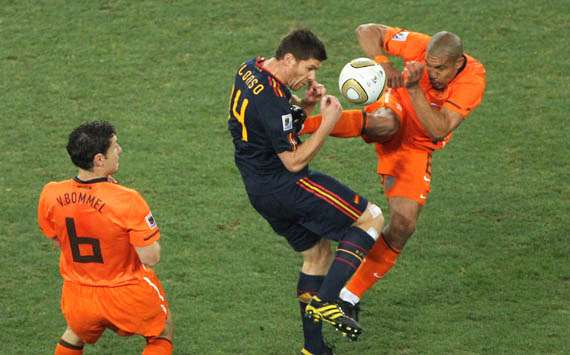 Well it's Monday morning and the come down of having no more World Cup. As I stare depressingly at a World Cup-less TV guide and my crumpled Holland top on the floor my thoughts turn to last night's final and a game that was blasted across the morning papers as "A World Cup final so toxic in Nature",  "A World Cup final so far removed from the Beautiful Game" and "an excruciating, pockmarked, foul-filled 120 minutes."
Of course we all know the build up to the game. Two World Cup virgins. Two teams famous for playing the "Beautiful Game" in all it's glory, Holland's legendary Total Football and Spain's acclaimed Tika-taka.
And I think it's fair to say that it didn't quite live up to it's hype. But then, honestly, when do games like this ever live up to the ever increasing hype?  14 yellow cards, a red and 116 minutes to wait before the first goal was scored obviously constitutes something akin to the opposite of the "Beautiful Game" and therefore a failure, let down, disgrace or whatever else it has been branded with in this morning's media.
I watched the game last night and despite my Holland losing I really enjoyed the game. At times it was end to end stuff. At others an intriguing tactical battle. Spain were being shut out by a committed Dutch defence despite it being made up of some fairly average players. And the exciting Arjen Robben terrorised the Spanish defenders at times. I hope I'm not alone in saying that I actually enjoyed watching the tackles go flying in, the heated arguments and the frustrated coaches on the touchline. It's all part of the excitement of the game. It was certainly more consistently enthralling than the '06 final.
The final was shown live on the BBC and this was how I watched it. The pundits on the BBC were, as usual awful. Everyone's favourite Alans; Shearer and Hansen. Lee Dixon. Gary "pun in every sentence" Lineker. Mark "depressing Scouse sod without anything of real interest to say" Lawrenson. On the radio they're no better; Steve "well if it had gone in the net it would've been a goal" Claridge, Graham "they're playing attacking football and there's nothing wrong with that" Taylor and Alan Green; the biased, opinionated and self declared Englishman commentator. At points in the game where it wasn't quite end to end stuff they turned over to 4 times Champions League winner Clarence Seedorf only to hear him say that the only way Holland could win would be if they scored. What an insight!
The pundits were, as expected, firmly on the side of Spain. According to them Holland would have to be on top form defensively to hold back that mighty Spanish frontline of Villa, Xaviesta (as I have so cleverly named them!) and Torres. Holland have been excellent defensively so far and are unbeaten in competitive matches since the start of qualifying.
And in the first half in Jo'berg they managed to somehow keep the Spanish at bay. De Jong, admittedly could've gone in the 1st half for "gruesomely kung fu kicking Alonso in the chest." And van Bommel was also lucky to stay on. The BBC pundits quite rightly pointed out the lack of discipline at half time. However my problem with them comes after the full time whistle.
The much praised Howard Webb did seem to have some trouble stamping his authority on the game although he had a decent game until just before Spain scored. First of all Sneijder's free kick was clearly deflected by the wall and then saved by Casillas – only a goal kick. Then, seconds later, Elia was blatantly fouled by two Spaniards – nothing given. And with the men in orange stuck further up the pitch it let Spain fly forward and eventually led to the goal.
As Spain were lifting the trophy the commentator, Guy Mowbray, exclaimed that, "And Holland only have themselves to blame!" I bring to your attention Guy the previously mentioned refereeing errors. Alan Hansen then added that "There's no room in football for the way the Dutch approached  the game." Sorry Alan I may be wrong but there's no room in football for hard tackling against technically superior players? Or playing a system involving a strong and well organised defence and skillful, fast, counter attacking forwards? Before the piste de resistance from Lee Dixon, "Well there was only ever one team that really wanted to win today." That's right Lee, only one team ever really wanted to win football's, maybe even sport's greatest ever prize.
For me the final was ruined by the terrible punditry and the ridiculous coverage this morning in the media (most notably Kevin McCarra's article in the Guardian)  rather than a bit of argy bargy. A nice ending to the match on the field though – Casillas's reaction at the whistle was absolutely superb.