Scolari has entrusted the fate of the defending champions of the Confederation's Cup into the hands of the 'Next Pele' and the 'New Ronaldo'. He has decided to feature the young and rising generation of Brazilian football in the tournament where they play against Japan, Mexico and Italy in the group stage.
Scolari has excluded Ronaldinho and Kaka from the Confederation's Cup squad and included the now Barcelona player Neymar, Olympics top-scorer Leandro Damião and Chelsea's playmaker Oscar instead. Critics have described his squad selection as a team which isn't ready to play on international platform but analysing the level of skills the players have to offer it becomes clear why Scolari chose the players he has.
The squad of twenty-three players features:
Goalkeepers: Júlio César (Queens Park Rangers), Diego Cavalieri (Fluminense), Jefferson (Botafogo)
Defenders: Daniel Alves (Barcelona), Jean (Fluminense), Filipe Luís (Atlético de Madrid), Marcelo (Real Madrid), David Luiz (Chelsea), Réver (Atlético Mineiro), Dante (Bayern Munich), Thiago Silva (Paris Saint-Germain)
Midfielders: Paulinho (Corinthians), Fernando (Grêmio), Luiz Gustavo (Bayern Munich), Hernanes (Lazio), Oscar (Chelsea), Lucas Moura (Paris Saint-Germain), Jadson (São Paulo)
Forwards: Neymar (Barcelona), Fred (Fluminense), Hulk (Zenit), Leandro Damião (Internacional), Bernard (Atlético Mineiro).
THE GOALKEEPERS
Julio Cesar (Queens Park Rangers)
After signing from Inter to Queens Park Rangers, Julio Cesar has been struggling. Whether it be injuries preventing him from making International appearances or his club's relegation to the Championships, Cesar hasn't been at his best. Despite this, Luiz Felipe Scolari has included the 33 year old keeper to the squad of the Confederations Cup.
This is also because despite the other two selected keepers in contention to earn themselves the No.1 spot, Cesar is still the first choice for the host team in the Confederations Cup. The QPR keeper is currently unsure about his future at the club but he is only focusing on earning himself a place in the squad for World Cup 2014.
Speaking to Globo Esporte Cesar said,
I am proud to be with the national team after having some difficulties. My career is in a new path since I left Inter Milan, with delicate situations. But there is a dream of being world champions with Brazil. I won't give up unless my name does not appear in the World Cup final list.
Jefferson (Botafogo)
Jefferson has been climbing the success ladder ever since he returned to Botafogo in 2009.  He played an important role in helping the club prevent relegation in the same year. The keeper has been adamant on earning a place in the first-team on international level. He made his debut for Brazil in the 1st leg of Superclásico de las Américas against Argentina and earned a first-team entry in the 2nd leg where Brazil won 2-0. Although still chosen second to Julio Cesar, Jefferson finally made a full 90 minute debut in April this year against Bolivia. In the current season, the 30 year old keeper has made a total of 48 appearances making an impressive 133 saves. He has earned recognition over the years and its only time he takes over the No.1 keeper spot for the Seleção.
Diego Cavalieri (Fluminense)
Named in Brazilian Championship 2012 team of the year, Diego Cavalieri is the third keeper on Scolari's list. Cavalieri has had a fantastic season with Fluminense making a total of 199 saves in 57 games. His mention in the Championship team of the year states he has the quality to become Brazil's No.1. Cavalieri acknowledges the competition for a place in the first team but states it's an honour to be part of the squad. So far he has made two appearances for Brazil out of the total four times he been called up for the International squad.
THE DEFENDERS
Daniel Alves (Barcelona)
Dani Alves' selection for the squad amid all the players who didn't make the cut comes as a surprise as first but Scolari's decision to give him the chance is justified. Perhaps his availability for International games over the season is why the defender wasn't left-out. It is also because the attacking option he provides as a defender. Alves is known for his forward runs through defence to offence creating problem for the opponent team. His speed makes it easy for him to play back and forth covering great distances on the field. Over the eight appearances he has made for Brazil in 2012/13, Alves has managed to keep clean sheets in all. As a defender he also has an impressive number of 6 assists and 24 shots in 30 games he has played in La Liga.
Jean (Fluminense)
A defensive midfielder, Jean has been wanted by the Italian Club Roma, after his contribution in making his club Fluminense Brazil's 2012 Champions. The defensive midfielder has scored 2 goals and made 7 assists in a total of 57 games he has played in for Fluminense. He was also included in the Brazilian Championship 2012 Team of the Year. Jean made his debut for Brazil against Argentina in November last year. Since then, he has earned four international caps for Brazil. The 26 year old is versatility which also allows him to play as a right-back has found himself on the squad list.
Filipe Luís (Atlético de Madrid)
After suffering a traumatic brain while playing against Mallorca in La Liga, Filipe Luis is a doubt for Confederations Cup. Scolari has shown high concern after the left-back took a knee to the head. The final verdict on Brazilian team will be announced after the medical examination results are announced. Brazil play two International Friendly before the start of the Confederations Cup. The Seleção play England on the 2nd of June and France on the 9th.
Marcelo (Real Madrid)
Marcelo has a high chance of not only making into the first team for Confederations Cup but he has also been given a boost for possibility of his selection in the World Cup squad. Speaking after Brazil's International friendly against Russia in March which ended in 1-1 draw, Scolari praised Marcelo's defensive and attacking abilities.
"Everyone says Marcelo attacks well but has problems when it comes to marking. Today, his performance was balanced, he attacked when he had to attack and marked well, so we have found another player for the team. He has skill, he can dribble, he surpassed expectations." Scolari told the reporters.
As a 25 year old defender, Marcelo has made himself a regular team member of Real Madrid's first eleven. He has played in a total of 34 games and as a defender has three goals and 2 assists to his name.
David Luiz (Chelsea FC)
Considered among the best defenders in the Premier League, David Luiz without a doubt deserves a place in Brazil's team line-up. His presence on the field has also led some people to tip him as the next Chelsea Captain. His technical skills are worth the admiration he receives. Luiz has made 57 appearances for Chelsea in the 2012/13 season and has become an important player at Stamford Bridge. His aerial ability, stealth and defensive tactics has made him a sure starter in Scolari's team.  Luiz has made a total of 10 international appearances in 2012/13.
Réver (Atlético Mineiro)
Réver appeared in Brazil's friendly against Chile in which he also scored a goal in the 25' minute. The defender has been the defensive backbone of Atlético Mineiro in 2010 and captained Brazil to victory in the Super Clássico Das Américas 2012 winning 3(3)-3(4) on penalties against Argentina. His leadership skills on the field can prove handy for his national team.
Réver is also known for his superb volley against América Mineiro.
Dante (Bayern Munich)
Considered one of the best defenders in the world, Dante has been outstanding for his club Bayern Munich this season. His selection in the squad comes as no surprise as he has proven to be the stable ground for Bayern. His ability to deal with different form of attack without being intimidated by different attacking tactics makes him a defender every club wishes to have in a team. Scolari has clearly selected him to be the defensive force for Brazil in the upcoming tournament.
Thiago Silva (Paris Saint-Germain)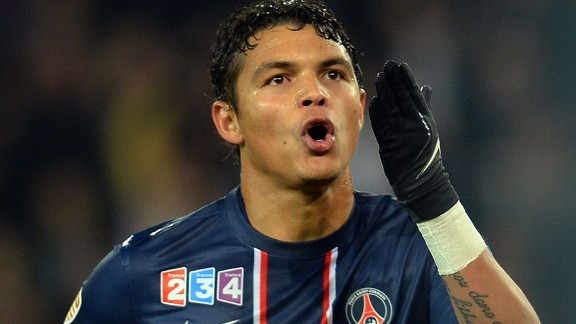 The defender represented Brazil in the London Olympics 2012 and looks to be on Scolari's final list of eleven. Ever since joining Paris Saint-Germain, Silva has proven himself to be taken seriously enough to play for the national team. The 29 year old scored his first goal for Brazil in the friendly against United States. He scored a header from Neymar's free-kick. His strong presence on the field can prove vital as a defensive tool as well as an advantage during set-pieces.
 THE MIDFIELDERS
Paulinho (Corinthians)
The highly rated midfielder has made a name for himself in Brazilian football. Paulinho is the ultimate playmaker in a team. He creates the momentum and can easily influence the speed of attack. The 24 year old midfielder is highly capable of carrying the entire team on his shoulder. He has the ability to create chances for attack and can conceive goal scoring opportunities for the team he plays. He is a midfield maestro, the engine of the team. Paulinho has recently attracted interest from clubs like Intern Milan and his current club, Corinthians is dealing with speculations regarding his exit during the summers. If the midfielder manages to bring success to Brazil through his talent in the Confederations Cup, he might be on his way to a big European club.
Fernando (Grêmio)
At the age of 21, Fernando has already made three appearances for Brazil in 2013. The Grêmio midfielder has evolved from being booed by fans to becoming a celebrated player at his club. Fernando is considered as an all-rounder when it comes to skills. From tackling to passing, Fernando can play either as a defensive midfielder or a central midfielder. His dynamism adds a certain flair to his game which can prove crucial for Scolari's team.
Luiz Gustavo (Bayern Munich)
Gustavo is another player from Bayern Munich besides Dante to have been called up for International Duty. Both the players will miss out on their club's German Cup final against Stuttgart. Gustavo plays as a defensive midfielder who has a strong sense of teamwork. The 25 year old has the ability to anticipate opponent's moves and isn't afraid to go in for a tackle. His strength play out well for a defensive midfielder but sometimes he loses concentration. Despite this, his marking skills makes him the player needed to foresee opponent's attack and turn his team's defensive stance into an offensive one.
Hernanes (Lazio)
Hernanes has scored 14 goals and made 7 assists in the 52 games he has appeared in for Lazio. The 28 year old is a central midfielder who also prefers playing as an attacking midfielder. His accurate long passes create a more dynamic play out wide, and his skilful shots often result in goals. Hernanes is a playmaker that like to go in attack whenever he finds the opportunity. The Lazio midfielder has already made 3 appearances for Brazil in 2012 and 2013 and has yet to score an international goal this year.
Oscar (Chelsea)
Another Brazilian sensation besides Neymar who has risen to fame at such a young age. Oscar has earned his place in the Brazil first-team after his notable performances in Brazil's youth team. In 2011 Oscar helped the youth to win a treble of trophies including the South American Youth Championship, FIFA Under-20 World Cup and Superclasico de las Americas. His performance earned him the rightful place in the senior team finally making his debut for Brazil in September 2011 against Argentina. Oscar finally got his chance to play in a big club when he signed for Chelsea last summer. The young attacking midfielder has since then cemented his place in the first team at Stamford Bridge. The 21 year old doesn't appear intimidating because of his physique but he makes up for it through his technical short passes, ambidextrous shooting skills and extreme versatility. The young midfielder is able to play out wide, in a central role and even as a central striker. In his three appearances for Brazil this year, Oscar already has a goal to his name.
Lucas Moura (Paris Saint-Germain)
Another youngster in the squad who has earned Scolari's confidence to be selected in the squad Lucas Moura has made five international appearances between 2012 and 2013. The attacking midfielder likes to score as well as create chances for his team members. Moura was bought by Paris Saint-Germain for 2012/13 at a price of €43 million. The confident midfielder who plays with ingenious technicality makes him a complex player which opponents often find difficult to control. His aggressive nature gives an edge to his game which at times is a positive for the team but in others can result in a yellow card.
Jadson (São Paulo)
Currently playing for Sao Paulo, Jadson is an attacking midfielder that adds maturity to the squad. Lethal in attack with passing techniques of great accuracy Jadson has the ability to create chances for players upfront. With the amount of quality already in the squad, Scolari will most likely use him as a substitute.
THE FORWARDS
Neymar (Barcelona)
Without a doubt a player to watch during the Confederations Cup, Neymar is dubbed as the next Pele. Being on the wish-list of clubs all around the world Neymar has finally settled for Barcelona with a fee of €30 million. The icon who has been praised by Pele himself has the perfect opportunity to make his mark on the International level in the upcoming tournament. His pace, dribbling skills, classy shooting skills and clinical finish has already earned him a place amongst the top ranks. The striker is a great asset for Brazil and a dangerous liability for the rivals. The striker's swift attacks and powerful strikes are often too quick for a goalkeeper to react. Definitely a star personality everyone will have their eyes on at Brazil.
Fred (Fluminense)
Fred is known for his fastest goal scored in the history of Brazilian football which came under 3.17 seconds against Vila Nova when he used to play for América Mineiro. In a total of 43 games played he has registered 29 goals and 6 assists. Fred appeared for Brazil in World Cup of 2010 and is hoping to play in the World Cup of 2014. The 29 year old striker is capable of scoring goals from tight angles which makes him a dangerous striker even out wide.
Hulk (Zenit)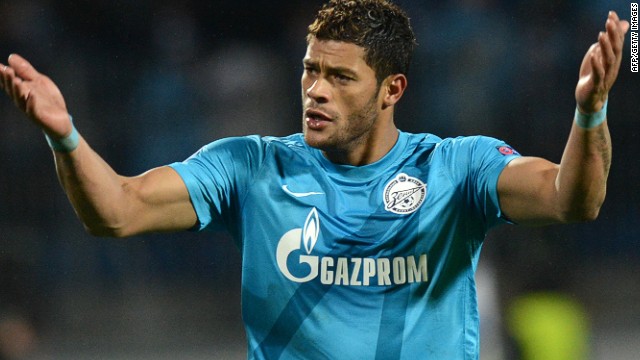 Another top class Brazilian striker, Hulk is known for his strength and commanding presence on the field. The 26 year old is known for his explosive strikes, steady control of the ball and quick shots. Scolari can play him in combination with Neymar and they can make Brazil's attacks reach a whole new level. In the 15 appearances for Brazil in the 2012/13 Hulk has scored seven goals. Currently playing for Zenit St Petersburg Hulk has recently been approached by the new big spenders, FC Monaco.
Leandro Damião (Internacional)
The striker was the top scorer in the London Olympics 2012 with six goals in five appearances. He has scored 17 goals and assisted 5 times in 35 games he started for his club in 2012/13 season. Leandro Damião has been dubbed by the Brazil as the new Ronaldo. He is known for his great athleticism and extreme skills scoring goals with toughest skills possible. He is considered a trick master as witnessed during Brazil's match against Argentina in September 2011 when he perfectly executed a rainbow flick. He has also been successful in a bicycle kick during a league match against Flamengo. Damião is a natural when it comes to goal scoring and he certainly know how to leave his opponents flabbergasted.
Bernard (Atlético Mineiro)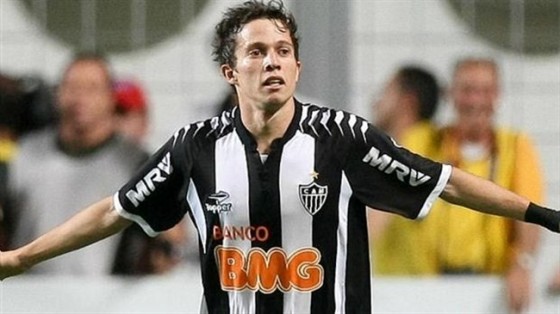 Bernard is a striker who plays his slender frame to his advantage by sneaking past defenders. He is known to play upfront and as a playmaker. The 20 year old is a young talent selected by Scolari for the Confederations Cup. Bernard adds creativity, flair and variety to a team's attacking approach. He has a well-controlled first touch, and is known to cover large distances at lightning speed. This plays to Bernard's advantage as he can move from midfield to a striking position only to be recognized by defender's a second too late.