Such is Italy's often underrated resilience, they have triumphed in spite of distractions and adversity.
The 1934 World Cup victory, Benito's Mussolini's propaganda-dominated tournament, took place with very public plans readied for an invasion of Abyssinian. The 1938 World Cup win in France occurred while Mussolini controversially assisted General Franco in the Spanish Civil War. The 1968 home European Championship victory happened while the eccentric figure of Giorgio Rosa declared the Isola delle Rose independent from Italy. The infamous 1982 World Cup win in Spain came in spite of the 1980 Totonero betting scandal that rocked Italy's preparations and pride. The 2006 World Cup victory in Germany unified a paranoid and divided footballing nation following the Calciopoli scandal. And, in June, 2012, Italy will head to Poland and Ukraine on the back of political upheaval and humiliating economic assistance.
Italian football is in a clear state of flux at this moment in time, with its consistent and unrivalled continental success of the past twenty years, which saw 14 Italian teams make-up the 42 European Cup finalists (however, only made 4 of the last 12 since 1999/2000, including the 2003 all-Italian final) and 14 Italian sides contest 42 UEFA Cup finals (last final appearance was in 1999, when Parma beat Marseille) between 1989 and 2011, drying out. Yes, José Mourinho's January-May 2010 Internazionale side were one of the best European outfits of the decade but outside of this peak-aged Inter team, few Italian sides have imposed themselves, given Italy's fine tradition (12, four different teams, of the 56 European Cup triumphs have been Italian compared to the 13, just two sides, of Spain and 11, four different teams, of England) of fantastic European triumphs, on European competitions in recent seasons. Even with Napoli, Internazionale and Milan making the second round this season, few would bet on any of these three teams making the semi-finals.
The reasons? The growth in television deals and foreign investment in the English Premier League and La Liga; the worldwide economic recession curbing the usually consistently frivolous Italian owners' investment; the archaic and sparsely-attended stadiums of some of Italy's most well-known sides, from Lazio/Roma to Palermo, which is detrimental to gaining much-needed gate revenues; the era of Italian stalwarts, diehards, cult heroes and some of Europe's finest players like Marco Tardelli, Gaetano Scirea, Antonio Cabrini, Franco Baresi and Paolo Maldini drying out; the Calciopoli scandal continuing to resurface, with frequent new revelations and court cases dragging more clubs and figures, such as Internazionale and Massimo Moratti, into it; a fall in Italy's Champions League co-efficient, due to a lack of consistent European success in recent years, which has seen Serie A have a maximum, after qualifiers, of just three Champions League teams; and the failure of the league, despite this season's Serie A being one of the most exciting in years, to shed its somewhat unjust tag of being old-fashioned (with Carlo Ancelotti commenting, while Chelsea manager, that Europe once looked to Italy for tactics but now the roles were reversed), unattractive, catennacio-driven and being full of hasbeen footballers.
Remarkably, in spite of all these problems, the Azzurri have been reborn under Cesare Prandelli and a long overdue transition, with Fabio Cannavaro having played for his country for thirteen years, has finally taken place under the dynamic 54 year old. An inspirational figure, Prandelli led a once relegation-threatened Fiorentina to Champions League qualification in 2005/2006, which was ultimately cancelled out by Calciopoli but the achievement was still admirable – particularly given the fact that Prandelli was dealing with his wife's, whom he knew since he was eighteen, five-year battle with breast cancer. Despite a fifteen-point deduction from Calciopoli, Prandelli still guided La Viola to sixth place in 2006/2007 and in the following season, he led them to the UEFA Cup semi-final, where they faced a cynically defensive Rangers side, and qualified for the Champions League in the same 2007/2008 campaign that his wife died. Prandelli's infamous man-management ability, from which he brought the best out of complicated figures like Giampaolo Pazzini, Christian Vieri and Adrian Mutu, was the root of Fiorentina's fine five seasons under his stewardship and he left Fiorentina for the Azzurri as the league's longest-serving manager since Carlo Ancelotti.
Before Prandelli and sandwiching the interlude of Roberto Donadoni, there were the two terms of Marcello Lippi, who did brilliantly to protect and lead the Italian squad in Germany in '06 and who stabilised, somewhat, a lagging Italian side under Donadoni with a similar group of players for the 2010 World Cup. However, this proved, ultimately, to be detrimental: Lippi's favourites, Cannavaro, Gianluca Zambrotta, Gennaro Gattuso and Vincenzo Iaquinta, were all horribly off the pace due to their age or a lack of first-team football with their clubs and the dynamic Mario Balotelli, Giuseppe Rossi and Antonio Cassano were continually and frustratingly overlooked. Badly lacking a creative threat and being continually narrow, with a failure to revive Andrea Pirlo's form like Antonio Conte has since, also proved regrettable and a difficulty in creating chances was not helped by the forward three of Iaquinta, Alberto Gilardino and Simone Pepe being generally ineffectual.
Prandelli's approach with the Azzurri has been similar to his methods at Fiorentina, with the only change being with his attire: an Armani suit replacing his favoured leather bomber jackets and track tops. Prandelli's seventeen months in charge, given the current state of Italy's somewhat limited national pool in comparison to the likes of Germany, the Netherlands and Spain, has been impressive. With the use of the 4-3-1-2 formation and a decision not to hold grudges or to let perceived facts about volatile characters (Cassano, Balotelli and Sebastien Giovinco) influence his decisions, Prandelli has turned Italy into a modern, faster,  long overdue oriundi/multi-racial (Angelo Ogbonna, Cristian Ledesma, Thiago Motta, Pablo Osvaldo and Balotelli) and multi-dimensional outfit. Even though Prandelli's favourite, from his time at Fiorentina, Riccardo Montolivo has failed to consistently dazzle as the trequartista, despite a brilliant performance in the 2-1 friendly win over Spain on 10 August, Prandelli's revival of Italy's strong defensive foundations in tandem with the prolific exploits of Cassano, Rossi, Pazzini and Giovinco has seen Italy become a well-balanced and potent outfit.
While the lay-offs suffered by both Rossi and Cassano are massive blows to Prandelli's warm-up plans for Euro 2012, with Rossi suffering a ruptured anterior cruciate ligament injury in his right knee and Cassano having what is thought to be temporary ischemic-based cerebral damage which he underwent minor heart surgery to correct, both are expected back in the spring of 2012 and should be available for selection for Poland and Ukraine. Also, unlike in 2010, the Azzurri's elder statesmen (>28) like Gianluigi Buffon, Andrea Barzagli, Daniele De Rossi, Pirlo and Pepe have started their seasons in impressively consistent form, that has stabilised rather than dramatically fluctuating or falling, and this bodes well to justify Prandelli keeping a sensible amount of experience in his first XI – rather than relying solely on somewhat inexperienced players who have yet to amass ten caps and who have never played at an international tournament before.
So, while Spain, Germany and the Netherlands may seem well ahead of Italy with regard to quality, flair, telepathic team moves and  squads oozing with players who have experience of playing in numerous international tournaments, Cesare Prandelli will be blessed in knowing that expectation levels are not so wholly high as they once were – which was ultimately one of the reasons why Italy crumbled so badly in recent years, be it the 2002 World Cup and Euro 2004 under Giovanni Trapattoni or Euro 2008 under Roberto Donadoni. From this, Prandelli can lay the foundations for a serious assault on the 2014 World Cup, with a semi-final appearance at Euro 2012 a brilliant yet achievable goal.
Goalkeeper
Having had an injury-ravaged eleven years at Juventus (making 40+ appearances in just four of his eleven seasons at the bianconeri), Gianluigi Buffon (33), Prandelli's captain, is slowly returning to form. While still looking uncharacteristically shaky on crosses (often resorting to hopeless punches) and unusually mute in command of his area, if Buffon can remain fit and get a run of twenty consecutive games together, few would doubt that his confidence will improve – particularly given Antonio Conte's already proven man management skill with Juventus' other veteran, Andrea Pirlo. In the short-term, Italy are blessed with some able deputies for their captain if he succumbs to a lengthy injury this season. 34 year old Morgan De Sanctis has been rejuvenated by Walter Mazzarri at Napoli, following a fruitless spell at Sevilla, and has been one of Serie A's most consistent and dependable goalkeepers for his shot-stopping and agility. Christian Abbiati (34) has also had something of a twilight end to his career and was crucial to Milan's 2010/2011 Serie A win, with Milan failing to win any of the six league games he missed.
Buffon's long-term successor, 24 year old Salvatore Sirigu, had the invaluable tutelage of the Azzurri's legendary stopper Walter Zenga, who handed him his Palermo debut, and has adapted to the glamorous surroundings at PSG with remarkable maturity. Emiliano Viviano (25), who is co-owned by Genoa and Internazionale, was ahead of Sirigu in the pecking order behind Buffon but an anterior cruciate ligament injury means the stopper will not play for Genoa until he recovers in the New Year. Surprisingly, given his solid deputising for Buffon for Juventus last season, 33 year old Marco Storari is yet to be capped for Italy and with Buffon's return as Juventus' number one, it seems unlikely that the veteran will ever play under Prandelli. Stefano Sorrentino (32), who was key to Chievo Verona's 14th place finish last season and who won the prestigious Goalkeeper of the Year award from a committee of Serie A's goalkeeping coaches, is also yet to be capped and is another adept back-up option for Prandelli.
Lazio's 28 year old Federico Marchetti, who came on for the injured Buffon in Italy's opening 2010 World Cup match against Paraguay and who let in four goals from five shots on target against New Zealand and Slovakia, has appeared in a handful of Prandelli's squads but is yet to receive minutes. Marco Amelia (29), part of Lippi's 2006 World Cup winning squad, has been content in the role of back-up to Abbiati at Milan and it seems unlikely that Prandelli will turn to him. 28 year old Antonio Mirante of Parma has featured in Prandelli's squads of late and has been a mainstay in Parma's near-constant battle against relegation: missing just 3 of i Crociati's 76 Serie A matches since 2009.
Andrea Consigli (24) of Atalanta, who was a favourite of Pierluigi Casiraghi in Italy's Azzurrini (Under-21s) and who played in the 2008 Olympics, could be a future prospect. 21 year old Vincenzo Fiorillo of Sampdoria, the hero of Sampdoria's Primavera Cup penalty shootout victory over Atalanta in 2008, is highly-rated by i Blucerchiati but his career has stalled somewhat since he made his debut for the first-team at 18 years of age. Nicola Leali (18) has already been given a squad number, number 12, by Brescia and could well depose the veteran Michele Arcari in the next eighteen months. 16 year old Luca Maniero has come through the youth ranks at Padova, who launched the youth team career of one Alessandro Del Piero in 1988, and is highly-rated by manager Alessandro Dal Cantro
Right Back
Napoli's Christian Maggio (29), naturally a right winger, has been used by Prandelli at right back due to his desperate need for attacking fullbacks in his occasionally narrow 4-3-1-2. Fiorentina's 27 year old Mattia Cassani was an early favourite of Prandelli's, following his consistently impressive showings for Palermo in recent seasons that have arguably seen him leapfrog Maicon as one of the league's best right backs. Ignazio Abate (24) blossomed under Massimiliano Allegri in the second half of the 2010/2011 campaign and his tireless running and pinpoint crosses saw him make his debut against Poland on 11 November. Despite winning the 2006 World Cup, 29 year old Cristian Zaccardo of Parma has failed to shake off the memory of his comical own goal against the U.S in the group match of the same tournament, but his potent displays for Parma will continue to keep him in the reckoning ahead of the likes of Gianluca Zambrotta (34) and Mauro Cassetti (34). Fiorentina's Lorenzo De Silvestri (23) has been in-and-out of his club side's first XI since 2009 but like Abate, has immense potential as he begins to enter his peak years.
After his impressive debut at 18 years of age against Northern Ireland on 6 June, 2009, back then, few would have been surprised if Davide Santon went to Euro 2012 as Italy's first-choice right back at 20 years old. However, the managerial merry-go-round at Internazionale has seen the youngster fail to hold down a place and flounder, including a tearful error-strewn performance against Palermo on 20 October, 2009, and he has since moved to Newcastle. Alessandro Crescenzi (20), who is on loan at Bari from Roma and who recently had a plate thrown at his arm by Salvatore Masiello, is a highly-rated right back and even at just 20 years of age, has been one of Bari's top performers so far this season. 17 year old Andrea Baldini and 16 year old Luca Barlocco, of Sampdoria and Atalanta respectively, are also hot prospects who have impressed at an underage level for the national team.
Left Back
Domenico Criscito (24) appears to be in pole position for the prestigious number three shirt of the Azzuri, but his lucrative move to Zenit raised eyebrows given that he was one of Europe's most promising left backs and had never previously worked under Luciano Spalletti. Federico Balzaretti (29), who is rumoured to be joining his close friend Sirigu at PSG in the January window, has been one of Serie A's most consistent left backs and was a late bloomer on the international stage: making his debut aged 29 under Prandelli. Napoli's Andrea Dossena (30) has battled back remarkably well from a near-disastrous 18 appearances for Liverpool and a poor 2009 Confederations Cup. Due to his regular first-team football at Stuttgart, 27 year old Cristian Molinaro is ahead of Milan's 29 year old Luca Antonini further down the pecking order but barring an injury crisis, it is unlikely that either will be called-up for Euro 2012. Luca Antonelli (24), who recently moved to Genoa, will certainly come into the reckoning in the run up to the 2014 World Cup, rather than the Euros, along with Paolo De Ceglie (25) of Juventus. Bayern Munich's exciting 21 year old Diego Contento, who was born in Naples and named after Diego Maradona, is eligible for Italy's senior team and has declared for the Azzurri – despite playing for Germany at a youth team level.
Centre Back
Even though his career has yet to take off in the world-class and consistent way it promised and despite being banished to left back by Antonio Conte at Juventus, Giorgio Chiellini (27) remains Italy's key central defender and his physicality, improved composure and influence have been key to Prandelli's numerous (9/10 of Group C in Euro 2012 qualifiers) clean sheets as Italy manager. Desperately needing to add an Italian to their ranks with limits on non-EU players, Internazionale paid €12.5 to gain full ownership of 23 year old Andrea Ranocchia in January, 2011 and after a shaky start, the 1.95m defender is developing nicely and could yet re-depose Barzagli. Rubin Kazan's Salvatore Bocchetti (24), formerly of Genoa, was part of the reason why his friend Domenico Criscito moved to Russia and has been one of Russia's great imports: scoring a brilliant 7 goals in 31 games, which is keeping him in the reckoning despite Prandelli's general preference for home-based players.
24 year old Davide Astori of Cagliari remains in Prandelli's plans, despite getting sent off on his debut against Ukraine on 29 March. Andrea Barzagli's (30) career never took off after an impressive spell at Palermo, which should have led to a pre-contract agreement with Fiorentina, but an ultimately ill-fated move to Wolfsburg saw the Italian move to Juventus for just €300,000 in January, 2011. It has been a remarkable comeback of sorts for Barzagli, who has already made 26 appearances for Juventus and broken back into the Italian starting XI after some remarkably assured and committed displays for the bianconeri. 24 year old Leonardo Bonucci was one of Italy's hottest prospects alongside Ranocchia at Bari and has begun to find his feet alongside Barzagli in the heart of Juventus' defence – although Bonucci has been overlooked of late by Prandelli. Paolo Cannavaro (30), Napoli's modern day Diego Maradona with regard to having a symbiotic relationship with his club, has been a key reason behind Napoli's revival in recent seasons and may fancy his chances of winning his first ever cap for Italy in the coming months.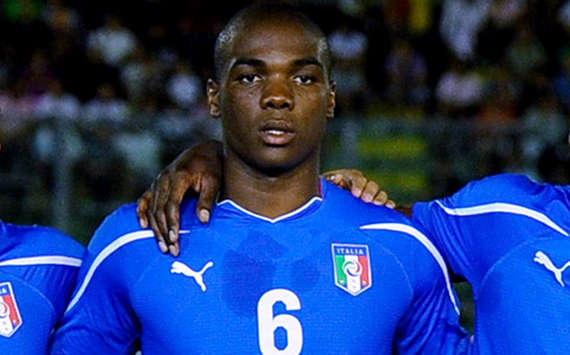 Serie B side Torino's Angelo Obgbonna (23), who is of Nigerian descent, is a strong, pacey and classy centre back who has immense potential and despite his loyalty to Torino and their €38 million asking price, Obgbonna is making a late surge for a Euro 2012 place. Catania's 21 year old Giampaolo Belluci is highly-rated by his club manager Vincenzo Montella, who promoted him into the XI this season and Belluci has been a key performer in Catania's impressive showing so far in Serie A. Fiorentina's Michele Camporese (19) has been likened to one of their great youth exports, Giorgio Chiellini, and it seems only a matter of  time before he will break into Fiorentina's first-team. 16 year old Daniele Rugani of Empoli is making a name for himself as a talented centre back at an underage level.
Winger
A real death of natural top-class options on the right hand, and particularly on the left, has been part of the reason why Prandelli has used a narrow midfield in the 4-3-1-2 but an alternative Plan B exists on the bench should Prandelli wish to revert to 4-3-3 at any point. Christian Maggio (29), who has played at right back for his country and right wing back for Napoli of late, is an option due to his incessant running and dangerous delivery. 28 year old Simone Pepe was one of the few bright sparks of Italy's abysmal 2010 World Cup and has cemented his standing as one of the Azzurri's best wingers, at Juventus, with some impressive displays. Emanuele Giaccherini (26), another Juventus attacker who is adept on the wing, is also an option on the right and if he can manage to break into Juve's first XI, it surely will not be long before he wins his first international cap.
24 year old Alessio Cerci, who was once highly-rated at Roma, has found his feet again at Fiorentina after three successive loan spells away from Roma and is certainly a prospect for the 2014 World Cup. Ezequiel Schelotto (22) has matured at Catania and the Argentine-born player, who has appeared for the Azzurrini, could well follow in the footsteps of Mauro Camoranesi in playing for the Azzurri. Milan's Stephan El Shaaraway, who was born to an Egyptian father, became the fourth-youngest player in Serie A history when he made his debut in 2008 for Genoa and was one of the main reasons behind Padova's remarkable rise to the Serie B play-off final against Novara last season.
Equally as deficient on the left as on the right, there are few standout options at left winger for Italy. Giuseppe Sculli (30) of Lazio, while at times inconsistent, is an option but has yet to be capped for the Azzurri in a career that saw him dream of finally representing Juventus after spending eight years at the club without making a first-team appearance (five different loan spells). Juventus' 21 year old Cristian Pasquato, who can also play in attacking midfield, has looked promising in his various loan spells in recent seasons and how he fares with lowly Lecce in Serie A this season will be a real test of his future credentials as a Juventus player. Roma's Marco D'Alessandro (20) is in a similar situation, on loan at Serie B side Verona, and he may be given his chance in the first-team squad next season with the youth-favouring Luis Enrique at the helm at Roma.
Central Midfielder
One of the most inform central midfielders in Europe at the moment, remarkably coming after being deemed surplus to requirements at the 'retirement home' of Milan, 32 year old Andrea Pirlo will certainly play at his sixth international tournament this summer. Pirlo is pivotal to Italy in providing the balance and possession retention to allow Prandelli to use the 4-3-1-2 formation. Daniele De Rossi (28) has shown remarkable loyalty to Roma over the years and after constantly being in the shadow of the likes of Genarro Gattuso, De Rossi, who has been at times used for his underrated passing ability as a regista or a deep-lying sweeper by Luis Enrique, can certainly claim to be one of Europe's most underrated midfielders. Brazilian-born 28 year old Thiago Motta, whose hamstring injury coincided with some flaccid displays by Internazionale, has made a remarkable comeback from a succession of career-threatening injuries and abandonment by Barcelona.
Lazio's Cristian Ledesma (28), like Motta does not qualify for the national team through birthright, became the third oriundo upon his debut, alongside Mauro Camoranesi and Amauri, of the decade in November, 2010 but in a talented central midfield pool, Ledesma has failed to win a call-up since. 25 year old Claudio Marchisio, who is destined to spend his whole career at his hometown club of Juventus and who has started the season brilliantly, seven goals in thirteen matches, has become an integral part of Prandelli's plans and is sure to have his best season yet in 2011/2012. Riccardo Montolivo (26) broke through and impressed under Prandelli at Fiorentina in 2006, but is, somewhat frustratingly, slowly adjusting to the role of trequartista in the national side. 31 year old Stefano Mauri has started the season brilliantly at Lazio and the attacking midfielder won his first call-up to the squad in years for the recent qualifiers against Northern Ireland and Serbia. One of the buys of the Serie A summer transfer window at just €500,000, Antonio Nocerino (26) has found his goalscoring touch at Milan and was integral to the rossoneri not faltering so badly during their midfield injury crisis in October.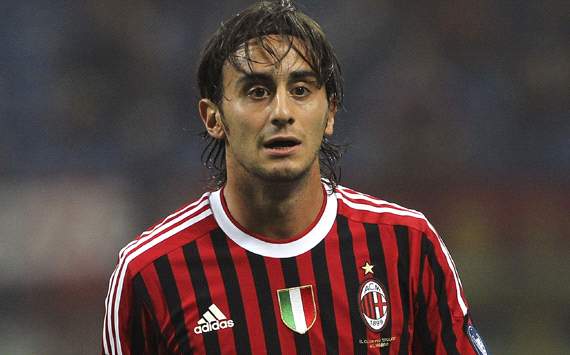 Remarkably, Alberto Aquliani is 27 years of age and the key to him securing a move to Milan, with little hope of a future at Liverpool under Kenny Dalglish, will be proving his fitness – having made 34 appearances at Juventus last season, which was the most matches he had played since 2005/2006 (22 in 2006/2007, 31 in 2007/2008, 20 in 2008/2009 and 26 in 2009/2010). The likes of Sampdoria's Angelo Palombo (29), Cesena's Marco Parolo (26) and Atalanta's Luca Cigarini (25) are dark horses in their hopes of making the squad and the likelihood is that unless the Azzurri receive a series of central midfield injuries, they will not make the plane.
22 year old Andrea Poli, who was 'rescued' from the carnage at Sampdoria with a summer loan move to Internazionale, has remarkable tactical maturity and passing ability considering his tender years and has long been touted as the Azzurri's long-term replacement for Pirlo. Andrea Bertolacci (22), yet another promising member of Roma's academy, is a brilliant ball-carrier and has been one of the Azzurrini's most impressive players in the past twelve months. Udinese's 21 year old Diego Fabbrini, who is captain of the Azzurrini, is an exciting free-roaming attacking midfielder but his attitude will need to improve, after a 2010/2011 season dominated by his ego at Empoli, if he is to live up to his undoubted promise. Bologna's Federico Casarini, who is also 22, is a talented prospect who has broken into Bologna's first-team and could be destined for a promising international future. Luca Marrone (21) of Juventus and Marco Verratti (19) of Pescara are classy registas, who are both blessed with composure beyond their years.
Strikers
Something of a weak spot for Italy in recent tournaments, be it an over-reliance on Luca Toni at Euro 2008 or Marcello Lippi's preference for big men like Vincenzo Iaquinta and Alberto Gilardino instead of the inform Antonio Cassano at the 2010 World Cup, Prandelli's open-mindedness with his striking pool has solved the Azzurri's previous goalscoring problems. A lot will depend on Giuseppe Rossi's and Cassano's recoveries, however, and whether they can replicate the impressive form they put together before their respective lay-offs. Rossi (24) has had horrible luck with injuries in tournament years, which also occurred in the run-up to the 2010 World Cup, but his form last season and in the beginning of this season was impressive: 37 goals and 11 assists in 70 games. 29 year old Antonio Cassano, whose footballing career looked doomed due to a heinous attitude and weight problems at Real Madrid, brilliantly bounced back at Sampdoria and had netted an admirable 7 goals and 11 assists in 33 games for Milan. His form for the Azzurri, too, has been impressive under Prandelli and the manager, who has handled and man managed Cassano brilliantly, will be hoping that he will make a full recovery from cerebral damage in time for the Euros.33 year old Antonio Di Natale has never managed to consistently hold a place in the Azzurri's squad, despite his lethal club form for Udinese, and has been tarred by being associated with poor Italian showings, be it Euro 2008 or World Cup 2010.
Giampaolo Pazzini (27) is slowly finding his feet at Internazionale as a starter under Claudio Ranieri, but will have to improve on his paltry return of 3 goals in 21 international appearances to warrant pushing for a starting berth. Pablo Osvaldo (25), yet another oriundo and a man likened to the legendary Gabriel Batistuta for his use of the machine gun goal celebration, is starting to assimilate at Roma following his €17.5 million move from Espanyol and it already looks likely that he will continue his 1:2 record from Spain. Parma's 24 year old Sebastian Giovinco, one of Serie A's most skilful and exciting players, and once the heir to Alessandro Del Piero as Juventus' trequartista, has become a prolific second striker for Parma and looks like he may live up to his early hype. Mario Balotelli (21), despite his eccentric off the field tendencies, is rapidly developing into a dependable and prolific goalscorer under Roberto Mancini at Manchester City and netted his first international goal, a brilliant long shot, against Poland on 11 November. 28 year old Fabio Quagliarella has battled back from a cruciate ligament lay-off suffered last season, with the injury coinciding with Juventus' alarming slump, but has found it difficult to become Antonio Conte's main man this season – which may lead to a January move away to prove his international credentials.
Alessandro Matri (26) is a somewhat unique style of forward available to Prandelli: tall, comfortable with the ball over the top, at his feet and on his head, and a solid provider of 1:2 throughout the whole season. 29 year old Alberto Gilardino, another big man, offers an alternative as one of Italy's few hold-up players but it seems unlikely that he will head to his fourth-straight international tournament with the Azzurri. Something of a wildcard, it also seems unlikely that Marco Borriello (29) will make the final cut and get the opportunity to play his first minutes in a competitive international tournament. One of Italy's most highly-rated forwards in recent years, Milan's 21 year old Alberto Paloschi's reputation as a poacher continues to grow and with continued maturity and experience, his prolificacy will improve. Mattia Destro (20), who is on loan at Siena from Genoa, already looks to have the attributes to become a striker of the Azzurri: great acceleration, composure and a 1:2 record in his debut Serie A season so far. Atalanta's 19 year old Manolo Gabbiadini, whose sister Melania also plays professional football, has scored 10 goals in 13 matches for the Azzurrini and Juventus are interested in signing the precocious striker
The Manager
While Cesare Prandelli is near-certain to lead Italy into the 2014 World Cup qualifiers, barring an unlikely exit in the Euro 2012 group stages, it is worth looking into the plethora of possible candidates that could fill the vacancy in the coming decade, be it 2012 or 2014. Although the Azzurri have had a chaotic, somewhat unsurprising given the country's cut-throat football managerial environment, 24 managerial regimes since 1925, compared to the similarly successful Germany's 11, they would do well to find a better candidate than Prandelli. The 54 year old has taken over a delicate situation, after embarrassment at both Euro 2008 and World Cup 2010 under separate managers, and handled a fragile transition of the undoubted ability of the class of 2006 with remarkable judgement.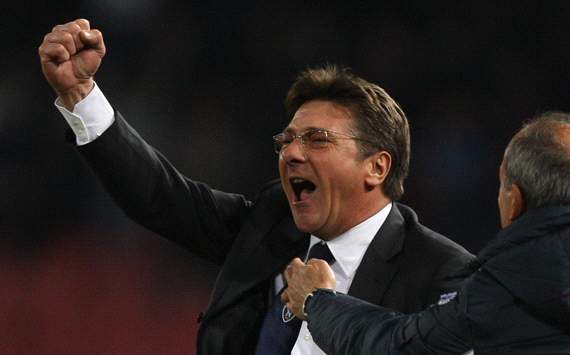 Carlo Ancelotti (52) has often spoken of his hope of managing his nation one day but it seems likely that he will have one more club job before he puts his name into the hat, with Tottenham, after the inevitable departure of Harry Redknapp to England, and PSG possible destinations this summer. The humble 44 year old Massimiliano Allegri has handled the surroundings and egos of Milan remarkably well but even by 2014, it seems unlikely that the job would yet appeal to a man who has only been managing for eight years. Walter Mazzarri (49) could be an interesting option, following a fine spell with Sampdoria and a brilliant masterminding of Napoli's return to the top with minimal spending, and like Prandelli, he has made his name at passionate clubs outside the 'traditional' three of Milan, Internazionale and Juventus.
Roberto Mancini (46), who was often kept out of the Italy side due to more illustrious rivals, has shown clear tactical flexibility with his attacking style at Manchester City this season and is one of Europe's hottest managers. After a managerial career worthy of a journeyman, 56 year old Francesco Guidolin has worked wonders at Udinese with fantastic consistency despite the loss of key players in recent seasons. Luciano Spalletti (52) has led the Italian invasion of Russia since 2009 and his success with Zenit is no mean feat, with a hotly-contested league where the top five teams are all well-funded.
Several upcoming managers could also come into contention by the end of the decade. Antonio Conte (41) impressed in leading Siena to promotion to Serie A and already looks like he could resurrect a once horribly inconsistent and flagging Juventus side. 41 year old Ciro Ferrara is manager of the Azzurrini and has bounced back remarkably well after his disappointing spell at Juventus, with the Italian Under-21's being moulded into a stunning proactive and patriotic unit. Vincenzo Montella (37) was unlucky not to be offered a permanent contract at Roma, after steadying the ship after Claudio Ranieri's dramatic fall, but has started remarkably well with Catania. 37 year old Devis Mangia is also impressing with his attractive Palermo outfit, who are clearly putting the instability of Delio Rossi's numerous reigns behind them.
So, with Italy qualifying for their ninth-straight competitive tournament, an intriguing atmosphere exists within the camp: not being among the absolute favourites of Spain, Germany and the Netherlands, and not having to face the intense pressure from the national media that has dogged Italy's preparations over the past decade. Regardless of whether they make the semi-final or not, Cesare Prandelli has laid the foundations for a young, exciting and dynamic national pool that are seriously capable of challenging for the 2014 World Cup.